It can be difficult to get all the nutrients you need during pregnancy, especially when you're busy.
Prenatal vitamins are so important for pregnant women and their babies, but it's easy to forget to take them every day.
Gummy prenatal vitamins contain essential vitamins and minerals like A, D, E, and Folic Acid, which are crucial for a baby's brain and spinal column development.
We've curated a list of top-quality products below that we're confident you'll love. Our editors have independently selected each one, and although some have been sent to us as samples, all opinions in this article are our own. We want to be transparent with you and let you know that FlairFindings may earn a commission or other compensation from the links on this page if you decide to make a purchase. This is how we sustain our business & content flow. Additionally, we have edited reviews for length and clarity. We hope you enjoy discovering your new favorite item!
How We Select The Best
Trying to find the right prenatal vitamins for you and your baby?
Our selection of the top gummy prenatal vitamins are designed to give you the best of all worlds. Not only do they taste great, but their easy-to-chew formula ensures maximum absorption for maximum health benefits. Plus, every one of their formulas are specifically designed with quality ingredients that provide full spectrum nutrition to meet all your needs.
Imagine being able to get everything you need in one great tasting supplement – without having to worry about complicated pills or messy powders. With these gummy prenatal vitamins, you can enjoy a convenient way to keep yourself and your baby healthy before and during pregnancy!
Get yourself the best gummy prenatal vitamins to get a peace of mind and a sweet treat on your journey towards motherhood!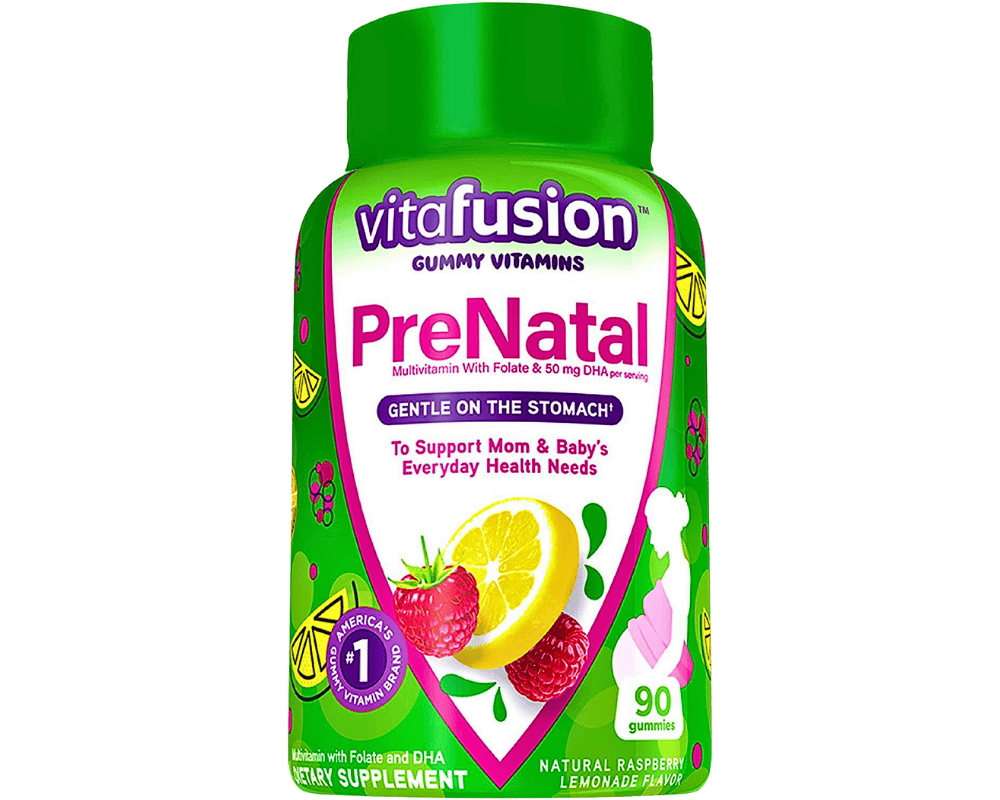 Best Overall
Vitafusion PreNatal Vitamin
Check Price on Amazon
What's the Big Deal?
Vitafusion PreNatal Vitamins provide essential nutrients for moms-to-be and their babies. This 90 count bottle contains delicious raspberry lemonade gummy vitamins that are easy on the stomach, free of iron, high fructose corn syrup, artificial sweeteners, gluten dairy or synthetic dyes - giving you 45 days worth of assurance that both mom's and baby's nutritional needs are being taken care of!
What You Should Know
Vitafusion prenatal gummy vitamins for women are made with expecting mothers in mind. This tasty gummy contains all the key vitamins necessary to support a healthy pregnancy journey, including 100% of your daily value Folate and 50mg Omega-3 DHA—a nutrient critical for baby's health.
With its natural fruit flavors, chewy texture, you don't have to worry about any hard-to-swallow pills during this special moment!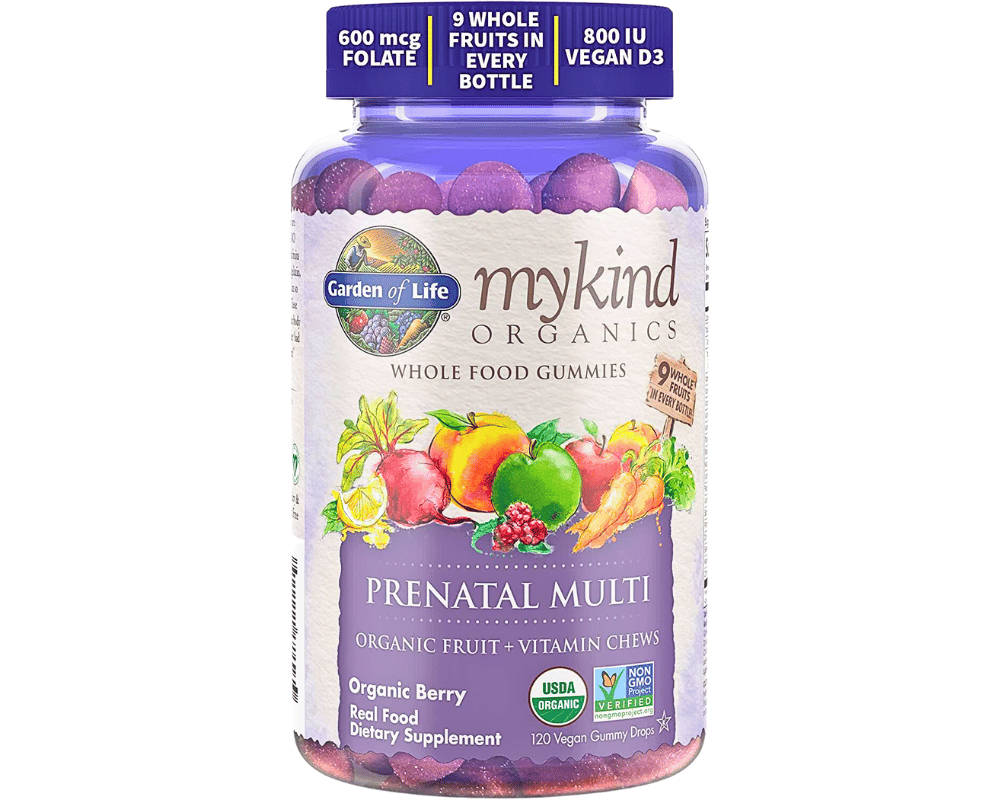 Best Organic Option
Garden of Life Prenatal Multivitamin
Check Price on Amazon
What's the Big Deal?
During pregnancy, Garden of Life gummy prenatal vitamin ensures the absolute best for moms and babies alike. With 100% daily value of Folate from organic lemon peel, 800 IU vegan D3 from Lichen plus over 100% daily value B12 - mom is supported with optimum energy while baby receives a safe and healthy environment to grow up in.
As an added bonus, all products undergo rigorous testing at every step so you can trust that your supplement meets top-notch standards!
What You Should Know
Garden of Life provides a tasty and nutritious alternative to traditional multivitamins with their freshly-made gummy supplements. Each bottle contains nine organic, whole fruits without sugar – only natural fruit sugars which helps provide up to 2g dietary fiber per serving!
Their the only gummy vitamin brand that coats their gummies in an organic rice meal so they won't stick together; no added pectin needed thanks to the non-GMO apples and orange peels they start with.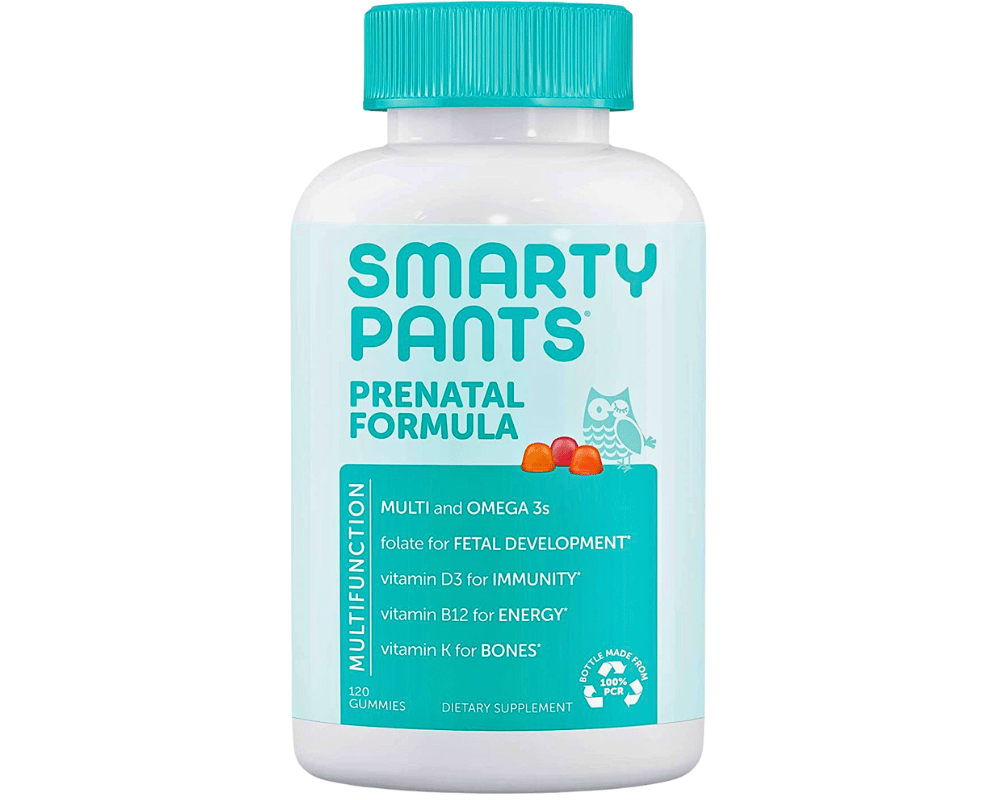 Best Source of Folate
SmartyPants Prenatal Formula
Check Price on Amazon
What's the Big Deal?
SmartyPants Prenatal Formula is designed to deliver outstanding premium ingredients, all in one delicious serving. This gummy multivitamin for women provides Beta Carotene and Vitamin B6 which are key in maintaining a healthy immune system throughout pregnancy. Additionally, Vitamin K2 helps build strong bones for mother and baby.
Choline supports the development of the fetal nervous system and normal brain development, while iodine helps with the production of hormones from the thyroid glands which is important before, during, and after pregnancy. SmartyPants Prenatal Formula is made with high quality ingredients to ensure sure your health needs are being met while keeping both you and your baby happy and healthy!
What You Should Know
SmartyPants Prenatal Formula has the nourishment expectant moms need for a healthy, happy baby. Their formula includes 18 essential nutrients like folate to support fetal development and vitamin D3 for immunity.
They've also added omega-3 EPA/DHA plus vitamins B12, K and more! Take four gummies daily with or without food – they're non-GMO with no synthetic colors or artificial sweeteners so you can trust that your body is getting only wholesome goodness.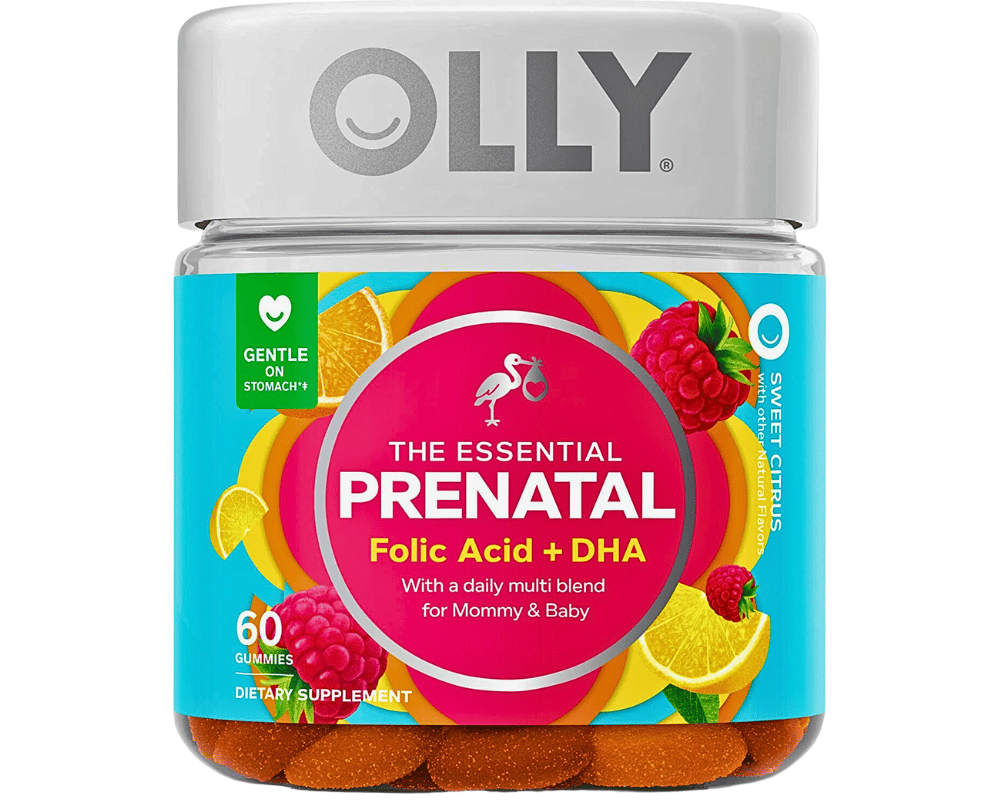 Best Source of Omega-3 DHA
Olly The Essential Prenatal Multivitamin
Check Price on Amazon
What's the Big Deal?
OLLY prenatal vitamins are packed with unique blends of essential nutrients, folic acid & omega 3 DHA, which is tailored specifically for moms in every stage – before and after her journey into motherhood begins!
Enjoy the delicious raspberry & citrus flavor with no artificial colors or flavors - all gluten free so that both you and baby will be well nourished throughout the process.
What You Should Know
Olly prenatal vitamin provides folic acid to help with growth and development as well as DHA to support brain and eye health. Plus vitamins C & E that contribute towards overall wellbeing during this special time - so you can feel confident about nourishing yourself both inside and out!
With two delicious gummies per day – no need for food or water – plus 60 yummy treats in each bottle; it's easy and tasty! Providing all of those precious little ones needs throughout their journey into the world.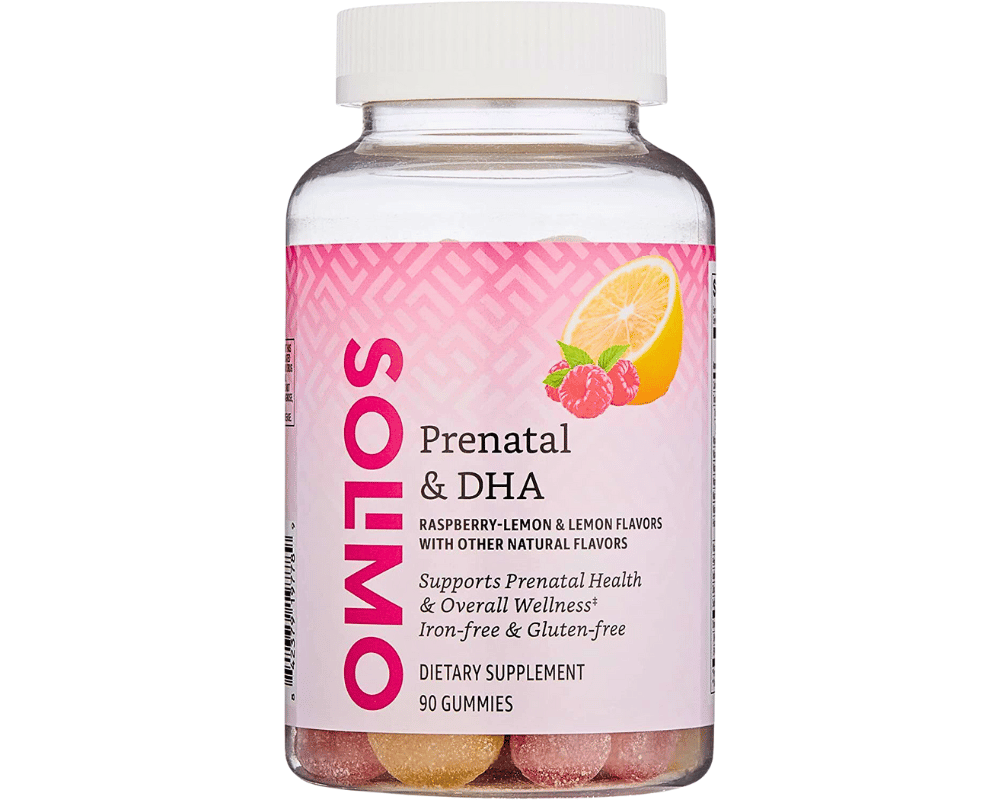 Best Iron Free Option
Check Price on Amazon
What's the Big Deal?
Solimo Prenatal & DHA is a fantastic prenatal health supplement to promote optimal health during pregnancy. Formulated with many of the same ingredients as the renowned Nordic Naturals Prenatal DHA, Solimo Prenatal & DHA is designed to help support normal infant health and development while promoting overall wellness in pregnant women.
If you're looking for an easy-to-chew prenatal supplement, Solimo Prenatal & DHA may be right for you; this soft gummy supplement has a texture that is softer than a fruit snack, making it easy to chew no matter what stage of pregnancy you're in. When it comes to your prenatal health, trust Solimo Prenatal &DHA!
What You Should Know
Enjoy the fresh, mouth-watering taste of natural lemon and raspberry flavors with each chewy gummy in this 90 count bottle. This delicious vitamin supplement is gluten free and iron free - perfect for your health needs!
To ensure maximum effectiveness, you can chew two gummies daily as part of a balanced diet while avoiding contact with excessive heat or sunlight to prevent melting or damage.
Benefits, Dosage, and Side Effects
Gummy prenatal vitamins have benefits and side effects just like any other supplement. Let's discuss them along with their recommended dosage.
Benefits
Taking gummy prenatal vitamins prior to pregnancy is a major step in helping ensure your baby's health and development. Folic acid helps reduce the risk of serious abnormalities, while iron supports the placenta and fetus growth as well as prevents anemia. For optimum results, start 3 months prior to pregnancy is ideal for reaping these important benefits!
Dosage
Taking prenatal vitamins is an important part of a healthy pregnancy, but it's essential to make sure you don't overdo the dosage. High doses of certain vitamins can carry risks for both mom and baby. Your doctor may prescribe a specific type or brand - all will have recommended dosages on their labels that should be closely followed when taking them during your journey into motherhood!
Prenatal vitamins are a critical part of any expecting mother's diet. To ensure the right balance and quantity of ingredients, here's a detailed look 400 mcg folic acid, 40 IU vitamin D, 200 to 300 mg calcium, 70 mg vitamin C ,3mg thiamine (B1), 2mg riboflavin(B2), 20mg niacin(B3) 6mcg Vitamin B12 10 mg Vitamin E 15mg zinc 17 Iron 150 Iodide micrograms.
Side Effects
Prenatal vitamins are essential for the health of both mom and baby, but can cause their own discomfort. If feeling nauseous is an issue for you during pregnancy, your doctor may be able to help by finding a different prenatal vitamin that won't exacerbate symptoms.
The iron in these supplements might also lead to constipation - combat this with plenty of fiber-rich foods or extra water intake. Regular physical activities should reduce any unwanted side effects such as constipation too – just check with your healthcare provider first!
Gummy Prenatal Vitamins FAQs
Why should I take a prenatal vitamin?
As your little one grows, it's crucial to provide adequate nutrition and support for you both. Eating well-balanced meals chock full of vitamins and minerals is key to a healthy pregnancy, along with taking a prenatal vitamin every day - helping set the foundation so that all body functions can continue operating at their best!
Can I take more prenatal vitamins to make up for a deficiency?
Expectant mothers need to be especially mindful about their vitamin intake: taking more than the daily recommended amount of your prenatal multivitamin can lead to potential birth defects due to high-dose ingredients such as Vitamin A. Make sure you stick with the guidance on that supplement bottle or health care professional!
What vitamins and minerals do I need during pregnancy?
During pregnancy your body needs various vitamins to help support the growth and development of a healthy baby.
Folic acid helps prevent neural tube defects, iron supports red blood cell production, calcium maintains bone health for you and baby, Vitamin D strengthens bones & teeth , choline develops brain cells & memory centers in the developing fetus's nervous system, omega-3 fatty acids boost fetal vision and brain function; B Vitamins keep energy levels up; while vitamin C contributes positively to tissue repair following delivery.
Are gummy prenatal vitamins effective?
Pregnant women can benefit from taking prenatal gummy dietary supplements ensures optimal essential nutrients like folic acid and iodine. However, it's important to check the label for additional iron as some may be lacking this key mineral needed during pregnancy.
Are gummy prenatal vitamins better than pills?
Prenatal gummy vitamins can be a great solution for women who just don't do well with regular pills. However, compared to the traditional prenatal pill form some of these gummies contain reduced levels or are even missing vital elements such as iron so it is important to carefully check labels!
When should I start taking prenatal gummies?
Women of reproductive age should consider regularly taking prenatal vitamins - even prior to conception - for optimal health and wellness! Prenatal supplements can provide essential nutrients which are beneficial before, during, and after pregnancy.
Why doesn't some gummy prenatal brands have iron?
Vitamins that contain iron can be beneficial to your health, but they may also cause uncomfortable side effects such as an upset stomach or constipation.
Is it better to take prenatal vitamins in the morning or at night?
Prenatal vitamins provide essential nutrients for both mother and baby during pregnancy. For the best absorption, health professionals recommend taking them with breakfast in the morning or at night with dinner.
What happens if you don't take Prenatals before pregnancy?
Prenatal vitamins aren't a necessity for every pregnant woman; however, consulting with your doctor to find the right supplement can be beneficial. When you're expecting, make sure you get expert advice on how best to nurture and care for yourself as well as your little one!
How far into pregnancy do you take prenatal vitamins?
Prenatal vitamins are a crucial part of any pregnancy and expecting moms should include them in their routine. Start one month before conception for best results, with an emphasis on the first formative weeks when baby's development is most important!
Final Word
It's no secret that taking essential pregnancy vitamins are vital for every mother and child. These golden gummies are the perfect blend of both convenience and nutrition, giving you the best of all worlds with just a few bites, truly a 5 stars experience. Plus, you don't have to worry about compromising on quality – every one of their formulas uses top-notch ingredients to ensure you're getting all the nutrients needed for maximum health benefits.
So, if you're looking for an easy way to maximize nutrition for a healthy pregnancy – look no further than these amazing gummy prenatal vitamins. Don't wait, experience the magic of these wonderful vitamins now!