It can be hard to get all the nutrients you need when pregnant, especially if you're vegan.
Not getting enough essential vitamins and minerals can lead to health problems for both you and your baby.
Vegan prenatal multivitamins along with a healthy diet is the perfect solution! They provide all the nutrients you need while pregnant, without any of the worry about animal products.
We've curated a list of top-quality products below that we're confident you'll love. Our editors have independently selected each one, and although some have been sent to us as samples, all opinions in this article are our own. We want to be transparent with you and let you know that FlairFindings may earn a commission or other compensation from the links on this page if you decide to make a purchase. This is how we sustain our business & content flow. Additionally, we have edited reviews for length and clarity. We hope you enjoy discovering your new favorite item!
How We Select The Best
Pregnant mothers, are you looking for a way to ensure the health of your pregnancy?
We know how important it is to take prenatal vitamins during this special time. That's why we have 5 of the best organic vegan prenatal vitamins with the perfect balance of folic acid and other essential nutrients like thiamine, vitamin C, vitamin D and calcium. So you can be sure that your body has all the nutrition it needs during pregnancy!
Taking these specific supplements is key to having a safe and smooth journey through motherhood. Quality over quantity will make all the difference in giving your baby everything he/she deserves from day one!
Look through our selection of organic vegan prenatal vitamins now and give yourself peace of mind knowing you're doing what's best for your growing family!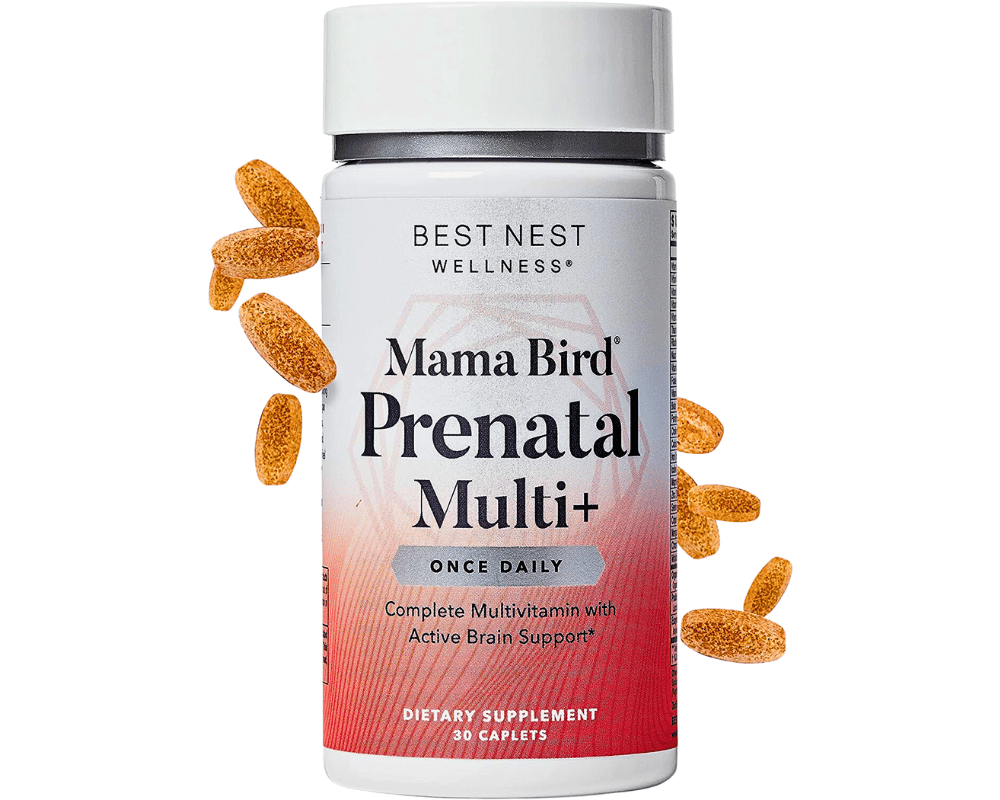 Best Overall
Mama Bird Prenatal Multi+
Check Price on Amazon
What's the Big Deal?
Mama Bird Prenatal Multi+ ensures that both you and your baby are getting the best nutrition to fuel their growth during each stage of pregnancy.
This comprehensive multi-vitamin contains important dietary elements such as active methylated vitamins, probiotics, digestive enzymes, organic herbs - all chosen specifically for supporting healthy neurodevelopment in babies while promoting energy production & memory enhancement in moms!
What You Should Know
Mama Bird Prenatal Multi+ offers an easy, convenient way to get the essential vitamins and minerals your body needs during pregnancy. With a single serving recommended daily and formulated without soy, yeast, fish/shellfish, sugar preservatives or artificial colors & flavors—not to mention made here in America with natural whole-food based ingredients—Mama Bird has you covered throughout your journey.
Plus it contains active methylated forms of B9 (methylfolate), B12 (methylcobalamin) and B6 (pyridoxal–5′ phosphate). All this in one vegan capsule that is gentle on even the most sensitive system!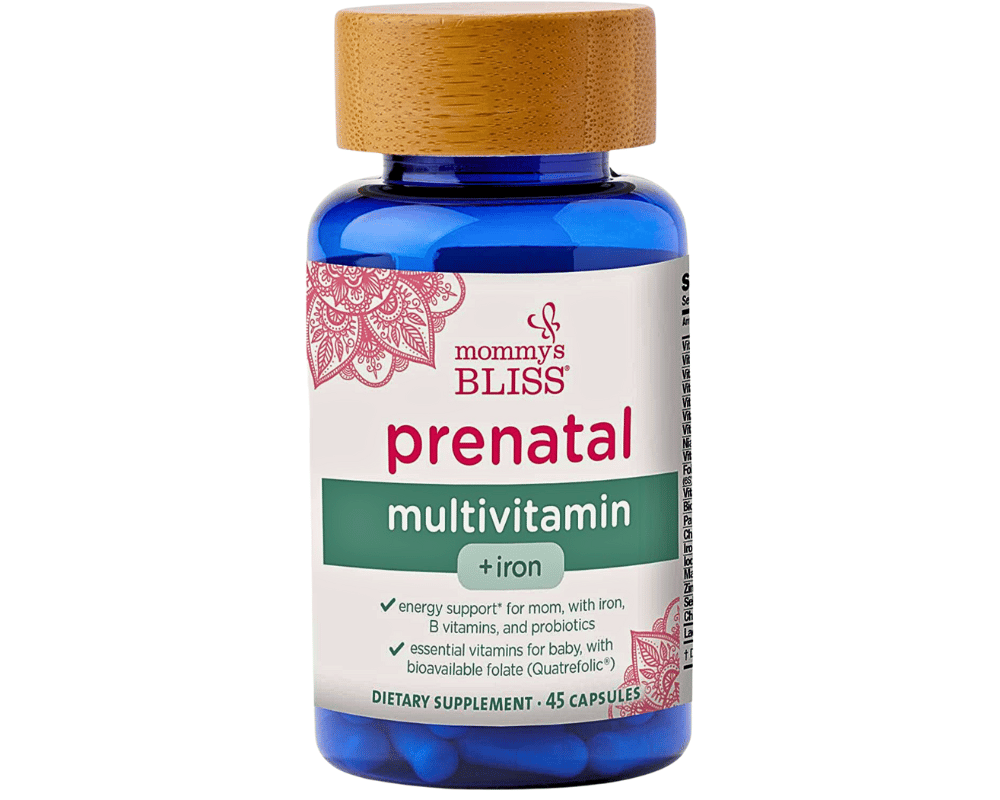 Best Source of Probiotics
Mommy's Bliss Prenatal Multivitamin
Check Price on Amazon
What's the Big Deal?
Mommy's Bliss Prenatal Multivitamin is the perfect supplement for expectant moms; providing 20 essential vitamins and minerals that support your baby's healthy development.
Plus, it includes iron, probiotics, and Vitamin B12 to give you energy during pregnancy -- all packed in a single easy-to-swallow capsule! Get everything you need now to help ensure newborn health down the road.
What You Should Know
Mommy's Bliss Prenatal Multivitamins provide expecting mothers with more than just the essential vitamins and minerals during their pregnancy. It also contains Methylfolate, a form of folic acid that helps to ensure the healthy development of babies' brains and spinal cords.
The added probiotics support gut health for both mommy-to-be and baby as well! Plus, these multivitamins contain none of those extra ingredients like sugars or artificial flavors – making it an even healthier choice all around.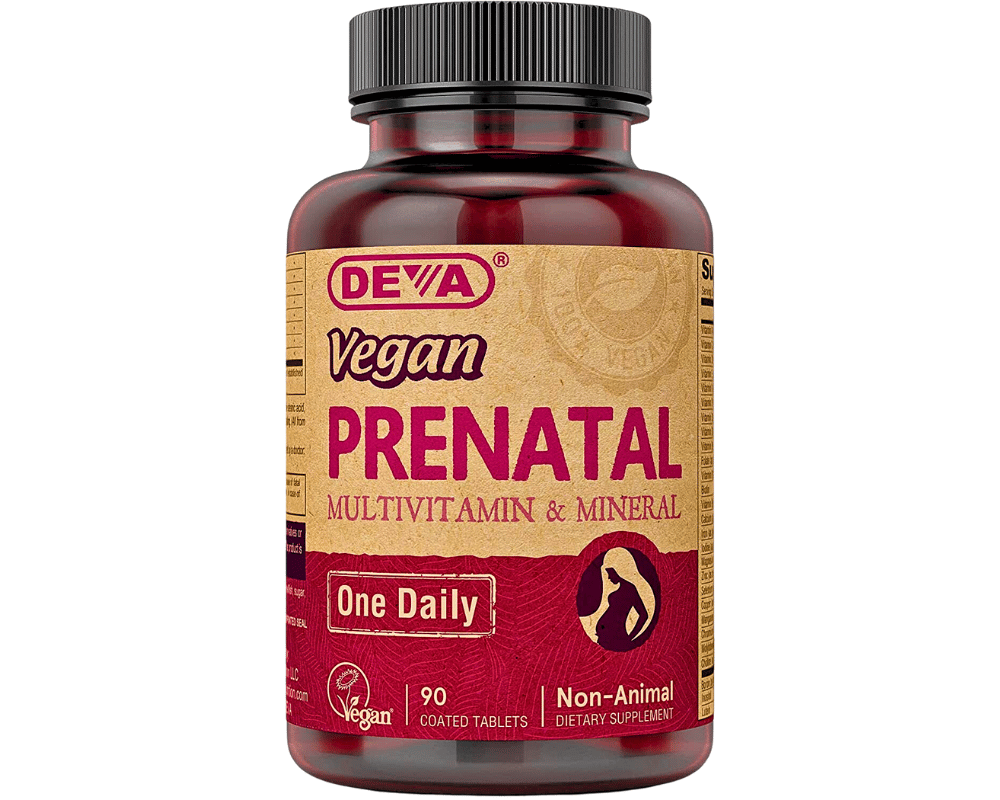 Best Source of Calcium
Deva Vegan Prenatal Multivitamin
Check Price on Amazon
What's the Big Deal?
Support a healthy pregnancy with Deva Prenatal multivitamin tablets. These vegan supplements give you potent doses of the B-complex vitamins that your body needs to make energy from the food that you eat while providing essential minerals and nutrients needed for fetal growth.
Fill in nutrition gaps and nourish yourself during this special time - try Deva Prenatal today!
What You Should Know
Deva's amazing Vegan Prenatal Multivitamin tablets provide safe, non-toxic doses of fat and water soluble vitamins for expecting moms.
The unique formula includes Vitamin E derived from plant sources like d-alpha, as well as essential Vitamin K and D - all without any animal byproducts or common allergens like tree nuts, wheat and peanuts. It is the perfect way keep strong during those special 9 months!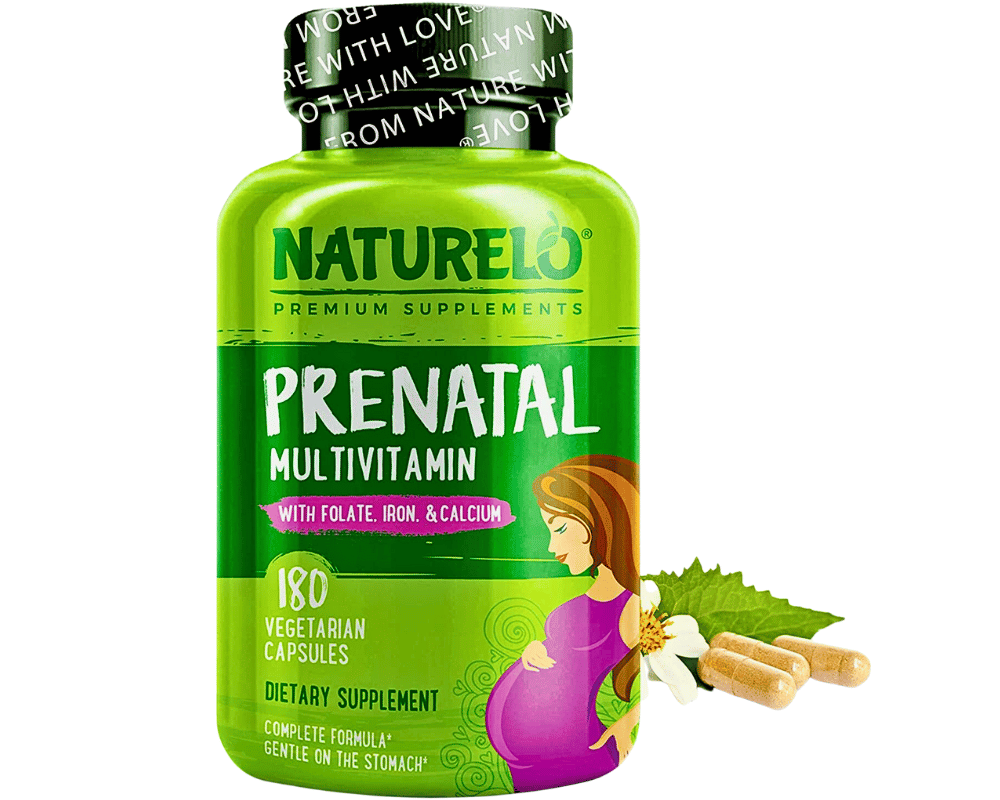 Best Source of Vitamin B
NATURELO Prenatal Multivitamin
Check Price on Amazon
What's the Big Deal?
NATURELO Prenatal Multivitamin is the top choice for pregnant women seeking essential prenatal nutrients! This multivitamin contains only premium ingredients including plant-based and chelated minerals that are more easily absorbed such as calcium, magnesium, zinc and selenium.
Additionally it's non GMO with no yeast, gelatin sugar or gluten making this a great option to support healthy pregnancy and fetal development while avoiding any unnecessary additives.
What You Should Know
NATURELO Prenatal Multivitamin is a powerhouse of plant-based nutrients that provide a natural source of vitamins and minerals to support the healthiest pregnancy possible.
In addition to Vitamin D3 from lichen, Sunflower-sourced vitamin E, Acerola cherry Vitamin C, Kelp Iodine & Marine Algae Calcium + Magnesium — this supplement also helps fuel healthy fetal brain development with 100 mg Choline plus high potency bioactive B Vitamins including 800 mcg Active Methyl Folate for healthier pregnancies!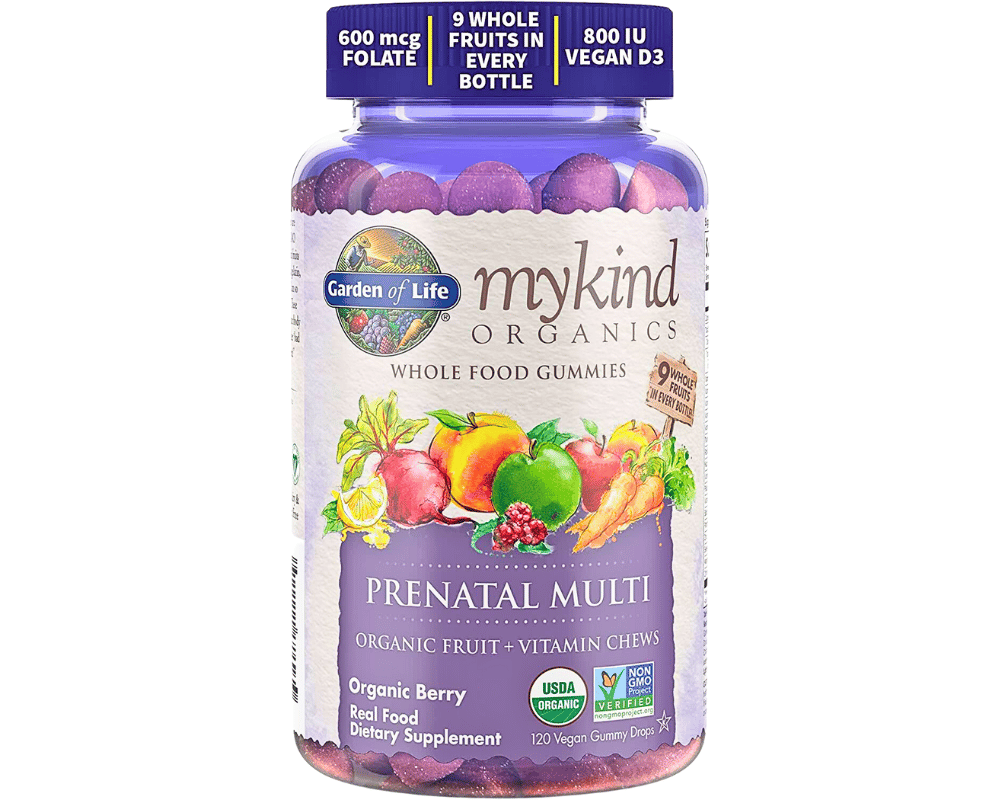 Best Organic Option
Garden of Life Prenatal Multivitamin
Check Price on Amazon
What's the Big Deal?
For expectant moms and their babies, Garden of Life gummy prenatal vitamins provide the utmost nutrition. An organic lemon peel source for 100% daily value folate boosts mom's energy while 800 IU vegan D3 from Lichen plus over 100% B12 supports baby in a safe environment to grow up healthily.
Plus testing is done at every stage so you can trust that these top-grade supplements meet industry standards!
What You Should Know
Garden of Life offers an incredibly healthy, delicious and unique way to get your daily multivitamin! Their gummy supplements are made with nine organic whole fruits, none of which contain sugar - just natural fruit sugars.
Each serving also provides up to 2g dietary fiber in addition to not being susceptible to clumping thanks the non-GMO apples and orange peels they use as a base that eliminates the need for pectin coating.
Benefits, Dosage, and Side Effects
Vegan prenatal vitamins have benefits and side effects just like any other supplement. Let's discuss them along with their recommended dosage.
Benefits
Prenatal vitamins are essential to a healthy pregnancy! Not only do they reduce your baby's risk of developing conditions like spina bifida and anencephaly, but prenatal vitamins can also help avoid iron-deficiency anemia during the period before birth.
Plus, plenty of calcium helps ensure your infant has everything it needs for proper growth and development in utero. The takeaway? Don't forget those valuable prenatal vitamins while you're expecting.
Dosage
As you prepare for your upcoming arrival, make sure to maintain a healthy pregnancy in part by taking prenatal vitamins. However, it's important not to go overboard - high doses of some nutrients may carry risks for both mother and baby. Your doctor can help guide the way with specific recommendations that outline appropriate use of these vital supplements throughout this special time!
For a more in depth look here are the numbers 400 mcg folic acid, 40 IU vitamin D, 200 to 300 mg calcium, 70 mg vitamin C ,3mg thiamine (B1), 2mg riboflavin(B2), 20mg niacin(B3) 6mcg Vitamin B12 10 mg Vitamin E 15mg zinc 17 Iron 150 Iodide micrograms.
Side Effects
Prenatal vitamins are an important part of nutrition for both expecting mother and baby – but can cause some unwanted side-effects. If nausea is bothersome, speak with your doctor about a different kind to ease symptoms.
Iron content may also lead to constipation in addition - it's best combated through fiber rich foods or added water intake, plus regular physical activities (in consultation with care providers).
Gummy Prenatal Vitamins FAQs
Why should I take prenatal vitamins?
As your family journey of growth and development begins, you want to make sure that both mommy and baby are nourished for the healthiest pregnancy possible.
Putting in a daily dose of prenatal vitamin helps ensure everyone's body system functions at its best during this special time together. A nutritionally balanced diet is also essential - packed with vitamins, minerals and other key nutrients needed from day one!
Can I take more prenatal vitamins to make up for a deficiency?
With a bundle of joy on the way, it's important for expectant mothers to ensure their vitamin intake is just right. Taking more than directed may result in potential birth defects due to higher-than-expected levels of Vitamins A or other essential ingredients.
To be safe and informed when taking most prenatal vitamins, always follow your healthcare provider's advice as well as dose requirements labeled on each individual supplement bottle!
What vitamins and minerals do I need during pregnancy?
Pregnant moms need an array of vitamins to nurture their developing baby. Folic acid helps safeguard against defects; iron, calcium and vitamin D keep bones healthy for both mom and baby - choline aids brain cell & memory creation in the fetus nervous system while omega-3s boost vision & cognitive abilities! B Vitamins sustain energy levels throughout pregnancy with Vitamin C helping regenerate tissue following delivery.
Is it better to take prenatal vitamins in the morning or at night?
Prenatal vitamins are key for both you and your baby's nourishment during pregnancy. To ensure the best absorption, health experts suggest starting off your day with a prenatal vitamin at breakfast or ending it with one alongside dinner.
What happens if you don't take Prenatals before pregnancy?
For expectant mothers, finding the right supplement is an important part of caring for both themselves and their developing baby.
Consulting with a doctor to determine which prenatal vitamins are best-suited can be invaluable in helping ensure your health - and that of your child's - throughout pregnancy!
How far into pregnancy do you take prenatal vitamins?
Starting one month before conception, these essential vitamins are the first step towards providing your little one with all of the nutrients needed to form healthy bones, muscles and tissues.
Incorporating them into your daily routine can ensure optimal development during those important earliest weeks of pregnancy or even throughout the entire pregnancy.
Are vegan prenatal vitamins effective?
Pregnant women can benefit from vegan prenatal supplements to ensure they receive key nutrient requirements, such as folic acid and iodine. Extra attention should be taken when selecting a supplement, however - make sure there's adequate iron levels too - an essential mineral for expecting mums.
When should I start taking prenatal vitamins?
Women of reproductive age deserve to be as healthy and well-nourished as possible, whether or not they plan on having a baby. Taking the best prenatal vitamin regularly can provide essential nutrients for optimal health throughout all stages of life - before conception, during pregnancy, and even afterwards!
Why doesn't some vegan prenatal brands have iron?
Despite its importance in the production of red blood cells, Iron can come with side effects such as gastrointestinal distress and constipation. This is why some prenatal supplement brands choose to exclude it from their formulas.
Final Word
The bottom line is that taking essential pregnancy vitamins are so important for both mother and child. With vegan prenatal vitamins, you don't have to worry about compromising on quality as every one of their formulas uses just the best ingredients to provide all the important nutrients needed for a healthy pregnancy.
So, if you're looking for an easy, delicious way to make sure your baby and you are getting everything you need, these vegan prenatal vitamin supplements might be exactly what you need! We can't ignore the fact that proper nutrition plays such a critical role in developing a strong foundation for your little one - so why wait any longer? Get ready to reap the outstanding nutritional benefits of the best vegan prenatal vitamins today!