Got an itchy, flaky dog with a dull coat? Treat them right with the best fish oil for dogs! Fish oil is packed with Omega 3 fatty acids, which can help improve skin health, boost immunity, support heart health, and promote better cognitive function and joint mobility.
Today we'll walk you through our top five picks for fish oil for dogs, including their benefits, recommended dosage limits, and any potential side effects. Plus, we'll try to answer common questions about fish oil for your furry friend. Let's dive in!
How We Select The Best
When it comes to finding the best fish oil for dogs, we begin by exploring different types from various sources. We examine their nutritional content, purity, and sustainability. Next, we delve into research on their effectiveness for different breeds and sizes, specifically noting any improvements in coat health, joint mobility, and overall wellness.
Additionally, we take into consideration factors such as taste and digestibility to ensure that dogs will find the product palatable and easy to consume. Throughout this process, we also consider the recommendations of veterinarians and animal nutritionists to guarantee the safety and efficacy of these supplements. By conducting this research, we hope to assist you in finding the perfect fish oil supplement for your furry friend.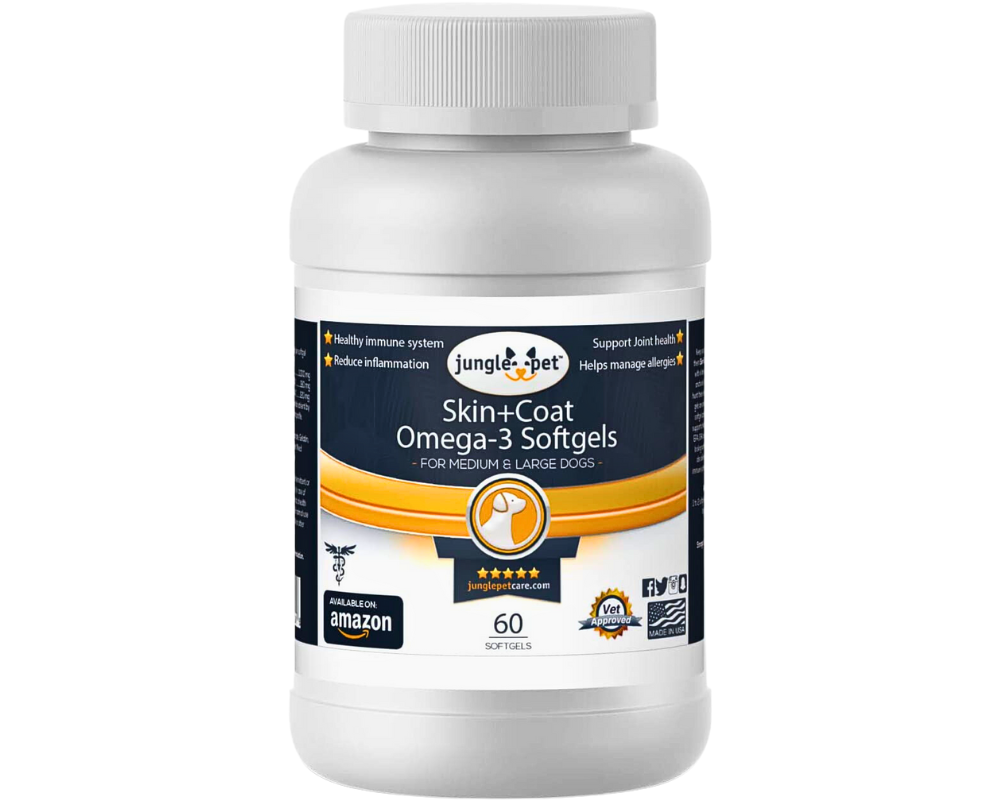 Best Skin & Joint Support
Jungle Pet Omega 3 Fish Oil for Dogs
Check Price on Amazon
What's the Big Deal?
Jungle Pet is a renowned manufacturer and distributor of animal supplements aiming for improved health and lives. Its fish oil supplement softgel capsules keep your dog's coat soft, smooth, and shiny. These Omega 3 Alaskan salmon oil sourced capsules are also beneficial for the joints of dogs as they age.
This supplement boosts their immunity and adds lubrication to the joints of dogs so that they can easily move and get rid of joint stiffness and pain. This supplement is made with the finest ingredients in order to offer the maximum benefits of fish oil.
What You Should Know
The container holds 60 softgel capsules with a recommended dosage of one to two softgels daily for medium to large dog breeds weighing 30 to 60 pounds. Each softgel consists of 71% crude fat, 3% moisture, 180 mg of EPA, and 120 mg of DHA.
Along with fish oil and Vitamin E, the other ingredients in this supplement include purified water and glycerin. You can administer this supplement directly to your dog or mix it in with their meal. Manufactured in a USA-regulated and controlled facility, this veterinary-approved supplement is best stored at room temperature.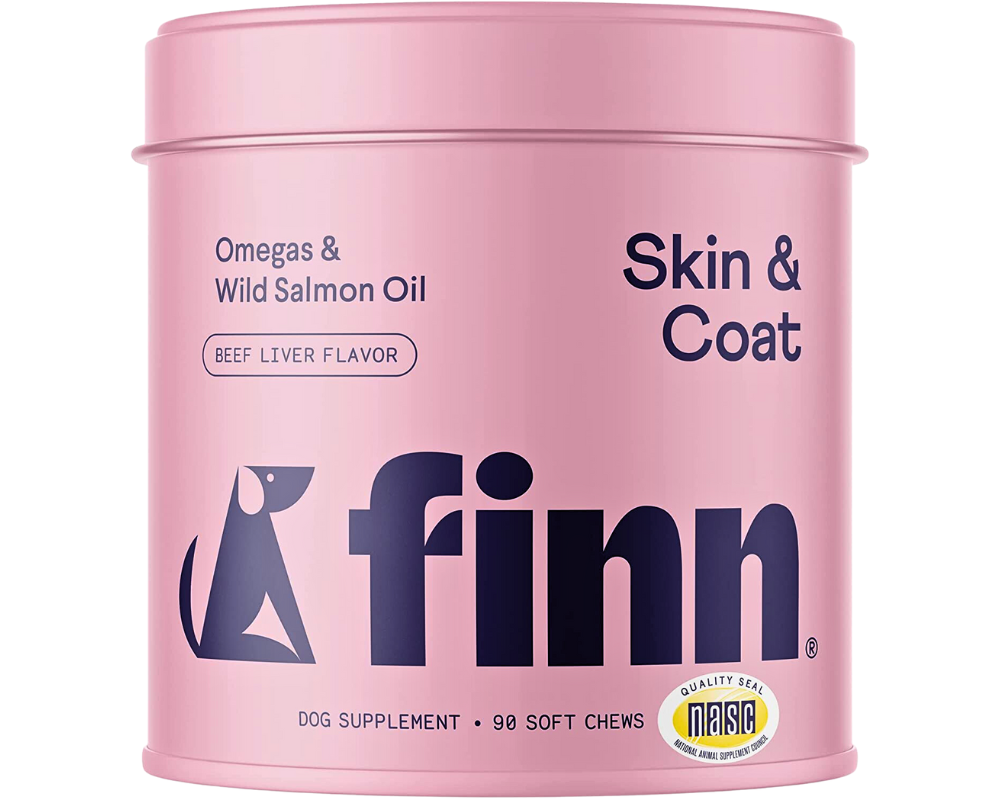 Best Itchy Skin Relief
Finn Skin & Coat Supplement for Dogs
Check Price on Amazon
What's the Big Deal?
Finn is a reputable brand for premium dog supplements and vitamins manufactured with research on dogs' wellness. It ensures your dog has a glossy, dense coat. This fish oil for dogs is taken from wild caught salmon, which contains EPA, DHA, and omega fatty acids. It's a great solution for itchy skin and a perfect add-on to your dog's food regimen.
Also, it is suitable if your dog's skin is sensitive and often gets dry and irritated because of seasonal changes or allergies. This fish oil supplement nourishes the skin at the cellular level and moisturizes their hair from roots to tips. Resultantly, it ensures your dog gets shiny fur like never before.
What You Should Know
This supplement is formulated by canine and veterinary nutritionists. It contains 90 soft chews with the recommended dosage based on your dog's weight. For dogs up to 25 pounds, it's one chew, for 26 to 50 pounds, it's two chews, for 51 to 75 pounds, it's three chews, and for 76 to 100 pounds, it's four chews daily.
Each soft chew provides essential nutrients such as 18% moisture, 12% crude fat, 95 mg of EPA, 175 mg of Omega 3 sourced from salmon oil, 68 mg of DHA, 25 mg of Ascorbic Acid, 50 mg of Zinc Proteinate, 20 mcg of biotin, and 25 mg of Vitamin E. Additional ingredients include coconut glycerin, natural flavor, and organic honey. This supplement is recommended by vets, certified by NASC, and made in an FDA-registered cGMP-certified facility in the USA using organic ingredients.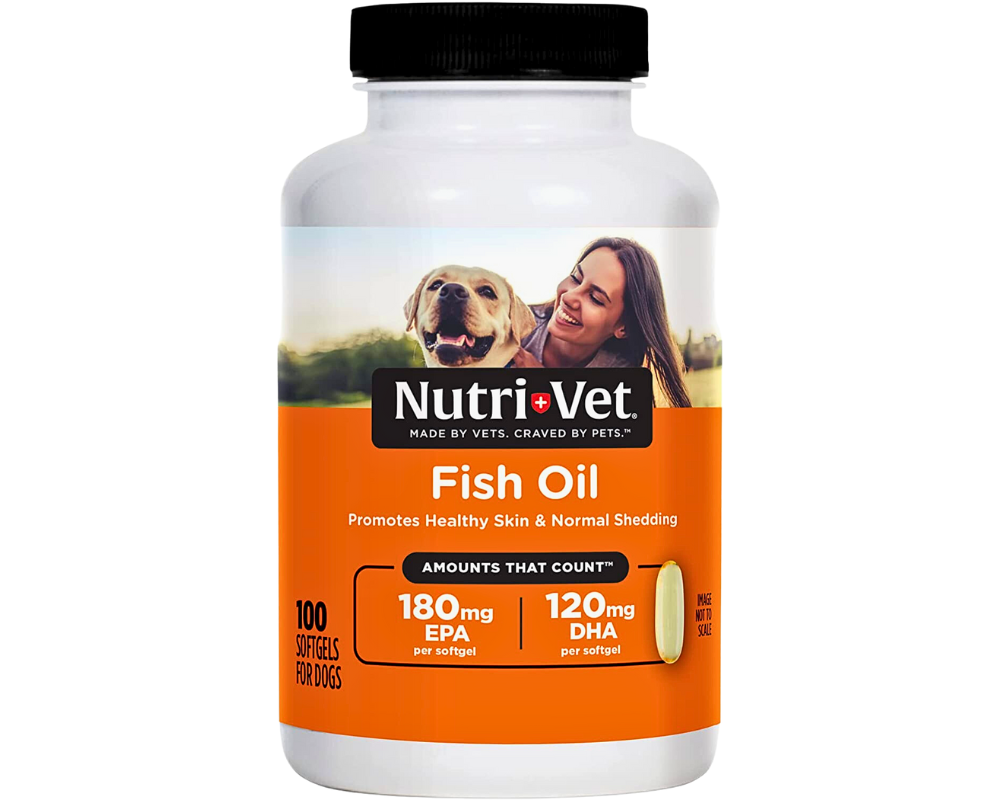 Best Shedding Support
Nutri-Vet Fish Oil Supplements for Dogs
Check Price on Amazon
What's the Big Deal?
Nutri-Vet provides vitamins and supplements for pets aiming to benefit their overall well-being and improved health. These fish oil soft gel capsules offer daily support to your dog's scalp. Getting rid of dull and dry skin which helps reduce heavy shedding. With optimal nutritional support, dogs' hair gets shiny, soft, and straight.
This supplement soothes itchy skin and acts as an instant solution to dandruff and dry skin. Along with skin and hair nutrition, this supplement supports your dogs' immunity and strengthens their bones and joints. It's a great option for large and active dog breeds.
What You Should Know
The bottle contains 100 soft gels for dogs. The recommended dosage is one softgel per 30-60 pounds of body weight per day. You can estimate your dog's daily dosage accordingly. Each softgel provides 180 mg of EPA, 120 mg of DHA, 400 IU of Vitamin A, 100 IU of Vitamin D3, and 4 IU of Vitamin E.
The supplement also includes gelatin, glycerin, fish oils, and water as other ingredients. These supplements are easy to take, odor-free, and mess-free. They are made in the USA with ingredients sourced from around the globe.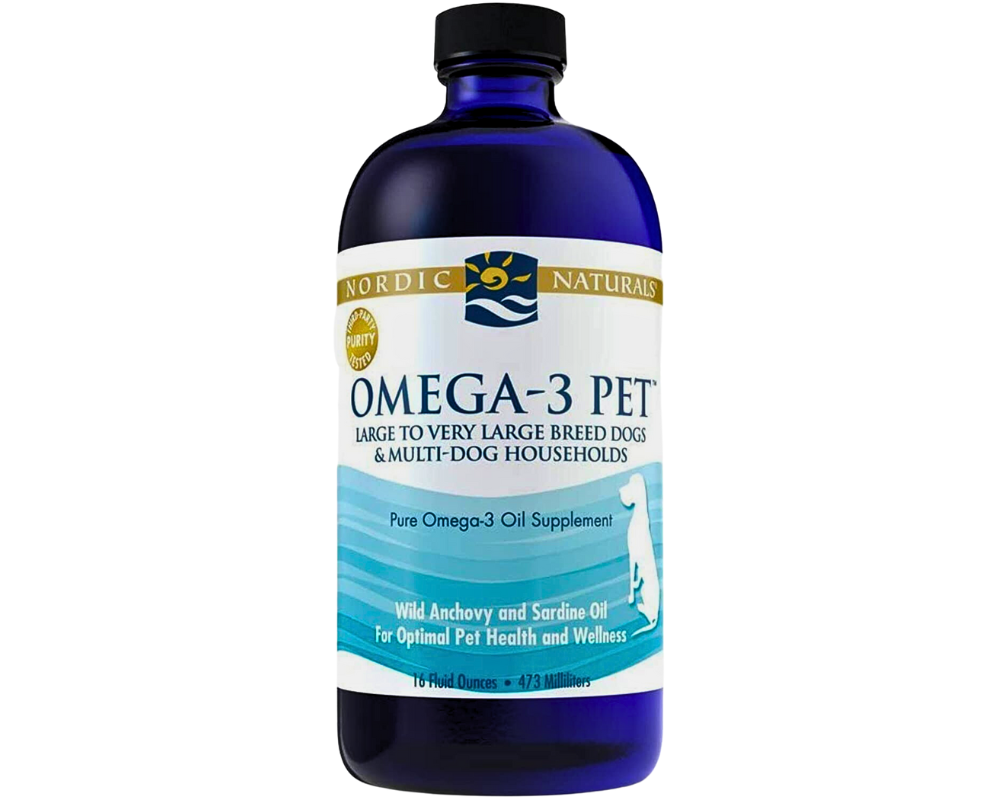 Best for Immune Support
Nordic Naturals Omega-3 Fish Oil for Pets
Check Price on Amazon
What's the Big Deal?
Nordic Naturals is a renowned essential nutrient provider that promises the most safest and effective solutions. This supplement has Omega 3 liquid fish oil containing essential fatty acids. It is a suitable formula for dogs' immune health.
Furthermore, it also strengthens their joints and improves their cardiovascular health. This supplement improves the skin, coat, and hair of dogs. It ensures optimal absorption into the dogs' body for optimal benefits as it is sourced from wild-caught Omega-rich fish.
What You Should Know
The pack contains 16 ounces of Omega 3 fish oil fluid. This supplement is non-GMO and free from gluten and dairy. It is manufactured in a zero-waste facility and tested by a third party for purity. In each half teaspoon of this supplement, dogs receive 368 mg EPA, 253 mg DHA, and 759 mg Omega 3. The other ingredients include sardine oil, anchovy oil, and tocopherol. Plus, there are no artificial flavors, preservatives, or color in this supplement.
For dogs weighing 20-39 pounds, the recommended dosage is half a teaspoon. For dogs weighing 40-59 pounds, it's one teaspoon. Dogs weighing 60-79 pounds should take 1.5 teaspoons, while those weighing 80-110 pounds should take 2 teaspoons. For dogs weighing above 111 pounds, the recommended dosage is 2.5 teaspoons.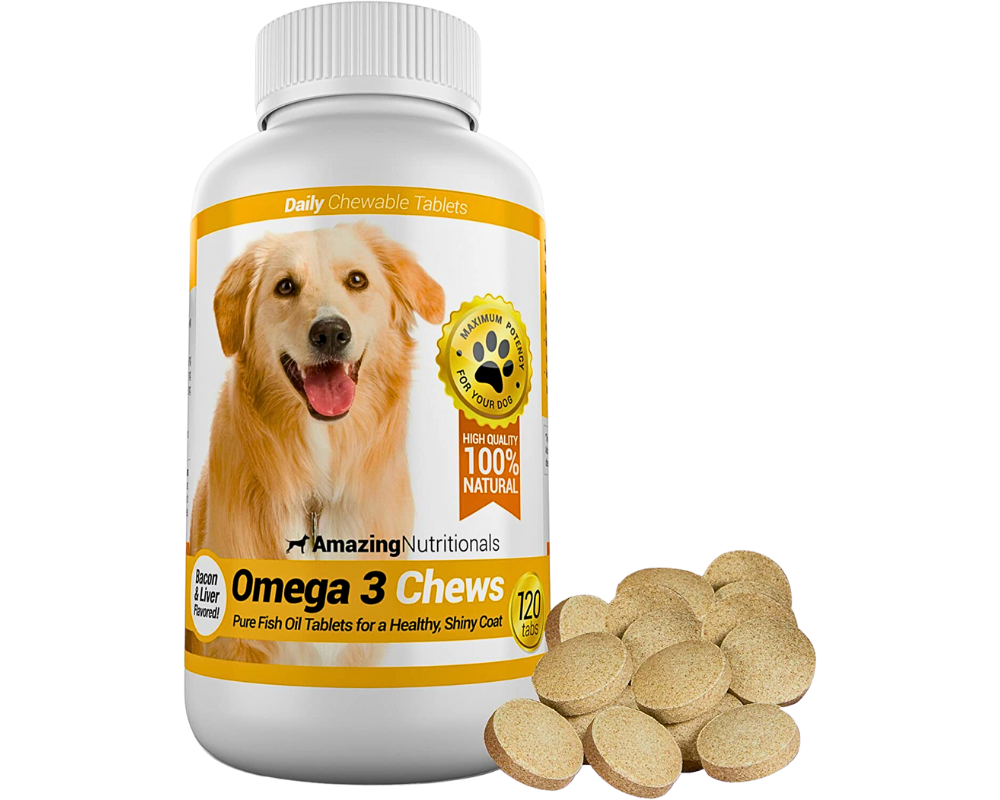 Best for Shiny Coat
Amazing Nutritionals Omega 3 for Dogs
Check Price on Amazon
What's the Big Deal?
Amazing Nutritionals offers a complete nutritional range of products for every dog of all ages, sizes, and breeds for optimal health benefits and easy mobility. It offers great-tasting fish oil that relieves itchy skin and makes it smell-proof.
Dogs love to chew these bacon and beef liver-flavored bite-sized chews. This supplement helps the dogs with their dull coat and is an optimal treatment for dogs' dry skin. It is also a great supplement to give to your dog if it is fighting dandruff. It also helps the dog stop licking its paws. Furthermore, this supplement is also helpful for sensitive stomachs.
What You Should Know
The pack contains 120 Omega 3 chews for dogs. The recommended dosage is 2 tablets daily for dogs weighing under 40 pounds, 3-4 tablets for dogs up to 80 pounds, and 5-6 tablets for dogs up to 120 pounds. Each tablet provides your dog with 150 mg of fish oil, 51 mg of sunflower oil, and 100 mg of evening primrose oil.
Other ingredients include microcrystalline cellulose, liver, calcium, bacon flavor, whey, stearic acid, silicon dioxide, and magnesium stearate. This supplement is made in a GMP-certified facility in the USA and does not contain any animal by-products. It is third-party tested and verified for purity. No refrigeration is required for this pack of supplement chews.
Benefits, Dosage, and Side Effects
Here's the benefits, dosage and side effects of fish oil for dogs.
Benefits
Fish oil offers several benefits for dogs. Firstly, it supports skin health by preventing dryness, itchiness, and allergies. Additionally, it reduces inflammation, which can lead to itching and allergies. Dog fish oil also supports the cardiovascular system, promoting a normal heart rate and preventing irregular heartbeats. Moreover, it helps prevent the formation of blood clots and lowers triglyceride levels, benefiting dogs with inflammatory bowel disease, pancreatitis, and heart diseases.
Fish oil plays a role in preventing the progression of kidney diseases by regulating blood pressure, reducing inflammation, and minimizing protein loss through urine. It provides relief for joint pain and makes arthritic dogs more comfortable by reducing joint inflammation. Additionally, dog fish oil supplements improve neurological and cognitive functioning in dogs, enhancing their learning ability and memory retention. Overall, fish oil can greatly benefit dogs in various ways.
Dosage
When it comes to dogs, safety is paramount, a motto of the National Animal Supplement Council who strives to protect our canine companions from harmful substances. Each fish oil supplement discussed in this article is unique, just like the other options available in the market. Thus, pinpointing the recommended dosage of fish oil and Omega 3 for dogs becomes tricky.
However, rest assured that manufacturers have conducted research and formulated supplements accordingly. They provide a recommended dosage limit on the product label that best fits your furry friend. And for added safety, it's always a good idea to consult your vet for any inquiries.
Side Effects
Fish oil is generally safe for dogs, but it can be harmful if given in excessive amounts. Overdosing on fish oil may lead to common health issues such as diarrhea, a fishy smell, heartburn, nosebleeds, loose stools, and vomiting.
Additionally, some less common side effects of fish oil supplements in dogs include slow healing, sleepiness, oily skin, itching, and blood clotting. If any of these side effects occur, it is recommended to discontinue the use of fish oil and consult a veterinarian for examination and guidance.
Fish Oil for Dogs FAQs
Here we answer any common questions regarding fish oil supplements for dogs.
What type of fish oil is good for dogs?
Fish oils containing EPA and DHA, the essential fatty acids are the best type of fish oils for dogs.
What is the best source of omega for dogs?
The best source of Omega 3 for dogs is the fish oil extracted from wild caught Alaskan salmon, it's known as wild Alaskan salmon oil.
Is olive oil or fish oil better for dogs?
Fish oil is better than olive oil for dogs as it contains EPA and DHA, the two essential fatty acids.
How do I give my dog fish oil?
You can give your dog a fish oil supplement in liquid or capsule form. You can give it to them with food or without food according to the manufacturer's recommendation and vet's directions.
What are the side effects of fish oil for dogs?
Some of the side effects of fish oil for dogs are diarrhea, vomiting, heartburn, fishy smell, and nose bleeding.
How much fish oil per day for dogs?
The recommended dosage of fish oil for dogs varies according to their body weight. You can see the fish oil packaging for the amount of fish oil recommended according to your dog's weight.
How long does it take for fish oil to work in dogs?
Fish oil takes three to four weeks to start showing effects in dogs.
How long is dog fish oil good for?
It's better to finish the fish oil for dogs within 30 to 90 days after opening the jar. After that, it will become dangerous for them to consume.
Is fish oil cod liver oil?
Cod liver oil is one of the different types of fish oils. It's taken from the liver of codfish, i.e., mackerel, and tuna, which is less fatty than other fish.
Final Word
Fish oil for dogs is an excellent remedy for itchy, flaky pets with dull coats. It can help improve skin health, boost immunity, support heart health, and promote better cognitive function and joint mobility – all without changing your beloved pet's diet.
With our top five picks for the best fish oil for dogs in hand, you can easily choose the best product tailored to your pup's needs. Whatever you choose to go with, make sure to read the label carefully for recommended dosage limits and any potential side effects before administering it. Ready to get started on giving your dog a healthier future? Don't wait, get ready to receive outstanding benefits today!