Your kids need to get enough Vitamin C to stay healthy, but it can be hard to make sure that they're getting enough from food sources alone.
Without enough Vitamin C, your kids may develop weakened immune systems, suffer from skin problems and fatigue, or experience slower wound healing.
We understand how important it is for children to get the necessary vitamins and minerals to stay well. That's why we've curated a list of the best Vitamin C for kids - along with dosage limits, benefits, side effects, and answers to your most common questions. Don't worry about getting enough Vitamin C for your kids - with these supplements you can rest assured that their health is taken care of!
How We Select The Best
Looking for the perfect vitamin C supplement to make sure your children get the nutrients they need?
Our collection of the best vitamin C for kids are tailored specifically for their needs. They come in delicious flavors your kiddos will love, and have been carefully chosen based on optimal dosage levels and bioavailable forms so that your children can get maximum absorption. We care about helping them give a good start to a healthy life!
With our selection, you won't ever have to worry about leaving your kids without all-important immune support or missing out on important daily nutrients necessary for their growth and development. You'll be able to rest easy knowing they're getting what's best for them!
Get one of the best vitamin C supplements today – it's never too late to make sure your kids stay healthy and happy!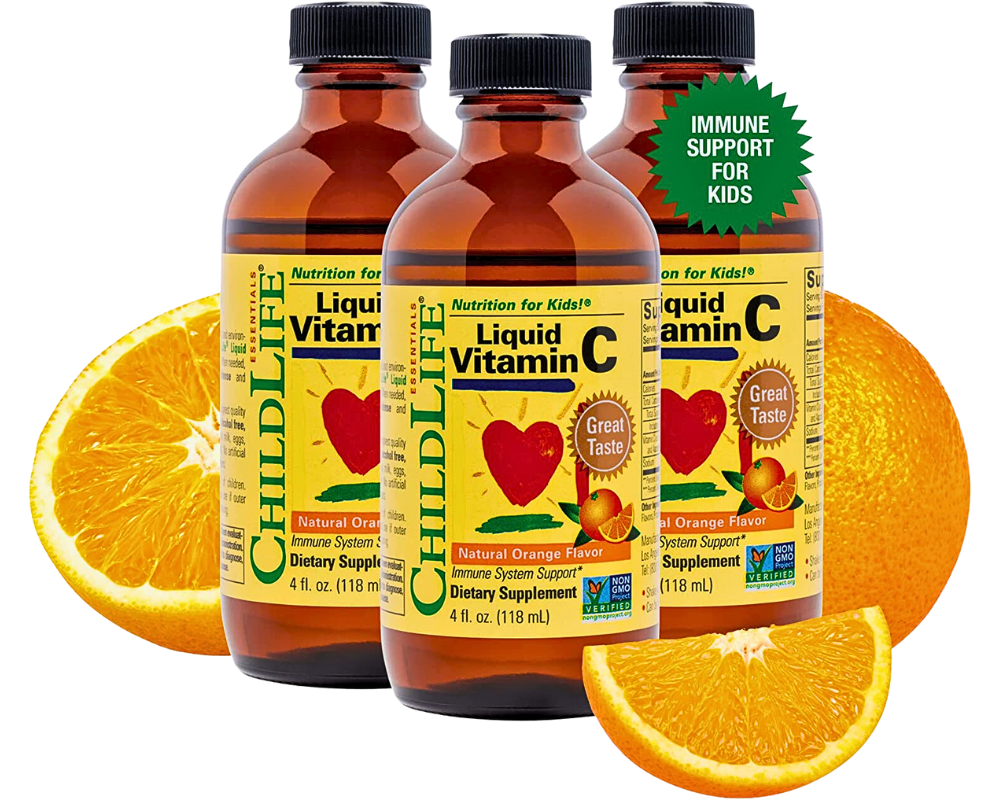 Best Liquid Form
CHILDLIFE ESSENTIALS Liquid Vitamin C
Check Price on Amazon
What's the Big Deal?
CHILDLIFE ESSENTIALS is a well-known brand that offers all-natural supplements and kids vitamins. Their liquid vitamin C for kids tastes great with an orange flavor that children simply love.
It's an excellent supplement that supports the immune system of kids of all ages, from young children to teens, and provides essential antioxidants that a child's body needs. With daily use, this supplement boosts your child's well-being, improving their immune system's response to illness.
What You Should Know
Get your hands on CHILDLIFE ESSENTIALS Liquid Vitamin C! This liquid supplement offers 72 servings in 3 four-ounce bottles. Plus, it's gluten-free. With each serving, your child can get 250mg of Vitamin C, 2g of carbohydrate, and only 5 calories.
This specially formulated supplement contains glycerin, fructose, purified water, natural flavors, potassium sorbate, potassium bicarbonate, and xanthan. Plus, it's made in an FDA-registered cGMP-certified facility and third-party tested for potency.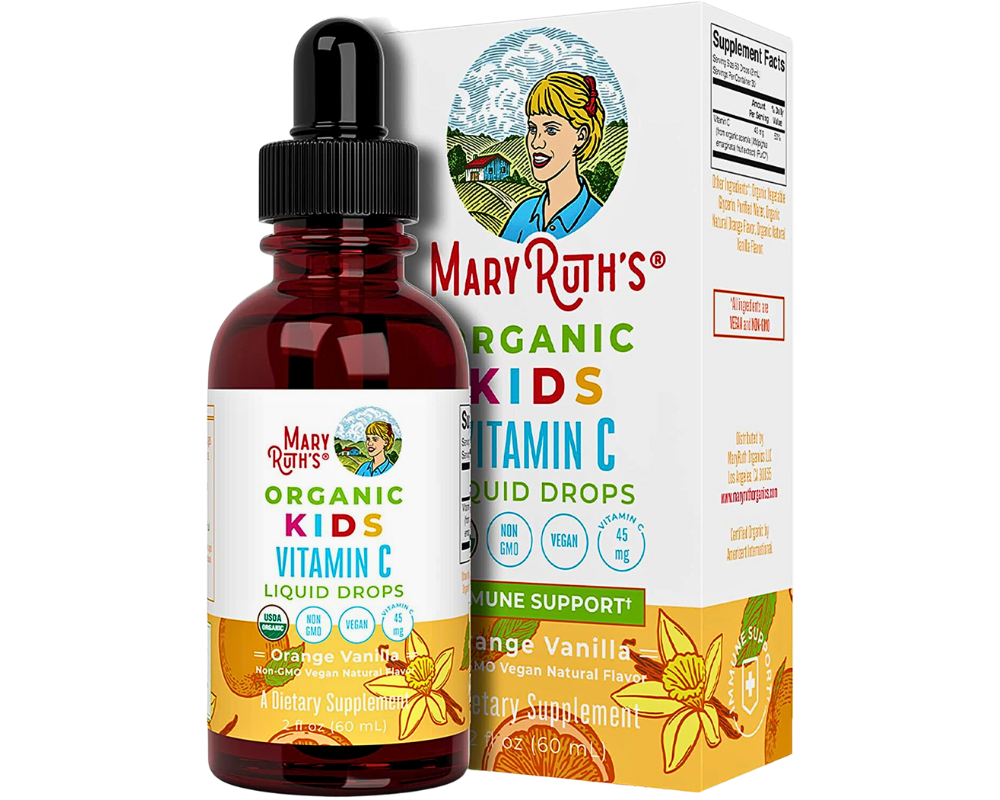 Best for Immune Support
Organic Kids Vitamin C Drops by MaryRuth's
Check Price on Amazon
What's the Big Deal?
Do you want to support your kid's health naturally? MaryRuth's Organic Kids Vitamin C Drops can provide just that! These liquid drops contain purC Vitamin C from citrus fruits, packed with antioxidants which bolster the immune system while fighting off damaging free radicals.
They're also great for naturally improving skin health, brain health, and heart health - giving your child the right nutrition for growth and development. Plus, it's easy to swallow and tastes fantastic. Get some today to provide your kids the vital nutrients they need!
What You Should Know
Each 60 ml container contains 30 servings of liquid dietary supplement, with a recommended dosage of 2ml or two drops. With 45mg of Vitamin C in each serving, this supplement is a great way to boost your children's immune system.
Plus, it's free from nuts, dairy, GMOs, gluten, soy, wheat, corn, sugar, and nightshade. The supplement contains natural organic orange and vanilla flavors and is easy to administer – you can either give it directly to your kids or mix it with their favorite beverage. Before use, make sure to shake the bottle well.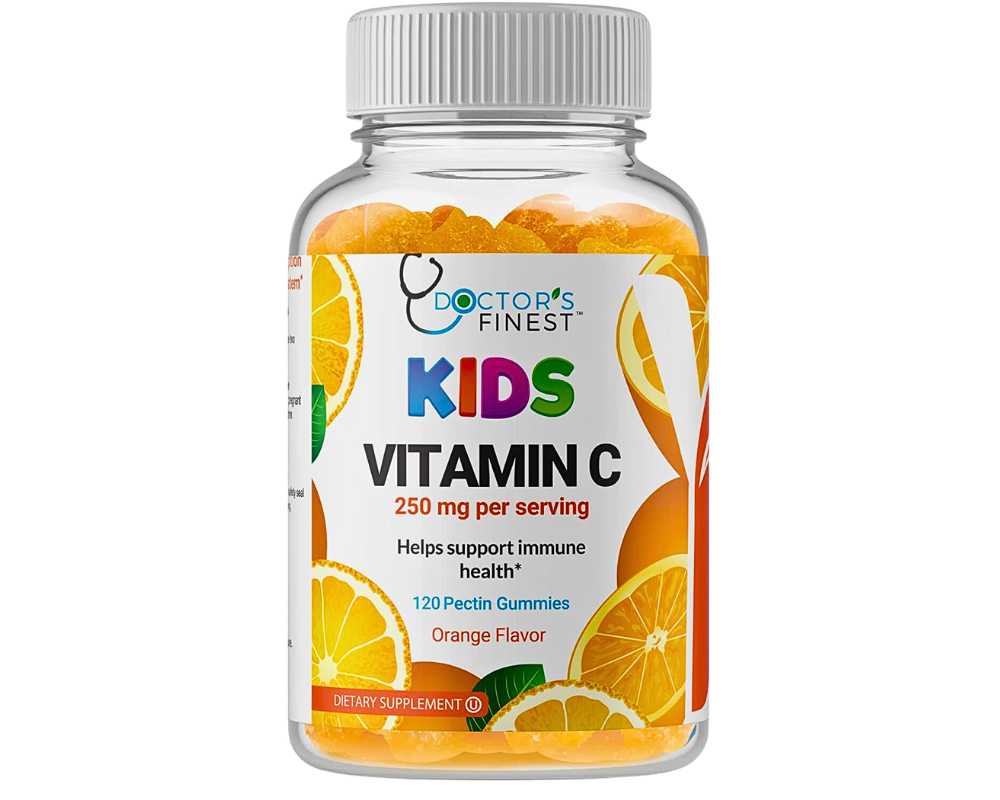 Best Vitamin C Gummies
DOCTOR'S FINEST Vitamin C Gummies
Check Price on Amazon
What's the Big Deal?
Doctor's Finest Vitamin C Gummies provide your child with the best-tasting nutrition they need and crave! These great-tasting gummies are not only packed with essential nutrients they're also a perfect partner for any child's diet for their growing bodies but also readily increase absorption of iron in their body for improved well-being.
Unlike other gummies, their soft texture ensures that they won't stick to teeth or cause enamel damage. They'll love these fruity orange-flavored gummies even with picky eating behavior, making it a delight to take vitamins every day. Give them what they want and what their bodies need. Choose Doctor's Finest Vitamin C Gummies!
What You Should Know
Each bottle of DOCTOR'S FINEST Vitamin C Gummies has 120 orange-flavored pectin gummies. Just take 2 gummies per serving for 250 mg of Vitamin C.
With only 20 calories, 5 g of carbs, 3 g of sugar, and 5 mg of sodium per serving, these gummies are made with natural ingredients like pectin, sugar, glucose syrup, and water. Moreover, they're free of artificial colors and flavors, gluten, egg, fish, milk, soy, tree nuts, and shellfish, but they're processed in a fish facility. So, use caution if your children are allergic to fish.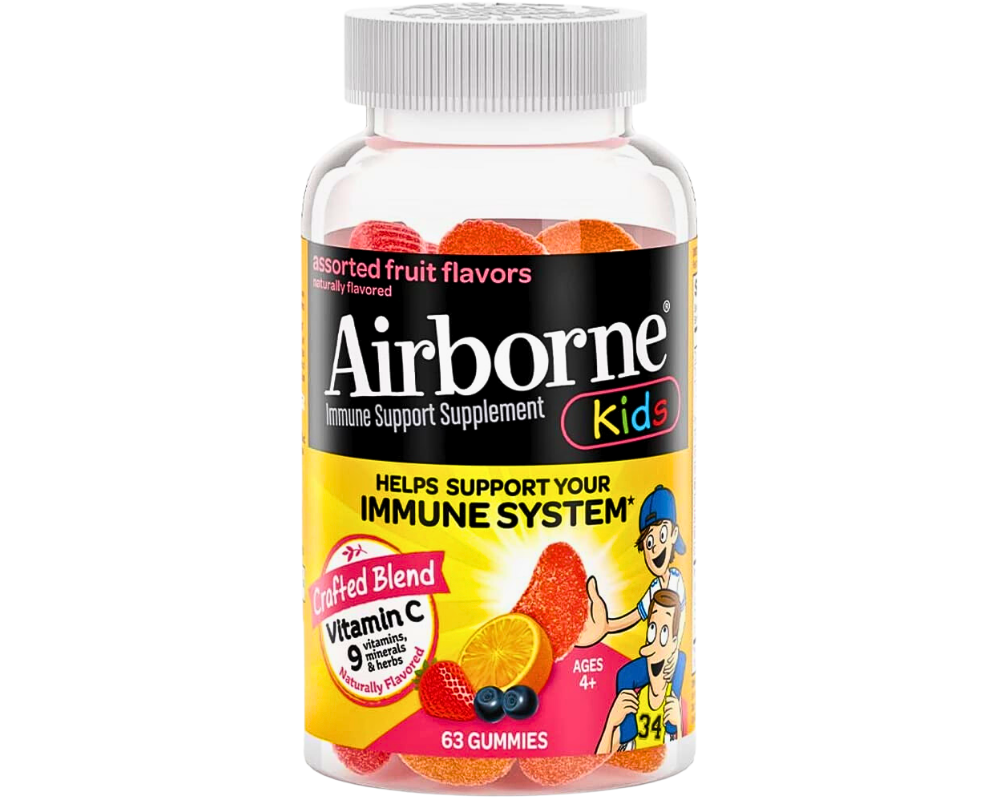 Best with Antioxidants
Airborne KIDS Vitamin C Gummies
Check Price on Amazon
What's the Big Deal?
Airborne KIDS gummy vitamins are a delicious way for your little ones to get 500mg of Vitamin C and other crucial nutrients, such as vitamin D & vitamin B, to support their wellbeing. Packed with antioxidants for free radical protection, these tasty treats also contain Vitamin E.
Additionally, a blend of nine essential vitamins, herbs, and minerals makes these gummies one of the best supplements to keep your child healthy. Plus, each serving provides selenium, which helps regulate oxidative stress levels.
What You Should Know
Airborne KIDS Vitamin C Gummies are great for kids ages 4 and up. With 63 gummies per container, every purchase gets you 31 servings of 500mg of Vitamin C, plus a blend of essential nutrients and proprietary herbs.
Each serving contains only 30 calories, 7g of carbs, and 1g of protein. These gummies are not recommended for children younger than 4 due to the risk of choking.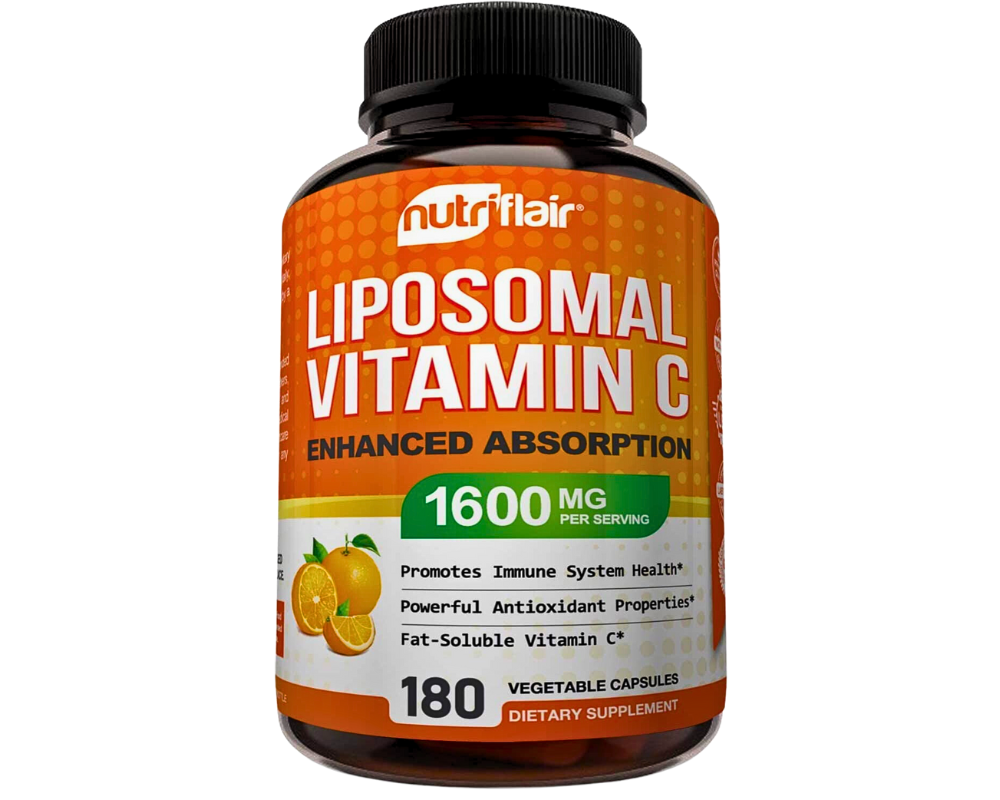 Best Absorption
NutriFlair Liposomal Vitamin C
Check Price on Amazon
What's the Big Deal?
NutriFlair Vitamin C uses liposomal technology to ensure efficient absorption and provide your child's body with a much-needed dose of Vitamin C. This results in a multitude of optimal health benefits for your child, including improved cognitive function, heart health, blood circulation, and collagen production.
With potent antioxidants, the supplement also combats harmful free radicals. Make NutriFlair Vitamin C a part of your child's routine and reap additional benefits such as boosted immunity, improved joint function, and arterial repair, ensuring their overall well-being.
What You Should Know
NutriFlair Liposomal Vitamin C is a powerful supplement that provides 1600mg of Vitamin C per recommended serving of 2 vegetable capsules. Each container includes 180 capsules, free from GMOs, soy, dairy, and gluten while third-party tested for quality, potency, and purity.
Produced in a GMP-certified USA facility with only the best ingredients such as methylcellulose, phosphatidylcholine, and sunflower lecithin, NutriFlair is the supplement you can trust for you and your child's health needs.
Benefits, Dosage, and Side Effects
Here's the benefits, dosage and side effects of Vitamin C supplements for kids.
Benefits
Vitamin C is a specific vitamin antioxidant that fights against body-produced free radicals, improves good cells, and reduces oxidative stress. This results in a boost to a child's immune system, healthy growth of bones, teeth, and skin, along with the absorption of iron from iron supplements. Vitamin C supplements help produce adequate collagen, improve skin connective tissues, and strengthen the immune function to fight better against germs and infections.
It also improves heart health, blood circulation, and the functioning of the nervous system for improving the body's resistance against the common cold and protection against other illnesses. Ensuring your child receives all the vitamins, including Vitamin C, is crucial for their overall well-being.
To ensure a child's body receives the necessary mineral intake for optimal health, consult a registered dietitian nutritionist who can help create a well balanced diet tailored to their unique needs.
Dosage
Kids can easily take Vitamin C in liquid drops, gummies, or capsules, whose formulation & dosages vary. As such, no general dosage advice exists for vitamin C, which most multivitamins contain. Manufacturers know precisely what dosage is safe, by consulting pediatricians and healthcare professionals.
So, trust the recommended dosage written on the product's packaging, but it's always a good idea to check with your child's pediatrician or healthcare professional if they need tolerable upper intake level dosage.
Side Effects
Giving kids Vitamin C supplementation is perfectly safe as it comes in various forms, as long as it comes within the proper dosage. Some kids may feel symptoms like diarrhea, gas, stomach upset, or nausea, but don't worry as these symptoms are often brief and disappear with time.
However, if these symptoms persist beyond their stay, it is highly recommended that you stop administering the Vitamin C supplement and consult with a pediatrician. In severe cases, these symptoms may even lead to stomach inflammation and kidney stones.
Vitamin C for Kids FAQs
This section answers your most common questions regarding Vitamin C for kids.
Which type of vitamin C is best?
Time-release Vitamin C is considered the best type of Vitamin C. It eliminates the need to take multiple doses of Vitamin C in a day.
Is there vitamin C for kids?
Yes, Vitamin C for kids is available. You can give your kids Vitamin C as liquid drops or as gummies.
Should kids take vitamin C daily?
Yes, children may take Vitamin C daily.
What are the symptoms of low vitamin C in kids?
Some indications of deficiency of Vitamin C are weight loss, weakness, skin rash, depression, and mood swings.
At what age can kids take vitamin C?
You can give your kid Vitamin C supplement from the age of over six months.
How can I boost my child's immune system?
You can boost your kid's immunity by feeding them quality food, improving their physical activity, and giving them Vitamin C supplements.
How much vitamin C should a child take a day?
The recommended dosage of Vitamin C for kids from 4 to 8 years of age is 25 mg daily and for kids from 9 to 13 years of age is 45 mg daily.
Does vitamin C help kids grow?
Vitamin C helps build and maintain teeth, skin, bones, and cartilage. That's why we can say that Vitamin C helps the kid grow.
Is chewable vitamin C good for kids?
Chewable Vitamin C gummies are the best way to give your kid Vitamin C. It boosts their immunity and kids love the flavor of these gummies.
Can I take vitamin C on an empty stomach?
Vitamin C is a water-soluble vitamin which means your body needs water to absorb it. That's why it is essential to drink water with Vitamin C supplements if you take it on an empty stomach.
Final Word
Vitamin C is a crucial part of making sure your kids are at their best health. With our list of recommendations, you can now feel more secure in knowing that they will thrive and flourish due to beneficial intake of vital Vitamin C.
With Vitamin C readily available, why not take advantage and start today? Transitioning into a lifestyle that keeps your kids as healthy as possible can be daunting but this supplement helps bridge the gap between expecting more and getting exactly what you need. So don't wait, have your child receive the outstanding benefits today!