Kids these days are struggling with falling asleep and staying asleep.
Lack of sleep is a huge problem for kids, and it's only going to get worse as technology continues to keep them up later and later at night.
The best melatonin supplements for kids are a great natural sleep aid option. Melatonin is a natural hormone that the brain produces, so with this dietary supplement, you're giving your child's body what it needs to develop healthy sleep practices.
We've curated a list of top-quality products below that we're confident you'll love. Our editors have independently selected each one, and although some have been sent to us as samples, all opinions in this article are our own. We want to be transparent with you and let you know that FlairFindings may earn a commission or other compensation from the links on this page if you decide to make a purchase. This is how we sustain our business & content flow. Additionally, we have edited reviews for length and clarity. We hope you enjoy discovering your new favorite item!
How We Select The Best
Worried about how your child's sleep is affecting their daily performance?
We're excited to tell you about our favorite melatonin for kids. That help regulate their sleep cycle and lead to better starts for the next day.
Choose any of the supplements we listed and see the benefits for yourself. We're sure you'll love how well your child sleeps after using these melatonin supplements!
Order you're preferred choice and see the difference in your child's sleep cycle!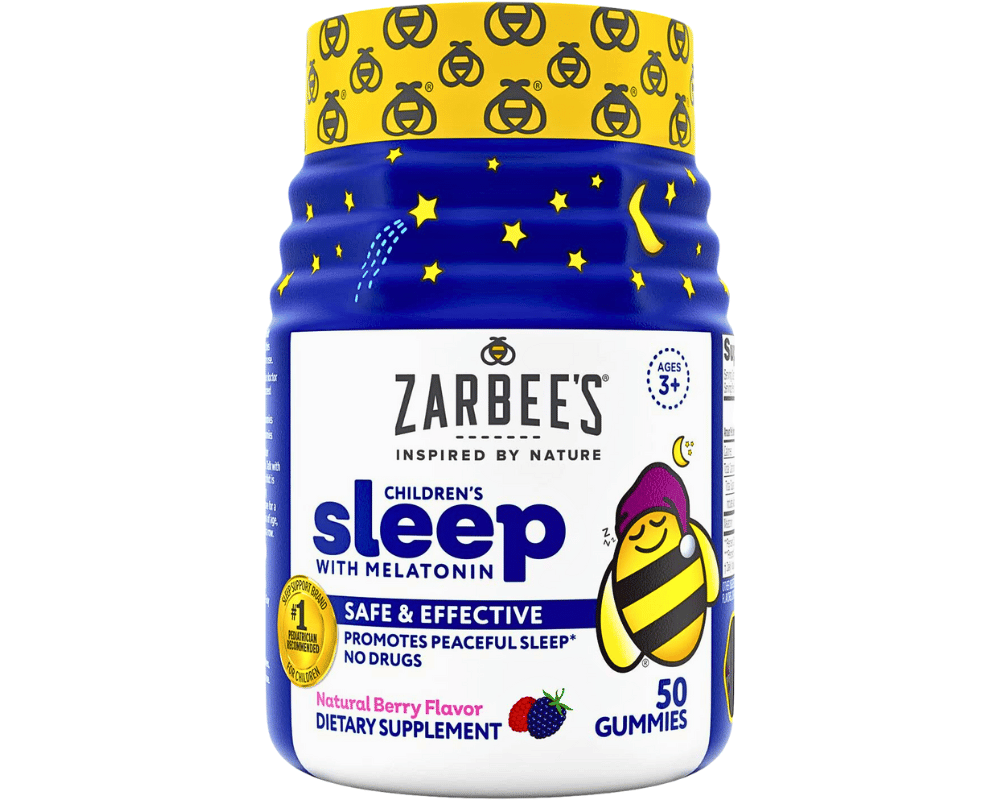 Best Immune Support
Zarbee's Kids Melatonin Gummies
Check Price on Amazon
What's the Big Deal?
Zarbee's is famous for providing high-quality supplements for children. This supplement is tasty and is available in a natural berry flavor. It works with the baby's natural sleep rhythm and guides the body to sleep.
This one of the most pediatricians' recommended sleep brand for kids out there. With Zarbee's naturals children's sleep gummy, children wake up fresh and remain active throughout the day with a good nights rest. It has a naturally sweet taste because of honey. Furthermore, it's drug-free, alcohol-free, and does not contain any artificial sweeteners. These gummies are vegan and vegetarian.
What You Should Know
This formula is for kids of ages three years & above. The bottle contains 50 melatonin gummies. The recommended melatonin dose is one gummy for kids of 3-5 years, 2 gummies for kids of 6-11 years, and 3 gummies for 12 years & above.
Each has 1 mg of melatonin which is clinically studied to be a good amount and every gummy has 10 calories. Furthermore, it contains 2 grams of carbohydrates and 2 grams of sugars. Give it to your child 30-60 minutes before bedtime for better sleep.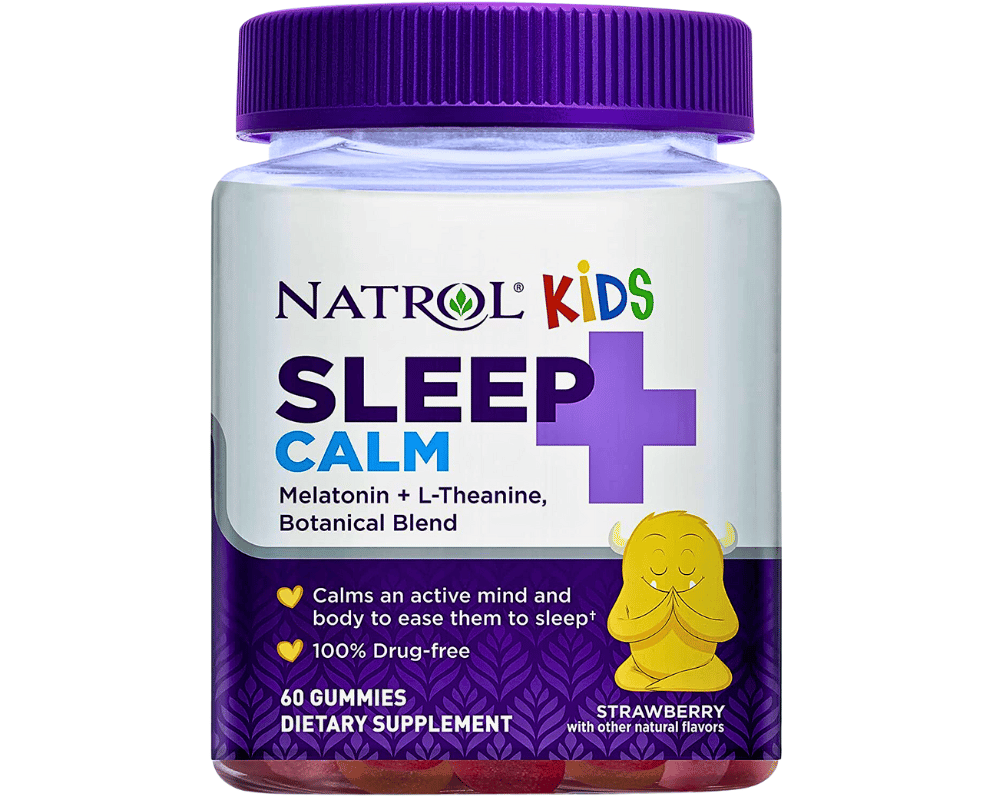 Best Melatonin Botanical Blend
Natrol Kids Melatonin Sleep Aid Gummies
Check Price on Amazon
What's the Big Deal?
Natrol is a leading supplement, vitamins, and minerals provider in the USA and specializes in melatonin products. Natrol's melatonin production formula is a blend of melatonin and L-Theanine. L-Theanine calms kids' active minds and bodies. After that, melatonin works to get kids to fall asleep fast and better.
The other ingredients in the formula are lavender, chamomile, and lemon balm. This formula is non-GMO, drug-free, gelatin free, and vegan. These are natural taste strawberry gummies without artificial flavors, colors, preservatives, or sweeteners.
What You Should Know
Natrol kids melatonin gummies contains 60 strawberry flavor gummies. It's recommended for kids of four years & above. The recommended dosage is one or two gummies half an hour before sleep. Each gummy contains 0.5 mg of melatonin, 25 mg of L-Theanine, 10 calories, 2 grams of carbohydrates, and 1 gram of sugar.
This supplement is not effective against insomnia. If your kid has insomnia and is on some medication, consult your pediatrician regarding the usage of this supplement. Also, please do not give it to kids under the age of four years.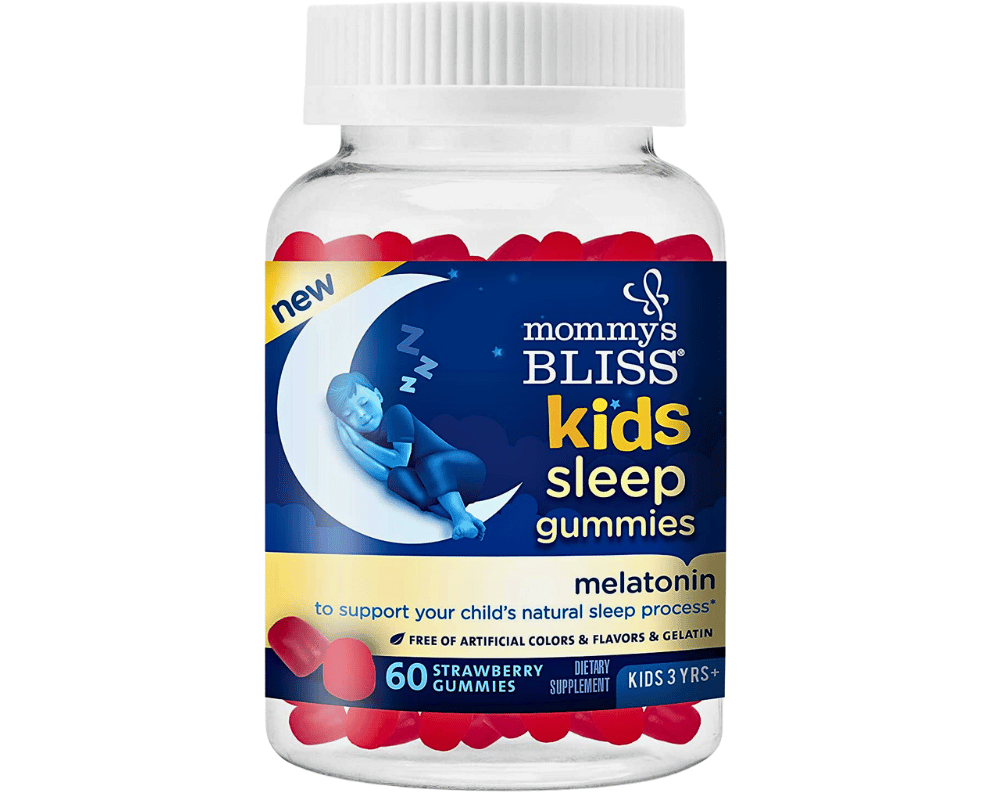 Best Sleep Support
Mommy's Bliss Kids Sleep Melatonin Gummies
Check Price on Amazon
What's the Big Deal?
Mommy's Bliss is a renowned brand that provides immune support, vitamins, and mineral supplements for babies and toddlers. It provides optimal quality melatonin supplement that helps babies sleep regularly. Improving their bedtime routine, and ensuring they sleep peacefully.
These kids' melatonin gummies are available in strawberry flavor. The formula does not contain any artificial colors or flavors.
What You Should Know
The bottle contains 60 gummies. The recommended dosage for kids of 3 to 5 years is one gummy; for kids of 6 to 12 years is 2 gummies; and for 13 years & above is 3 gummies. Each one contains 1 gram of melatonin, 10 calories, 2 grams of carbohydrates, and 1 gram of sugar.
This melatonin formula is gluten-free, binder-free, dairy free, and fillers-free. Also, it's free from peanuts, eggs, wheat, milk, soy, fish, tree nuts, and shellfish. The recommended dosage time is 30 to 60 minutes before bed. Make sure that kids chew properly before swallowing it.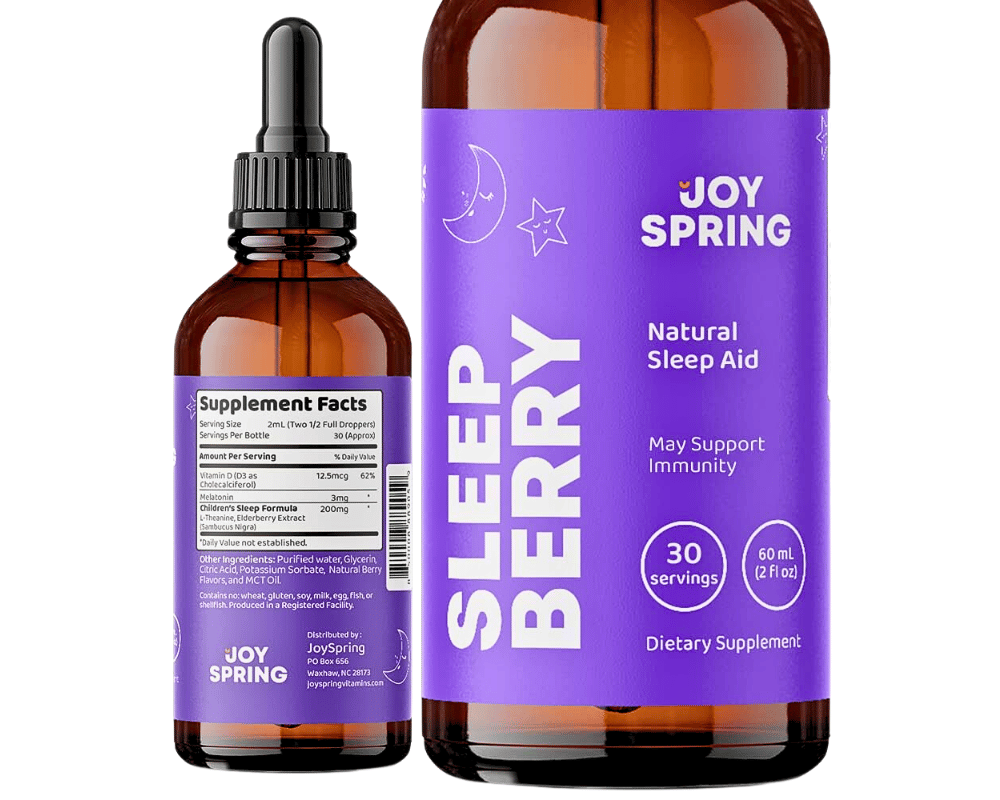 Best Liquid Option
JoySpring Sleep Berry Melatonin for Kids
Check Price on Amazon
What's the Big Deal?
JoySpring is a renowned brand that offers family-friendly vitamins and supplements. This SleepBerry melatonin supplement is for kids above two years of age. It's safe and useful for both adults and kids.
This formula is 100% natural that promotes the feeling of relaxation in children. That's why kids sleep peacefully and feel fresh in the morning. It is said to be the best melatonin for 2-year-old kids. It's has berry flavors and also boosts immunity in kids.
What You Should Know
This contains 60 ml of melatonin. The recommended serving is 2 ml for kids 2 years & above. Each serving contains 3 mg of melatonin, 12.5 mcg of Vitamin D, and 200 mg of L-Theanine elderberry extract.
This formula is sugar-free, non-GMO, and made from organic herbs. It's a non-habit-forming solution. However, try not to make it a long-lasting term solution and let the natural melatonin do its job in getting children to sleep.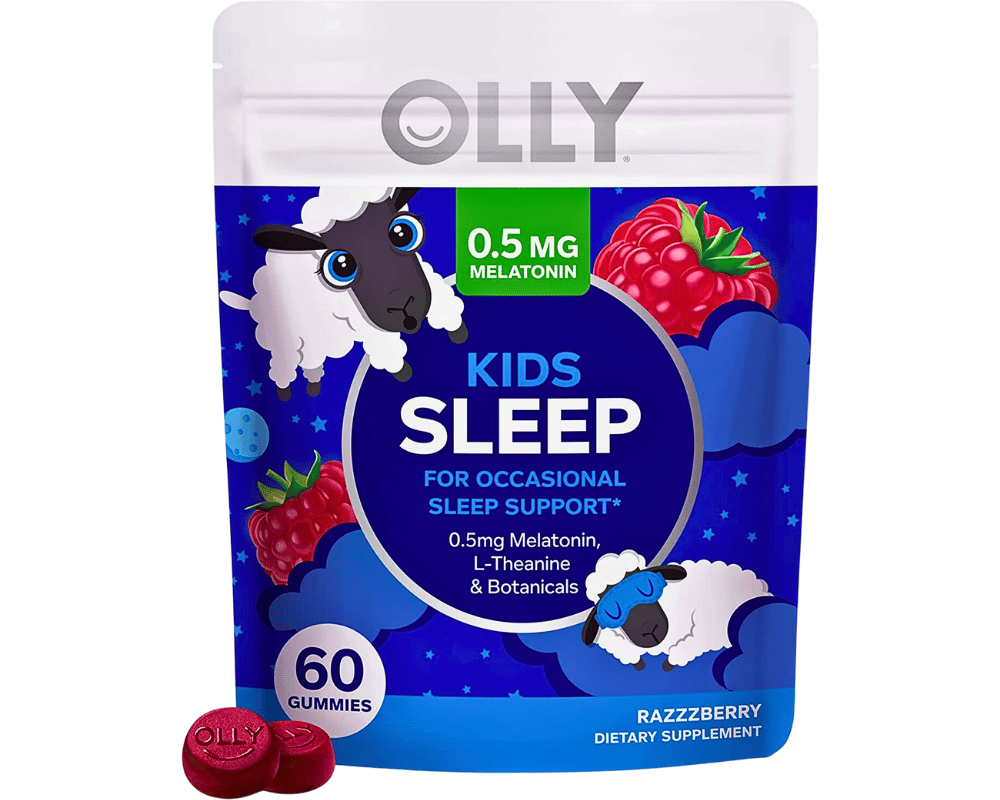 Best Short-Term Sleep Support
Check Price on Amazon
What's the Big Deal?
OLLY knows that happiness comes from inside when an individual gets the right and balanced nutrients. Kids mostly face restless nights and wake up tired in the morning because of the lack of calm sleep time. With OLLY sleep gummies its occasional usage helps & maintains the sleeping routine of kids.
This formula soothes and relaxes kids. It's available in razzberry flavor and contains no high fructose corn syrup, artificial flavors or colors.
What You Should Know
This contains 60 gummies and each gummy is gluten-free & has a light dosage of melatonin, only 0.5 mg. Furthermore, each gummy contains 10 calories, 2 grams of carbohydrates, 1 gram of sugar, 15 mg of L-Theanine, and 2.5 mg of each Chamomile, Lemon Balm, and Passionflower extract.
You can give one or two gummies to kids 4 & older. We recommend starting with one gummy. Two gummies will do the job if you feel a high dosage is required to help your kid fall asleep. You can give it to your kid 30 minutes before bedtime.
Benefits, Dosage, and Side Effects
Melatonin for kids has benefits and side effects just like any other supplement. Let's discuss them along with their recommended dosage.
Benefits
Melatonin supplement helps kids fall asleep and stay asleep calmly. It's a useful supplement for kids facing hyperactivity disorder. Melatonin is also useful for kids with visual impairment and other developmental disabilities. However, treating the cause of sleepless nights is better before feeding your baby with melatonin supplements.
Melatonin shortens the time to get kids to fall asleep. It can resolve sleeping problems in the short term. Its long-term use can also be effective in some cases.
Dosage
Regarding your kid's health condition, discuss the recommended melatonin dosage with the pediatrician. The lowest recommended dosage of melatonin is 0.5 mg. Most brands offer gummies containing o.5 mg of melatonin with other vitamins and nutrients. You can start the melatonin dosage by giving one gummy to your child each night.
If the dosage of 0.5 mg does not improve the baby's sleep cycle and sleep quality, you can increase the dosage. However, we recommend consulting with the pediatrician before increasing the dosage. The dosage of 1 mg is safe for kids of four years of age. Also, the recommended usage increase with age.
The best time to give melatonin is around 30-60 minutes before bedtime.
Side Effects
Melatonin is naturally present in the human body. The melatonin supplements boost the effectiveness of melatonin already present in the body. That's why it does not have side effects in short-term usage. However, melatonin supplement for kids is mostly present in gummies, and children take them as gummies more than the recommended dosage. When the melatonin gummies intake exceeds the recommended dosage, they may face laziness, headache, nausea, and dizziness.
FDA does not regulate melatonin supplements for kids. Its occasional usage is okay, but parents shouldn't make it a routine for their kids. Otherwise, the natural melatonin will not work after you stop the usage of the supplement after prolonged usage.
Melatonin for Kids FAQs
You may have questions regarding the use of melatonin supplements for kids. We try to answer all of them below.
Can kids take melatonin every night?
It's not recommended to give your kid a melatonin supplement every night in a routine. The reason is that melatonin is a natural hormone created in the body, and its overdosage may cause some other issues after prolonged usage.
Can I give my 2-year-old 10 mg of melatonin?
Only 1-3 mg of melatonin is enough for kids above 2 years of age to make them fall asleep quickly and comfortably. Don't overdose your kid with melatonin, or it will be harmful.
Can I give my 2-year-old 0.5 mg of melatonin?
It is better to start with the low dose of melatonin. Usually, 0.5 mg of melatonin is enough to make a kid of 2 years of age fall asleep. If not, you can increase the dosage to 3 mg daily but consult a pediatrician first.
Is melatonin safe for kids?
Melatonin is a recommended supplement to make children fall asleep. It's safe for kids, and many studies claim its long-term usage is not harmful but it recommend for short term only.
At what age is it safe to give a child melatonin?
If your kid is above three years old and has difficulty falling asleep, you can start with the minimum melatonin dosage.
What are the negative effects of melatonin?
On the negative side, overdosing on melatonin may cause dizziness, headache, irritability, constipation, and stomach cramps.
Can a child become dependent on melatonin?
Melatonin is a supplement that does not make the child dependent on it. Your kid can fall asleep if you discontinue its use.
When should I avoid melatonin?
When your kid feels drowsy in the daytime. Melatonin may be affecting kids' efficiency in school and playtime. If that happens, avoid giving your kid a melatonin supplement.
What foods contain melatonin?
Among food, egg and fish has high melatonin content. Furthermore, among plant foods, nuts have a high content of melatonin same goes for valerian root which is a natural sedative. Cereals, mushrooms, and seeds are some dietary sources of synthetic melatonin.
Do doctors recommend melatonin for children?
Melatonin is not for kids under 3 years of age that are particularly healthy. However, children facing sleeping problems above 3 years can be given melatonin.
Final Word
Natural solutions like the best melatonin for kids can dramatically improve their sleep quality and duration. Melatonin is a naturally produced hormone, so using this dietary supplement does not pose the same safety risks as artificial substances and medications. With the right sleep habits, your child will begin to feel more energized, balanced and alert during the day.
The growing body of research on melatonin makes it an ideal choice for you or your child if improving their sleeping pattern is the goal. You don't have to sit idly by while your child has difficulty sleeping; make sure they get what they need with natural melatonin supplements today. Get ready for them to receive the outstanding benefits that come along with a good night's rest!