A lot of people don't get enough healthy fats in their diet, which can lead to problems like weight gain and low energy levels.
Not only are saturated fats bad for you, but they're also hard to avoid. They're in most processed foods, and many people don't have the time or knowledge to cook healthy meals every night.
Supplement your diet with the best MCT oil to get quality fats, improve metabolism, and reduce weight. It improves energy levels in the body and burns extra fats. You can take it on an empty stomach, with your morning coffee, or mix it with your meals.
We've curated a list of top-quality products below that we're confident you'll love. Our editors have independently selected each one, and although some have been sent to us as samples, all opinions in this article are our own. We want to be transparent with you and let you know that FlairFindings may earn a commission or other compensation from the links on this page if you decide to make a purchase. This is how we sustain our business & content flow. Additionally, we have edited reviews for length and clarity. We hope you enjoy discovering your new favorite item!
How We Select The Best
Interested in boosting your energy and losing weight?
MCT oil is a great way to do both of those things. It's been shown to help people lose weight, improve their health, and give them more energy.
The best part is that it's really easy to use. You just put a little bit in your coffee or smoothie every day, and you'll start seeing the benefits. There are a lot of different brands out there, but we've found the ones below to be the best.
Purchase your favorite MCT oil today!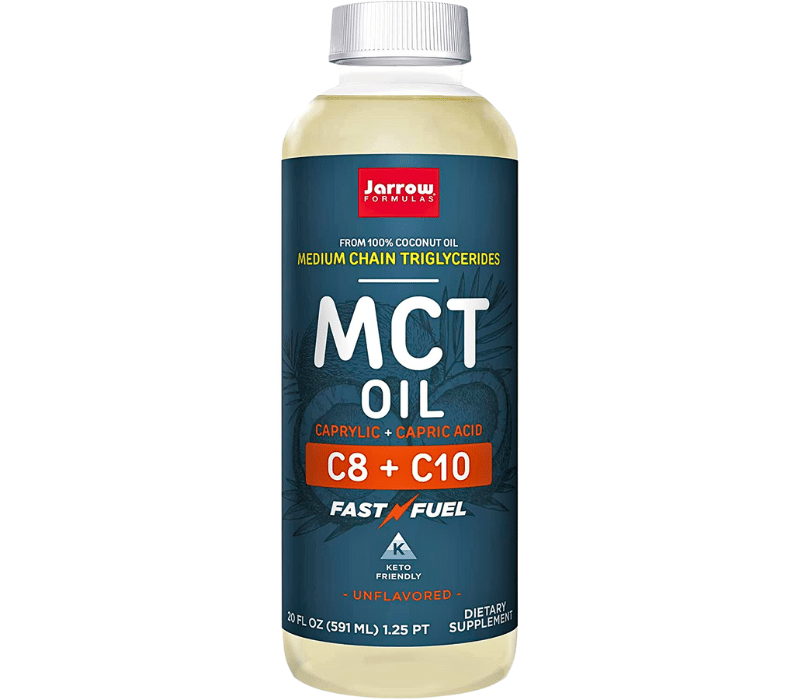 Best MCT Oil for Energy Management
Check Price on Amazon
What's the Big Deal?
Jarrow Formulas is a renowned brand that offers high-quality and affordable vitamins and supplements. It offers the MCT oil that efficiently absorbs into the body. That's why it gives the brain and muscles quick energy. Furthermore, it improves your metabolism and overall energy.
This MCT oil is made of 100% coconut oil. Unlike other MCT oils, this one is taken from a natural source of C8 and C10 fatty acids. Also, there are minimum amounts of C12 acid in it. This formula is keto friendly with low carbs. It does not have any flavor or odor.
What You Should Know
It contains 20 oz and the recommended dosage is 1 tablespoon a day. You get around 39 servings in each use. Each dosage contains 130 calories, 14 grams of fat, and 14 grams of MCT oil.
The manufacturer recommends taking this supplement on an empty stomach. Or, you can mix it with your coffee, tea, shake, or any other food if you like it this way. You can store the pack at room temperature.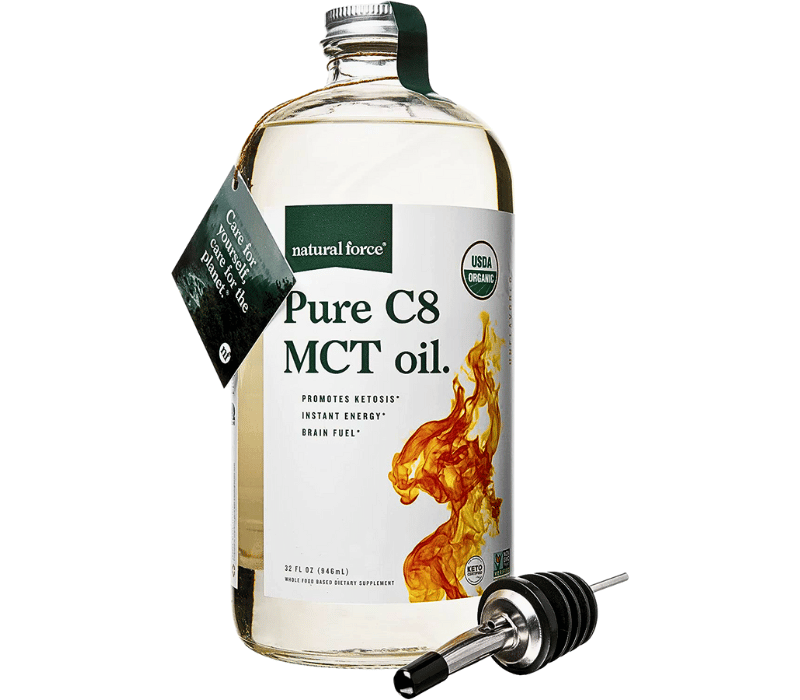 Best MCT Oil for Keto
Natural Force Organic Pure C8 MCT Oil
Check Price on Amazon
What's the Big Deal?
Natural Force is a renowned brand that provides its customers with high-quality and clean supplements and vitamins. Its MCT oil is made from USDA organic cold-pressed virgin coconut oil. That makes it a perfect source to get ketogenic fats for keto.
This supplement is an excellent fuel for your brain, improves food digestion, and provides instant energy to the whole body. The product is packed in a recyclable, plastic-free bottle that prevents leakage and breaking.
What You Should Know
It has 32 ounces of MCT oil, you'll get approximately 63 servings. Each serving of 1 tablespoon gives you 125 calories, 14 grams of fat, and 13000 mg of C8 MCT.
There is no sugar or carbs in this formula. It's non-GMO, gluten-free, and vegan. The manufacturer produces this supplement in a cGMP facility and has third-party certification for this supplement's quality and purity.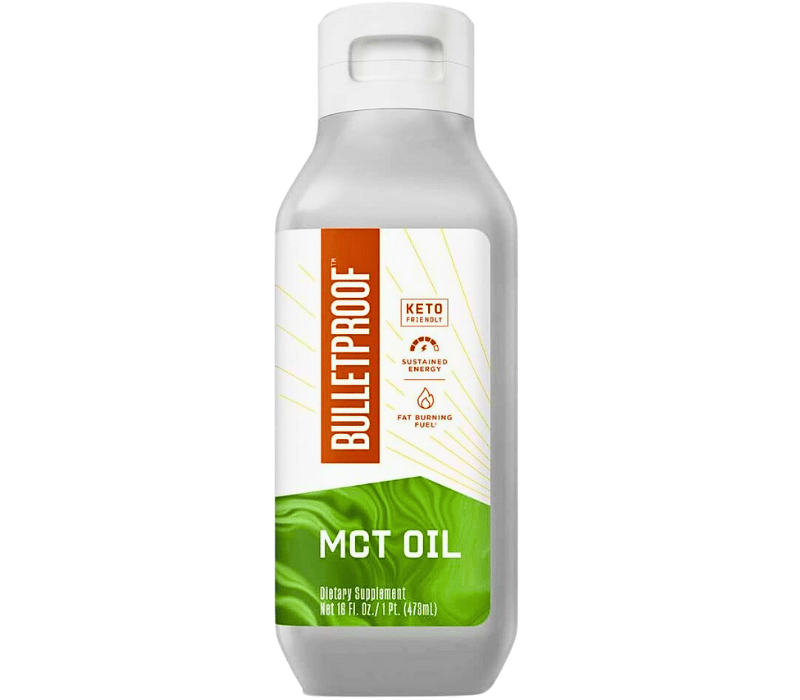 Best MCT Oil for Weight Loss
Check Price on Amazon
What's the Big Deal?
Bulletproof is a reliable brand that offers supplements made from science-backed ingredients that maximize the body's benefits. This keto-friendly supplement is an excellent fuel for your body and mind keeping you energized throughout the day. It boosts metabolism and improves your digestive health.
It aids in weight loss by overcoming occasional cravings and absorbing fast into the body, also helps in burning unhealthy fats. It's vegan and made from 100% coconut oil.
What You Should Know
It has 16 ounces of MCT oil dietary supplement. You will get 32 servings and each serving contains 130 calories, 14 grams of fats, and 14 grams of C8 and C10 MCTs.
This formula is unflavored, sugar-free, soy-free, GMO-free, BPA-free, gluten-free, dairy-free, and hexane free. You can take this supplement in the morning or any other time, according to your choice. You can take by spoon or mix it with your food or drink.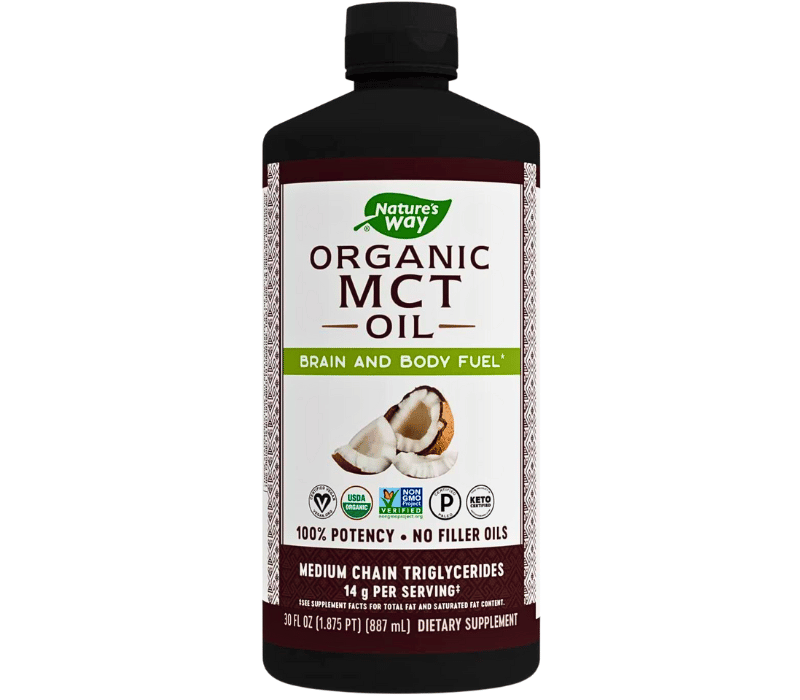 Best Vegan MCT Oil
Nature's Way Organic MCT Oil
Check Price on Amazon
What's the Big Deal?
Nature's Way is a renowned brand to improve personal wellness through its high-quality supplements. Its MCT oil is fuel for the brain and body of people who consume it routinely. This MCT oil is taken from premium coconut. It helps you feel full; that's why you don't eat much and reduce weight over time.
The body rapidly converts this supplement to energy to maximize your body's overall performance. It has every essential vitamin and mineral your body needs to maintain a healthy balanced. Furthermore, it also aids in a healthy digestive system.
What You Should Know
The bottle has 16 ounces of organic MCT oil. You will get 130 calories,14 grams fat, and 14 grams of MCTs. Furthermore, you can take it one to three times daily according to your body's requirements.
This formula does not have any flavor or odor. You can add it to any of your favorite drinks or foods. Also, you can take it alone if you feel it's more convenient. This supplement is certified to be vegan, keto, and paleo and doesn't contain any unnecessary fillers.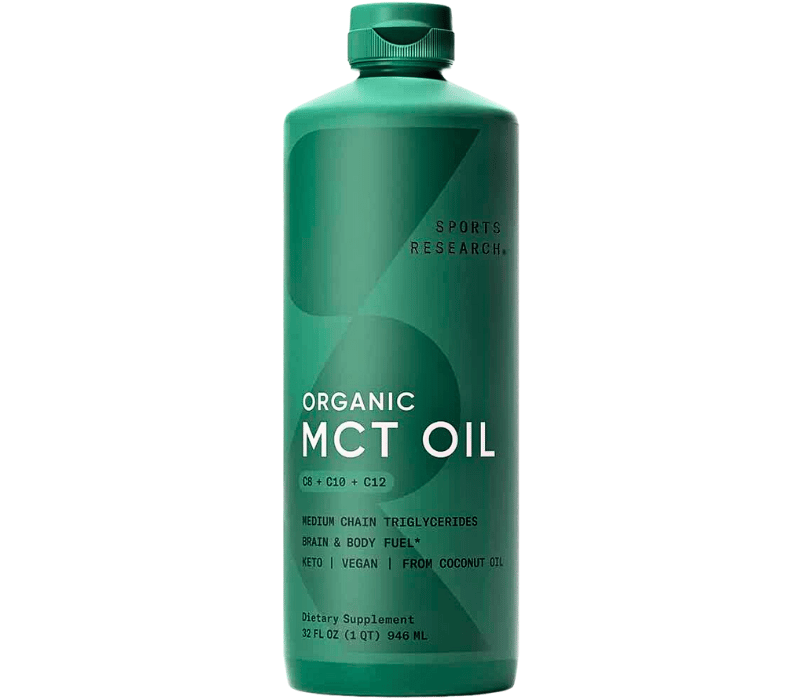 Best MCT Oil for the Body and Brain
Sports Research Keto MCT Oil
Check Price on Amazon
What's the Big Deal?
Sports Research MCT oil contains C8, C10, and C12, similar to wants in Performance Lab MCT oil. They are brain-boosting medium chain fatty acids that help in body development. All these extracts are taken from 100% organic coconut oil.
This MCT supplement is easily digestible and converts into energy most effectively than other MCT oils or capsules. The reason being they use the best ingredients, and you feel the difference while taking it.
What You Should Know
It contains 32 ounces of MCT oil giving you a total of around 63 dosages per 1 tablespoon each. Getting 130 calories, 14 grams of fats, 13.8 grams of MCTs, approximately 5.6 grams of C8, 3.7 grams of C10, and 4 grams of C12. You can mix this MCT oil with your favorite drinks or food.
This formula is keto-friendly, organic, and vegan. Furthermore, it is non-GMO and USDA-certified. Most mix it in their morning coffee, which adds enough fuel all day long to your body. It comes in a leak-proof bottle for easy handling.
Benefits, Dosage, and Side Effects
Here's the benefits, dosage and side effects of MCT oil.
Benefits
MCT oil promotes weight loss. It releases hormones that increase the feeling of fullness. If you are someone who faces sugar cravings, MCT oil can be helpful in in controlling them. Besides weight loss, it promotes the growth of good bacteria in the gut, improving digestion.
MCT oil is a good source of energy and is great in promoting a healthy amount of medium chain triglycerides. It absorbs rapidly into the body and provides enough fuel to the body and brain. Furthermore, it reduces lactate buildup and helps the body to use fat to create energy. It's also helpful for athletes if they take it before exercise as it helps increase the burning of fats during exercise.
MCT provides instant energy to the brain that is more healthy than glucose. It does not contain the brain fog that other sugary foods have, giving you mental clarity. With the regular use of MCT oil, it has everything your brain cells need for better development, like improving cognitive ability and memory, that tends to decline due to ageing.
Dosage
Its recommend to start with a low dosage for people new to it. With continued use you can slowly increase your MCT oil intake. The recommended dosage of MCT oil at an initial stage is one teaspoon per day. After that, you can take it up to six tablespoons per day. Taking it with food is recommended for easy digestion. You must consult your healthcare provider regarding your current health to get better use.
Side Effects
Taking too much MCT oil in the initial stage can be harmful. That's why experts advise starting the intake of MCT oil with a low dosage. The side effects of high dosage at an initial stage are upset stomach and diarrhea.
Low-risk side effects of MCT oil include diarrhea, stomach pain, nausea, bloating, vomiting, and upset stomach, many of the same side effects in palm kernel oil & palm oil. On the serious side, some people may experience a fat buildup in the liver.
MCT oil is said to be unsafe for pregnant and lactating mothers. Also, people with diabetes or liver diseases should consult their healthcare provider before attempted use. If you experience an upset stomach, consult your healthcare practitioner.
MCT Oil FAQs
What kind of MCT oil is best?
The C8 and C10 MCTs are the best types of MCT oil. They are best if you want to boost energy and lose weight.
What kind of MCT oil is best for weight loss?
C8 MCT is considered the best MCT oil for weight loss. It also aids in energy management and cognitive performance.
Can too much MCT oil make you fat?
On average, one dosage of MCT oil, or the best MCT oil capsules, has around 120 calories and 14 grams of fat. If you add it to your diet and do not use it as a fat replacement and do not work out, you will put on extra fat with its usage.
What is the best time to take MCT oil?
The best time to take MCT oil supplement is one hour before a meal; it will help you eat less food. Resultantly, you will lose weight. It is not a good idea to take it with the meal if the goal is weight loss.
What is the best time to take MCT oil when fasting?
The best time to take MCT oil, or MCT oil powder & MCT oil capsules, during fasting depends on your fasting schedule.
However, taking it in the morning with a cup of tea or coffee is best because it is time to feel fresh and energized. You can also take it some other time of the day when you need an energy booster until the fast ends.
Can I take 2 tablespoons of MCT oil a day?
It depends on how much MCT oil your body can tolerate and the goals you want to achieve. However, taking four to six tablespoons of MCT oil daily is safe if you spread the dosage throughout the day.
Is coconut oil or MCT oil better?
MCT oil is better than coconut oil for weight loss because of ketone production that maintains ketosis.
How much MCT oil should I add to my coffee?
Adding one to two tablespoons of high quality MCT oil to your morning coffee gives your mind and body enough fuel for the day.
What should I eat while taking MCT oil?
Adding MCT oil to your favorite nut butter or else, you can add MCT oil supplements to the coffee or tea. You can also take it with smoothies and shakes as some extra fat.
Does MCT oil need to be refrigerated?
The manufacturers recommend storing MCT oil in a cool and dry place away from direct sunlight. However, it is not necessary to store it in the refrigerator.
Final Word
Congratulations on taking the first step towards achieving your health goals with the best MCT oil products! Remember to start slow and steady, keeping a close eye on your overall health. With our recommendations, we're confident you'll experience the incredible benefits of the best MCT oils on the market.
Say goodbye to sluggishness and hello to heightened energy levels. Say farewell to unhealthy cravings and hello to a more balanced diet. And say adios to brain fog – hello to improved cognitive function. So, are you ready to take your health to the next level with MCT oil products?