Many dogs are at risk of developing painful conditions like hip dysplasia and arthritis, both of which can cause damage to their vulnerable hips and joints.
It's completely natural for dogs to start slowing down as they get older – but that doesn't mean you have to let them stop being active. In fact, there are plenty of things you can do to help your pup stay healthy and happy well into their golden years.
One great way to keep your dog's joints healthy is by giving them the best hip and joint supplement. By taking these supplements on a regular basis, you'll help protect them from developing any unpleasant conditions like damaged connective tissue which could otherwise cause harm, fatigue or unhealthy weight gain - so they can keep feeling energized!
We've curated a list of top-quality products below that we're confident you'll love. Our editors have independently selected each one, and although some have been sent to us as samples, all opinions in this article are our own. We want to be transparent with you and let you know that FlairFindings may earn a commission or other compensation from the links on this page if you decide to make a purchase. This is how we sustain our business & content flow. Additionally, we have edited reviews for length and clarity. We hope you enjoy discovering your new favorite item!
How We Select The Best
Does your dog struggle with poor hip and joint health?
Keep your furry friend feeling their best with the right hip and joint supplement. Our team has gone to experienced veterinarians for recommendations on the supplements that will work best for our four-legged friends. Now it's time that you get informed so you can make sure your pup is healthy and happy as they age!
Don't let poor hip movement or brittle joints stop them from being active - find a solution today! Learn about what supplements are available and what the most effective ones are. You can get all this information in our article discussing the best hip and joint supplement for dogs.
Get the best protection for your dog today by choosing one form our selections.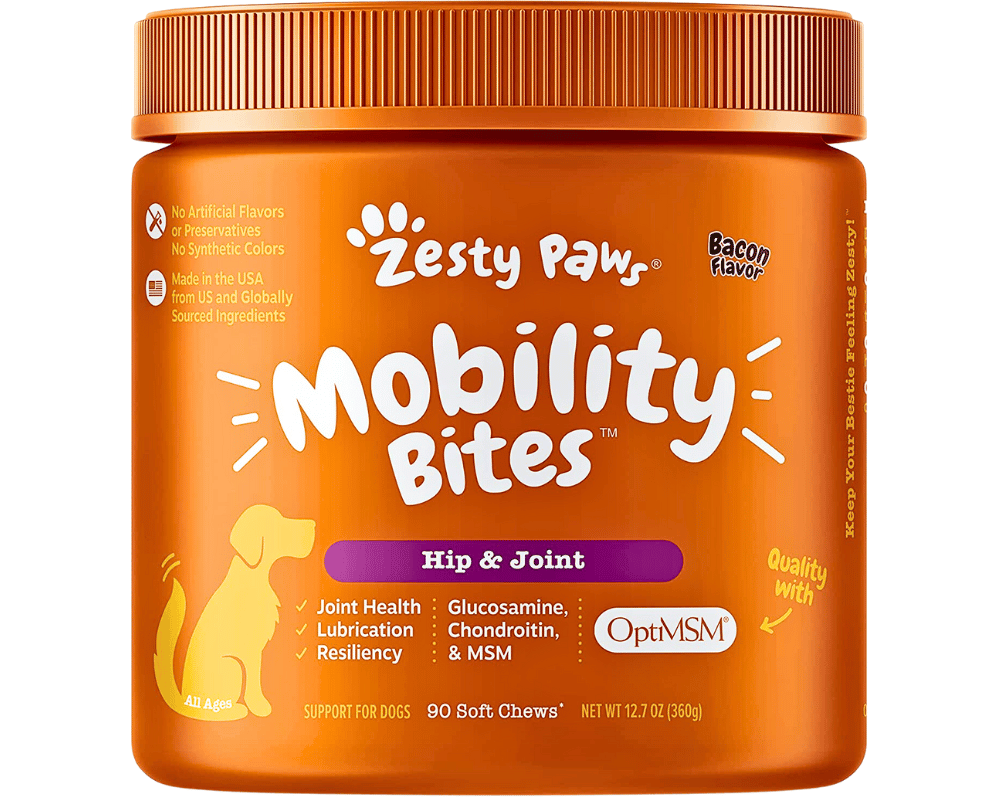 Zesty Paws Mobility Bites
Check Price on Amazon
What's the Big Deal?
Mobility Bites offer a unique action-packed blend of ingredients that improve joint health and muscle support so pups can move freely. This functional formula provides 400 mg per chew of OptiMSM, an ultra-purified form of MSM which is renowned for its ability to help maintain normal joints & connective tissues. Along with Vitamin C and E, this powerful combo will have your pup playing fetch in no time!
What You Should Know
Zesty Paws Mobility Bites make joint health supplements a treat, with Glucosamine HCl to support normal cartilage and connective tissue function. They've got something for every dog—choose from yummy flavors like Bacon, Chicken, Beef & Bacon combo, or Duck! Keep your pet's joints healthy and resilient by giving them the gift of delicious mobilization bites.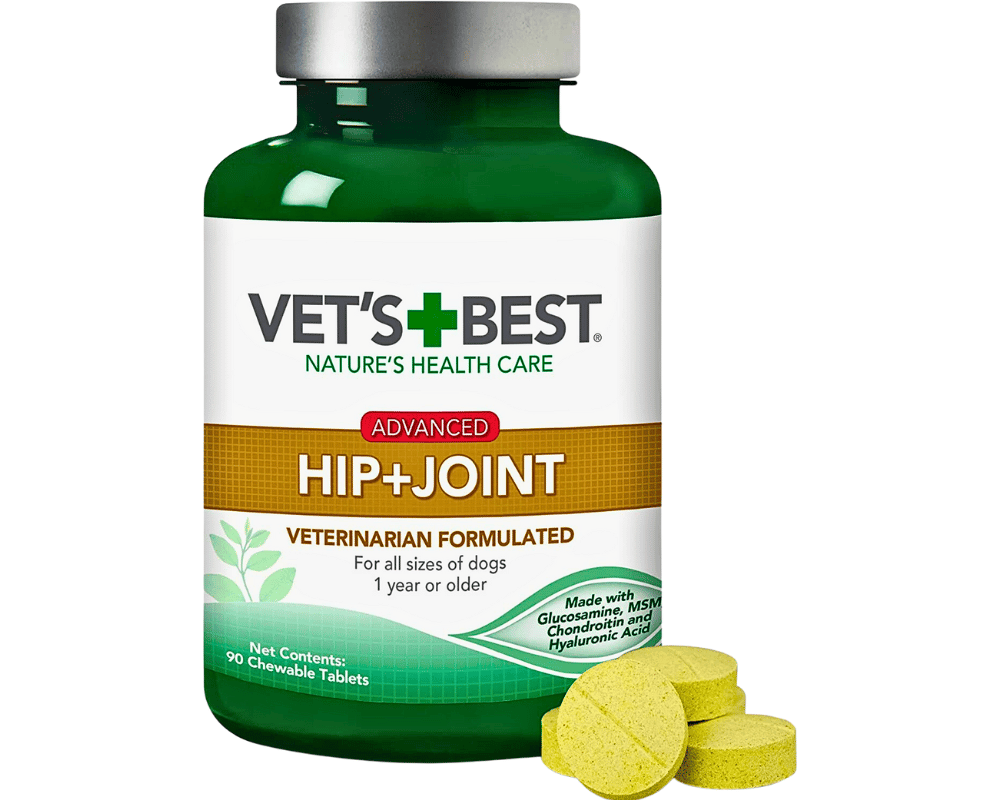 Vet's Best
Check Price on Amazon
What's the Big Deal?
For over three decades, Vet's Best has been crafting plant-based blends optimized to keep your pup healthy & safe and are considered to be one of the best joint supplement out there.
With their Advanced Hip & Joint Dog Supplements, they take canine care to the next level - designed by vets with powerful ingredients that help maintain joint mobility for dogs of all ages: from seniors needing a little extra comfort to highly active large breeds seeking strong bone support.
What You Should Know
Each bottle of Vet's Best contains 90 tablets and features natural ingredients, including White Willow Bark Extract, Pineapple Bromelain, Glucosamine HCL and Yucca Root. Not to mention that it has undergone strict scientific optimization for easy absorption and digestion - plus the National Animal Supplement Council (NASC) quality seal guarantees its safety too!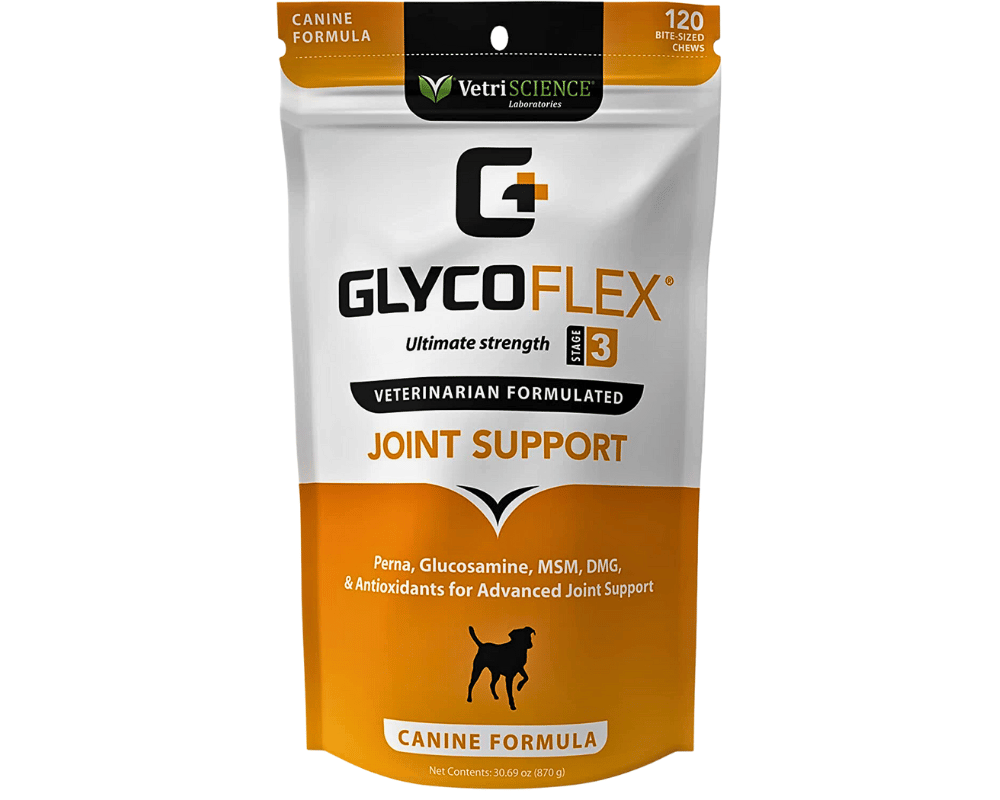 VETRISCIENCE Glycoflex Supplement
Check Price on Amazon
What's the Big Deal?
Glycoflex 3 has been the trusted choice of veterinarians for over 40 years and is their highest strength hip and joint supplement available. Not only does this formula help support normal healthy joints, it's also clinically design to increase hind leg strength in dogs by up to 41% after just 4 weeks - a must-have if you have an active pup or senior dogs with signs of joint health problems!
What You Should Know
Glycoflex 3 is a convenient way to help keep your pup feeling great! The potent combination of 11 active ingredients, such as green lipped mussel, also including Perna canaliculus plus glucosamine and MSM for joint support, DMG for enhanced muscle performance and antioxidants helps ensure that their connective tissues stay healthy.
Plus the naturally sourced bite sized chews are made with real chicken for delicious flavor — who can resist?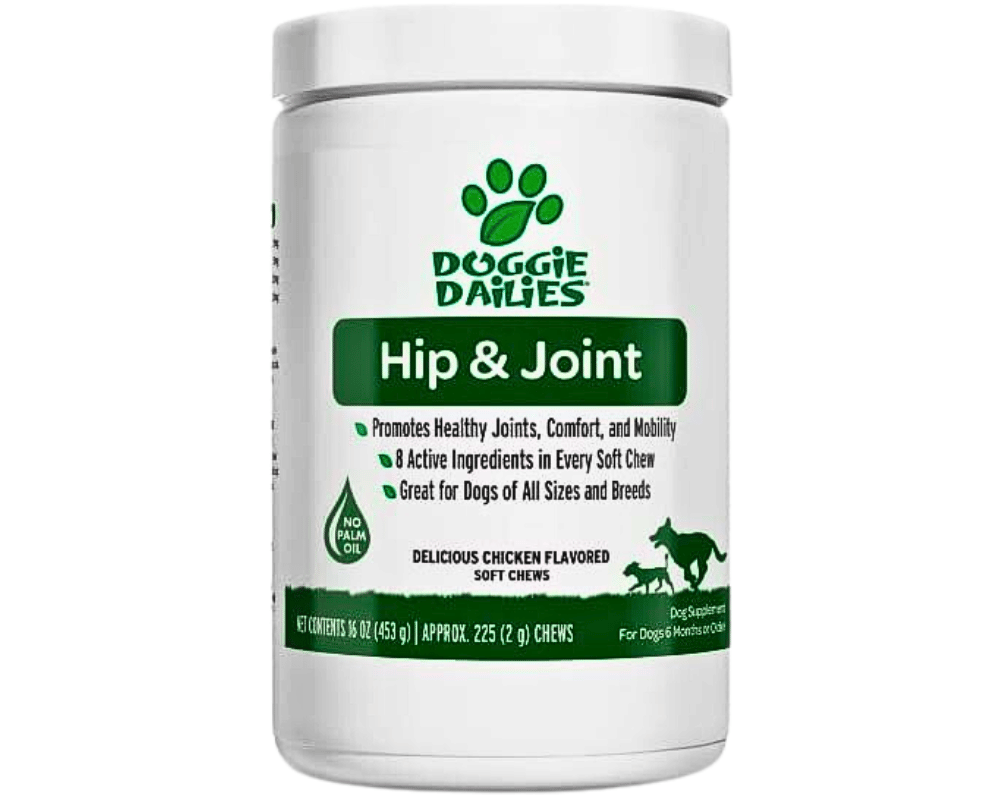 Doggie Dailies Hip & Joint
Check Price on Amazon
What's the Big Deal?
Give your pup the edge they need with Doggie Dailies Hip & Joint! Delicious, chicken-flavored soft chews make it easy to support healthy hips and joints in dogs of all sizes. Packed full of essential ingredients like glucosamine and chondroitin sulfate, a daily dose can help provide extra pep for aging dogs or bolster mobility for active ones alike - no matter what breed you've got!
What You Should Know
Doggie Dailies Hip & Joint soft chews provide a powerful blend of active ingredients, including Glucosamine, Chondroitin and Yucca Schidigera. CoQ10 is added to promote joint lubrication while Salmon Oil helps boost skin health. Cold-press extrusion maximizes potency so you can feel confident that your fur friend gets all the nutrition their bodies needs.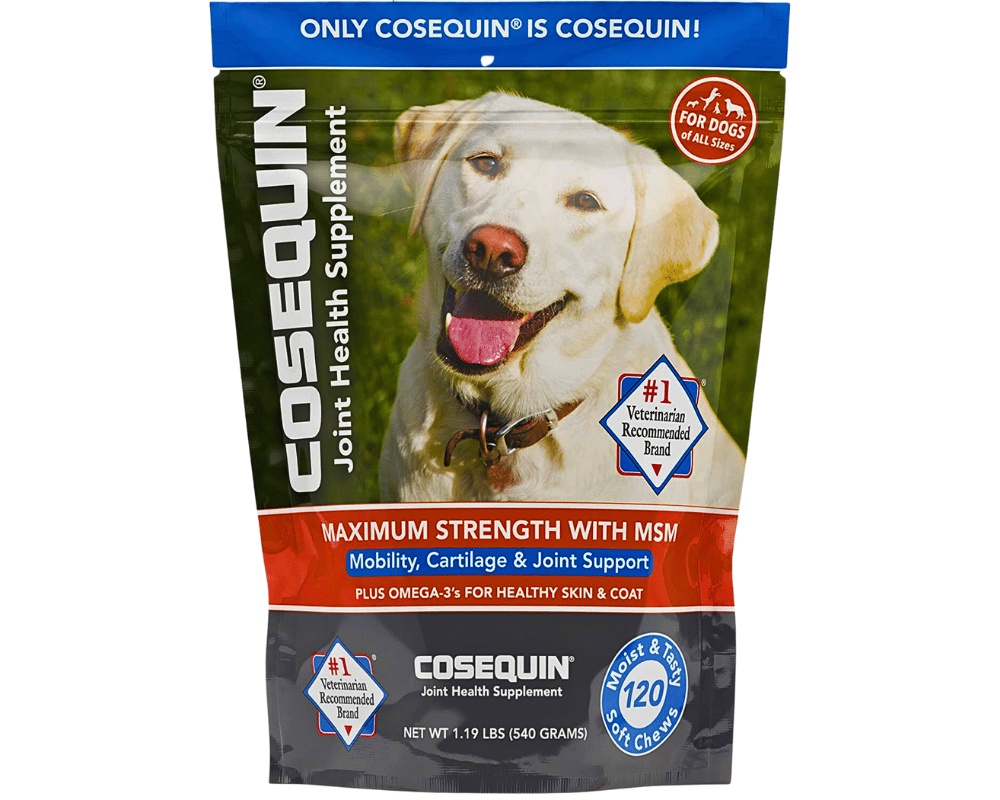 Nutramax Cosequin Joint Health Supplement
Check Price on Amazon
What's the Big Deal?
With over 30 years of experience, Nutramax is America's premier pet health specialist. Their veterinarian-formulated Cosequin Joint Health Supplement contains only the highest quality ingredients and provides optimal support for your pet's joint care - plus it includes omega-3 fatty acids to promote healthy skin & coat!
Not just that; they provide additional products tailored towards digestive wellness and overall well being so you can offer your furry friend the best possible care.
What You Should Know
Cosequin, the #1 veterinarian-recommended retail joint health supplement, contains key nutrients like glucosamine hydrochloride, sodium chondroitin sulfate and MSM. Merging globally sourced ingredients with US manufacturing expertise has helped make it a top choice among pet owners looking to help keep their furry friend's joints healthy!
Benefits, Dosage, and Side Effects
Here's the benefits, dosage and side effects of hip and joint supplements for dogs.
Benefits
By providing your pup with hip and joint supplements, you are helping to ensure healthy joints and connecting tissues. Chondroitin sulfate is a common active ingredient which helps protect against stress injuries while aiding in the repair of any compromised connective tissue - it's an all-around hero for long term health maintenance!
With its powerful effects on joint pain and diseases, chondroitin sulfate combined with glucosamine is a go-to for veterinarians to recommend. Not only does this combination bring relief - it may even prevent future issues from developing!
Dosage
Discover the perfect balance of glucosamine and chondroitin for your furry friend by considering their size and joint health! Consult your trusty veterinarian for tailored advice, and let's give your pup the support they deserve with the right supplements.
Let's dive into the general dosage guidelines for two key supplements - glucosamine and chondroitin. For dogs weighing 5-20 lbs, a dose of 250-500 mg of glucosamine typically does the trick. As for 20-45 lbs, 500 mg should suffice, while our larger dogs (45-90 lbs) need about 1,000 mg. The gentle giants weighing over 90 lbs. require 1,500 mg to keep their joints in check.
Now let's turn our attention to chondroitin. For dogs tipping the scale at less than 80 lbs, a recommended amount is 900 mg. Meanwhile, those weighing more than 80 lbs. can benefit from 1,800 mg daily dose. With these guidelines in mind, your canine friend will be leaping with joy as they enjoy optimal joint health!
Side Effects
Glucosamine is a widely used supplement for dogs with minimal side effects that are in hip and joint supplements! In rare cases, some dogs may experience allergies, especially if they're sensitive to shellfish, a little tiredness or sleeplessness, or increased thirst and potty breaks when taking higher doses.
Though rare, minor side effects such as gentle gas and softer stools might occur with chondroitin. Keep in mind, research is currently limited, resulting in a scarce amount of data on potential side effects.
Hip and Joint Supplement For Dogs FAQs
What causes joint pain in dogs?
Joint discomfort affects many of our dog friends, and there are a host of potential causes. Hip dysplasia is one hereditary condition which could result from an ill-aligned hip joint; arthritis can manifest with age just as it does for humans; luxating patella (which occurs when the ligaments holding the knee cap slip) often leads to unbearable moments during activities like running or playing fetch.
When can I give my dog joint supplements?
To keep your pup's joints healthy and strong, timing is key for starting joint supplements. Generally, at one year old the growth of their bones has concluded - thus this age marks a great time to begin supplementing with an extra boost in nutrition!
Active breeds or those who have unfortunate family history of hip and joint pain tend to benefit from supplementation even sooner; if you still need help deciding what's best for them then chatting with a veterinarian can provide sound advice about when it's most appropriate.
What are the consequences of joint pain in dogs?
Joint pain can be more than just a minor annoyance to our furry friends - it poses serious risks like the extreme limping, diminished activity and even complete inability to jump or climb steps.
Look out for warning signs such as difficulty getting up from lying down, reduced enthusiasm when walking on stairs or going outdoors and persistent licking of affected areas around joints. Keep an eye out too for swelling in the area that may be accompanied with heat intensity. When joint health is overlooked this could mean your pup suffers painful consequences!
What helps with dogs hips and joints?
In an effort to keep your dog's hips and joints healthy and comfortable, the vet might provide a personalized treatment, which could include fun weight loss programs, limiting running on hard surfaces, rejuvenating physical therapy sessions, supplementing with joint-boosting vitamins, or providing access to top-notch inflammation-fighting medications.
Do dogs really need joint supplements?
Discover the magic of joint supplements for your furry friends! These powerful supplements can not only help keep bothersome symptoms at bay but also delay any future decline in their joints.
But why wait for the signs? Consult your trusted veterinarian about joint health and arthritis at the earliest and let your pup enjoy the benefits of these supplements from their very first year!
Should I give my dog glucosamine everyday?
Administering appropriate daily doses of glucosamine to your dog can work wonders in easing joint aches and ward off potential discomfort even before the signs show up.
Does walking help joint pain in dogs?
Strolling around with your dog in your local area can work wonders for their health! Taking them on several brief walks throughout the day keeps them active, eases muscle stiffness, and supports their joints without causing unnecessary strain.
Does fish oil help dogs joints?
Fish oil is packed with omega-3 fatty acids, which targets your dog's heart, joints, luscious coat, radiant skin, and robust immune system. Whether it's a lasting lifestyle change or a short-lived pep in their step, fish oil can be a key to a happier, healthier pup!
Should you walk a dog with hip pain?
Walking with your dog not only sparks joy, but it's also perfect for those battling hip dysplasia! This gentle, low-impact workout gets your dog moving while taking it easy on the hips. Just remember, slow and steady wins the race - gradually stretch those distances as your doggo builds up their stamina.
Final Word
Keeping your dog healthy and active throughout their later years is important, and there is no better or easier way to ensure their longevity and wellbeing than by giving them a high-quality hip and joint supplement with their dog food.
By providing your pup with all the necessary nutrients, vitamins, minerals and antioxidants that come with these joint supplements for dogs, you can dramatically reduce their risk of developing any painful conditions like damaged joints or insufficient lubrication and also provide pain relief.
Additionally, you'll also be helping maintain their strength, stamina, endurance and agility, while being able to promote joint health - making sure they're always ready to enjoy life's adventures! So don't wait- make sure your dog gets the best joint supplements so they can continue living life to the fullest!