The best baby probiotics are essential for the gut health of infants and babies.
Probiotics improve digestive support, strengthen the immune system, and keep the baby healthy and happy. There is no colic, excessive crying, abdominal discomfort, diarrhea, constipation, bloating, or gasses with the regular dosage of the best natural baby probiotics.
There are many probiotic brands, however, it's essential to select a probiotic formula that does not contain any allergens, artificial colors, and flavors so that nothing harms the baby. Also, knowing what and how probiotics are best for your baby.
That's why we created this article to know the benefits, recommended dosage, side effects, and answers to your most frequently asked questions. After your concerns & interests are clear, you can feed your baby with the proper probiotics.
We've curated a list of top-quality products below that we're confident you'll love. Our editors have independently selected each one, and although some have been sent to us as samples, all opinions in this article are our own. We want to be transparent with you and let you know that FlairFindings may earn a commission or other compensation from the links on this page if you decide to make a purchase. This is how we sustain our business & content flow. Additionally, we have edited reviews for length and clarity. We hope you enjoy discovering your new favorite item!
How We Select The Best
Many of on our team have kids. When consulting pediatricians, they recommended probiotic supplements to help their babies with dealing and controlling abdominal discomfort, bloating, gasses.
We don't suggest using any probiotics right away without consulting your child's pediatrician to figure out what's the right choice.
In this article, we have discussed the five best baby probiotics with you. These are the recommendations that pediatricians gave to our team members for their children. You can go for these choices without any worries.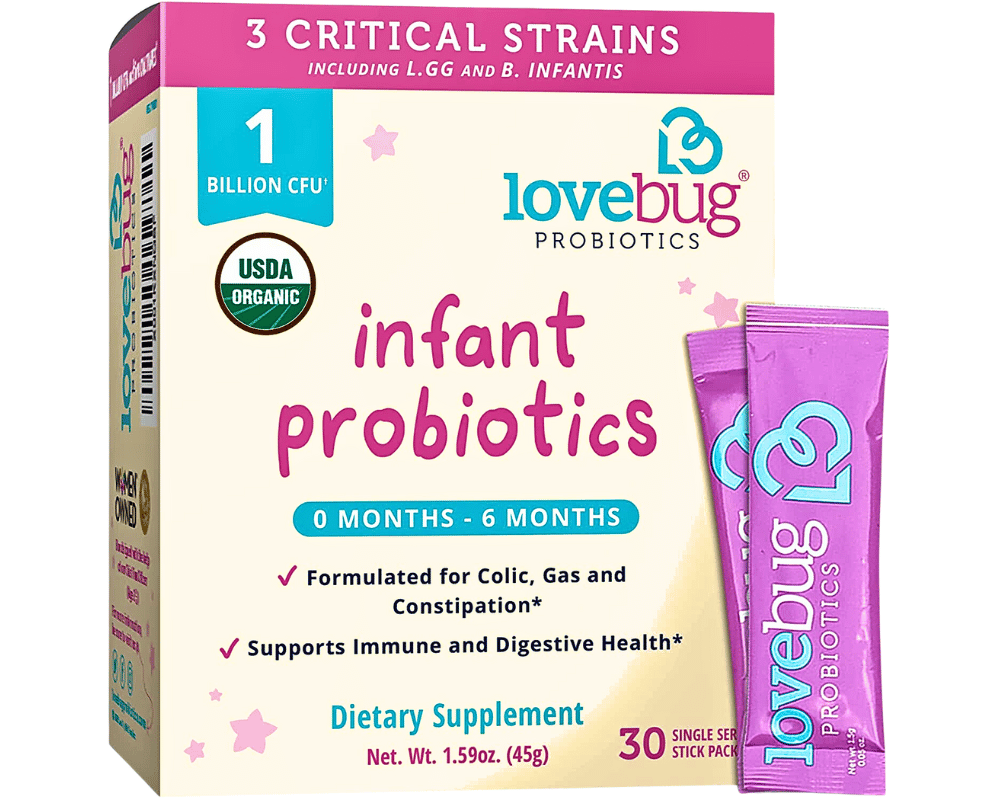 Best Digestive Health Support
Lovebug Infant Probiotics
Check Price on Amazon
What's the Big Deal?
Lovebug is a trusted and award-winning name providing probiotics for the entire family, especially babies and infants. It provides the best organic baby probiotics for infants up to six months of age. The probiotics for your baby must be sugar-free and free from allergens; otherwise, they will not benefit the child. Lovebug takes care of this by creating and cultivating their outstanding formula.
The company understands the needs of newborns as their immune system is weak because of the lack of probiotics. This unique probiotic formula for infants will improve the baby's digestive health. In return, there will be no diarrhea, constipation, colic, or eczema.
What You Should Know
The pack contains 30 stick packs of baby probiotics powder. The recommended serving size is one stick pack per dosage. Each dosage is 1.5 grams, containing 1 billion CFU of the probiotic blend, 1 gram of total carbohydrate, and 1 gram of dietary fiber.
This powdered probiotic for babies is tasteless; you can mix it with the milk. There are no artificial flavors or colors to make it harmless for babies. Furthermore, it's non-GMO and vegan. We recommend consulting your child's pediatrician regarding the recommended dosage and if it is the right option for your infant.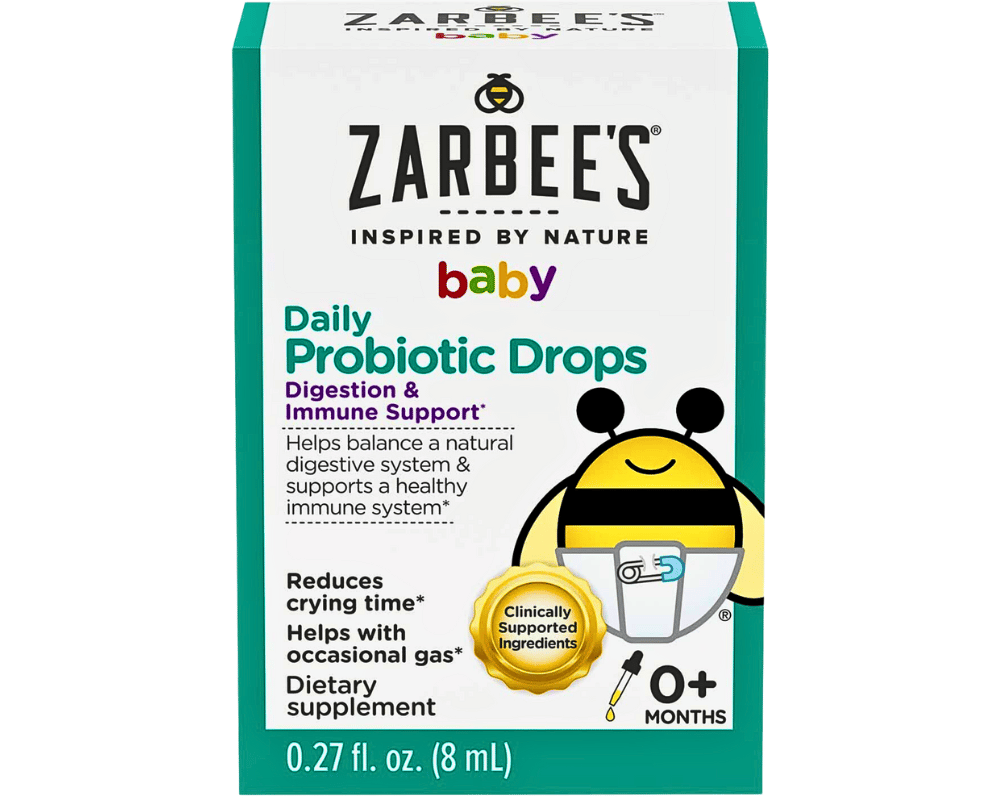 Best for Immune Support
Zarbee's Baby Probiotic Drops
Check Price on Amazon
What's the Big Deal?
Zarbee's unflavored probiotic drops are great for daily use. These drops are both safe and effective in supporting the immune system and reducing crying time and discomfort caused by colic and occasional gas in infants.
The dropper included in the packaging ensures easy and accurate dosing, which can be administered directly with a spoon or added to breast milk or infant formula. Zarbee's drops are an excellent choice for parents who are looking for a reliable and trustworthy solution for their baby's colic and gas-related issues.
What You Should Know
Zarbee's probiotic drops contain two effective probiotic strains - Bifidobacterium breve BR03 and Bifidobacterium breve BR632 - that work together to maintain a natural balance in your baby's gut. It's free from artificial sweeteners, added flavors or dyes, high fructose corn syrup. and gluten.
These probiotics also help ease any occasional tummy discomfort and support a healthy immune system. So, if you want to give your baby good gut health, give Zarbee's Baby Probiotic Drops a try.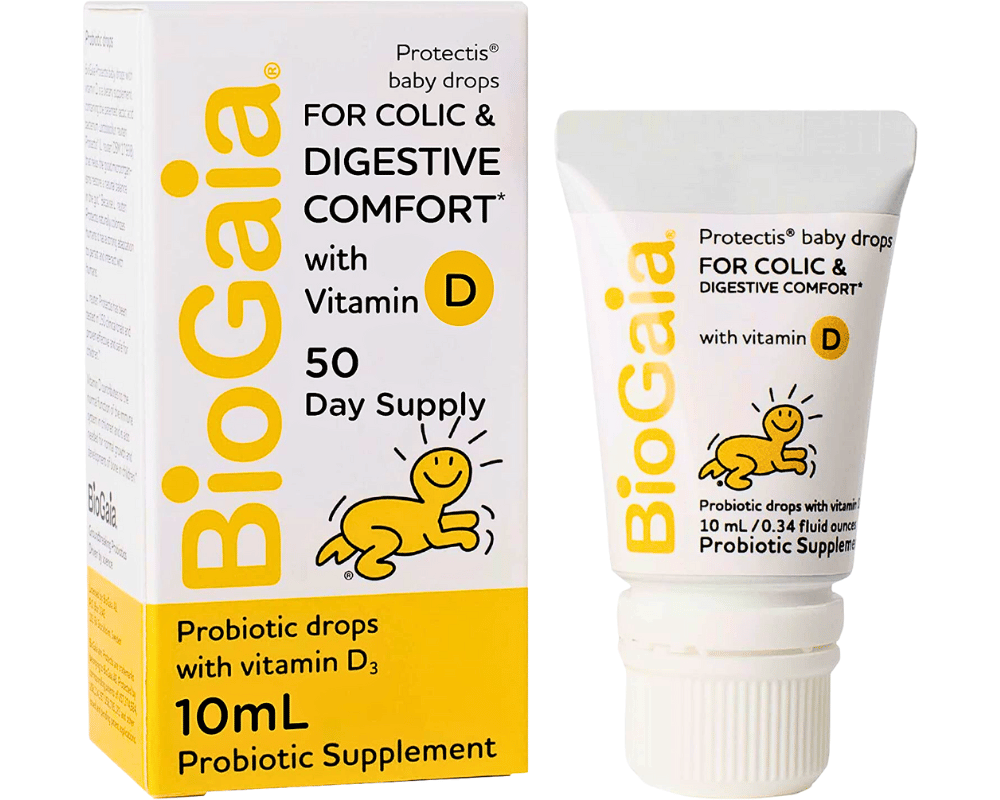 Best for Digestive Comfort
BioGaia Protectis Baby Probiotic Drops
Check Price on Amazon
What's the Big Deal?
BioGaia provides probiotics for babies that boost their overall health. These are one of the best baby probiotic drops that are specially formulated in order to better the baby's healthy digestive system and provide colic relief. Their formula is also clinically tested to reduce crying in babies. There will be little to no colic issues or discomfort caused by indigestion when given BioGaia Protectis Baby Probiotic Drops.
Furthermore, this is the best baby probiotic for constipation and is also very effective against diarrhea. This formula is non-GMO and does not contain artificial flavors, colors, or preservatives. Also, it is soy-free and dairy free.
What You Should Know
BioGaia Protectis Baby Probiotic Drops contains 10 ml of probiotic supplement. Its enough for a 50 day supply. Each dosage contains L. Reuteri Protectis and 400 IU of Vitamin D and E. The other ingredients are sunflower oil and medium-chain triglyceride oil.
The daily recommended dosage is 5 drops. The manufacturer recommends shaking the tube for 10 seconds; after that, press the tube to dispense 5 drops. You can feed your baby with this probiotic solution or mix it in with milk. Furthermore, the manufacturer recommends not using the solution for more than 3 months after you open the pack.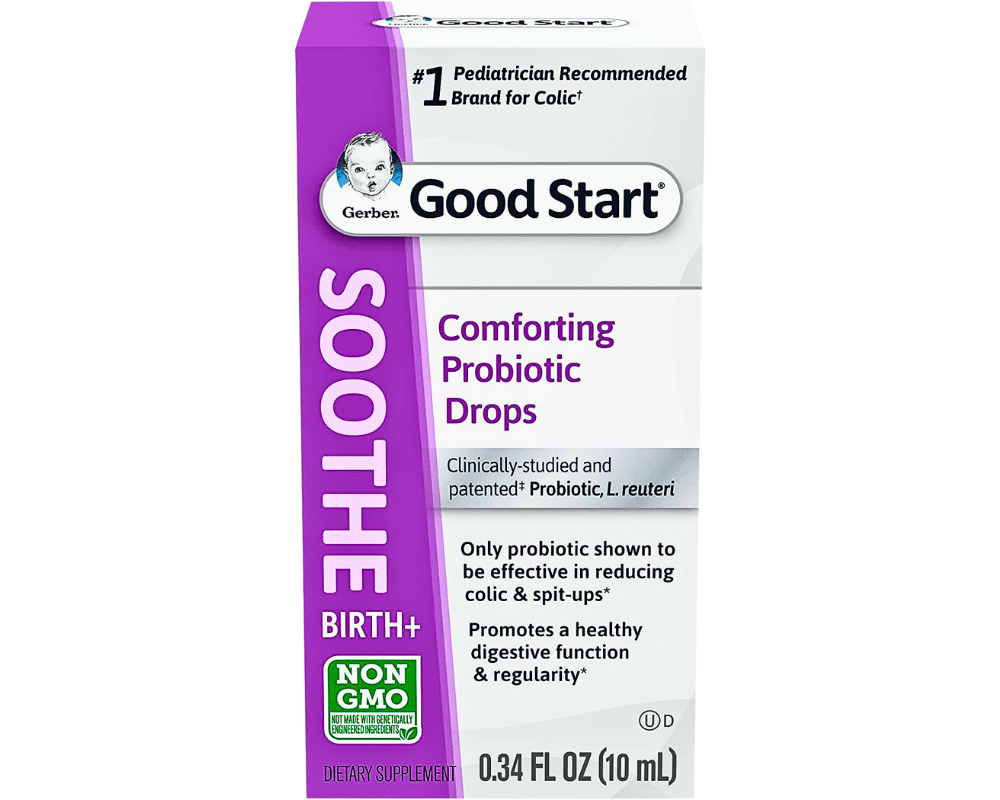 Best for Colic
Gerber Comforting Probiotic Drops
Check Price on Amazon
What's the Big Deal?
Gerber Comforting Probiotic Drops, much like Garden of Life baby probiotics, it offers everything a baby needs. Gerber baby probiotic drops are one of its popular products. These drops are clinically tested to be effective against colic, excessive crying, and frequent sit-ups.
Gerber probiotic drops soothe the tummy of the baby by improving good bacteria, and in return, the baby's digestive system functions healthily and normally. This formula is non-GMO and is similar to the probiotics present in breast milk.
What You Should Know
Gerber Comforting Probiotic Drops contains 10 ml of the probiotic liquid supplement. In each pack, you will get 50 servings worth for your baby. Each dosage is 5 drops. In every dosage, the baby gets probiotic L. Reuteri. The other ingredients are sunflower oil, silicon dioxide, and medium-chain triglyceride oil.
This formula is safe for the baby from birth, and new moms can trust it without any worries. Furthermore, the manufacturer recommends storing it in a cool, dry place under 25 degrees Celcius or 77 degrees Fahrenheit. You can give it to the baby directly or add it to the milk as it is easy for you.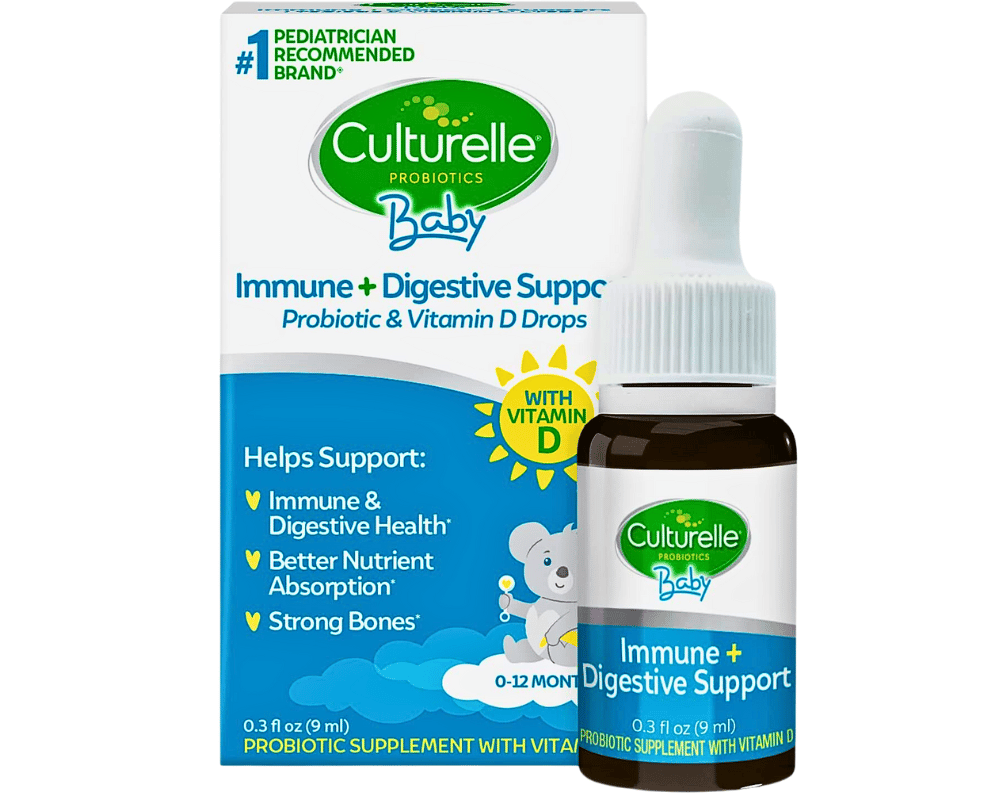 Best Absorption
Culturelle Baby Immune + Digestive Support
Check Price on Amazon
What's the Big Deal?
Culturelle is another company that provides one of the best quality probiotics for babies, kids, and adults. For people who want their baby to have a strong foundation, Culturelle probiotic formula supports the baby's immunity and improves digestive health as well.
Pediatrics recommend this probiotic solution for better improvement & nutrition of babies, and it's also famous for the development of strong bones in babies, just like in Mommy's Bliss Probiotic Drops. It has all the natural ingredients and Vitamin D and is gluten-free, soy-free, and dairy-free. Furthermore, this formula is non-GMO and free from artificial colors and dyes.
What You Should Know
Culturelle Baby Immune + Digestive Support contains 9 ml of probiotic solution. The recommended dosage is five drops, and you'll get 30 servings in each bottle. In each dosage, the baby gets 29 mg of probiotic blend and 10 mcg of Vitamin D3. The probiotic blend contains Lactobacillus Rhamnosus GG and Bifidobacterium Animalis Subsp. Lactis BB-12. There are no carbohydrates, sugar, or calories in each dosage.
The manufacturer recommends shaking the bottle before use. After shaking, dispense 5 drops. You can give it to your baby directly with a spoon or mix it with milk. Also, make sure not to use this liquid probiotic formula after 60 days after you open it.
Benefits, Dosage, and Side Effects
Here's the health benefits, dosage and side effects of baby probiotics.
Benefits
Probiotics improve the good bacteria in the baby's tummy. In return, the baby's digestive system strengthens, and the immunity improves. Along with improving bacteria, it also balances different kinds of bacteria in the body. With the help of this good bacteria they'll be healthy and balanced, there will also be no infection and diarrhea to get your baby in an unhappy state.
The risk of getting bowel syndrome in the baby reduces with the aid of probiotic supplements. Probiotics are also said to be effective against food allergies, eczema, and asthma. It also keeps the baby's unitary tract healthy by preventing infections.
The baby faces no colic, sleepless nights, and acid reflux with a regular intake of probiotic supplements. They cries less and will stay happy. Probiotic supplements are also said to be effective against constipation, tooth decay, and gum diseases in babies.
Dosage
The manufacturer knows what's in their product and will give you the recommended dosage on their products label. If it's liquid probiotics, the recommended dosage is mostly five drops per day from birth to one year of age. In contrast, if the probiotics are available in powdered form, the manufacturer packs each dosage in a different pack, so there is no uncertainty in measuring the recommended dosage.
We recommend consulting a pediatrician regarding your baby's recommended dosage of probiotics.
Side Effects
Do not feed probiotics to premature babies, babies with weak immunity, or other health issues. Some health risks a baby may face because of the intake of probiotics are systemic infections, gene transfer, impaired metabolic activities, and excess immune stimulation. We recommend consulting a pediatrician before feeding your baby with a probiotic supplement to better safeguard your child from unwanted discomfort.
If you notice any allergies signs or health issues in the baby, consult the pediatrician immediately; the cause may be from the probiotic supplement.
Baby Probiotics FAQs
In this section, we will clear all your questions regarding baby probiotics by answering your frequently asked questions.
Do pediatricians recommend probiotics?
Pediatricians recommend probiotics for healthy babies to keep their digestive systems strong and boost immunity. However, pediatricians do not recommend using probiotics in babies with serious ailments.
Should I give probiotics to my infant?
Probiotics are suitable for healthy infants right after birth. Consult your pediatrician and to see if you can start giving probiotics to your infant. Doing so will boost your child's immunity and overall health.
Is it OK to give baby probiotics every day?
Feeding your baby with probiotics, which are beneficial bacteria, every day is helpful. It will help the baby against colic, indigestion, constipation, diarrhea, etc.
Do probiotics help the gassy babies?
Probiotics improve the healthy bacteria in the baby's tummy that help digest the food easily without creating gas. That's why we can say that probiotics do indeed help gassy babies.
What is the best time of day to give baby probiotics?
There is no best time to feed babies with a infant probiotic. However, giving it to the baby with food or near the feeding time is better.
What are the side effects of probiotics in babies?
Common side effects of probiotics are nausea, diarrhea, bloating, irritable bowel syndrome, and abdominal discomfort.
Does breast milk have probiotics?
Breastmilk contains probiotics along with the nutrition for the baby. But even though probiotics is present in breastmilk, the amount of it is not enough so we tend to go for baby probiotics to feed them the proper volume.
Do probiotics help with colic?
Probiotics soothe the baby's digestive system. Resulting in no abdominal discomfort and no frequent crying and in turn help the colicky baby with their irritation.
Can you mix baby probiotics with formula?
You can mix probiotics with formula milk. However, adding it to the formula is not recommended if it is more than 100 degrees Fahrenheit or 37.8 degrees Celsius in temperature because it destroys the microorganisms in the probiotic strains.
Final Word
We aspired to help you learned that probiotics for babies not only support digestive health, but also provide many other admirable benefits, such as strengthening the immune system, reducing the pain and discomfort of colic, helping baby have less crying time and fewer gasses. With the right dosage and formulation of the best baby probiotics, we can be sure that the baby will remain safe and healthy.
Luckily, finding one with no allergens, artificial colors or flavors is easier than ever. It's highly advised that parents always make sure to select brands that are natural and free from any additional ingredients that may cause harm. Let's get started on helping your baby receive these extraordinary benefits today!