We've all been there. You're walking to work when you step in a hole and your favorite shoes break. Or maybe you were just clumsy and dropped a object on them and tear.
It's frustrating when you have to spend money on a new pair of shoes when your old shoes are perfectly fine, except for that one little tear.
Not to worry, we've got the solution. With the best glue for shoe repair, you can fix your shoes at home in no time. These glues are so easy to use and provide amazing results.
Leather shoes are exceptionally delicate, and when they are torn, it's expensive to get them repaired. You will love the results of these shoe repair glues.
We've curated a list of top-quality products below that we're confident you'll love. Our editors have independently selected each one, and although some have been sent to us as samples, all opinions in this article are our own. We want to be transparent with you and let you know that FlairFindings may earn a commission or other compensation from the links on this page if you decide to make a purchase. This is how we sustain our business & content flow. Additionally, we have edited reviews for length and clarity. We hope you enjoy discovering your new favorite item!
How We Select The Best
Are your shoes falling apart?
Don't worry, we've got you covered. We've searched high and low for the best glue to repair shoes, and we're excited to share our findings with you.
Not only are these glues effective, but they're also long-lasting. You'll be able to wear your repaired shoes with confidence, knowing that they'll stay fixed for a long time.
Read on to learn more about the best 5 glues for repairing shoes!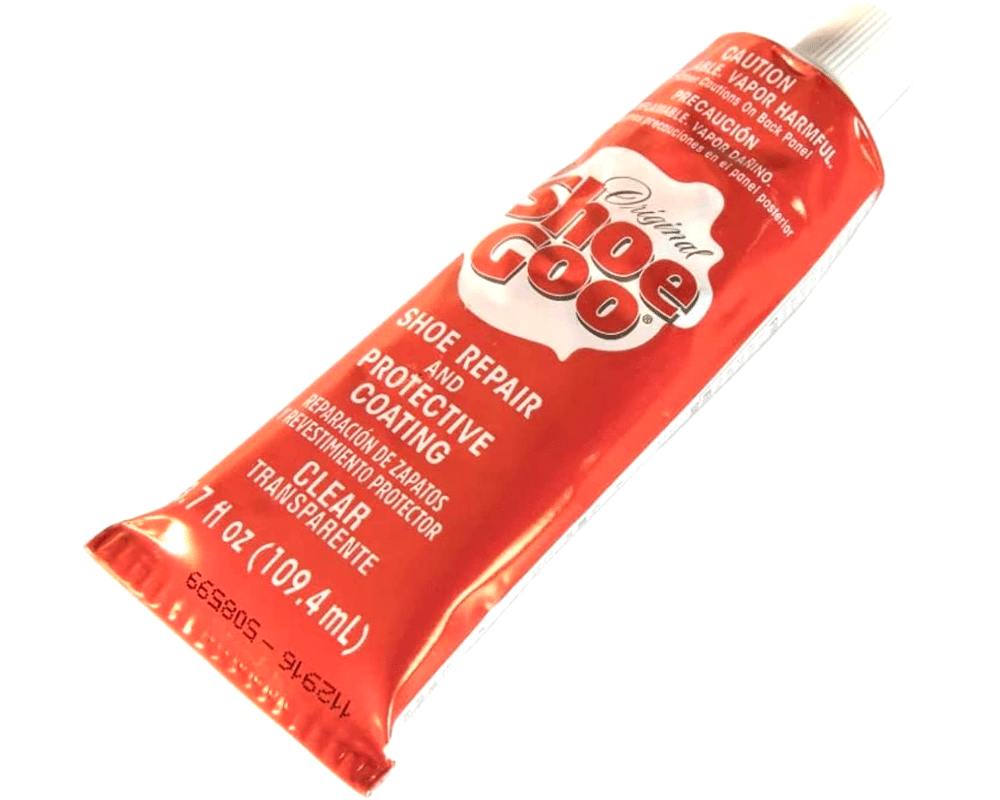 Shoe Goo Repair Adhesive
Check Price On Amazon
What's The Big Deal?
Shoe Goo is a super adhesive repair glue for shoes and boots. It is one of the most popular shoe glue worldwide that fixes all rip, wear, and tear problems of shoes and boots. This glue provides a permanent and invisible repair for your shoes.
Shoe Goo comes in a 3.7 oz tube containing transparent glue that dries and converts into a flexible, waterproof, and clear rubber. It is also a great sealant that is specially designed to repair almost all types of footwear. Shoe Goo works excellently to repair leather uppers, rubber soles, and canvas tears and fixes laces, so they do not fray out due to excessive use.
What You Should Know
Shoe Goo is an excellent choice for shoe repair as this glue works amazingly without causing any cracks or breakage in your shoes. With its quality of being a great sealant, you can perfectly patch the small holes in your shoes.
Shoe Goo is a waterproof glue, so the repair won't be affected if your shoes get exposed to water. The glue is so strong that you can also use it to repair your skateboard (if you have one). The unique formula of Shoe Goo makes it provide better adhesion and robust scrape resistance.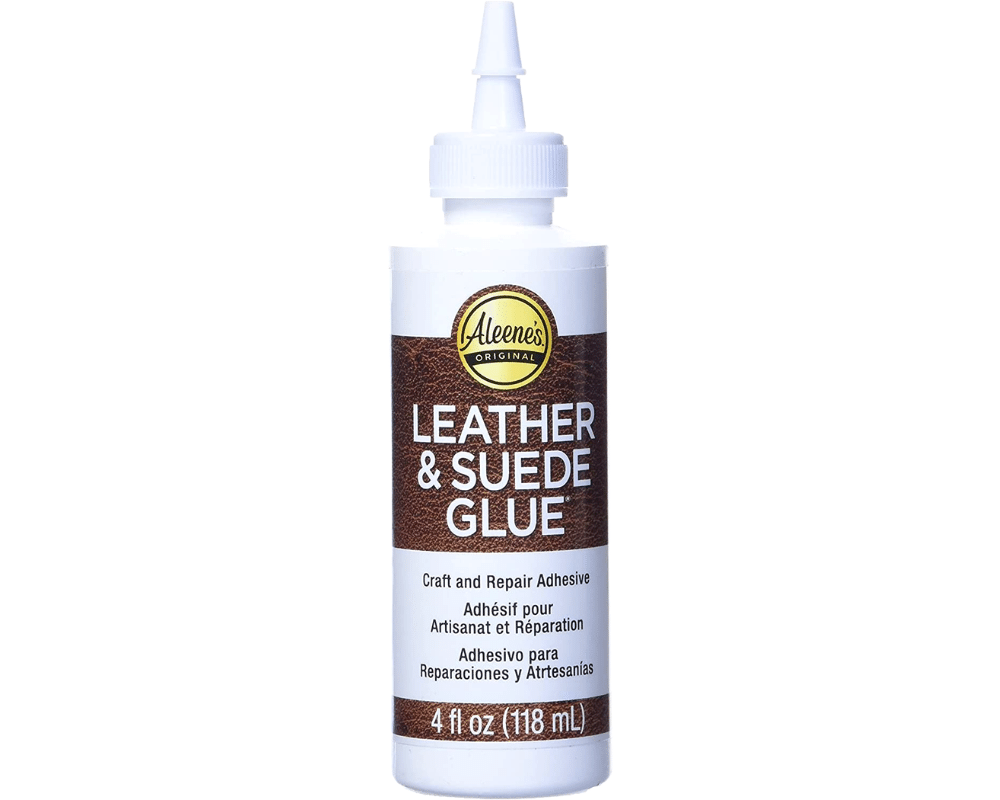 Aleene's Leather & Suede Glue
Check Price On Amazon
What's The Big Deal?
Aleene's has been providing adhesion services since 1950. It is a famous glue brand with a wide range of adhesives, roughly more than 60 adhesives, so that you can repair your leather shoes, boots, bags, and jackets, do fun projects with kids, or do your own DIY projects at home. This super adhesive glue is a multi-purpose glue that works quite efficiently.
Aleene's Leather & Suede Glue is one of the wide range of adhesives. It is specially used to repair or mend your leather shoes and boots. This glue is highly compatible with leather, so you can fearlessly use it to restore your leather shoes.
What You Should Know
Aleene's glue is a 4-oz bottle with fast-tacking glue that turns into a flexible and transparent material after drying. The glue does not soak or wash away with water and also does not leave any stains on the leather materials. However, dry cleaning is not recommended for the leather shoe material with this glue.
It offers a flexible bond for the repair of your leather shoes. This hardworking and nontoxic glue permanently repairs your shoes with its super-efficient formula. You can trust this glue for doing any kind of repair or décor with leather or suede materials.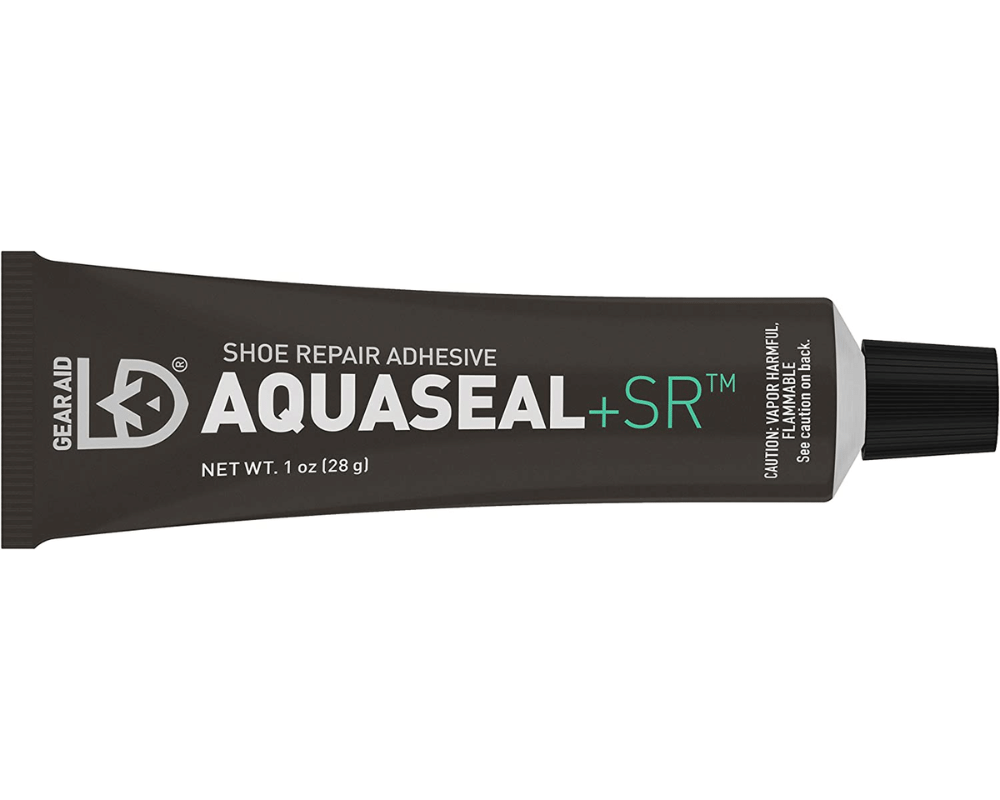 GEAR AID Glue with Aquaseal SR
Check Price On Amazon
What's The Big Deal?
GEAR AID glue with Aquaseal SR is a magical glue that fixes soles, heels, and uppers of leather and rubber shoes and boots. In addition to leather and rubber, the Gear Aid shoe repair glue is also super adhesive for suede, canvas, neoprene cement, and GORE-TEX shoes and boots.
You can make long-lasting shoe repairs for all types of shoes with Gear Aid repair glue, including hiking shoes, cleats, running shoes, and casual or formal shoes. This glue is made of durable urethane that offers permanent repair.
What You Should Know
The 1 oz tube of GEAR AID contains waterproof, flexible, and permanent glue. It's a heavy-duty glue ideal for structural repair functions for shoes and boots, like fixing broken soles or reattaching the heels.
Aquaseal SR is an abrasion-resistant glue that can be used to create protectors for work boot toes to remain solid and last for a long time. The glue dries and becomes a flexible, clear rubber material that does not crack or peel away with time.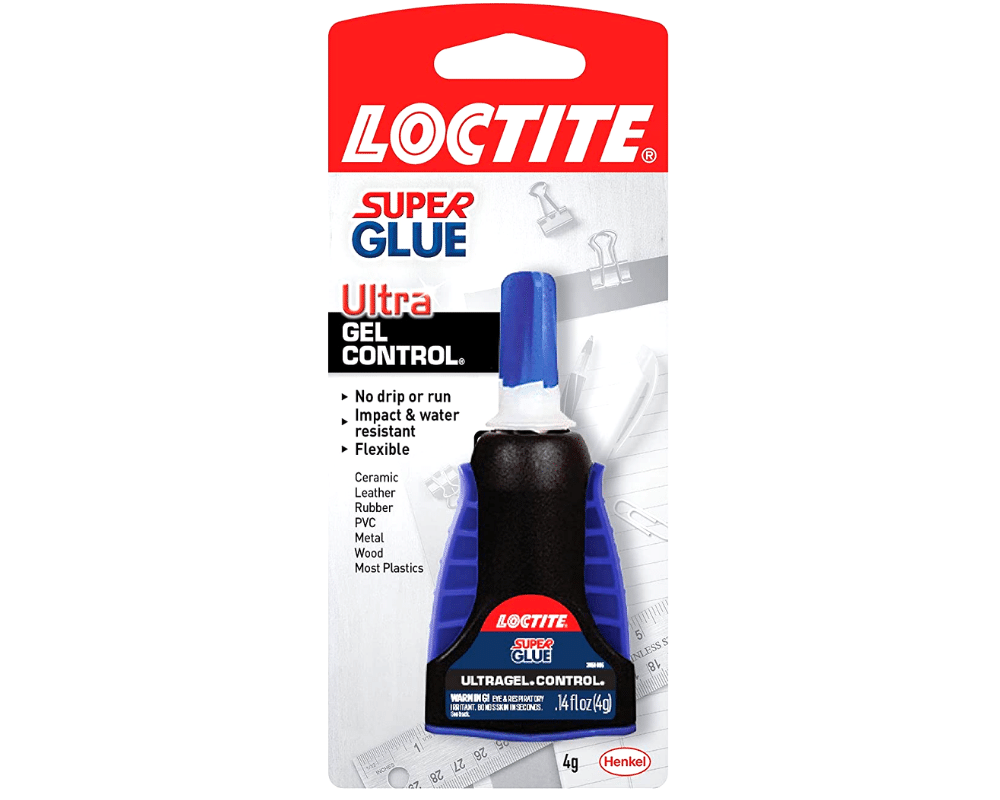 Loctite Ultra Control
Check Price On Amazon
What's The Big Deal?
Loctite super glue shoes is a premium quality glue that works best for all types of shoes, great for hiking boots & especially rubber shoes. Loctite has a flexible formulation that provides permanent and invisible repair to your shoes and boots. Moreover, Loctite glue is famous in various shoe repair shops.
This glue comes in a small bottle containing 0.14 oz of cyanoacrylate super glue formula that can repair, bond, and seal your torn shoes in a short time and with less money.
What You Should Know
Loctite glue offers strong resistance against water, vibration, and shock. The glue formula used in this does not let it run or drip, so you can easily use it vertically. The transparent dried glue provides invisible repairs.
The bottle of this glue has a patented easy side-squeeze design that provides maximum control and accuracy for application. Loctite glue is very adhesive for other materials like wood, leather, metal, ceramic, paper, and hard plastics.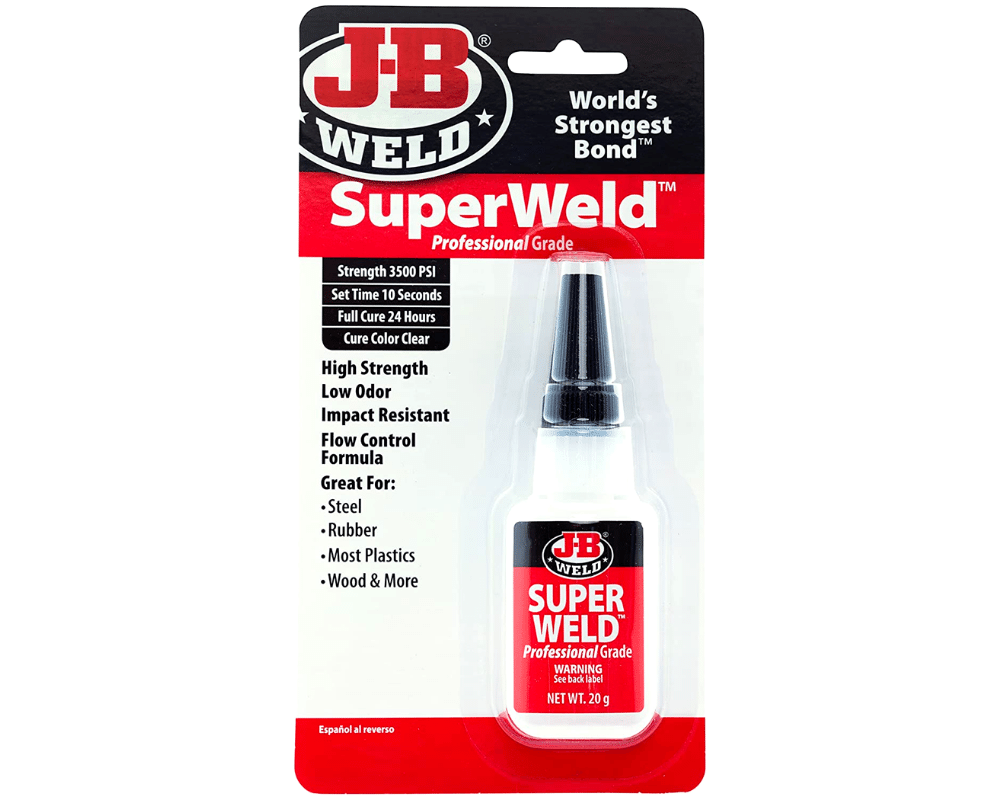 J-B Weld SuperWeld Glue
Check Price On Amazon
What's The Big Deal?
J-B Weld SuperWeld glue is a high-quality clear superglue with high strength, low odor, and shock resistance. The 20g bottle of J-B Weld contains a super strong clear glue that can repair your athletic shoes within a few seconds. The glue includes a unique cyanoacrylate super glue formula that makes it a choice for builders, mechanics, pros of repair work & for everyday use.
This specially formulated super glue strongly bonds hard-to-bond surfaces and materials. The glue remains intact for a long time, even in the most challenging weather conditions and environments.
What You Should Know
J-B Weld SuperWeld glue is easy to use. It comes in an applicator bottle that allows applying the glue evenly and accurately on the small spots. The glue features Flow Control Formula so that it does not drip or run and stays stuck to where it has to provide adhesion.
This super weld glue is most compatible with rubber material and provides permanent repair anywhere it is used. It also works great on materials like glass, steel, wood, auto accessories, plastic, cloth, vinyl, metal & rubber bands.
Glue For Shoe Repair FAQs
Does shoe glue work in bad weather or poor conditions?
The best shoe glues provide excellent resistance to poor weather conditions like moisture, vibration, impact, and extreme hot and cold temperatures.
Does shoe glue take a long time to dry?
To get the best results from glue, you should leave it for at least 24 hours. It may take more than 72 hours in some conditions. Extreme heat, extreme cold, and humidity can also affect the time taken for drying.
What Is the Best Glue for Leather Shoes?
When you start looking for the best glue for leather shoes, you will see many adhesives available that work on different materials, one of which is leather. If you want the best glue for leather shoes, you should look for glue formulated especially for leather materials like Aleene Leather & Suede Glue.
Are Superglues similar to Shoe Glue?
Superglue, just like gorilla glue, is a strong glue that works efficiently on hard-to-bond surfaces and materials, but not all shoe glue. The best shoe glue contains the active ingredient cyanoacrylate, which makes it strong and flexible.
Are you concerned about making a glue mess?
Don't worry about making a glue mess. Most of the shoe fix shoe glue adhesives are not watery and not drippy material that does not create a mess. They get dried in a short time and provide invisible shoe sole repair.
Final Word
Breaking shoes is a common thing. It depends on you whether you take your shoes to a repair shop or decide to fix it on your own.
We hope you have found the best glue for shoe repair from our top picks!