Nursing is a serious and challenging job. It is a job that requires commitment, hard work, and sacrifice. Nurses work all day, and most of the time, they are standing or walking.
The long-standing position causes stress, extreme pressure, and tiredness to their legs and feet, resulting in unbearable pain and discomfort.
The best compression socks for nurses is the best choice to relieve this uncomfortable condition for nurses. They cause a light pressure that regulates the blood flow and helps prevent inflammation & swelling.
We've curated a list of top-quality products below that we're confident you'll love. Our editors have independently selected each one, and although some have been sent to us as samples, all opinions in this article are our own. We want to be transparent with you and let you know that FlairFindings may earn a commission or other compensation from the links on this page if you decide to make a purchase. This is how we sustain our business & content flow. Additionally, we have edited reviews for length and clarity. We hope you enjoy discovering your new favorite item!
How We Select The Best
By wearing compression socks, nurses can work as long as they can by lessening the feeling of discomfort, stressed out, and tiredness in their legs.
We care for everyone and try to select the best possible for everyone who reaches out to us to find something great. Compression socks is a great solution to relieve their uncomfortable circumstances.
We have gone through various top-rated compression socks brands and picked the most reliable ones for nurses. Whether male or female, all nurses feel the same pain and deserve a solution with the best compression socks.
Keep scrolling to check out our top selections & get yourself a pair or two!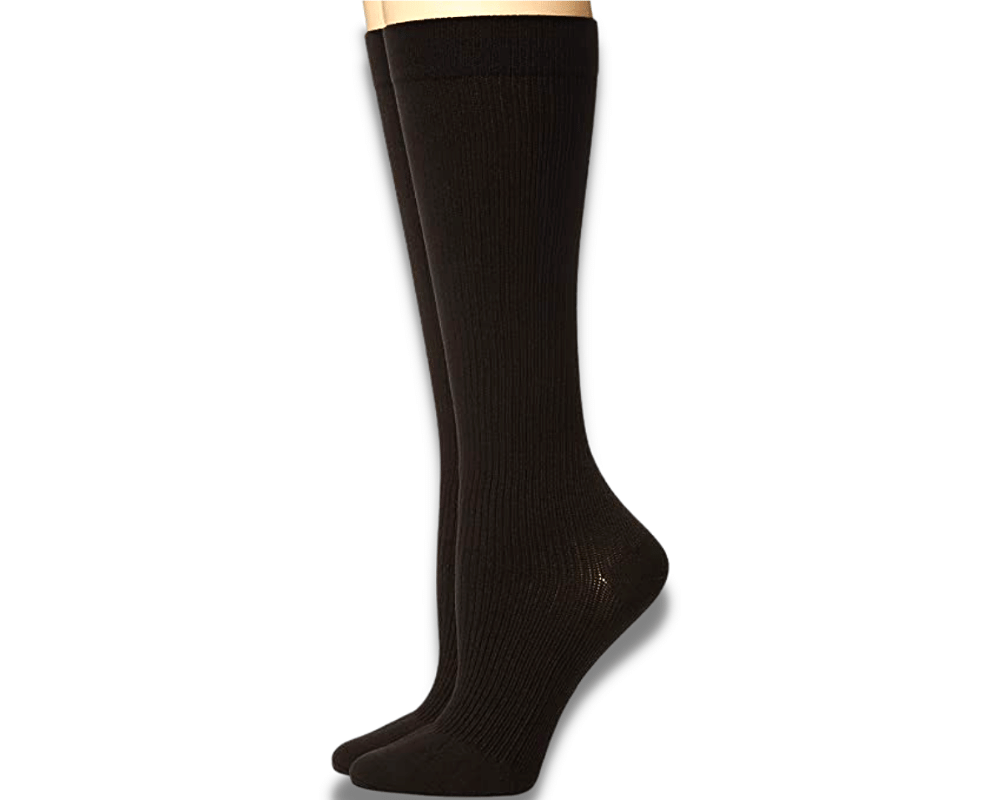 Dr. Scholl's Women's Compression Socks
Check Price On Amazon
What's The Big Deal?
Dr. Scholl's is one of the most renowned and finest brands for footwear worldwide. Apart from comfortable shoes of all kinds, Dr. Scholl's also offers compression socks to facilitate the long-standing legs and feet of nurses or others.
Dr. Scholl's women's compression socks are made of 95% nylon and 5% Lycra Spandex, providing a blended material for more comfort and fit. The material is kept cotton free to reduce irritation and moisture absorption.
What You Should Know
These knee high socks are great for nurses who stand for several hours and often feel extreme pain in their legs and feet. They cover the feet and go up to the knees maintain a compression level of 10 to 15MMHG. The pressure starts from the ankles and gradually lowers down to the knees.
The graduated compression socks are also machine washable and are made to fit women's shoe sizes 4 to 10. Men with this size can also use them. The socks have a pull-on closure and are available in various colors. Each pack contains 2 pairs of compression socks.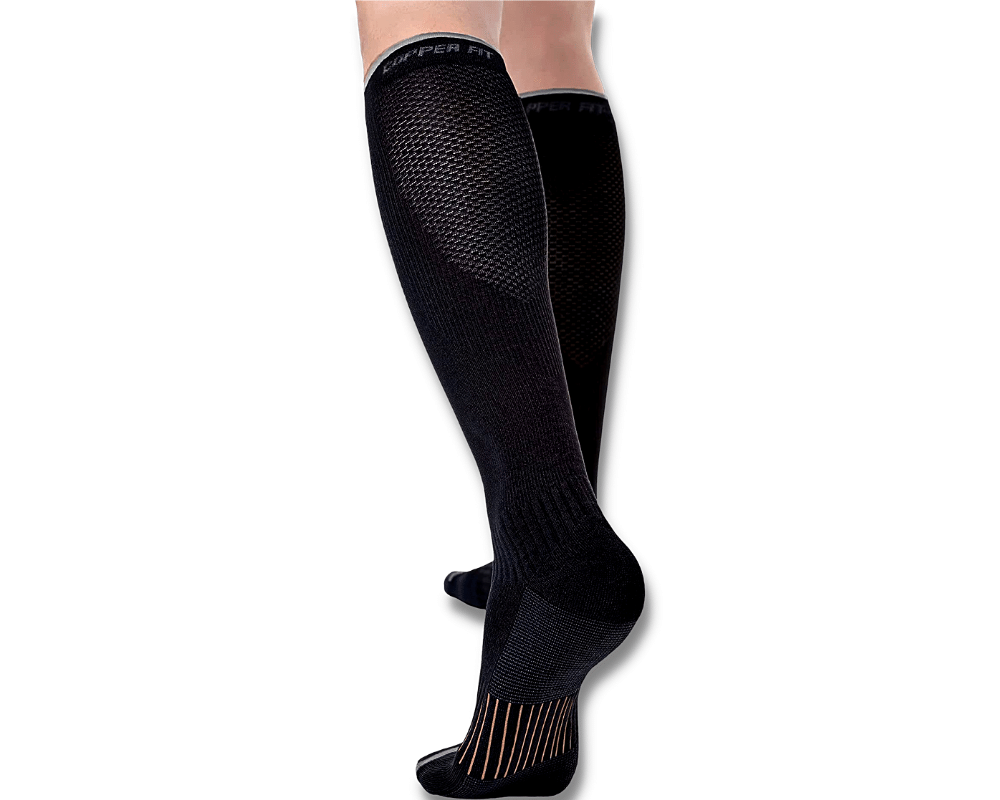 Copper Fit Energy Compression Socks
Check Price On Amazon
What's The Big Deal?
Copper Fit compression socks are the most commonly used compression socks due to their unlimited benefits. They feature enhanced compression to support your feet, arch, ankle, and calves.
The compression socks are made of a blended material of 78% nylon, 14% spandex, and 8% polyester. These socks contain copper-infused fabric that keeps away sweat and odor for a long time. Nurses or travelers traveling long distances can use these compression socks to keep the legs and feet in a comfortable position.
What You Should Know
Men and women can use Copper Fit compression socks. The socks are available only in white and black colors but provide unmatched comfort and pain relief. These compression socks feature a luxuriously cushioned footbed that absorbs shock and provides a comfortable position for a whole day.
The socks are available in an easy on, easy off, fashionable, sleek, and stylish design so that you can wear compression socks confidently anywhere. The socks are machine washable, and each package contains 1 pair of compression socks.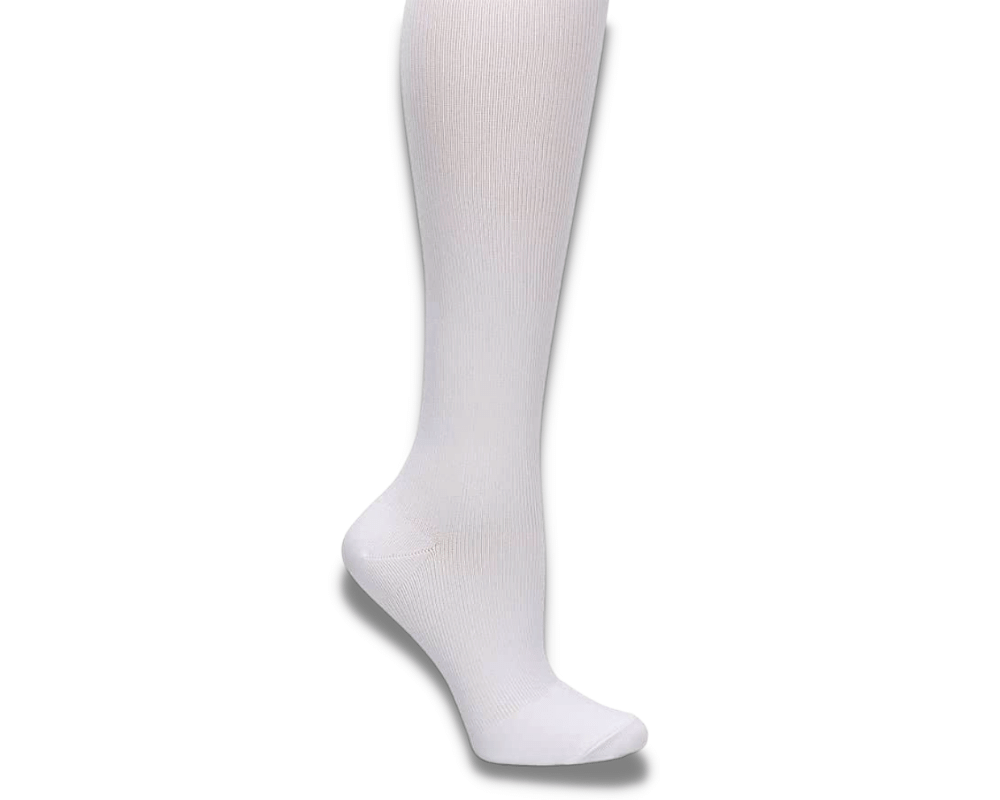 Nurse Mates Women Compression Socks
Check Price On Amazon
What's The Big Deal?
Nurse Mates compression socks is a special tribute to the nurses who stand for many hours to serve the patients. Nurse Mates colorful compression socks provide a progressive compression of 12 to 14 mmHg so that your muscles get premium support for stability.
The compression socks for women are made of 87% nylon and 13% spandex material that blend to make soft and comfortable compression socks. In addition, this fabric is excellent as it dries quickly, wicks away moisture, sweat, and odor, and fits snugly. The compression socks are durable and lightweight to keep the feet cool, dry, and comfortable.
What You Should Know
Nurse Mates socks improve blood circulation ad prevent blood clots, soreness, swelling, DVT, and varicose veins. These compression socks provide additional comfort with the non-pinching heel and toe pockets and welt top band that keeps the socks in position.
Apart from nurses, these socks are also great for runners, travelers, and workers who have to keep standing for a long time. They are also good for pregnancy and maternity. The socks can be washed in a machine at only a gentle cycle, but hand washing is better and safe.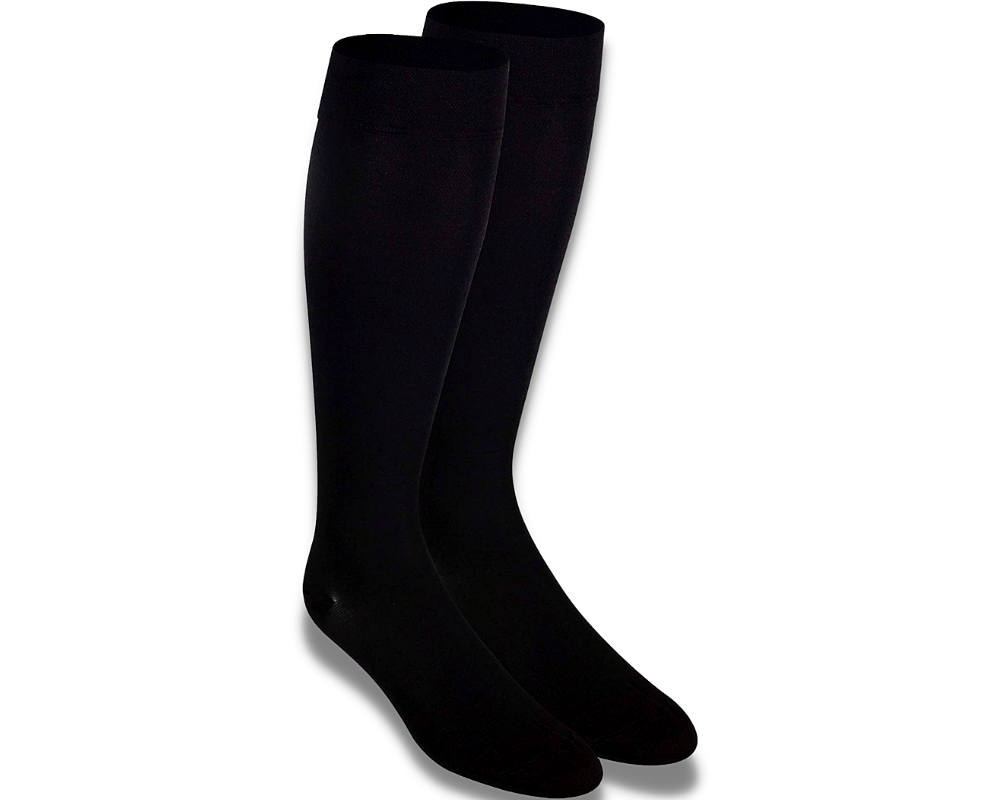 NuVein Medical Compression Stockings
Check Price On Amazon
What's The Big Deal?
NuVein compression socks are high-quality compression socks that feature a classic medical compression socks knit style. It's a unisex compression sock that fits greatly to every size of men's and women's feet.
NuVein compression socks are made of a soft and smooth opaque fabric containing the blended material of 80% nylon and 20% spandex. These compression socks are designed for adults to deal with the problems like cardiovascular stress, fatigue and soreness in legs, swelling, and aching in toes, ankles, and calves.
What You Should Know
NuVein compression socks are available in medium and heavy strength. By medium strength, we mean that compression socks offer a compression strength of 15 to 20 mmHg. This strength of compression socks work great for travelers, pregnant and nursing mothers. Heavy compression socks provide 20 to 30 mmHg strength required to relieve problems like DVT, Edema, Spider Veins, Varicose Veins, Laser Vein Ablation, Thrombosis, and EVLT.
These compression socks are available in black and beige colors and a variety of sizes to fit maximum feet sizes. The socks are latex-free, featuring a closed toe and a wide band at the top that prevents falling off of the socks.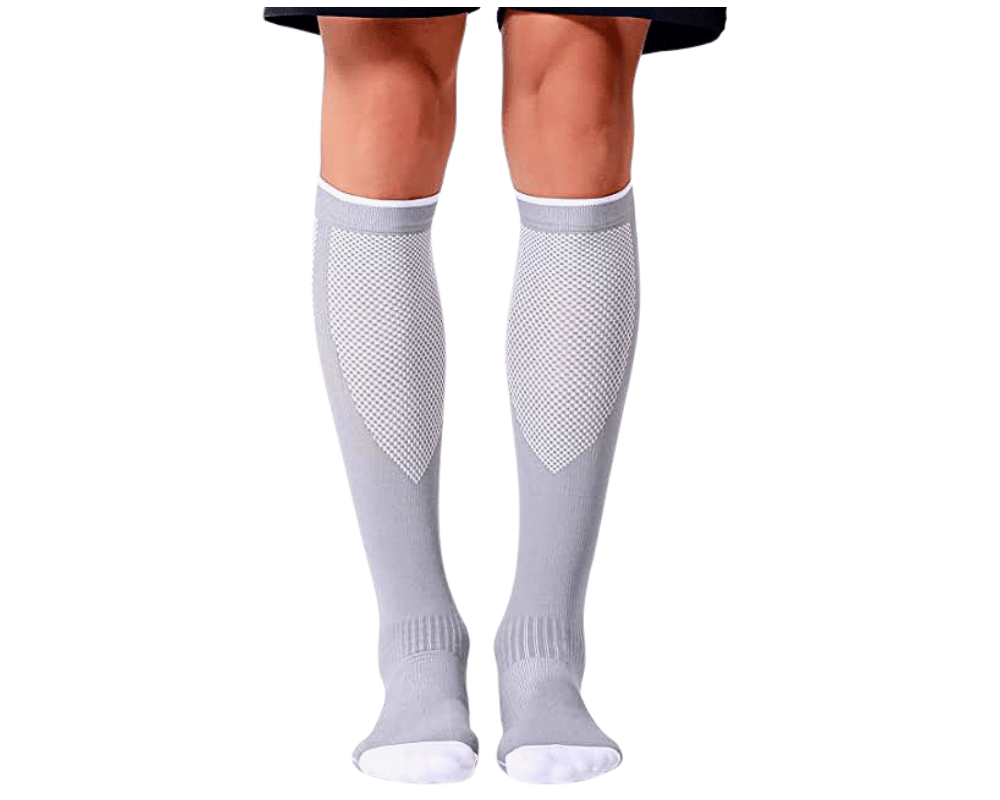 Solimo Open Toe Compression Socks
Check Price On Amazon
What's The Big Deal
Solimo Open Toe compression socks are made with high-quality sheer fabric that is tightly woven and provides stretch and flexibility.
Solimo offers moderate compression of 15 to 20 mmHg to deal with everyday problems like swollen, tired, aching legs, muscle recovery, airplane travel, working out, and leg swelling due to pregnancy. It is also great for nurses who face prolonged sitting or standing, and also creates the appearance of smoother legs.
What You Should Know
With Solimo, you can enjoy joint flexibility and a full range of motion that allows comfortable prolonged sitting or standing. The socks come with reinforced heels to provide additional comfort and durability.
These compression socks stimulate the blood flow to the leg muscles and relieve swelling and aches. These compression socks by Amazon are also available in closed-toe, knee-high, unisex, various sizes, and beige colors.
Compression Socks for Nurses FAQs
What type of compression socks are best for nurses?
The mild compression that offer medium compression of 15 to 20 mmHg are great for meeting the requirement of nurses. These compression socks are great to help them provide relief from tired and aching legs, swollen legs, and varicose veins.
When should you not use compression socks?
Compression socks are fine to use by anyone who is seeking relief from leg pain. But according to specialists, if someone suffers from a peripheral vascular disease affecting their lower extremities, they should not use compression socks. The pressure exerted by figs compression socks can worsen their situation.
How tight should nurse compression socks be?
Compression socks are like normal socks that fit and snuggle to your legs in a way that you feel comfortable. If you feel them too tight or uncomfortable, you should see for another size. Compression socks should not be so tight that they interrupt the blood circulation in your legs.
At what time of the day you should not use compression socks?
You should never be wearing compression socks at night when you lie down in your bed, because when you are in a lying position, your body experiences normal blood flow.
How do you wash compression stockings?
Hand washing is best for compression socks. However, you can also wash them in a washing machine with a gentle cycle with simple detergent. Never use brighteners or fabric softeners for compression socks.
What happens if you dry compression socks?
Do not dry the compression socks in a dryer because the hot environment inside the dryer can damage the merino wool compression socks by weakening their compression properties and making them useless.
Final Word
Compression socks are a blessing for nurses. In a tough and tiring day routine, the best nursing compression socks will bring some relief to them. If you are a nurse, or anyone suffering from leg discomfort or restlessness, try these compression socks from our five best compression socks for nurses.
You will find them extraordinary!