Getting your baby with all the required stuff is part of parenting. The tiniest toes are the most precious ones. We offer help by bringing a great range of the best toddler socks.
Most toddlers need socks so that their day-to-day activities are safer, easier and healthier, but it can be hard to find the perfect pair of socks that fit well and stay on.
Socks are a part of children's clothing that every mother worries about. They need to be available and in perfect form and order. These socks are easily manageable and can be machine washed with cold water. Remember washing them in hot water may cause shrinking.
We've curated a list of top-quality products below that we're confident you'll love. Our editors have independently selected each one, and although some have been sent to us as samples, all opinions in this article are our own. We want to be transparent with you and let you know that FlairFindings may earn a commission or other compensation from the links on this page if you decide to make a purchase. This is how we sustain our business & content flow. Additionally, we have edited reviews for length and clarity. We hope you enjoy discovering your new favorite item!
How We Select The Best
Worried about your baby's comfort?
Socks are a key part of keeping your baby comfy. But which are the best newborn baby socks? We've tried and tested all the top brands to find the perfect pair for your little one.
The best baby sock booties are made with only the highest quality materials, so you can trust that they'll last through even the most active of days. Plus, they come in fun and colorful designs.
Order a pack of the best baby socks today & watch as your baby runs and plays with complete comfort!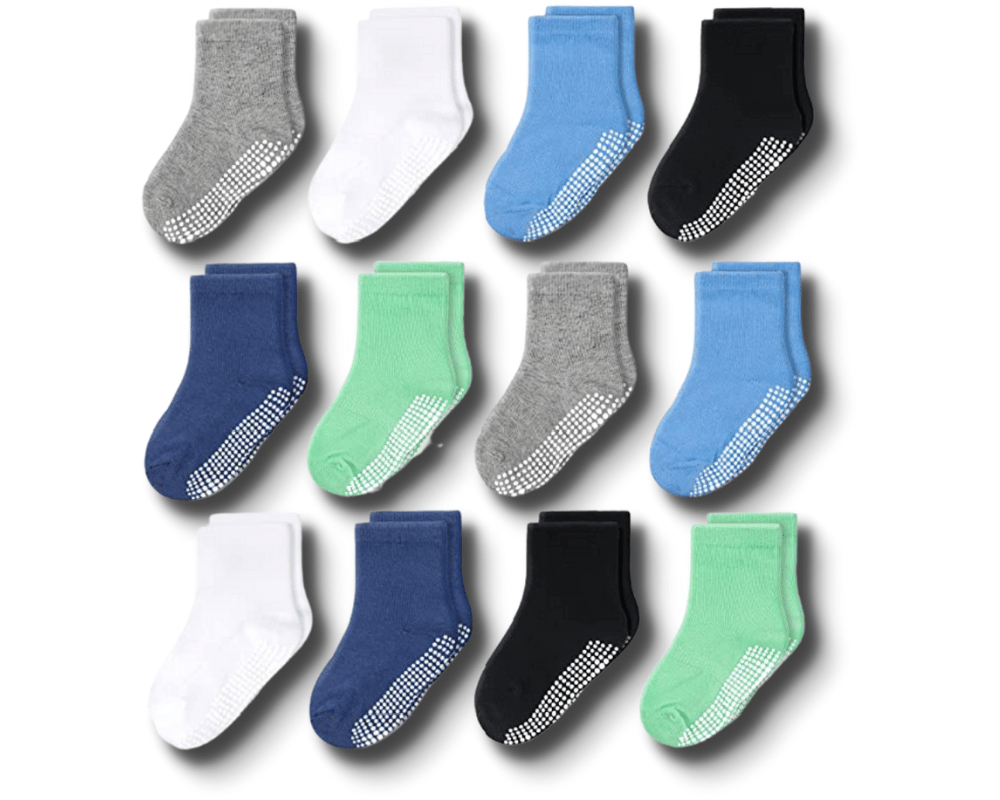 CozyWay Non-Slip Toddler Socks
Check Price On Amazon
What's The Big Deal?
CozyWay non-slip socks are a great choice because they won't slip or fall off but rather stay, and the baby's feet will move freely. Perfectly suitable for children aged 1 to 9. These socks provide a good grip for crawling, running, and walking on the floor, grass, wood, or any surface.
The gripper of these socks is made with interwoven eco-friendly elastic that does not cause too much pressure but stays in place comfortably. Another support line is added by an extra arch elastic that makes this fabric more stretchable and stable while the child runs around safely.
What You Should Know
CozyWay socks offers a collection of a quality pack of 12 or 6 pairs of socks available in six different colors for boys and girls. Different patterns and shapes are also printed to catch children's attention.
These breathable socks are made of 80% high-quality combed cotton and work equally well for hot or cold weather.  The socks are available in different sizes and give you the freedom to choose according to your child's size. These socks are available in shoe sizes 1-4 for infants, 5-9 for toddlers, and 9-11 for kids.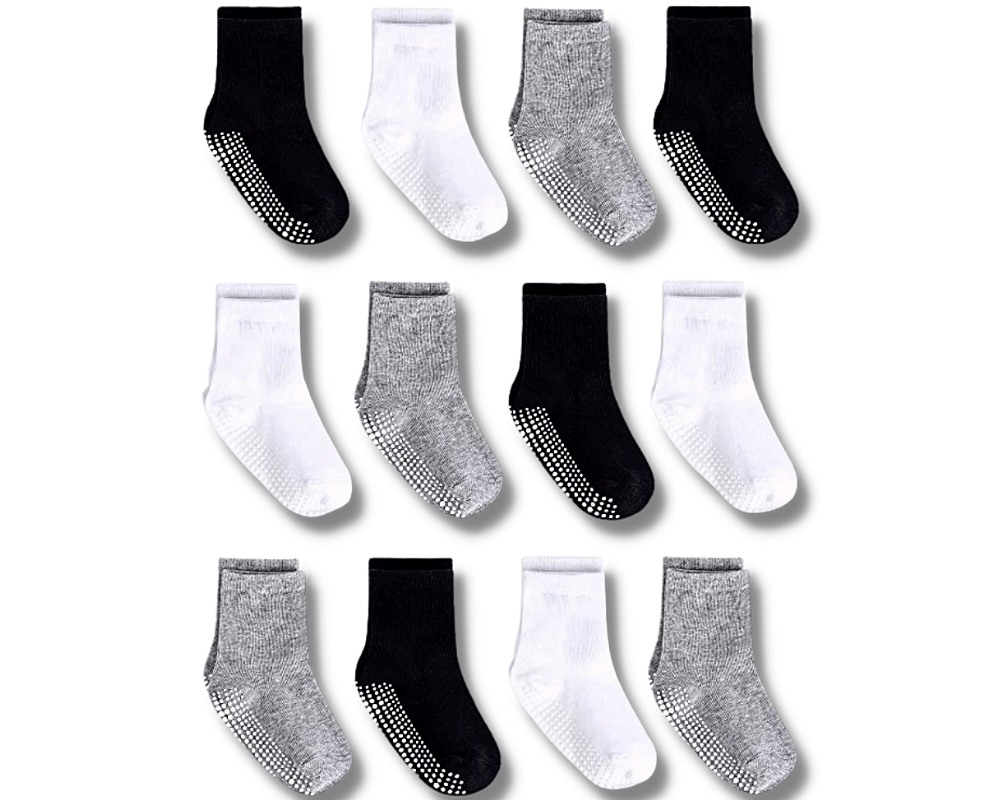 Zaples Non Slip Socks for Toddlers
Check Price On Amazon
What's The Big Deal?
These Zaples pack of socks is a cotton blended gripped bottom collection for infants, toddlers, and kids. Their bottom grip provides traction for toddlers and kids for their running and walking activities.
The soft cotton socks can be pulled up to become knee socks to keep the legs warm and cozy and dry, and odor-free. Its cotton fabric absorbs sweat, and the child does not feel wet. Because of the flexible material, infants and toddlers can wiggle their toes comfortably without disturbing the sock fitting.
What You Should Know
The entire bottom of the socks is fixed with grippy bits so the children can walk strongly in socks with or without shoes. The elastic in the gripper is so soft that it does not leave any pressure marks on children's gentle skin.
These knee high baby socks are made up of stretchy cotton material hence feel soft to infant skin and offer little flexibility for growing children. These pairs are available in a pack of 9 and 12 that includes a range of beautifully refreshing colors for boys and girls both. All sizes from newborn to 7 years are available.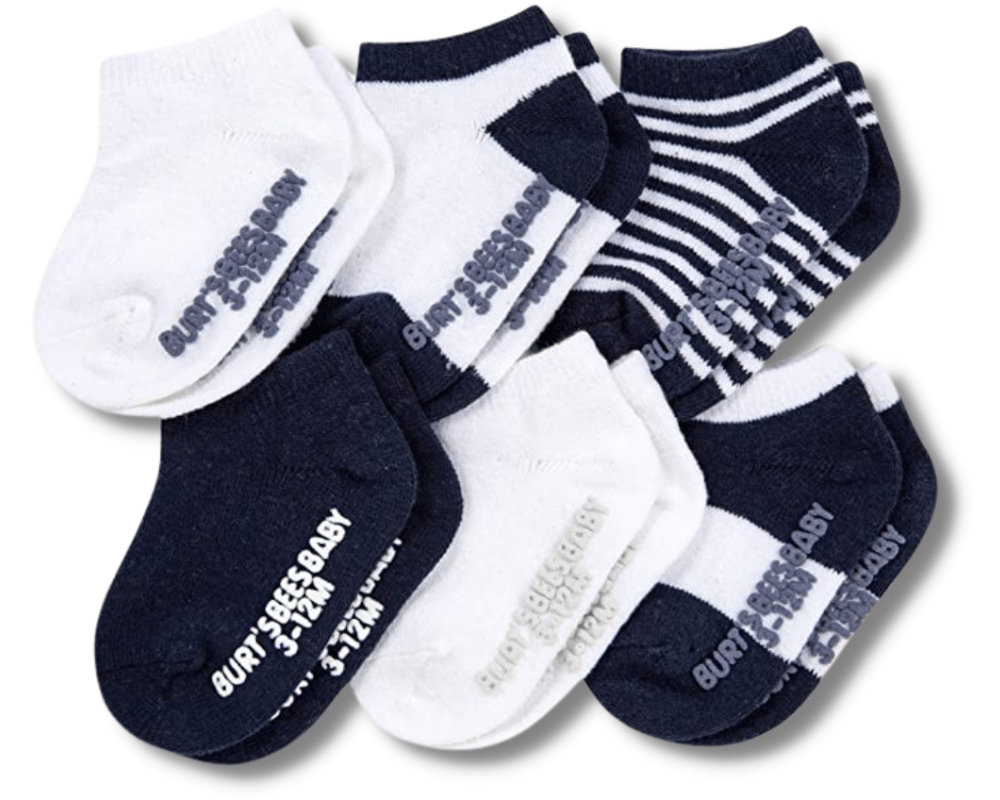 Burt's Bees Baby Socks With Non-slip Grips
Check Price On Amazon
What's The Big Deal?
Brut Bees baby socks contain 72% organic cotton. These socks are made for small babies and are made in low height to ankle that covers the ankle and in the crew that reaches to cover till the mid-calf. To enhance the stability of the grip, special eco-friendly elastic at the gripper holds it longer at the ankle as well as on the crew.
Made with knit cotton, these socks are light in weight hence very easy and comfortable for infants and toddlers. It has a nonslip grip, making movement much easier. Due to organic material, they cause low pressure, thus ensuring no blood circulation problem making them one of the best organic baby socks.
What You Should Know
Parenthood is the most careful part of life and demands the right selection of socks for infant babies and toddlers. Brut Bee baby socks are super soft, thin, porous, and of premium quality. These socks are made to match the softness of babies' gentle skin. They are available in packs of 6 socks with varying colors.
These high-quality socks for infants and toddlers are machine washable. The quality and color will remain new even after so many washes. The baby's socks are durable & comfortable and best of all its available at an inexpensive price.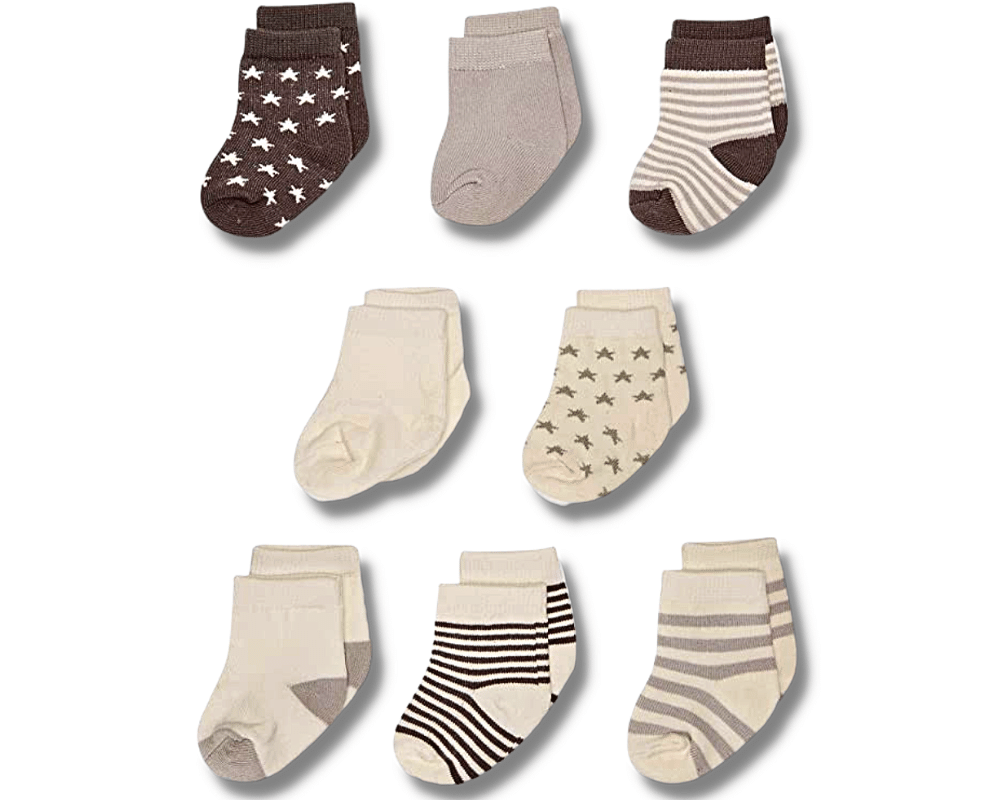 Touched by Nature Baby Socks
Check Price On Amazon
What's The Big Deal?
Touched by Nature baby socks is one of the most popular socks among parents. Parents love the quality and comfort they offer to young babies. This product is  78% organic cotton and around 20% polyester with traces of spandex. This sock is good for sensitive skin types, also.
This organic pair of socks offers a soft and comfortable fitting that keeps the baby calm and cozy. Extra stretchability lends it better fitting. These socks are a little thick, to keep the warmth inside and grant freedom of kicking and moving while putting them on.
What You Should Know
These organic pairs of socks are available in packs of 6. The product is available in different sizes, from newborn to 24 months. You can adjust the size as per your requirement.
The color and designs of the products are amazing and exceptionally creative, with stars, stripes, and other designs. They come in a solid color that lasts till the last wash. These socks are safe to wear while sleeping.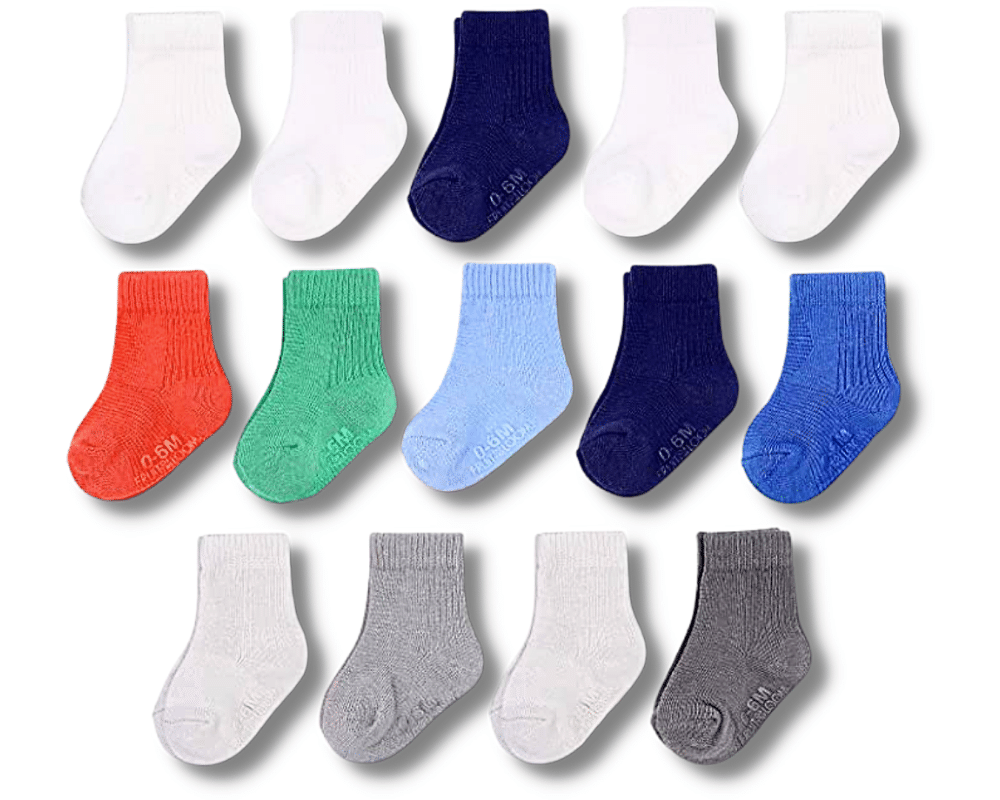 Fruit of the Loom Baby Flex Zones Socks
Check Price On Amazon
What's The Big Deal?
Fruit of the Loom newborn socks pack is 63% cotton and 33% polyester socks. It's also available in packs of 14 pairs with different vibrant colors for boys and girls. Long length makes it warm and protected for babies for extended wear.
These special pairs of socks are best for small babies who are starting to explore the world and love to do activities all day long. These socks provide the needed warmth and cover their chubby legs and feet from dust & dirt.
What You Should Know
It's a specially designed key ribbed that allows stretchy fitting for small toes to wriggle. Its non slip socks helps avoid slipping and maximizes stability when standing or walking as it provides the same resistance as bare feet. Due to good grip, they don't fall and stay in position.
The blended quality makes it lighter, softer, and more durable. The quality maintains when given cold machine wash and can be tumble dried on low heat.
Baby Socks FAQs
What kind of socks is best for toddlers?
Any kind of socks can be good for toddlers. They can be ankle socks, crew socks, or any other. But the main feature to pay attention is the comfort and warmth. Small kids, toddlers, and especially babies can not express the un-comfort they suffer so parents need to pay close observation to notice their discomfort. Smart parents always prefer buying the best quality socks made of organic cotton, stretchable, comfortable, durable, and presentable.
Can children sleep while wearing socks?
Sleeping with or without socks is not a serious matter. However, parents can decide according to the room temperature.
When should children not use socks?
Children should wear socks whenever possible to keep them warm and safe.
How to wash children's socks?
Children's socks are made from pure cotton, that's why they may shrink when washed in warm water. However, cold water wash keeps the quality and color in good condition. Thus cold water machine wash is perfect for keeping socks in perfect condition.
Which materials are best for kids' socks?
Of course, the socks for children must be made of organic materials such as cotton and wool. Organic material is also safe for any sensitivity or allergy. Children's wool socks are commonly made from blended material, mainly consisting of natural materials. Blended material lends durability and economy.
Final Word
Socks are part of a child's wardrobe they prevent body heat waste and keep feet safe from wearing shoes, dirt, dust, and scratches.
For your babies, why not buy the best socks?