Like everything, shoes also need care and maintenance. No matter how expensive your shoes are, they will lose their value sooner if you do not provide them with the right amount of care and protection.
So, the best shoe polish is the most suitable solution to provide the proper shoe care and maintenance.
Shoe polish is a material that gives shine to the shoes and protects them from dirt and weather conditions that affect the shoe material's quality. 
Shoe polish, shoe cream, and wax are all members of the defensive team for shoes. With all these advantages, we have brought a list of the best shoe polish for you to take good care of your shoes.
We've curated a list of top-quality products below that we're confident you'll love. Our editors have independently selected each one, and although some have been sent to us as samples, all opinions in this article are our own. We want to be transparent with you and let you know that FlairFindings may earn a commission or other compensation from the links on this page if you decide to make a purchase. This is how we sustain our business & content flow. Additionally, we have edited reviews for length and clarity. We hope you enjoy discovering your new favorite item!
How We Select The Best
As we take care of the needs of your feet, how can we forget or neglect the needs of your shoes? High quality shoe polish is the most significant need of shoes as it decides how long shoes will sustain their life.
Different shoes are made of different materials that need different kinds of polish, cream, or wax.
So, we have done thorough research on shoe polishes, their working, and their advantages, and then we have compiled this list of the best shoe polish for your best shoes.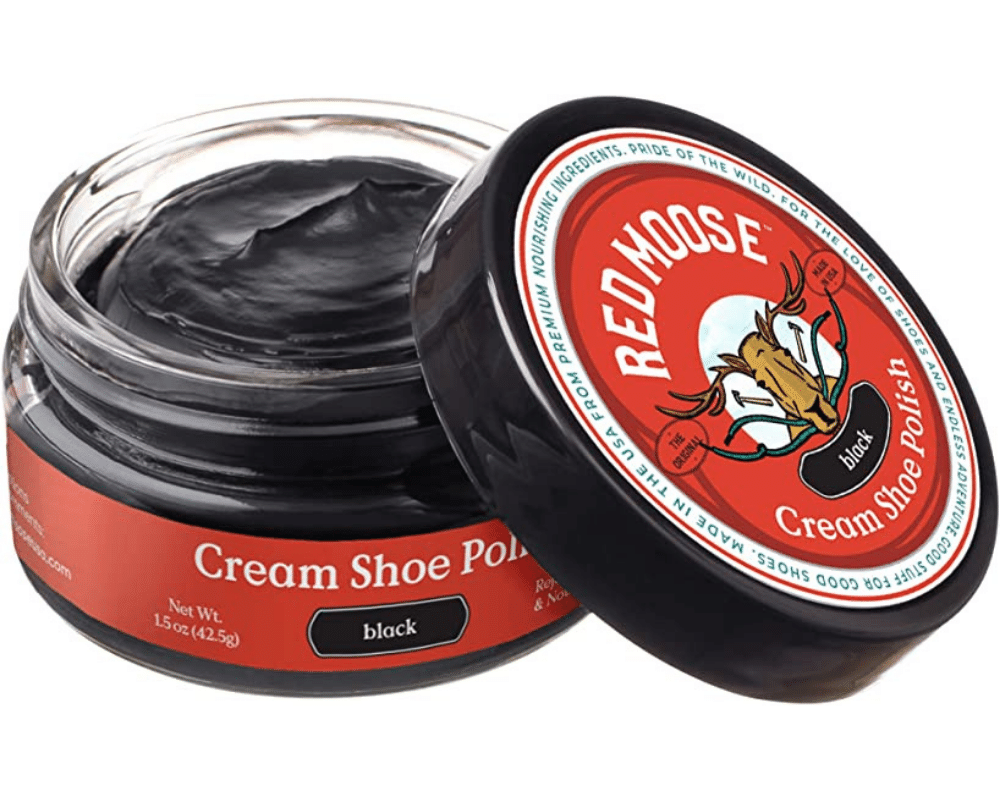 Red Moose Cream Polish
Check Price On Amazon
What's The Big Deal?
You invest a handsome amount to last for several years when you buy fine leather shoes. But, if you do not take care of your shoes properly, your finest leather shoes may get damaged in a short time. Cream polish will help restore the original shine of your shoes.
The 1.5 oz jar of Red Moose cream polish contains natural oils and wax to restore and preserve your precious shoes. This cream shoe polish fills the cracks entirely and thoroughly cleans and shines your shoes.
What You Should Know
Red Moose cream polish is capable of restoring and reviving the most damaged and cracked leather shoes. Now you can take out your old shoes that you have forgotten you ever had and bring them back to life with this fantastic shoe cream polish. The cream comes in 9 tones and colors so that you can have the best shoe polish for all shoes in your wardrobe.
Red Moose cream polish is a non-runny shoe cream polish that is easy to use without creating any mess. You enjoy polishing your shoes and remain stress-free as there is no mess. Get ready for the amazing compliments you will get whenever you wear your shoes polished with Red Moose cream polish.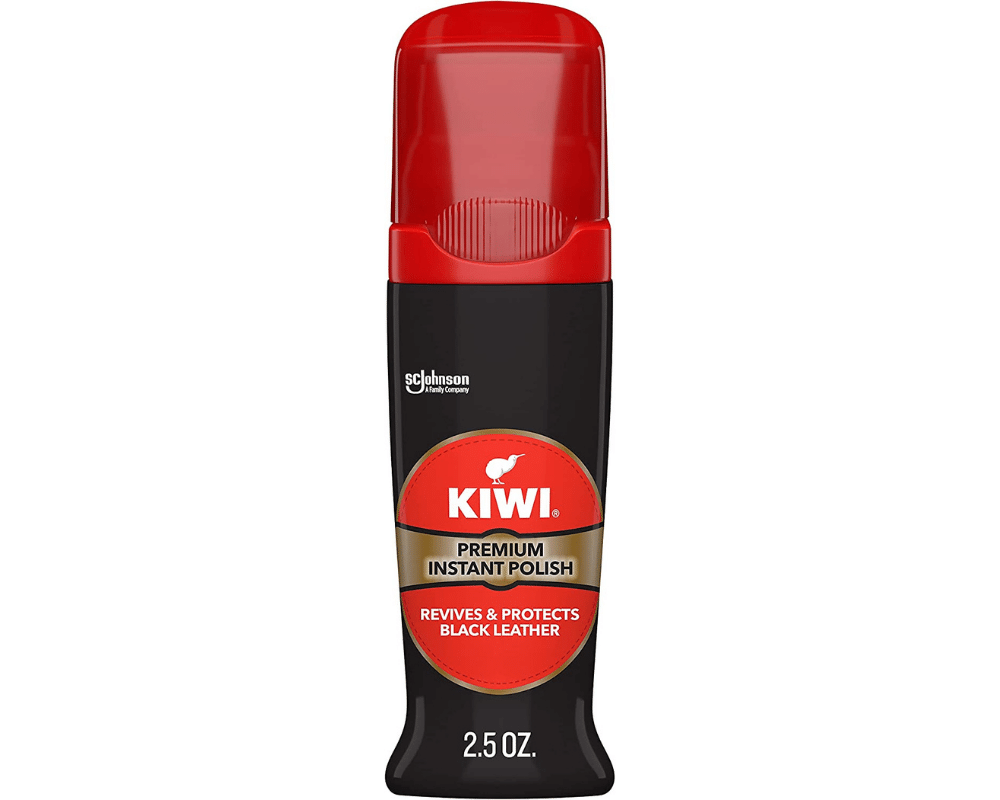 KIWI Color Shine Liquid Polish
Check Price On Amazon
What's The Big Deal?
KIWI is one of the world's most renowned No 1 selling shoe polish. KIWI instant shine & protect is the most convenient way to give proper shine, nourishment, and protection to your precious leather shoes.
With KIWI instant shine & protect, you can get the best color and shine for your shoes with extraordinary and long-lasting protection for the leather of your shoes. With this amazing liquid shoe polish, your old and worn-out shoes will start breathing again.
What You Should Know
KIWI instant shine & protect is a high-quality liquid shoe polish with a durable two-layer sponge. The sponge buffs as you apply the polish on the shoes through it. This 2.5 oz bottle with a sponge applicator holds magic inside for your leather footwear.
KIWI instant shine & protect contains the special Carnauba wax to provide premium shine and protection. This liquid shoe polish by KIWI is available in black, brown, and neutral. It is easy to apply and a lot less messy than other liquid shoe polish brands.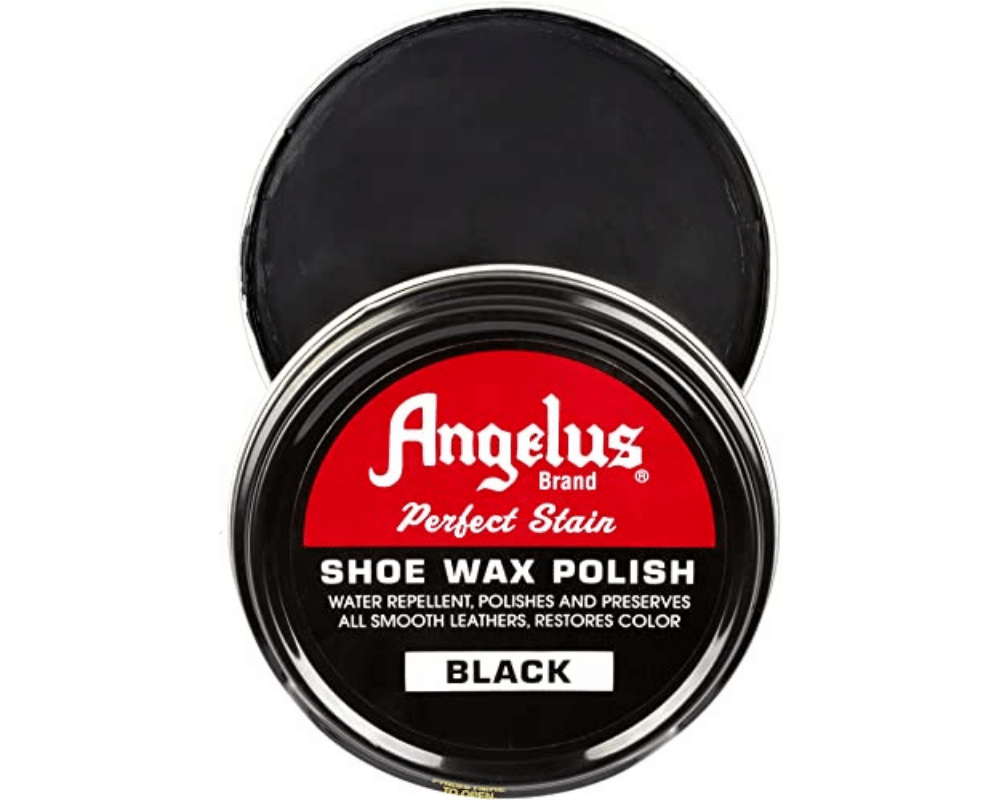 Angelus Wax Polish
Check Price On Amazon
What's The Big Deal?
Founded in 1907, Angelus has more than 110 years of history. The formula used in the beginning at Angelus is still the same. The 3 oz snap-open tin contains a blended mixture of the finest waxes like beeswax, Carnauba wax, and some of the most refined oils.
You can expect a high-level service with Angelus that will clean, preserve, and restore your worn-out leather footwear. Carnauba wax is not only famous for leather but also works great for furniture and auto shine.
What You Should Know
If you want your old shoes' rich color and high shine back, you must try Angelus shoe wax polish. It proudly restores the faded leather color and brings back the rich color.
Angelus shoe wax polish is available in plenty of colors to work perfectly for all color types in leather shoes. Angelus is the perfect stain wax for all beautiful and smooth leather footwear containing heavy pigment. The polish spreads smoothly on the boots and makes them waterproof so that you can wear your shoes anywhere without fear.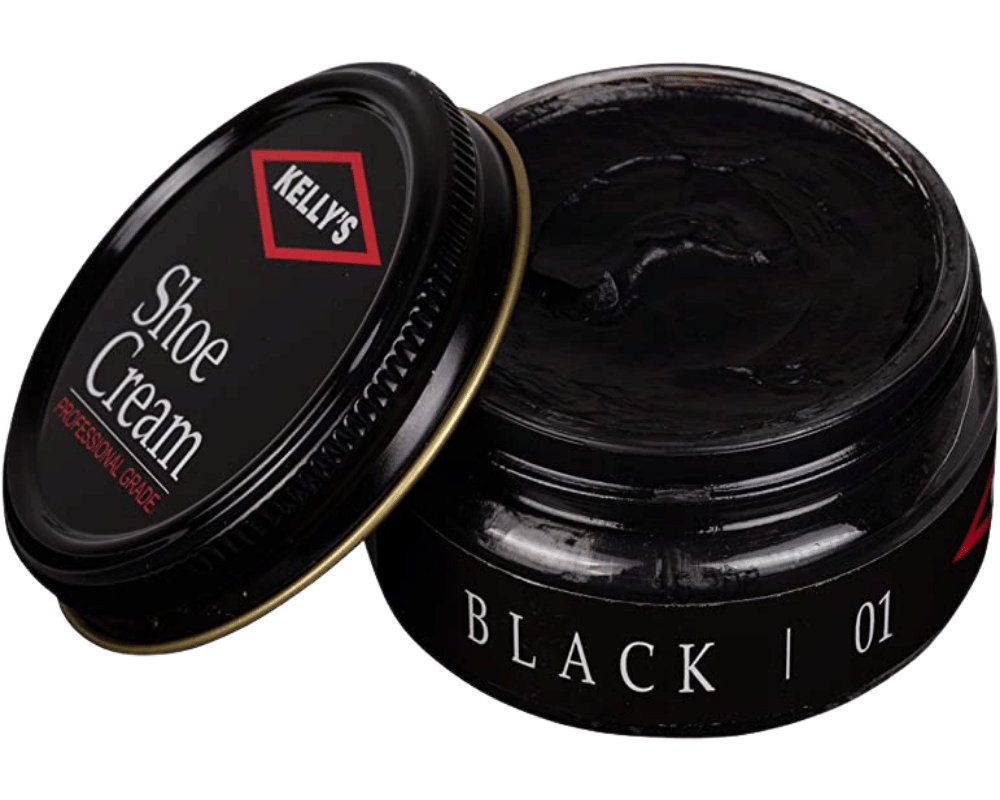 Kelly's Cream & Polish
Check Price On Amazon
What's The Big Deal?
Kelly's shoe cream is a premium quality and professional shoe polish famous for offering the broadest range of colors. It is the most suitable shoe treatment if you want to clean, restore, and preserve the color of your old shoes.
It is a fast-acting shoe cream polish that can bring the oldest and roughest shoes back to life in the first application. This unique shoe polish is enriched with natural oils, pigments, and waxes.
What You Should Know
Weather conditions like snow, moisture, dust, and mud can affect your leather boots and cause cracks and damage. Kelly's shoe cream refills all the cracks, repairs the damages, and brings back the original color and look of your leather shoes.
This shoe cream is available in black, brown, grey & many more. The 1.5 oz jar of Kelly's Shoe cream is a precious gift for shoe lovers.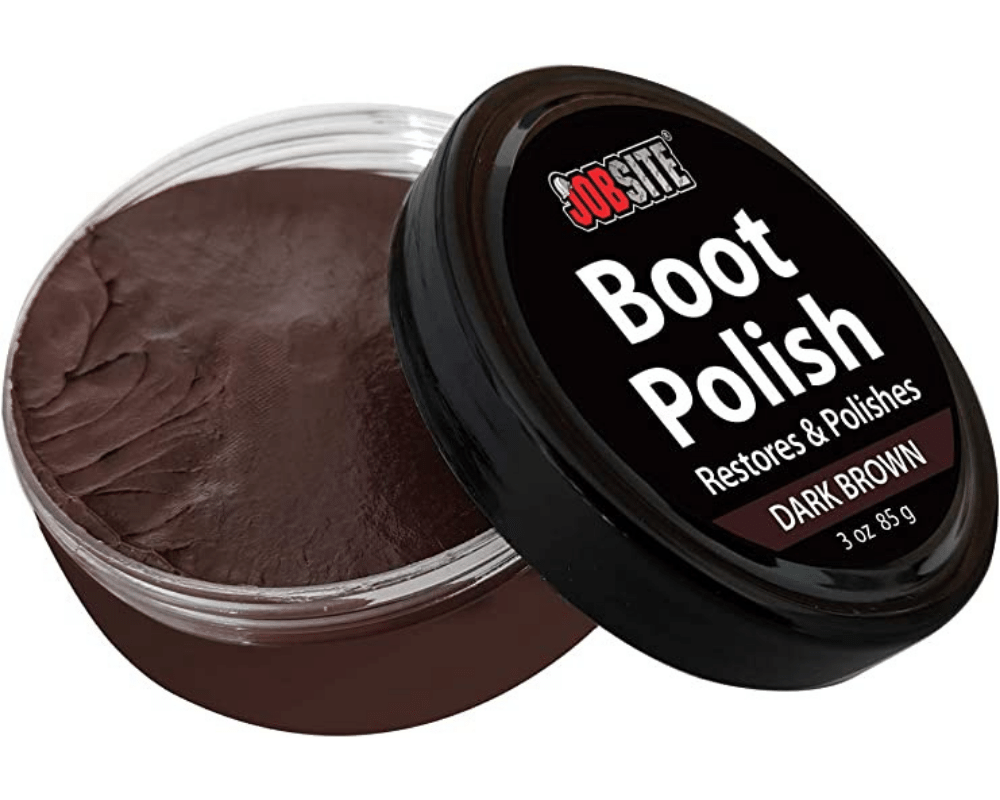 Jobsite Premium Polish Cream
Check Price On Amazon
What's The Big Deal?
Jobsite is a premium quality creamy texture polish for leather shoes and boots. The Jobsite premium polish cream shoe is made in the USA and contains the scent of fresh leather so that every time you polish your shoes, they smell like new leather shoes.
This shoe polish is manufactured especially to preserve the natural beauty of your leather shoes, clean them, condition them, and polish them for a new and fresh look. It also restores the lost softness of leather boots and shoes.
What You Should Know
Jobsite premium polish cream comes in a 3 oz jar containing natural waxes and oils. It also has dye pigment to repair the scuff marks and lanolin to provide high-quality conditioning. This shoe polish cream is ideal to use not only for leather but also for vinyl furniture, other leather items like bags and jackets, and also for autos interior repairs.
Jobsite premium polish cream is available in black, brown, dark brown, and neutral colors. With this variety of colors, all your shoes can get new life. Make sure not to use this polish on napped or suede materials.
Shoe Polish FAQs
Do I need to clean my shoes before polishing them?
Yes, it is better to clean the dust from shoes before polishing them. You can use a damp cloth to clean the dirt and mud from the shoes, then wipe them with a dry cloth. Now the shoes are ready for amazing shoe polish.
How often should you polish your shoes?
Polishing shoes depends on the usage. If you wear the same pair of shoes daily, you need to polish them once a week. If you have 2 to 3 pairs and wear them alternatively, you can polish them twice a month for better maintenance.
Can wax polish damage my shoes?
Wax polish does not provide moisture to the leather; with time, leather shoes get dry and start cracking. In this way, wax polish is harmful to leather shoes. So you can use wax polish when you need high shine for your shoes.
How are wax polish and cream polish different?
Cream polish moisturizes the shoe leather and nourishes it with natural oils. On the other hand, the wax polish does not moisturize leather goods and is used for high-level shine and glow.
Should I use the same brush for all colors of polish?
For different shades, you should use different brushes. If you have black and brown shoes, use 2 different brushes. If you have black, brown, tan, and dark brown shoes, you can use one for black and one for the other 3 colors.
Final Word
That's all for the best shoe polish. We hope that the best shoe polishes on our list will bring the best options for your shoes. If you want to give new life to your old, worn-out shoes, pick the best suitable shoe polish brand from the list. You will definitely love the new look of your amazing leather shoes.