Standing or walking for extended periods of time on hard surfaces puts strain on your feet and entire body, does it not?
Wearing an outstanding pair of concrete-friendly shoes can help alleviate the pressure and make your walk more enjoyable with less pressure on your feet.
Our selections are perfect for those looking to ease those challenging days when you're working hard, going on your next walk, or visiting amusement parks.
Scroll down to see our game-changing selections for making your concrete paths and stands more delightful.
We've curated a list of top-quality products below that we're confident you'll love. Our editors have independently selected each one, and although some have been sent to us as samples, all opinions in this article are our own. We want to be transparent with you and let you know that FlairFindings may earn a commission or other compensation from the links on this page if you decide to make a purchase. This is how we sustain our business & content flow. Additionally, we have edited reviews for length and clarity. We hope you enjoy discovering your new favorite item!
How We Select The Best
Our team has gathered a collection of high-quality walking shoes that have been thoroughly evaluated and examined to discover the best fit for you. Here's how we approach honest and unbiased reviews.
We put these shoes through a cycle of tests to determine their comfort, quality, flexibility, and a diverse range of other characteristics. In order to provide more perspective in our reviews, we also gathered all available user reviews.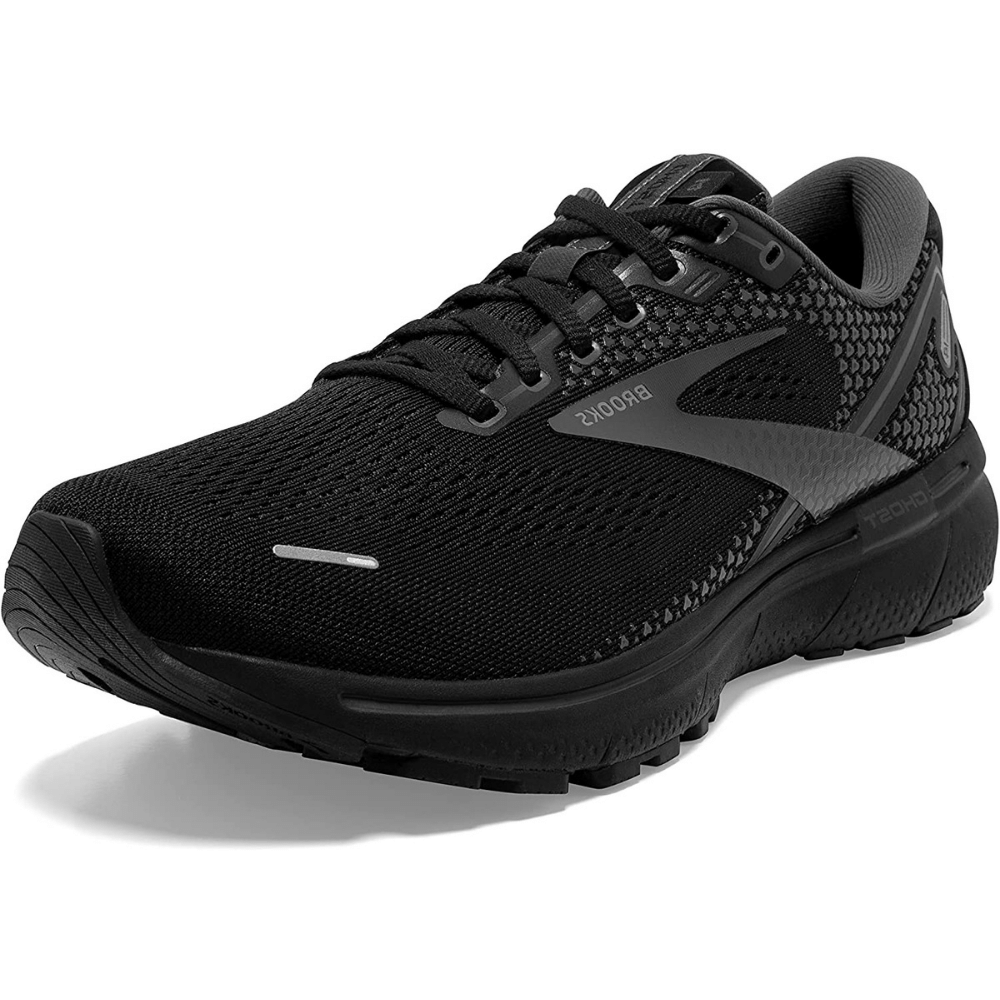 Best Overall
Check Price On Amazon
What's the Big Deal?
Brooks' Ghost 14 is an excellent choice as a shoe for all. It's a workhorse that's comfortable enough for lazy days, extremely stable for walking sessions, and tough enough to handle light trails. It also enables the individual to do everything comfortably.
A shoe that will last for a long time and is very breathable. The Ghost 14 is neither stiff nor soft, all while having lots of padding. This shoe is designed to provide stability on uneven terrain while walking and has exceptional grip. The size is correct right out of the box. Overall, this is a simple daily shoe that will work for all of your walks!
What You Should Know
The midsole is the most noticeable difference between this model and previous models. The 14 has a softer underfoot feel than prior generations of this shoe. Brooks created this model in a diverse array of widths, including B, D, 2E, and 4E, so no matter which shape foot you have, you can find a Ghost 14 to fit it.
The incredibly strong ankle collar wraps softly all over your ankle and achilles. The midsole is made up of various foams. There is a good amount of rubber underneath the sneaker with different textures, which makes it very slip resistant. Other specifics, neutral arch support, narrow, normal, wide, and x-wide widths.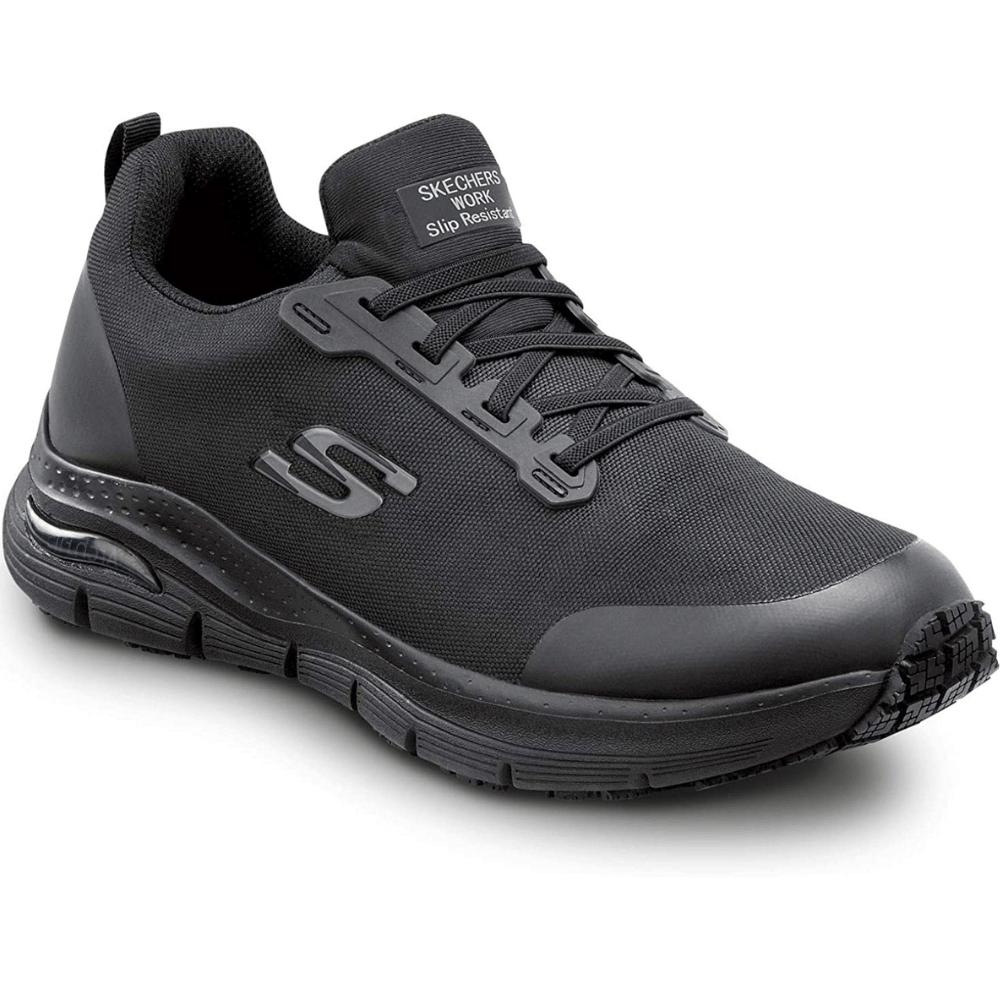 Best For Support
Check Price On Amazon
What's the Big Deal?
Skechers Arch Fit is the answer to your search. This is one of the best supportive shoes for the dollars, developed specifically for people with flat feet and overpronation. Not to mention how comfortable it is on the foot. The comfort of the shoe will entice you to wear it for hours from the very first step.
Skechers created a shoe that allows you to go through the day without thinking about backaches. Extra padding and support in a walking shoe for everyday use. It aids in the reduction of overpronation and secures flat feet. The padding itself remains gentle and supportive. Despite the extra cushioning, these Skechers shoes do not feel sluggish or clunky. If your feet seem to shift inwards and your shoes wear out quicker on the inside, this shoe is really for you.
What You Should Know
Skechers' Arch Fit catalog is a line of supportive walking shoes. They all share the very same framework but have different upper design concepts. The "Big Appeal" version will be the subject of this article. Comfy, abundantly padded, and sculpted to the form of the foot.
There is a sturdy, firm, puffy platform beneath the plush perfection of the insole. Its density will hold you balanced. The toebox has plenty of space both side to side and upwards. In wet conditions, the rubber becomes even more grippy. Other specifics include neutral arch support, normal, wide, and x-wide widths, and a removable insole.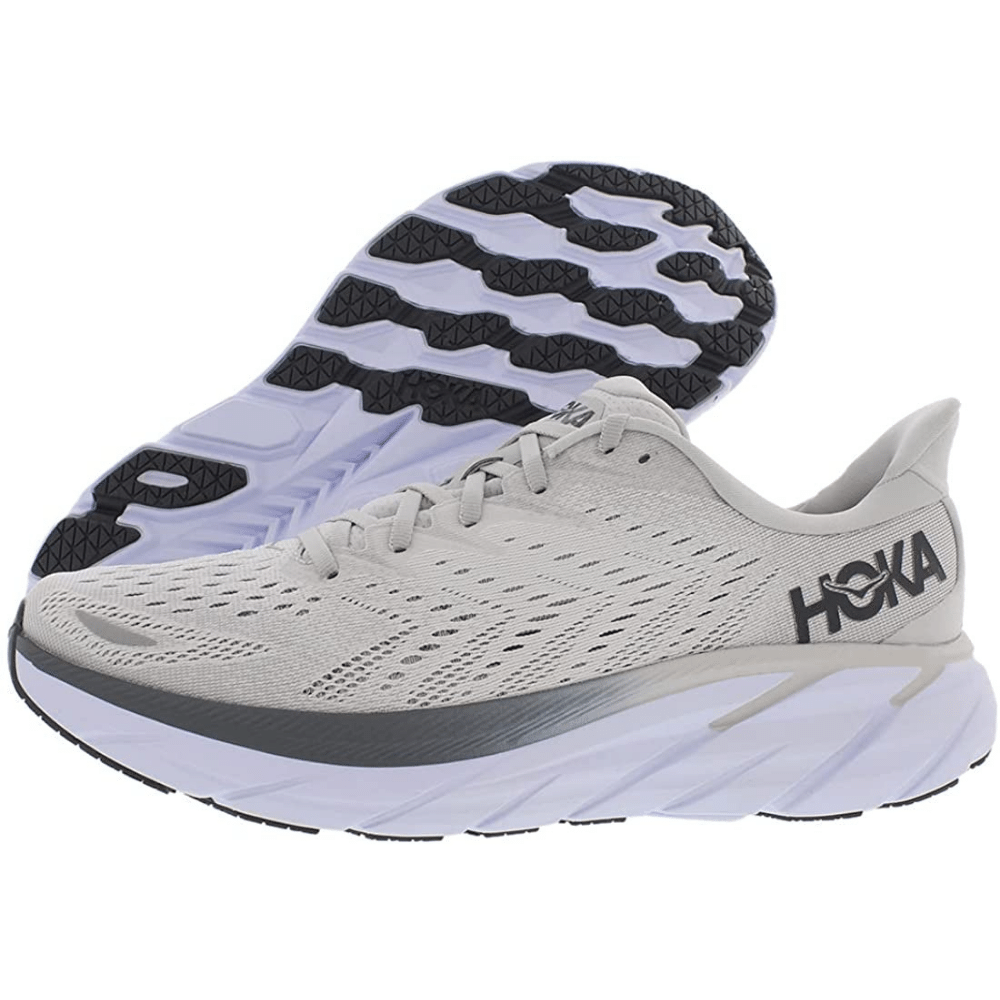 Best Cushioning
Check Price On Amazon
What's the Big Deal?
We can't praise the Clifton 8 highly enough as a long-distance shoe! It's a couch to the foot, managing to keep it comfortable and steady. The walk is also lovely and smooth; you'll glide through with ease. And despite all of the cushioning, it is not at all excessive (a surprise really).
On the whole, the Clifton is a literal treat bag at a reasonable price! Hoka's Clifton 8 seems to be another innovation in a wonderful shoe. Finally, if you want comfort, stability, and airiness. Its design glides seamlessly through your posture and stride. Along with being nice and broad underfoot, it is incredibly stable on every step.
What You Should Know
They have quite a nice Hoka foam underneath the heels and a spongy insole, which adds to the plush comfort. This version's midsole is relatively softer than the 7, providing a much more plush sensation without sacrificing its bouncy identity and seamless transition.
Underfoot, there's a good amount of foam that's solid enough to withstand wear and tear. There are numerous tough rubber outsole patches to ensure long wear. It fulfils admirably in terms of grip. It has a stretchy, moderate tongue that offers excellent support across the top of your foot as well as in the midfoot. The upper is also extremely soft and comfortable. Other shoes' feature, include neutral arch support, normal and wide widths, and a removable insole.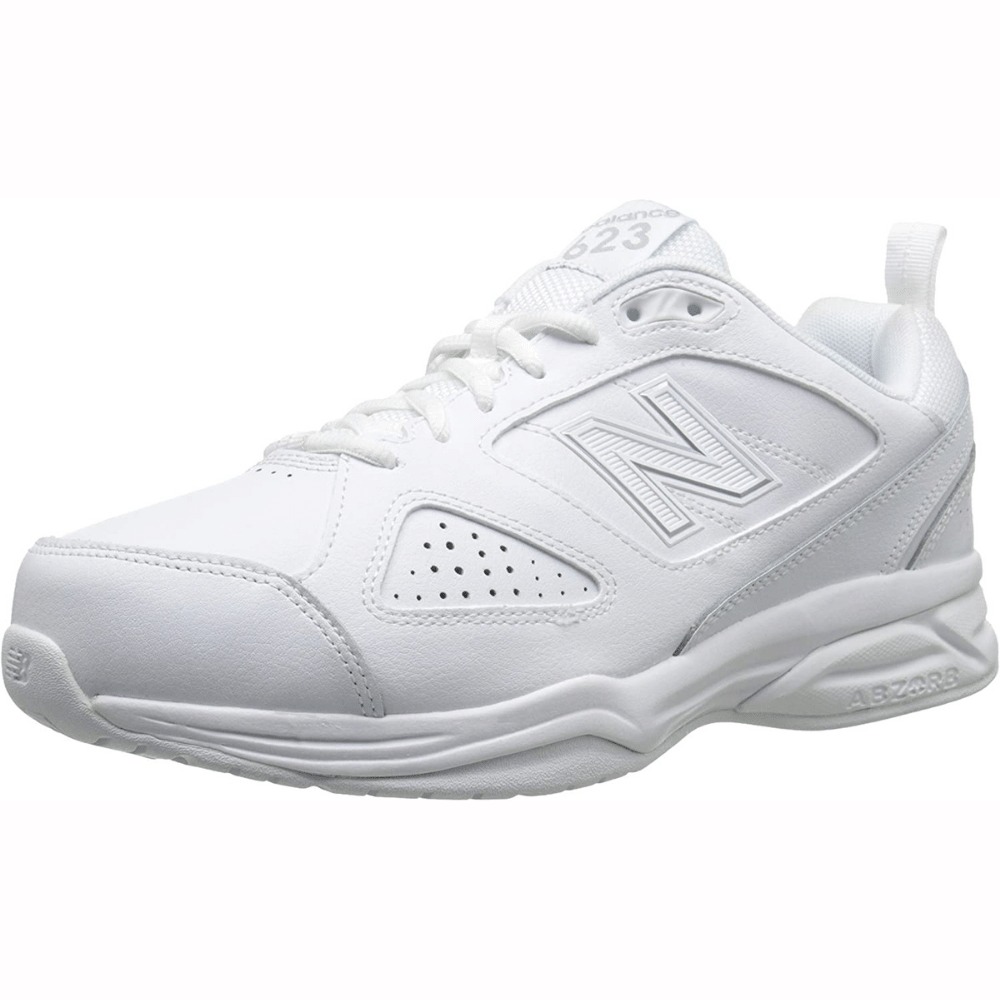 Best Value
Check Price On Amazon
What's the Big Deal?
The New Balance 608 V5 is a daily walking and versatile shoe that is both comfortable and supportive. This is also an excellent accessory for people who have foot problems. Because of its numerous advantages, the shoe is highly recommended.
Developed with the user's health in mind, as well as to assist wearers in performing demanding maneuvers with simplicity. It enables wearers to make smooth and easy turns and horizontal cuts. Flex notches in the forefoot offer a broader flexibility. It even has a slip resistant sole that provides traction throughout the entire outsole. Offers a solid and steady platform while remaining flexible enough to allow for healthy foot movement. An increased cushioning unit is used in the heel.
What You Should Know
The new model has perforations in the leather upper material to keep the feet cool, whereas the old model has mesh in some places of the forefoot. The outsole is made of non-marking rubber. It broadens to the front of the top side and protects the toes from impact and irritation. The swappable ethylene-vinyl acetate insole is used in this shoe.
This fiber is lightweight, resilient, and absorbs shock to keep the foot comfy. It straightens this portion of the sole unit, causing the foot to flex at the forefoot rather than stretching out the arch. It has a snug fitting tongue that prevents the instep from becoming uncomfortable when the laces are tightened. The collar, which is also mildly padded, prevents ankle chafing. Other specifics, neutral arch support, normal, wide, and x-wide widths.
Shoes For Walking On Concrete FAQs
It can be tiresome to know which shoe is best for you.
With all the different brands and types of shoes on the market, it can be hard to figure out which is the right choice for you to select.
We've created an easy-to-understand buyers' guide of frequently asked questions to help you choose the best shoe for you. This guide will assist you in your search to better understand what to look for when choosing the best shoe for your needs.
What is proper footwear?
Good footwear should have the following qualities: The inner side of the shoe must be straight from the heel to the end of the big toe. The shoe must grip the heel firmly. The forepart must allow freedom of movement for the toes.
Do shoes stretch over time?
Shoes will typically stretch as you wear them.
Why are supportive shoes important?
With supportive shoes, you can make sure that your feet are getting the support they need and help to reduce the foot and heel pain that is getting you down and keeping you from completing everyday tasks.
How do you soften new shoes?
The simplest way is to break shoes in slowly. Wearing them around the house will gradually soften the shoes up, until they comfortably conform to the shape of your feet.
What are good qualities of shoes?
Good shoes are defined by having good adjustability, stability, roominess, and being in good condition.
What is the balance of a shoe?
The section of the shoe between the outsole and the foot. The midsole also impacts your balance and support. But where the outsole is about gripping the ground and providing balance, the midsole is about how the shoe contours to your foot.
What is the most important part of the shoe?
The upper of a shoe is, well, the upper part of a shoe. The upper wraps around your entire foot, making it one of the most important parts of a shoe.
What are shoes made of?
Leather, plastic, cloth, and rubber remain popular materials. Thanks to technology, though, you'll also find advanced materials in many shoes, including ethylene vinyl acetate, polyurethane foam, and gel or liquid silicone.
Is it bad to wear shoes that are too small?
Finding the right pair of shoes for your feet is an important way of maintaining your overall health and well-being. Wearing shoes that are too small can lead to problems such as deformed toes, blisters, and bring on foot conditions including bunions.
Are flat shoes good for you?
Due to the lack of cushioning and support in some flat shoes, there is a large amount of impact going through the structures and specifically the joints of the foot. Over time this can lead to damage to the joint and subsequent pain.
Final Word
So what's the best shoes for walking on concrete? The answer to that question may vary from person to person, but we've attempted to provide a variety of the best options for you to select from based on reading thousands of reviews.
We hope that you've found this information helpful and that it will assist you in getting the best shoe possible. Depending on your needs, any of the items we've listed below could be a great selection!
Best Overall
Best Value
Best Support
Best Cushioning
Thanks for following our guide! We hope it helps you find the perfect product for your needs.
Your friend,
Lucius