Looking for a comfortable and stylish pair of shoes to take on your next walk?
Hoka walking shoes are designed to provide the utmost in comfort and support, making them perfect for long walks or hikes.
In this article, we will take a look at some of the best Hoka walking shoes and discuss why you should consider adding them to your wardrobe.
Purchase a pair of Hokas today!
We've curated a list of top-quality products below that we're confident you'll love. Our editors have independently selected each one, and although some have been sent to us as samples, all opinions in this article are our own. We want to be transparent with you and let you know that FlairFindings may earn a commission or other compensation from the links on this page if you decide to make a purchase. This is how we sustain our business & content flow. Additionally, we have edited reviews for length and clarity. We hope you enjoy discovering your new favorite item!
How We Select The Best
You're looking for a good pair of Hoka walking shoes, but there are so many options out there that it's hard to know where to start.
It can be tough to find a good pair of walking shoes that fit well and feel comfortable. And sometimes you don't even know what you're looking for until you've tried on a few pairs.
We did the hard work for you and found the best Hoka shoes. Our team evaluated each shoe based on comfort, fit, durability, and style. Plus, we gathered all available user reviews to give you more perspectives on each shoe.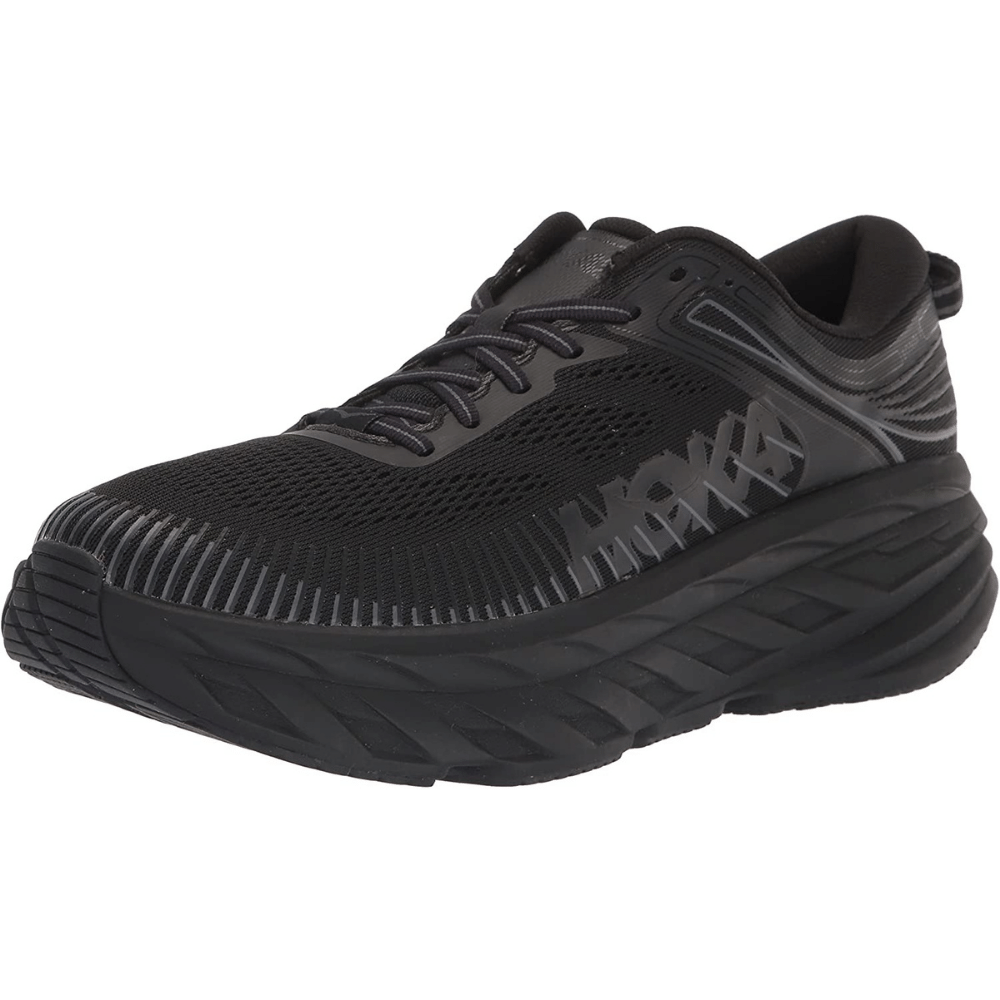 Best Overall
Check Price On Amazon
What's the Big Deal?
The Hoka One One Bondi 7 is one of the best walking shoes on the market, providing comfort and support that is unrivaled. This shoe is perfect for those who want to take their comfort to the next level, with a cushioned design that feels amazing on the feet.
Whether you're running errands or exploring new trails, the Bondi 7 will make sure your feet are comfortable the whole time. Trust us, once you try this walking shoe you won't want to wear anything else.
What You Should Know
Hoka Bondi 7 sells in a variety of widths to accommodate different foot shapes. The Memory foam collar molds to the frame of the foot for a secure, breathable comfort fit. The shoes are stable and great for heel strikers. They have great grip and are true to size. The Bondi 7 has heel lock and breathability.
It has Hoka One One's signature Meta-Rocker which supports the heel-to-toe movement. It also has a new engineered mesh upper for structure and rigidity. It has thin reflective strips for safety in low light conditions. These shoes are ideal for runners who want a stable, comfortable shoe with great grip and breathability.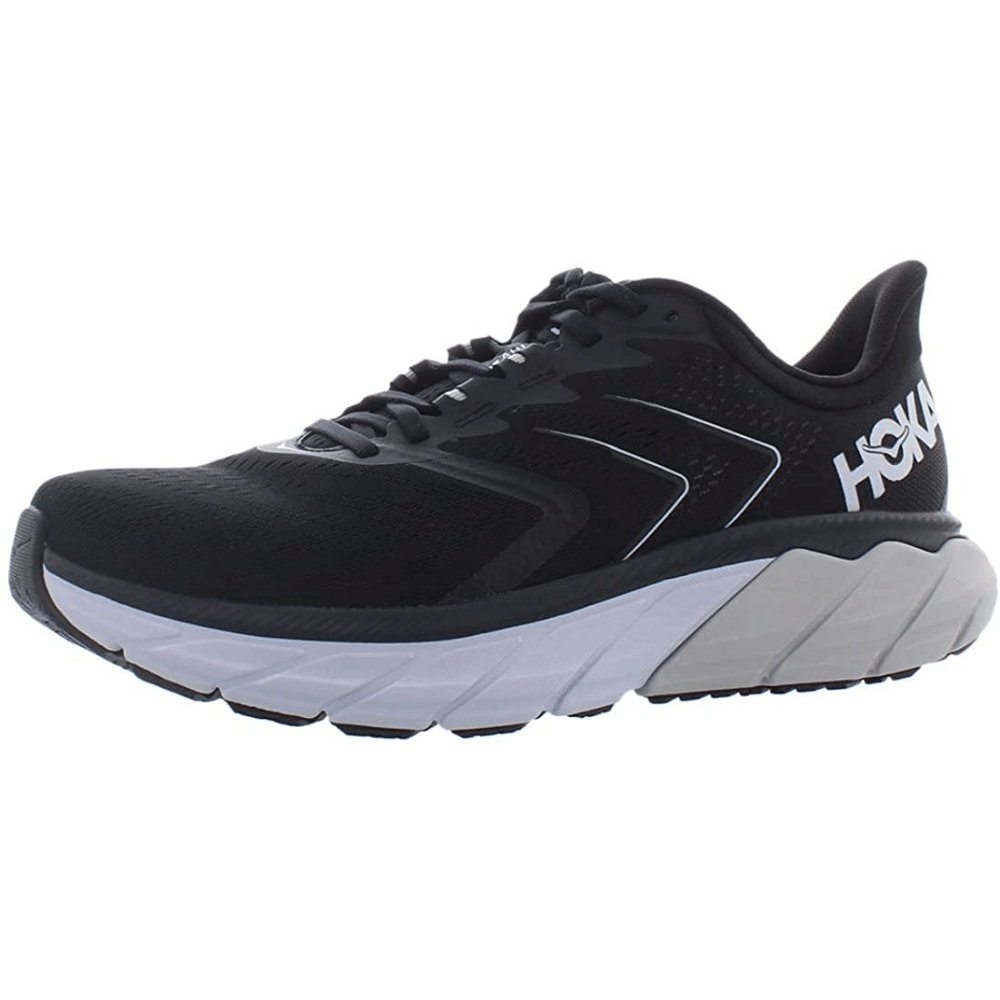 Best Cushioning
Check Price On Amazon
What's the Big Deal?
Looking for a comfortable, everyday max cushion shoe? Look no further than the Hoka One One Arahi 5! This shoe is designed for comfort and support, and it delivers on both fronts! The Arahi 5 is extremely soft and has denser foam, but still provides the support you need for long hours.
Additionally, its chunky appearance belies its true light weight – making it perfect for those who want a comfortable shoe that doesn't feel like a brick on their feet! The Arahi 5 is sure to become your new favorite go-to shoe!
What You Should Know
The Hoka One One Arahi 5 is a stability shoe that offers excellent grip and increased stability for heel strikers. The Ortholite insole is removable and the platform is created using the Hoka Clifton platform. The shoe is also lightweight and has a denser foam cushion, making it a good choice for those who want a stable, comfortable shoe.
The bottom of the shoe has a thick layer of siped rubber that helps keep the foot in place and provides traction on various surfaces. The shoe is also breathable and durable, making it a good choice for those who are looking for a stable, comfortable shoe that will last.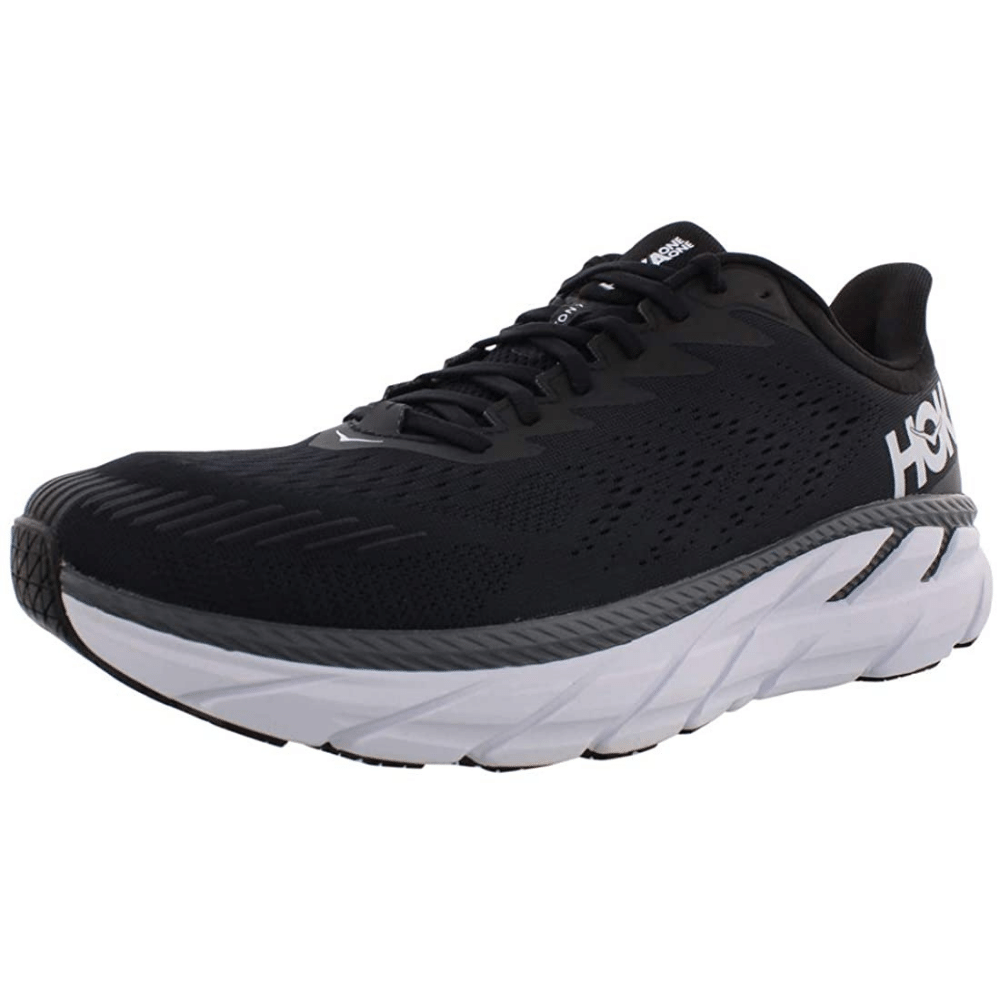 Best Lightweight Feel
Check Price On Amazon
What's the Big Deal?
The Hoka One One Clifton 7 is a comfortable and breathable walking shoe that is perfect for any person walking on hard surfaces. The upper is made of an open-engineered mesh that allows your foot to breathe while you walk.
The heel loop has been replaced by an elf-style pull tab in the newly designed memory foam collar, which provides a more comfortable and snug fit. The midsole is excellent in providing cushioning and support, while the durable rubber outsole gives you traction and stability on any surface.
What You Should Know
The Hoka One One Clifton 7 has an engineered mesh upper for breathability. The mesh gusset keeps the asymmetrical tongue in place, and the eyelets are reinforced for durability. The full compression-molded EVA foam midsole provides signature cushioning, while the flat-waisted geometry improves stability.
Excellent contact with the ground is ensured by the high strategic rubber zones that are placed on the outsole. The flat laces provide a comfortable fit, and the heel-to-toe drop is 5mm.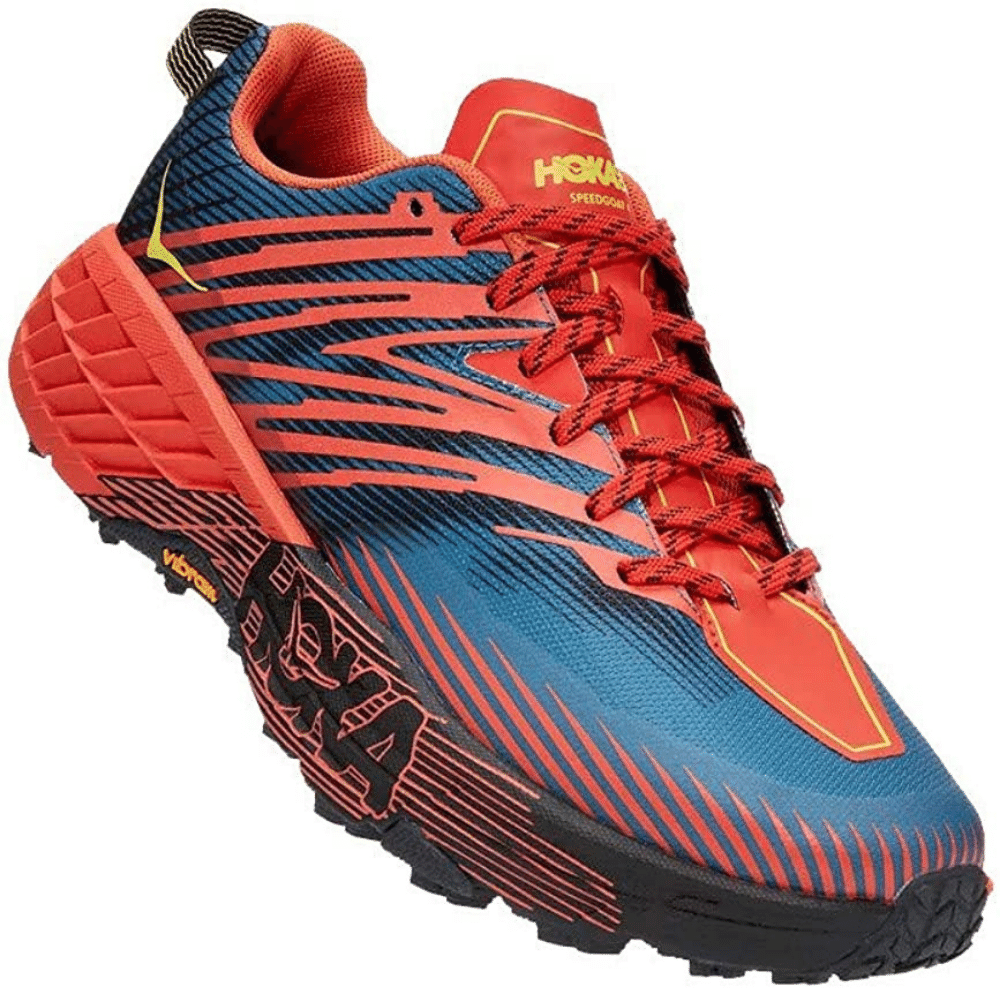 Best for Trails
Check Price On Amazon
What's the Big Deal?
Hoka Speedgoat 4s are the latest model of Hoka trail runners, and they're perfect for anyone who loves to explore off the beaten path. They have a Vibram outsole for excellent grip and durability, and they're also weatherproofed for those wetter walks.
Plus, the cushioning provides great shock absorption, so your feet will always feel comfortable, even when you're walking for hours on end. In other words, if you're looking for a top-quality pair of walking shoes that can handle any difficult terrain or weather condition, the Hoka Speedgoat 4s are the perfect choice.
What You Should Know
The sole of the Hoka Speedgoat 4 is made of shock absorbing  rubber, and the upper is made of breathable mesh with seamless synthetic overlays. The shoe has a low-profile design that allows for greater ankle mobility, and the Vibram Megagrip sole provides durability and stability.
The 5mm stepped rubber lugs provide grip and stability, and the removable, foam-padded insole provides cushioning and support. Thanks to the breathable textile lining, the Speedgoat 4 is able to provide abrasion-free wear.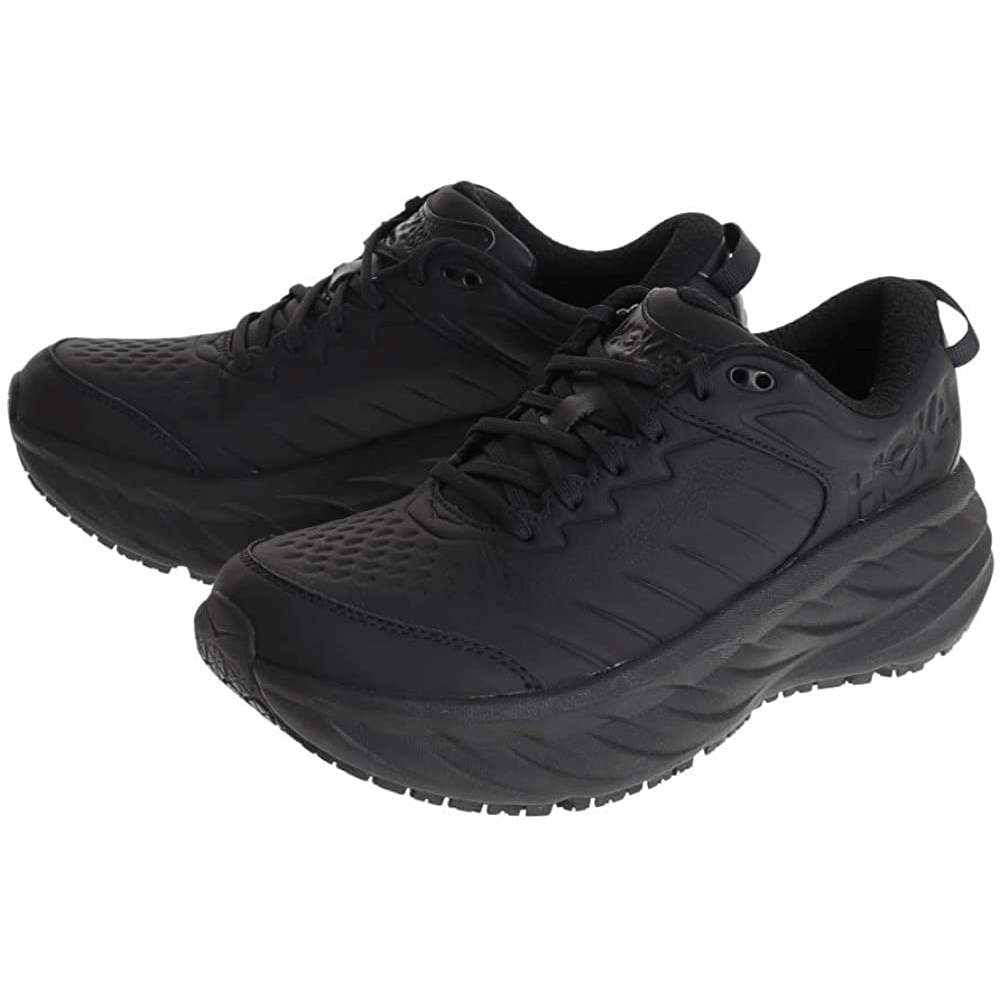 Best for Work
Check Price On Amazon
What's the Big Deal?
The Hoka One One Bondi SR walking shoes are just what you need if you're on your feet all day long. With a comfortable padded shock absorbing platform and easy-care leather upper, these shoes will keep you feeling good even when you've been walking for hours.
The anti-slip rubber outsole provides good traction on hard surfaces, while still providing plenty of cushioning to reduce fatigue. Whether you're working in a hospital, pediatrician's office, or any other type of medical facility, the Hoka Bondi SR walking shoes are a great choice to keep you comfortable all day long.
What You Should Know
The Hoka One One Bondi SR is a high-quality walking shoe that provides firmer foam cushioning and support for all kinds of people. The shoe's sole is made of shock absorbing rubber, which provides excellent traction and stability. The upper is made of high-quality, long-lasting leather, and the lining is breathable to prevent abrasion.
The cushioning and support are provided by a removable, foam-padded insole. The full-length EVA midsole absorbs shock and provides stability. The Hoka One One Bondi SR is a great choice for people who want a durable, comfortable, and stable shoe.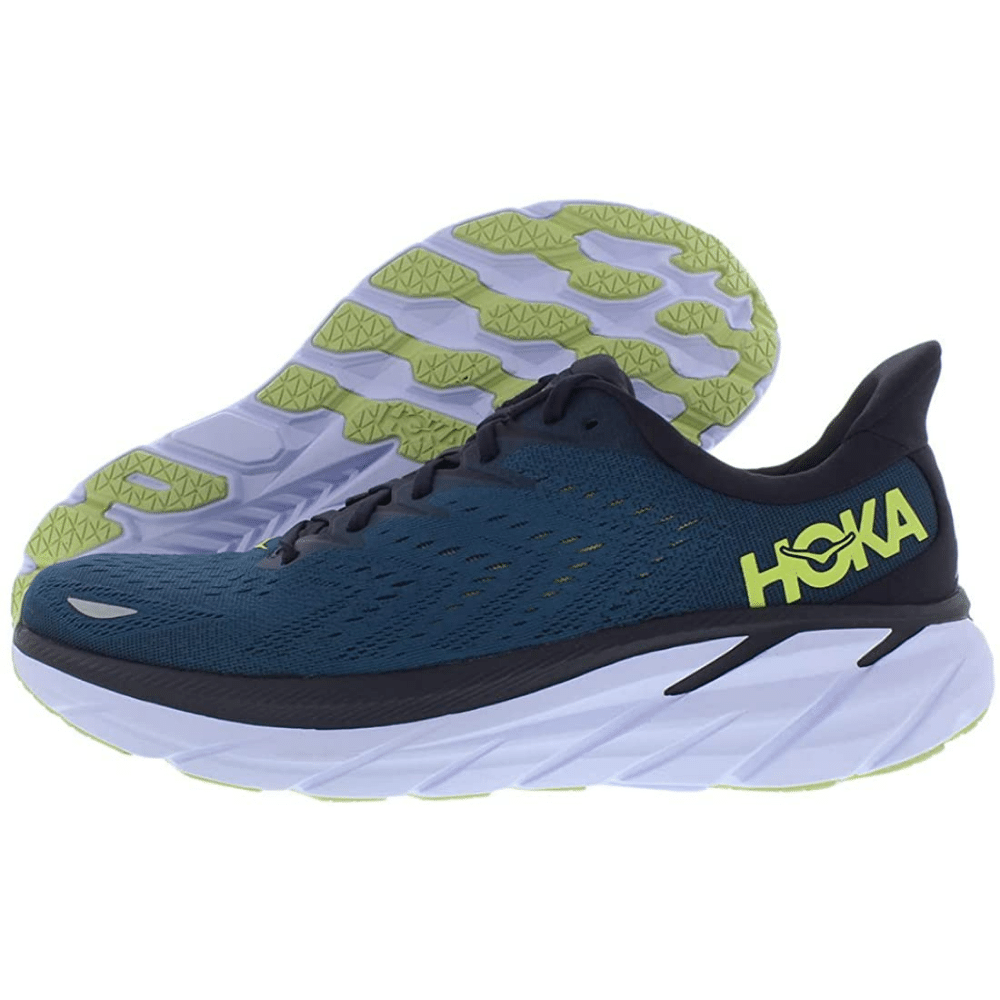 Best Flexibility
Check Price On Amazon
What's the Big Deal?
The Hoka Clifton 8 is the latest silhouette in the iconic Clifton franchise. There is a significant difference in movement than its predecessor, with HOKA's extended crash pad at the heel and increased rubber coverage for durability.
This lightweight shoe provides adequate cushioning for shock absorption and energy return with each step, making it perfect for runners who are looking for a little extra support. The cushioning is excellent, and the fit in the wide footbed is perfect. The Clifton 8 is a great choice for a versatile, all-around walking shoe.
What You Should Know
The Hoka One One Clifton 8 is a updated version of a previous design, now 15% lighter thanks to a new ultralight firmer foam midsole. This makes the shoe ideal for those who want all the same great features of the Clifton 7 with a lighter overall feel.
The mesh upper is breathable to keep your feet comfortable, even during extended wear, and the ultra-plush asymmetrical tongue adds an extra layer of cushioned support. The refined ankle collar and pull tab make it easy to get the shoe on and off, and the overall design is sure to please fans of the Clifton series.
Hoka Shoes For Walking FAQs
Here are the most frequently asked questions about Hoka shoes.
What makes Hoka shoes so special?
Hoka shoes are special because they are designed to provide maximum memory foam cushioning and support for a quality running shoe. They have a unique late stage meta-rocker design that enhances running efficiency and provides a smoother running shoe.
Additionally, Hoka shoes are extremely lightweight, yet still provide ample shock absorption to protect your joints from impact.
What is Hokas main aim?
Hoka's main aim is to provide people with shoes that offer a maximum level of responsive foam cushioning and forward motion support. This allows them to cover more miles without feeling any pain or fatigue in their feet or legs. In addition, Hokas are designed to improve people's form, which can also lead to improved performance and decreased risk of injuries.
How long do Hokas last?
Hokas are a brand of shoes that are known for their unique design and EVA foam cushioned soles. They're often marketed as being ideal for a running shoe fit for long-distance running.
Hokas can last for several hundred miles before they need to be replaced. However, this will vary depending on your individual weight and running style. Heavier runners or those who run on pavement may find that their shoes wear out more quickly, while lighter runners or those who run on softer surfaces may get more miles out of their shoes.
Where are HOKA shoes made?
HOKA shoes are made in Taiwan. The company has a long-standing relationship with its Taiwanese manufacturer, which dates back to the early days of HOKA's history. This close relationship allows HOKA to maintain a high level of quality control over its products.
HOKA shoes are constructed using a process called compression molding. This process gives the shoes their unique shape and makes them extremely lightweight and comfortable. The sole of each shoe is made from EVA foam, which is highly shock-absorbent and provides excellent cushioning.
The upper part of the shoe is made from breathable engineered mesh, which helps keep your feet cool and dry during extended periods of activity.
What company owns HOKA?
HOKA is owned by Deckers Outdoor Corporation, a publicly traded company on the NYSE.
Are Hokas good for plantar fasciitis?
Yes, Hoka shoes are good for plantar fasciitis. The shoes provide a lot of memory foam cushioning and support, which can help to relieve the pain and inflammation associated with the condition.
If you have plantar fasciitis, it's important to wear shoes that are supportive and cushioning.
How old is the HOKA brand?
The HOKA brand is relatively young, having been founded in 2009. However, the company has quickly become a major player in the running shoe industry, thanks to its innovative designs and commitment to quality.
Today, HOKA shoes are worn by some of the world's top runners and athletes, and the company continues to produce new and innovative products that help people reach their potential.
Do Hokas have a low drop?
Yes, Hoka shoes typically have a low drop. This is because Hoka shoes are designed to promote a natural foot strike and a mid-foot strike. A low drop helps to achieve this by positioning the foot closer to the ground.
This is beneficial for runners because it encourages them to land on their mid-foot, which is the healthiest way to run. It also helps to reduce stress on the ankles and knees thanks to its EVA foam.
Which Hoka has the most cushion?
You'll want to check out the Hoka One One Bondi 7. This shoe is specifically designed for a narrower heel by providing extreme memory foam cushioning, and it definitely delivers.
The Bondi 7 has a full-length EVA midsole that provides an incredible amount of support and cushioning for a forward motion, and it also has a reinforced leather upper toe cap for added durability.
If you're looking for the ultimate in cushioning and comfort, the Hoka One One Bondi 7 is definitely the shoe for you.
Can Hoka shoes be used for walking?
Yes, Hoka shoes great for walking. They are designed to provide stable shoe with extra cushioning and support, which can make walking more comfortable. Many people find that Hoka shoes help them to walk longer distances with less pain and fatigue.
Are Hoka shoes good for ankle arthritis?
Hoka shoes are often recommended for people with ankle arthritis because they provide excellent support and cushioning. Many wearers find that these shoes help to ease pain and improve joint function.
In addition, Hoka shoes are typically lightweight and have a roomy toe box, which can be accommodating for people with swollen ankles. If you are considering purchasing a pair of Hoka shoes, it is important to consult with your physician or orthopedic specialist first to ensure that they will be appropriate for your individual needs.
Do Hoka Speedgoats dry quickly?
Yes, Hoka Speedgoats do dry quickly. In fact, they are specifically designed to be very breathable and quick-drying shoes, perfect for runners who sweat a lot or who need to worry about getting their shoes wet in any way.
Here's a little more information on how they work: the upper part of the shoe is made with a mesh material that allows air to circulate well, while the midsole is designed to be lightweight and absorb impact. Combined, these features make for a shoe that dries quickly and doesn't feel heavy or hot even when wet.
Are Hoka shoes good for heel spurs?
There is no one-size-fits-all answer to this question, as the best shoes for heel spurs will vary depending on the individual's particular foot structure and the severity of their condition. With that said, Hoka shoes have generally been found to be helpful for those suffering from heel spurs, as they provide extra cushioning and support that can reduce pain and improve comfort levels.
If you're considering giving Hoka shoes a try, it's always best to consult with a healthcare professional or podiatrist first to ensure that they are appropriate for your heel spurs.
Where did HOKA get its name?
HOKA got its name from the Maori word "Hoaka", which means "to fly over the earth". The company's founders were inspired by the idea of running as effortlessly and lightly as possible across the landscape. They designed their running shoes to provide an extremely cushioned and lightweight running experience, and HOKA has quickly become a leading brand in the shoe industry.
Final Word
So, if you're in the market for the best Hoka walking shoes and want something that will provide you with plenty of comfort and support, Hoka One One should definitely be at the top of your list.
With so many different options to choose from, there's sure to be a pair of Hoka walking shoes that are perfect for you. Depending on your needs, any of the items we've listed below could be a great selection!
Best Overall
Best Cushioning
Best Lightweight Feel
Best For Trails
Best For Work
Best Flexibility
Thanks for following our guide! We hope it helps you find the perfect Hoka shoe for your needs.
Your friend,
Lucius