Do you have wide feet? If so, finding a good pair of hiking shoes can be a challenge.
Not all hiking shoes are created equal, and some are better suited for people with wider feet than others. In this article, we will take a look at the best hiking shoes for wide feet on the market today. We will also provide a product review to help you decide which shoes are right for you.
So if you're looking for a good pair of hiking shoes that will accommodate your wide feet, read on!
Select one of the best hiking shoes for wide feet today and enjoy your hike to the fullest!
We've curated a list of top-quality products below that we're confident you'll love. Our editors have independently selected each one, and although some have been sent to us as samples, all opinions in this article are our own. We want to be transparent with you and let you know that FlairFindings may earn a commission or other compensation from the links on this page if you decide to make a purchase. This is how we sustain our business & content flow. Additionally, we have edited reviews for length and clarity. We hope you enjoy discovering your new favorite item!
How We Select The Best
When you're looking for a good pair of hiking shoes, it's tough to know where to start. With so many different brands and models available, how can you be sure you're getting the best hiking shoes for wide feet?
It's hard enough finding the right hiking shoes without having to worry about whether or not they'll fit your feet properly. And if your feet are on the wider side, it can be even harder to find a good pair of shoes that will accommodate them comfortably.
We've got you covered. In this article, we'll introduce you to some of the best hiking shoes for wide feet that are currently available on Amazon. We'll also provide additional information so that you can choose the right pair of shoes for you.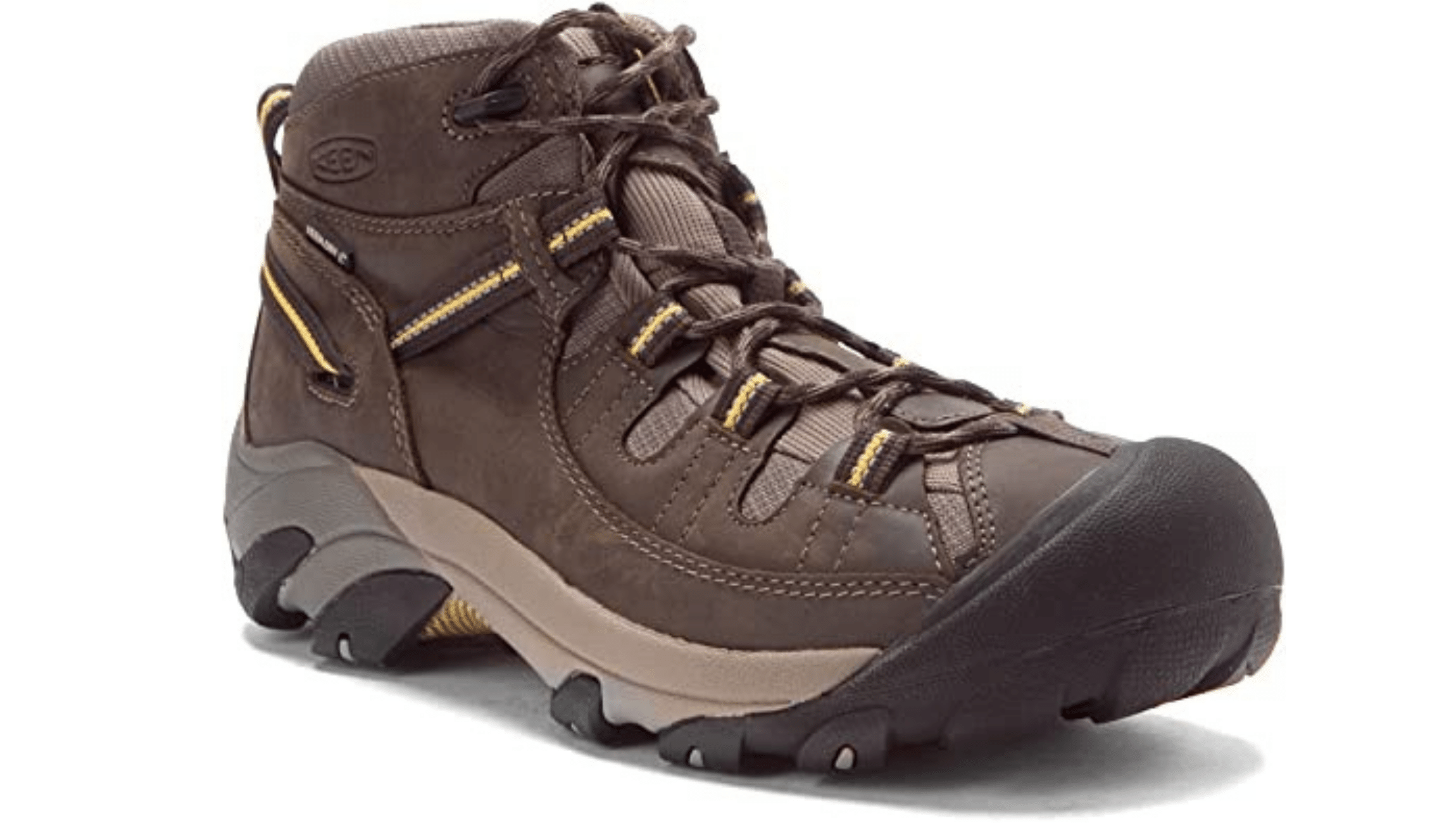 Best Overall
Check Price On Amazon
What's the Big Deal?
Keen's Targhee II Mid hiking boot is a popular choice for hikers with broad feet. The wide toe box and spacious interior provide plenty of space and comfort for your feet, while the cushioned sole and solid support make this boot a great choice for hikes of any length.
The all-terrain outsole offers great grip on a variety of surfaces, making the Targhee II a versatile option for any hiker.
What You Should Know
Even though the price has risen significantly in the 2-3 years, it is still a viable alternative because of its fit and comfort. The shoe sports a low-profile top with ghillie lacing which makes it comfortable and gives it a secure fit.
However, this style runs half a size small so we recommend getting a 1/2 size larger than your regular size. In addition to the comfortable and secure fit, the shoe also boasts a cushioned tongue and collar, as well as an easy-on heel pull. Not to mention, the leather lining is highly breathable. All of these features make it a great alternative for hikers with broad feet.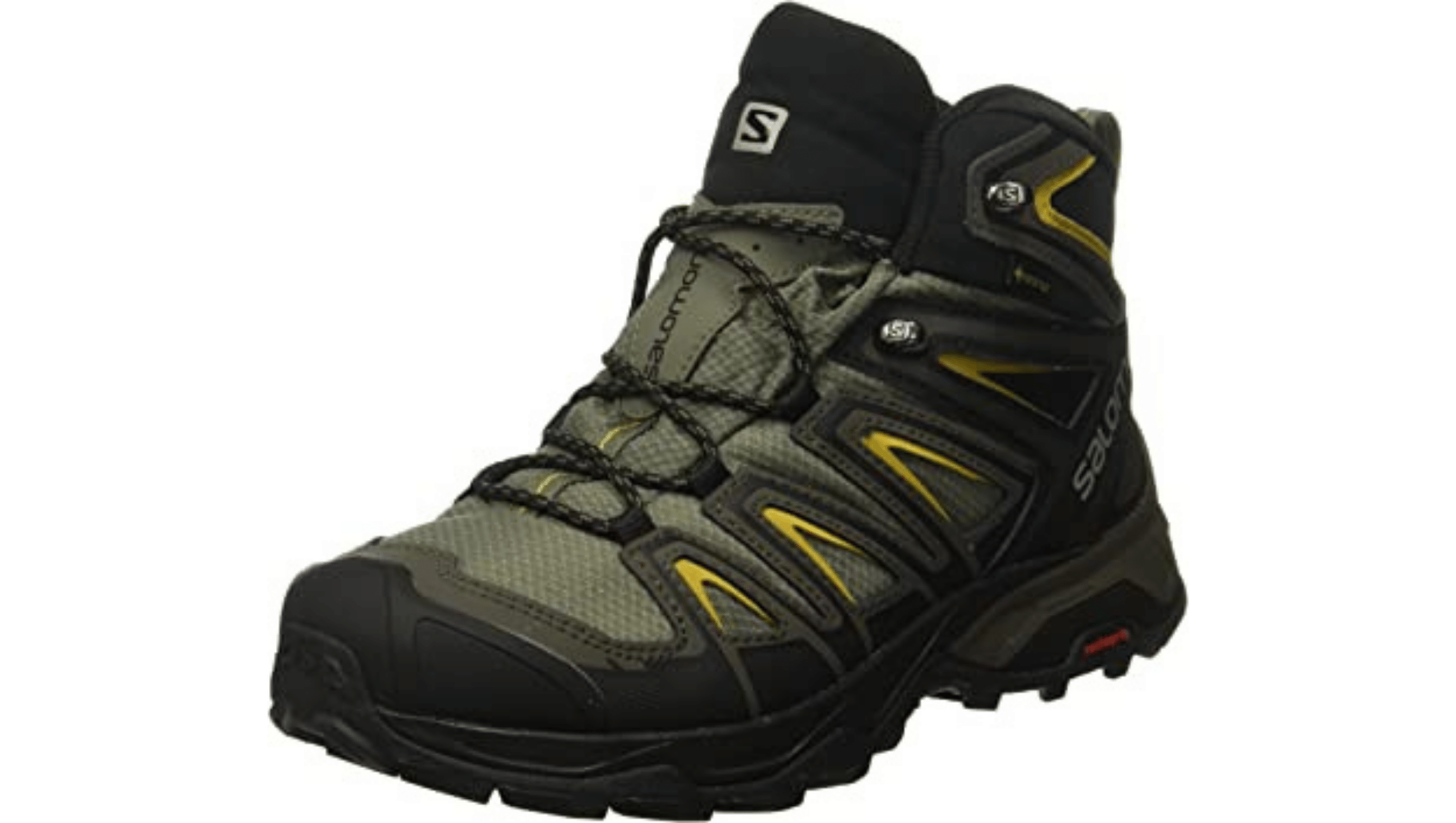 Most Popular
Salomon X Ultra 3 Mid GTX
Check Price On Amazon
What's the Big Deal?
These tough and versatile boots are perfect for any terrain, whether you're exploring nature trails or need a reliable work shoe. With revolutionary Descent Control Technology, the X Ultra 3 GORE-TEX provides excellent grip and stability on even the most challenging descents - especially in wet conditions.
For men and women who like to push themselves, Salomon has you covered with a wide range of high-quality hiking and backpacking shoes and boots. So whether you're planning a local day hike or an extended backpacking trip, trust this trail running shoe to help you go the distance!
What You Should Know
The mudguard around the base of the shoe helps protect against muddy terrain, while the anti-particles mesh top helps keep debris out of the space between your foot and the footbed.
The EnergyCell midsole provides incredible shock absorption, and the X Ultras stand out for providing above-average support at a low weight. The X Ultra 3 is a stable hiking shoe with powerful grip and a Gore Tex covering for superior waterproofing and breathability.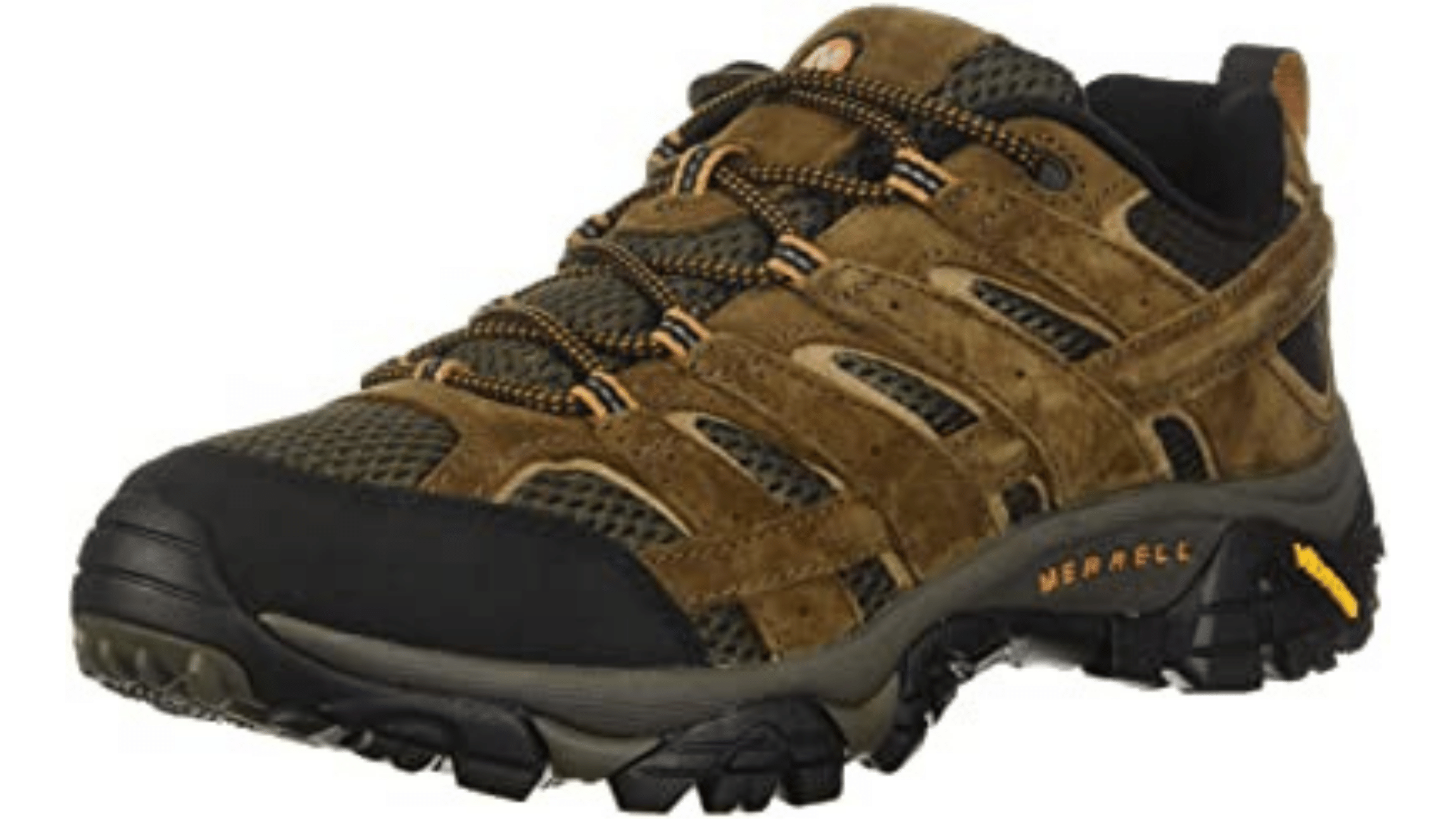 Best Value
Check Price On Amazon
What's the Big Deal?
Want a versatile and affordable hiking shoe? The Merrell Moab 2 Vent is perfect for beginner to moderate trails and can even be worn as a casual shoe around town. This low-cost boot-shoe hybrid offers great ankle support and traction on easy to moderate day treks, making it a popular choice among novice hikers.
The leather and mesh upper keeps you cool and comfortable in rising summer heat, while the Vibram TC5+ sole provides great traction on slippery terrain. These trail shoes is affordable and versatile, the Merrell Moab 2 Vent are the perfect option.
What You Should Know
The Moab 2 Vent from Merrell is a great option for hikers who are looking for comfort and performance. The boot is made from high-quality leathers that will last for many hiking seasons, and it features a comfortable footbed that will keep your feet feeling good all day long.
The Vibram traction outsole provides plenty of grip on rocky trails, and the boot is flexible enough to provide a natural range of motion. Whether you're hiking in the mountains or through your local park, the Moab 2 Vent will help you enjoy your time on the trail.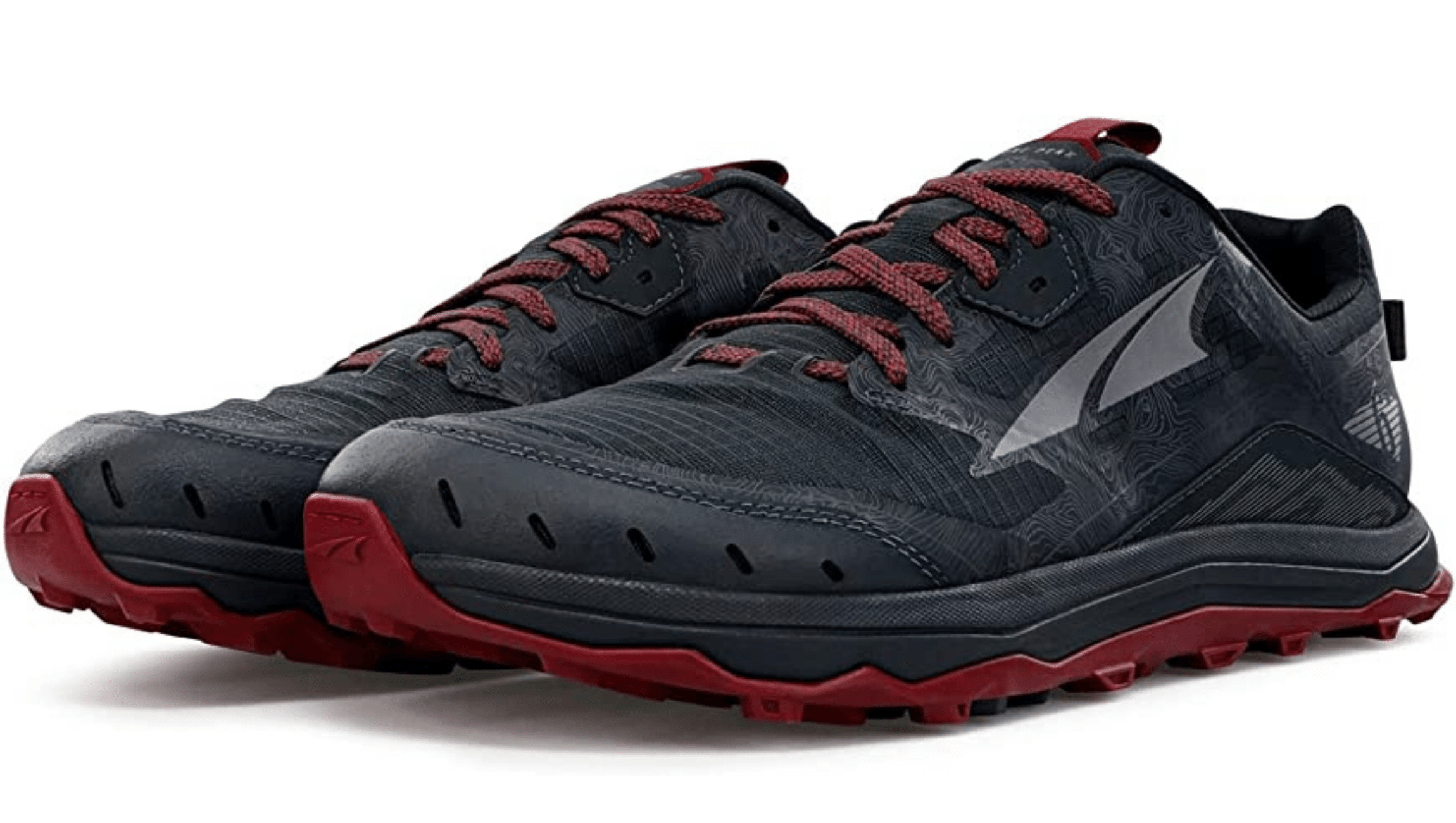 Best Cushioning
Check Price On Amazon
What's the Big Deal?
The Altra Lone Peak 6 are one of the most popular trail running shoes on the market, and it's easy to see why. This lightweight, mesh trail shoe is cooler on the foot and dries faster than many hiking shoes, making it a great choice for serious hikers and casual walkers alike.
The gripping outsoles provide excellent traction, while the zero drop platform and foot-shaped toe boxes provide superior comfort and support. This shoe is also popular with thru-hikers due to its spacious toe box, which allows toes to splay freely. Whether you're looking for a serious hiking shoe or a casual walking shoe, the Altra Lone Peak 6 is a great choice.
What You Should Know
Its MaxTrac outsole and multi-directional TrailClaw lug pattern for sticky traction, you can concentrate on the route ahead of you without fear of slipping or losing your footing.
The platform's symmetrical cushioning sets the heel and forefoot the same distance from the ground, encouraging low-impact landings. The FootShape toe box lets the toes to naturally relax and stretch, while the Altra EGO midsoles deliver a responsive but smooth ride.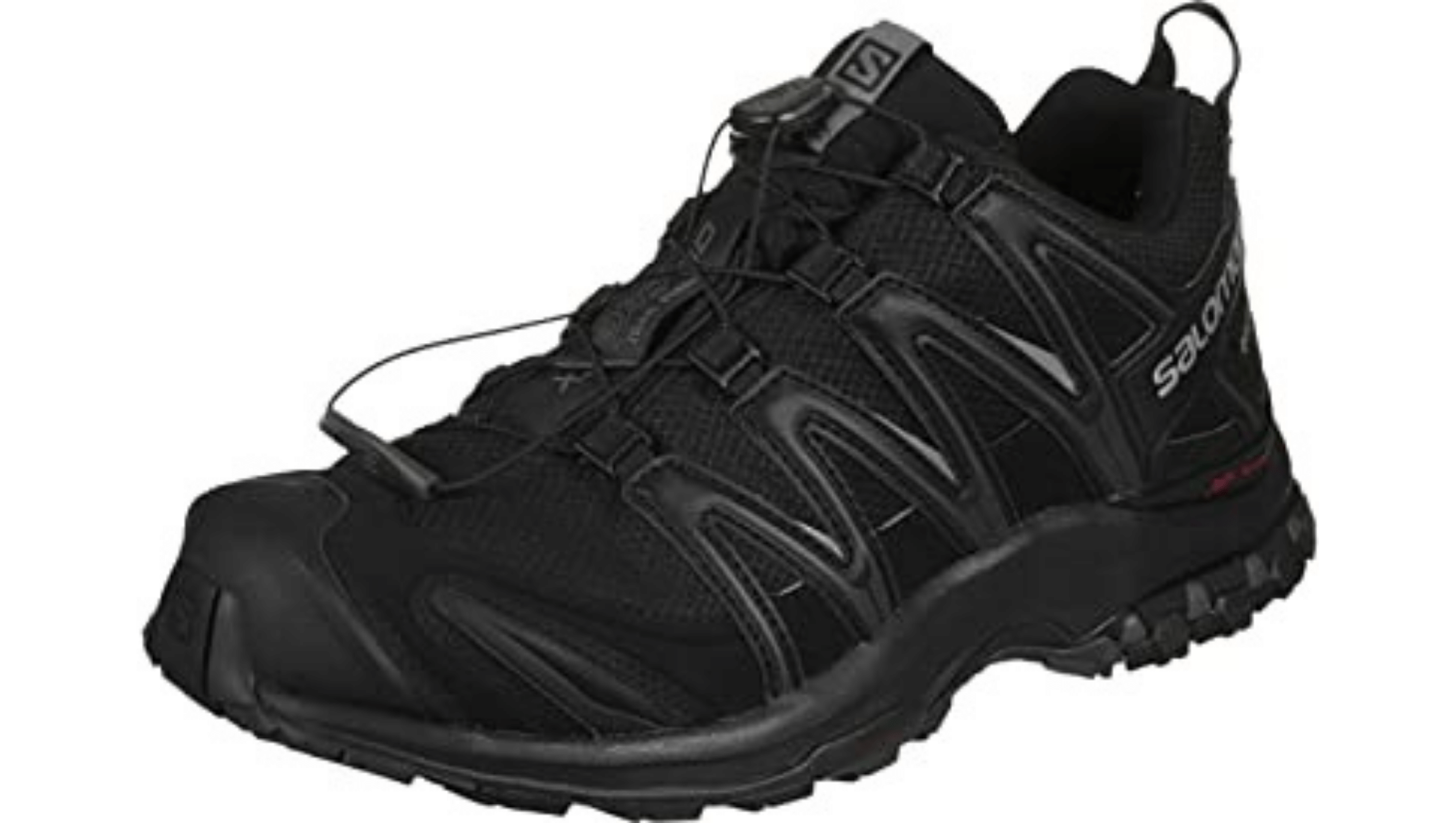 Best Secure Fit
Check Price On Amazon
What's the Big Deal?
Looking for a versatile, all-terrain shoe that can take you from the trail to the street and back again? Look no further than the Salomon XA Pro 3D. This best-selling shoe is classified as a trail runner, but it's actually an even better choice for hiking and other outdoor activities.
The XA Pro is reasonably solid underfoot, with a clever construction that truly locks down your feet on difficult terrain. It's a touch hefty for being trail runners, but it's lighter than a typical hiking shoe. As a result, the XA Pro is a popular choice in becoming one of your favorite hiking shoes.
What You Should Know
The premium insoles provide extra cushioning and support for the feet, and the midsoles and outsoles offer ample support. The XA Pro has a three-dimensional structure that stabilizes the foot without sacrificing forefoot movement, and the sensifit delivers rapid lace delivery while maintaining a comfortable fit.
The outsole has high traction and abrasion resistance for outstanding traction, making the Salomon XA Pro 3D an excellent choice for anyone looking for a comfortable, supportive shoe.
Hiking Shoes For Wide Feet FAQs
Here are the most frequently asked questions about hiking shoes for wide feet.
Are wide shoes better for hiking?
There is no definitive answer to this question. Some people believe that wide shoes are better for hiking because they provide more stability and prevent ankle rolling.
However, other people argue that there is no real difference between wide and narrow shoes when it comes to hiking, and that the most important factor is choosing a shoe that fits well and provides good traction. Ultimately, it's up to the individual hiker to decide what works best for them.
Are hiking shoes supposed to be tight or loose?
The answer to this question depends largely on personal preference. Some people prefer their hiking shoes to be snug, while others find that a little bit of extra space is more comfortable. Ultimately, it's important to choose whatever feels best for you.
That said, there are a few general things to keep in mind when selecting your hiking footwear. First, your shoes should be breathable and comfortable, with enough room to wiggle your toes. You'll also want to make sure they're durable enough to stand up to the rigors of the trail. And finally, if you're planning on doing any serious backpacking, you'll need shoes with a good amount of support and stability.
How should hiking boots fit width?
When it comes to finding the perfect fit for your hiking boots, width is just as important as any other factor. Hiking boots should be snug around the ball of your foot and heel, with enough room in the toe box to allow your toes to wiggle slightly. If your boots are too loose, you risk blisters and pinched nerves; too tight, and you'll end up with cramping feet and bruised toenails.
Do hiking boots stretch?
Boot manufacturers usually take this into account and build in some extra space, known as "slack," into the design of the boot. Slack is the empty space between your foot and the inside of the boot. It's what allows your foot to move around a bit inside the boot without rubbing against the sides. And, as you might expect, it also plays a role in how a boot responds to being stretched.
Most hiking boots will stretches some amount, given enough time and use. But that doesn't mean that every boot will stretch to perfectly fit your feet; there is such a thing as boots that are too small or too big for your feet.
How do you know if your hiking boots are too big?
You can usually tell if your hiking boots are too big if they're slipping on your heels and allowing a lot of movement at the toes. Another indicator is if you feel like you're clomping around in oversized clown shoes.
Why do hiking boots hurt my feet?
Hiking boots can often cause pain in the feet because they are not properly fitted. When boots are too tight, they can cause blisters on the feet. They can also make your feet feel tired and achy after a hike.
It is important to make sure that your hiking boots fit well. Make sure that there is enough room in the toe box so that your toes can move around. The boots should also be snug but not too tight around the heel and ankle. You should be able to wiggle your toes when you have the boots on.
How much space should you have in hiking shoes?
It is important to have enough space for your hiking feet to allow movement and flexibility. Your heels should also be able to move up and down as you walk.
If your shoes are too tight, you will not have the necessary movement and flexibility, which can lead to blisters, discomfort, and joint pain. When trying on hiking shoes, make sure you have plenty of space in the toe box so that your toes can wiggle freely.
Are hiking shoes necessary?
Hiking shoes are not necessary, but they can certainly make your hike more enjoyable. If you decide to purchase hiking shoes, make sure to buy a good quality pair that fit well and provide good support. Cheaper shoes might save you money in the short term, but they will likely be less comfortable and won't last as long.
When it comes to choosing the right shoe for you, it ultimately comes down to personal preference. Consider what type of terrain you'll be primarily hiking on, how much support you need, and what level of comfort you require. With all of those factors in mind, you should be able to find the perfect pair of hiking boots for wide feet.
Is it normal for hiking boots to hurt at first?
It's not normal, but it is common. Wide hiking boots are usually stiffer than other shoes because they're designed to support your weight and protect your feet on tough terrain. So they need time to break in and conform to the shape of your feet.
If your boots are really hurting, it might be because they're too tight or you're wearing them the wrong way. Try loosening the laces a bit, and make sure that you're putting them on correctly (the tongue should be in the middle of the boot). If that doesn't help, you might need a different size or style of lightweight hiking boot.
What is special about hiking shoes?
The best hiking shoe is designed to protect your feet from the elements and provide traction on various types of terrain. They usually have a waterproof and breathable outer layer, a cushioned footbed, and a rugged outsole. The best hiking boots also have a Gore-Tex or other waterproof membrane to keep your feet dry in wet conditions.
Final Word
We hope that this article was helpful in providing you with the knowledge to make an informed purchase when looking for the best hiking shoes for wide feet. We gathered a collection of shoes on Amazon and also looked at all available user reviews to provide you with more perspectives.
Depending on your needs, any of the items we've listed below could be a great selection!
Best Overall
Most Popular
Best Value
Best Cushioning
Best Secure Fit
Thanks for following our guide! We hope it helps you find the perfect hiking shoes for wide feet.
Your friend,
Lucius