Are you new to hiking?
If you're just starting out, it's important to choose the right shoes. Hiking can be a lot of fun, but if you're not wearing the right shoes, you'll end up with sore feet and blisters. In this article, we will discuss some of the best hiking shoes for beginners. So if you're ready to hit the trails, keep reading!
We want everyone who is interested in hiking to have a great experience. That's why we've put together this list of the best hiking shoes for beginners. With our help, we hope you'll be able to hike in comfort and style.
Continue to scroll down to learn more about these hiking shoes for beginners!
We've curated a list of top-quality products below that we're confident you'll love. Our editors have independently selected each one, and although some have been sent to us as samples, all opinions in this article are our own. We want to be transparent with you and let you know that FlairFindings may earn a commission or other compensation from the links on this page if you decide to make a purchase. This is how we sustain our business & content flow. Additionally, we have edited reviews for length and clarity. We hope you enjoy discovering your new favorite item!
How We Select The Best
If you're new to hiking, it can be tough to know where to start when it comes to choosing the right gear.
It's hard enough just getting started with something new, so we don't want you wasting your time and money on a pair of shoes that won't work well for you.
We've done the research for you and found the best hiking shoes for beginners on Amazon. Our picks are based on user reviews, ratings, and our own personal experience.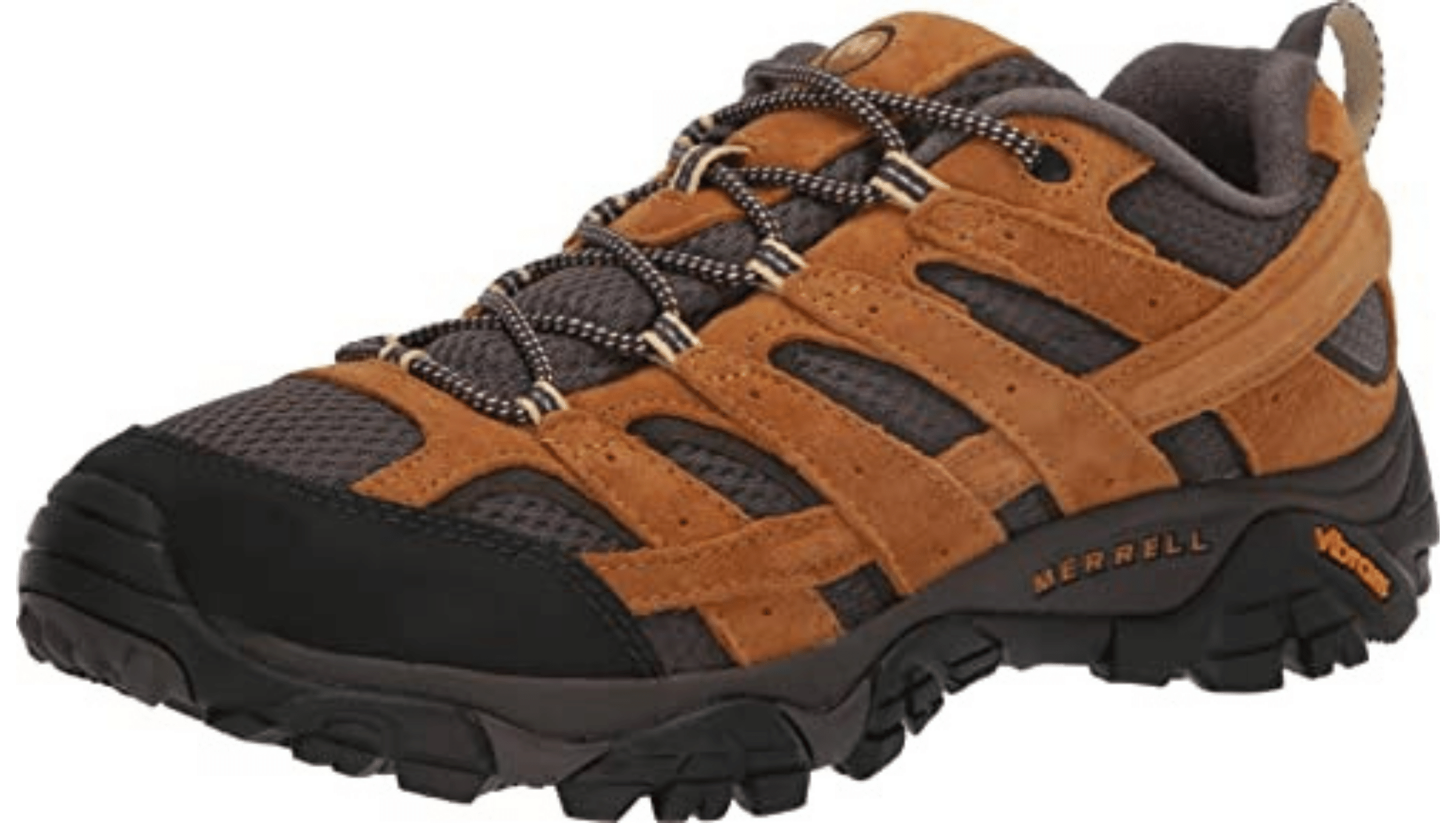 Best Overall
Merrell Moab 2 Ventilator
Check Price On Amazon
What's the Big Deal?
If you're in the market for a great pair of hiking shoes, you can't go wrong with the Merrell Moab 2 Ventilators. These shoes are one the best beginner hiking boots out there because of them being comfortable, light weight, and affordable, making them a great choice for beginners.
Merrell is known for its comfort, and the Moab 2 Ventilators are no exception. Even when put on right out of the package, they are comfortable to wear. The insole provides strong arch support, allowing you to maintain an effective hiking posture.
What You Should Know
The added weight over some of the lighter models on the market comes from the increased durability of the materials used. These shoes will withstand a lot of wear and tear before showing any signs of damage.
In addition, the cushioned tongue and ankle collar, as well as the supportive insole, make these shoes very comfortable to wear, even on long hikes. The silicon bands that wrap around the foot provide support and structure while providing a roomy wide toe box as well as preventing rolling and stresses on the ankles.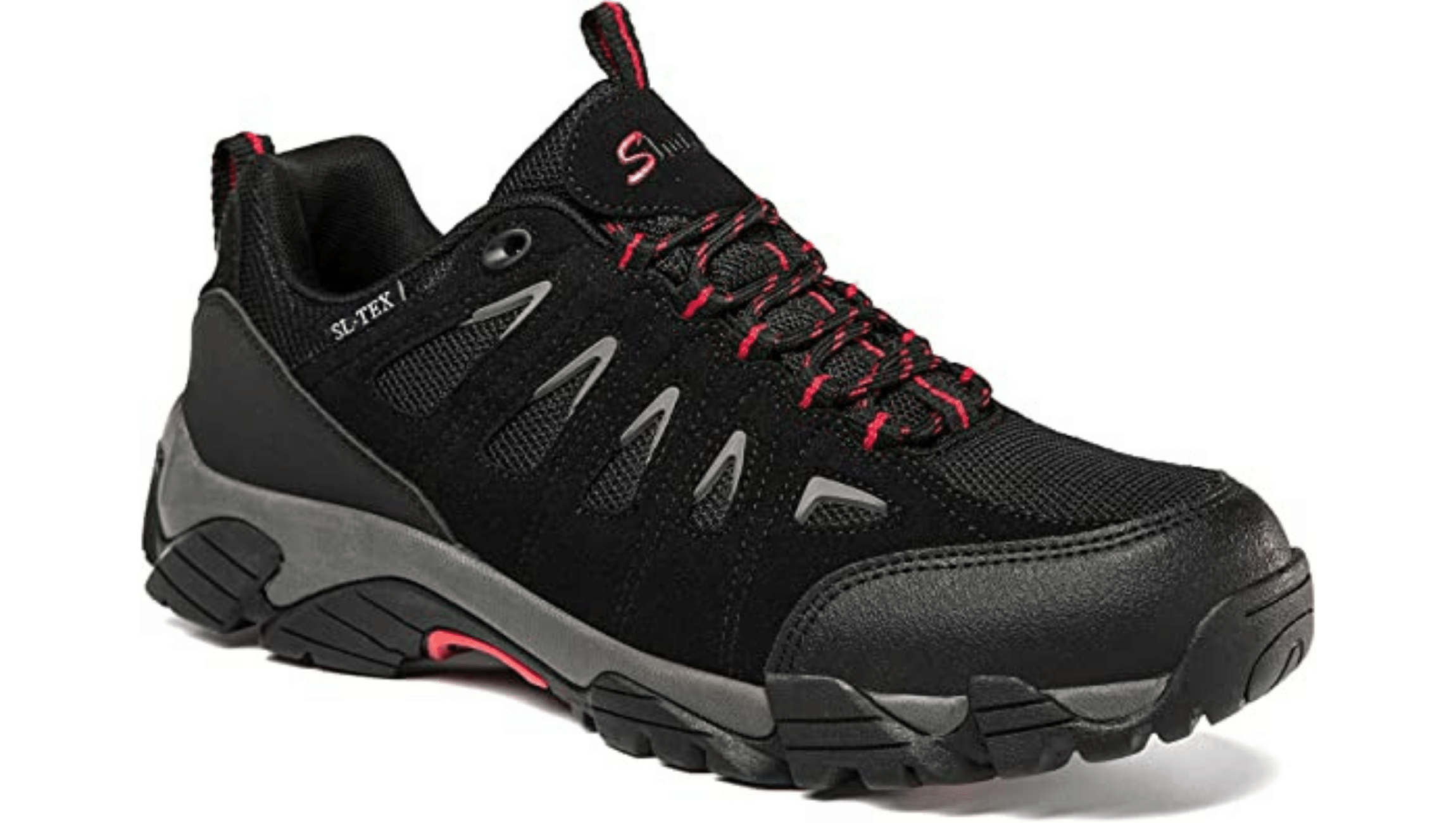 Best Value
SHULOOK Waterproof Hiking Shoe
Check Price On Amazon
What's the Big Deal?
The SHULOOK Waterproof Hiking Shoe is the perfect choice for your next hike. With a durable outsole and comfortable design, these shoes will keep you supported all day long. The high-friction rubber provides greater grip and stability on uneven terrain, while the mesh vents keep your feet cool and dry.
With plenty of room in the toe box, your toes can spread out naturally as you walk. And because they don't require much breaking in, you can hit the trail right away. So whether you're an experienced hiker or just starting out, the SHULOOK Waterproof Hiking Shoe is the perfect choice for your next adventure.
What You Should Know
The EVA midsole provides cushioning for your feet, while the nylon mesh shanks help you navigate uneven or rocky ground. The highlight of the support offered by the SHULOOK shoe is the patented O Fit insole, which provides significantly more arch support than most hiking shoes and boots.
The deep lugs on the sole of the shoe also provide excellent grip in wet or muddy conditions, and the tough construction of the boot can withstand even the most challenging hikes.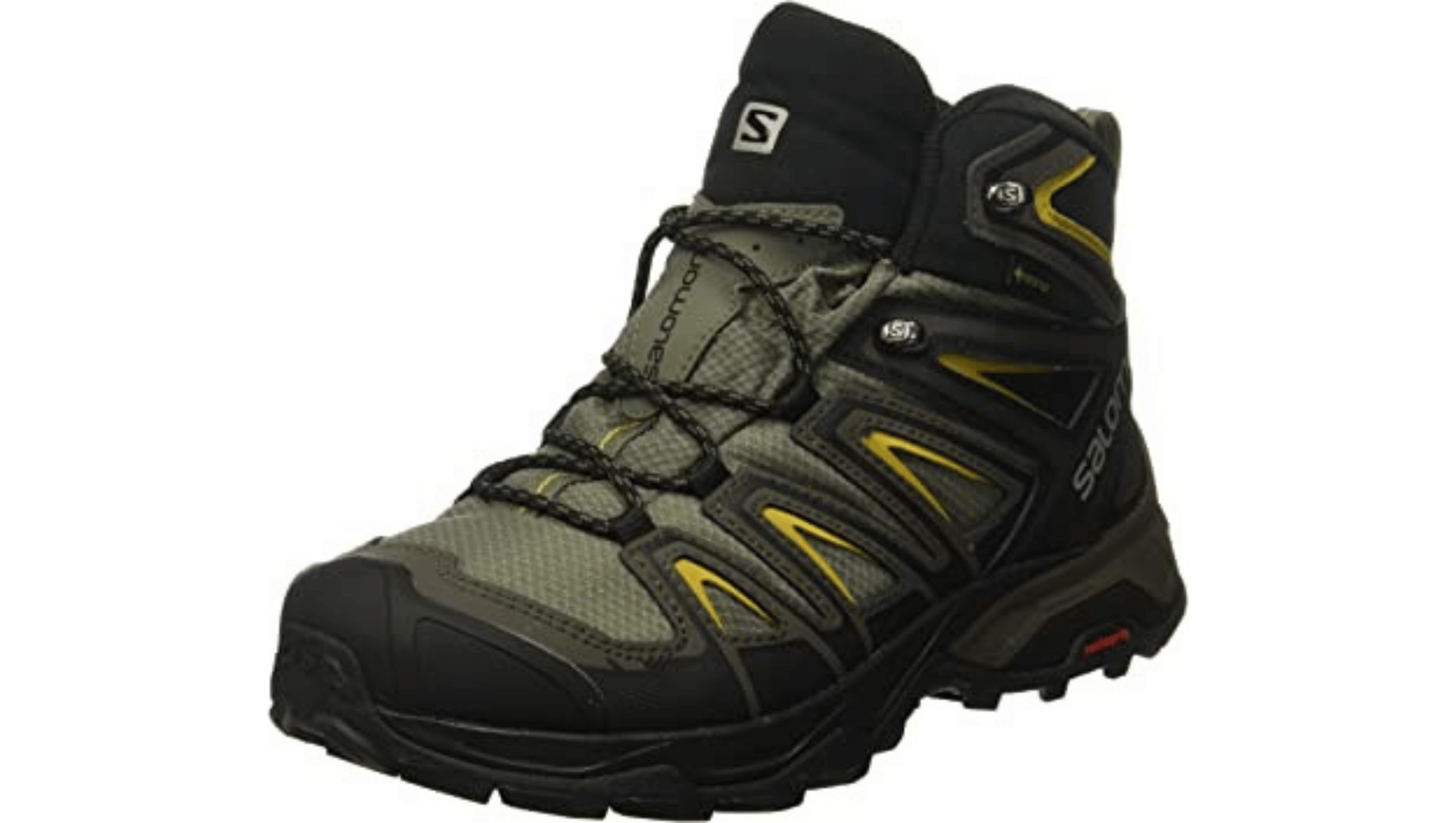 Best Waterproof
Check Price On Amazon
What's the Big Deal?
The Salomon X Ultra 3 GTX is an excellent choice for hikers who want waterproof hiking shoes that offers as well durability. This low-top shoe is lighter than a hiking boot while providing the same performance on the trail. On the scales, the Salomon X Ultra 3 GTX comes out on top.
Although they can handle rough terrain, they are very light when compared to hiking boots and other more typical walking shoes. Considering they seem more like boots than trail runners, these hiking shoes are surprisingly comfy. Although not as flexible as trail runners, the shoes themselves are lightweight hiking boots and offer ample cushioning.
What You Should Know
The biggest advantage of the GTX model is the padded section around the ankle which provides support and comfort to the wearer. Another advantage is that the midsole is firm, allowing your foot to flex while protecting your feet from the abrasiveness of rough paths.
The shoe's Gore-Tex lining can resist very wet and freezing conditions. However, the GTX model has a disadvantage in that it reduces the shoe's breathability.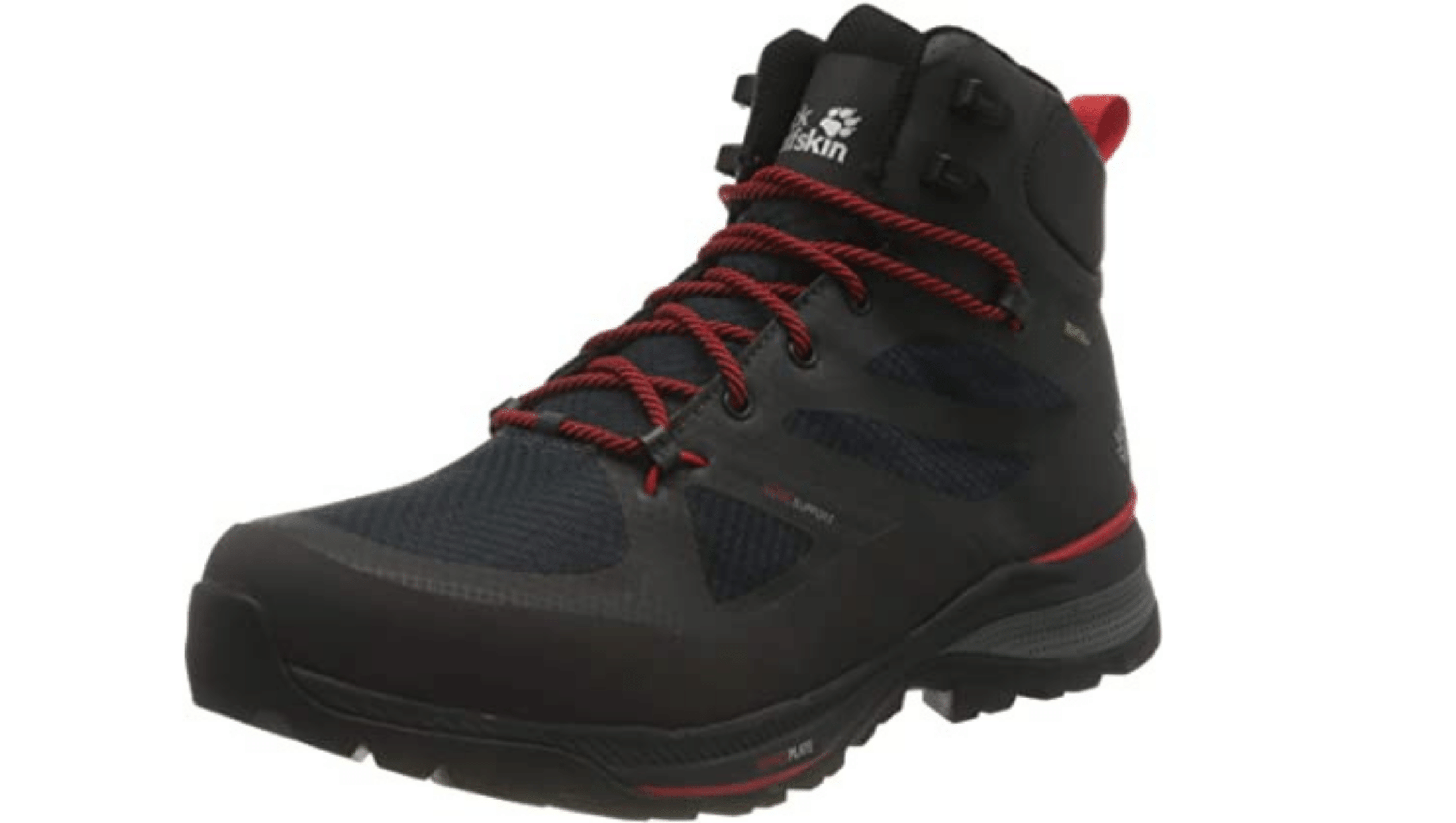 Best Cushioning
Jack Wolfskin Force Striker
Check Price On Amazon
What's the Big Deal?
The Jack Wolfskin Force Strikers are the perfect hiking shoes for anyone looking to cover more ground and have more fun doing it. These shoes are German-engineered to handle tough terrain and operate well in a variety of terrains, so you can rest assured knowing that no matter where your hike takes you, these shoes will be up for the challenge.
They're also incredibly light, thanks to the Reflex Foam component in the midsole that provides ample cushioning without adding any extra weight. So don't let their feather-like weight fool you, these shoes pack a punch when it comes to comfort, support, and durability.
What You Should Know
A force plate in the forefoot is a feature that many hikers appreciate in their hiking footwear. This plate helps to add cushioning and protection from sharp or jagged objects that might be found on the trail. The Sole construction of this shoe also provides adequate support for those who hike on a variety of different terrain types.
In addition, the ankle cushioning helps to protect your joints from impact and reduce the likelihood of injury. The Vibram Megagrip outsoles are another valuable feature, providing essential traction on hilly terrain. All of these features combine to make a hiking shoe that is comfortable and protective, even on challenging routes.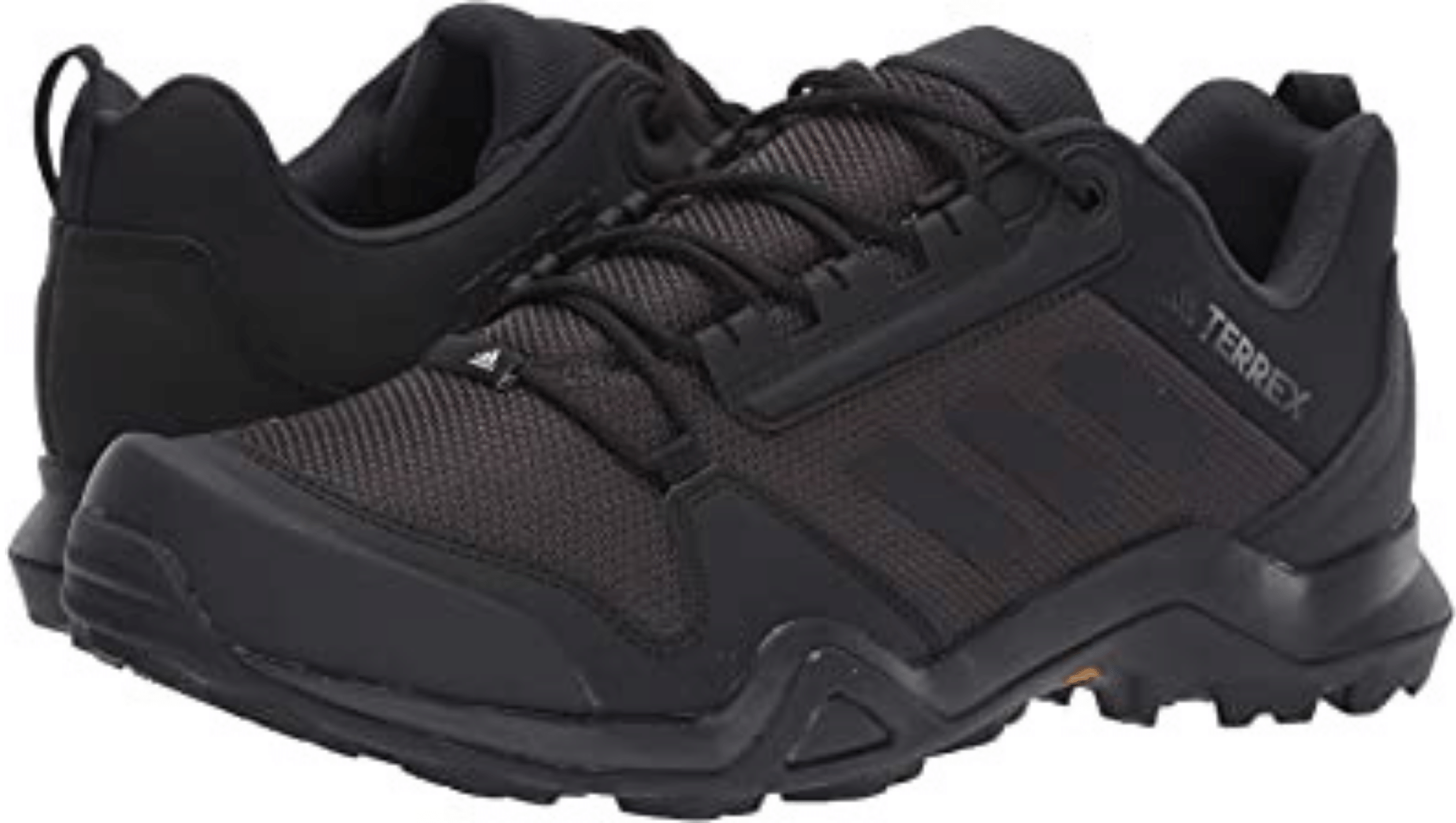 Best Secure Fit
Check Price On Amazon
What's the Big Deal?
The Adidas Terrex Ax3 can handle any terrain and any weather. These lightweight hiking shoes check each of these boxes while also looking rather fashionable. Because of the lighter weight, you can easily pull in long distances.
The Terrex Ax3 trail shoe is very well-suited to light trails due to a mix of lightweight materials and their casual style. When it comes to comfort, these hiking shoes are hard to top. So why wait? Order a pair of these trail running shoes today!
What You Should Know
This winterized and insulated version of the shoe combines the functionality of the AX3 with the weather-resistant qualities of winter boots. The improved Continental rubber outsole provides unrivaled traction, and the Climawarm synthetic insulation keeps you warm even in the coldest circumstances.
The soles of these hiking shoes are made of high-quality Vibram with Megagrip technology. Wearers can maintain their grip on both dry and wet terrain as a result.
Hiking Shoes For Beginners FAQs
Here are the most frequently asked questions about hiking shoes for beginners.
How do you know if shoes are good for hiking?
There are a few things to consider when determining whether or not a pair of shoes is good for hiking. First, you'll want to make sure that the shoes have good tread and aren't too slippery. Second, you'll want to make sure that the shoes are comfortable and provide good support.
Third, you'll want to choose shoes that are durable and can withstand the elements. fourth, you'll want to make sure that the shoes fit well and don't cause blisters or uncomfortable rubbing. Finally, you'll want to choose shoes that are appropriate for the terrain you'll be hiking on.
What kind of shoes are needed for hiking?
Hiking shoes are those designed to protect your feet and ankles while you're out on the trail. They have a number of features that differentiate them from other types of hiking footwear, including a tough exterior, a grippy sole, and extra support around the ankle.
While you can hike in just about any type of shoe, investing in a good pair of hiking shoes will make your hikes more enjoyable and help keep you safe becoming a trail runner.
Can you hike with regular shoes?
You can hike with regular shoes, but you'll have a much better experience if you use hiking boots. The best hiking boots are designed to provide better traction and stability on uneven terrain, which is essential for a safe hike. They're also typically made from water-resistant materials that will keep your feet dry in case of rain or crossing a stream.
Do hiking shoes make a difference?
Hiking shoes absolutely make a difference! Not only do they provide extra grip and traction on slippery or uneven surfaces, but they also protect your feet from rocks, roots, and other sharp objects.
Additionally, hiking shoes are designed to be comfortable and supportive even when you're carrying a heavy load, which is essential for long hikes. Trust me, your feet will thank you for investing in a good pair of hiking shoes!
Why hiking shoes are important?
There are a few reasons why hiking shoes are important. For one, they provide good traction and stability, which is important when hiking on uneven or slippery surfaces.
They also tend to be very comfortable, with lots of padding and support, which is important when you're spending a lot of time on your feet. Finally, they're often waterproof or water-resistant, which can be crucial in keeping your feet dry and comfortable during long hikes.
How long do hiking shoes last?
Hiking shoes can last anywhere from four months to two years depending on how often you use them and what kind of terrain you hike in. In general, it's recommended that you replace your hiking shoes every six to twelve months if you hike regularly.
What should I wear for hiking?
When hiking, it's important to wear clothing that will protect you from the elements and that will allow you to move freely. In general, you'll want to wear pants or shorts made of a sturdy fabric, a T-shirt or shirt with long sleeves, and a jacket or sweatshirt. You'll also want to wear sturdy shoes or boots, and a hat and sunglasses are recommended.
What is the difference between hiking shoes and running shoes?
The main difference between hiking shoes and running shoes is that hiking shoes are typically designed to provide more stability and protection than running shoes.
Hiking shoes also tend to have thicker treads, which make them better suited for traversing uneven terrain. Running shoes, on the other hand, are typically more lightweight and flexible than hiking shoes. This makes them better for runners who need to move quickly and respond nimbly to changes in direction.
What are hiking shoes made of?
Traditional hiking shoes are made of different materials depending on the brand and style. However, most hiking shoes are made with a breathable mesh upper to keep your feet comfortable during your hike.
The soles of hiking shoes are also important to consider. They are usually made from rubber, nubuck leather, or EVA foam to provide good traction and cushioning for your feet.
How do I know if I need new hiking boots?
There are a few things you should keep in mind when deciding if it's time for new hiking boots. First, take a look at the soles of your current boots. Are they worn down? If so, that's probably a sign that you need new boots.
Second, think about how comfortable your boots are. Are they starting to pinch or rub in places? If so, you might want to consider getting new ones. Finally, take into account how often you hike and how harsh the conditions are that you hike in.
Final Word
We hope that this article was helpful in providing you with the knowledge to make an informed purchase when looking for the best hiking shoes for beginners. We gathered a collection of shoes on Amazon and also looked at all available user reviews to provide you with more perspectives.
Depending on your needs, any of the items we've listed below could be a great selection!
Best Overall
Best Value
Best Waterproof
Best Cushioning
Best Secure Fit
Thanks for following our guide! We hope it helps you find the perfect hiking shoes for beginners.
Your friend,
Lucius