Most flip-flops are not designed with arch support, which can lead to foot pain and can create problems over time.
Do you love wearing flip-flops in the summer but hate how your feet feel by the end of the day?
The best flip-flops with arch support are specifically designed to provide your feet with the comfort and support they need. Our picks of flip-flops have a comfortable contoured footbed that cradles your feet and provides arch support, so you can wear them all day without feeling any discomfort.
We've curated a list of top-quality products below that we're confident you'll love. Our editors have independently selected each one, and although some have been sent to us as samples, all opinions in this article are our own. We want to be transparent with you and let you know that FlairFindings may earn a commission or other compensation from the links on this page if you decide to make a purchase. This is how we sustain our business & content flow. Additionally, we have edited reviews for length and clarity. We hope you enjoy discovering your new favorite item!
How We Select The Best
Are you looking for a pair of flip-flops with arch support?
There are lots of flip-flop brands available in the market that can make selecting them a bit difficult.
We have done the work to make your choices easier. We at Flair Findings evaluate each pair for durability, support, and comfort.
Also, we consider the customer's reviews and then come up with our list of the best flip-flops with arch support. In this way, we try to ensure that you easily get the best.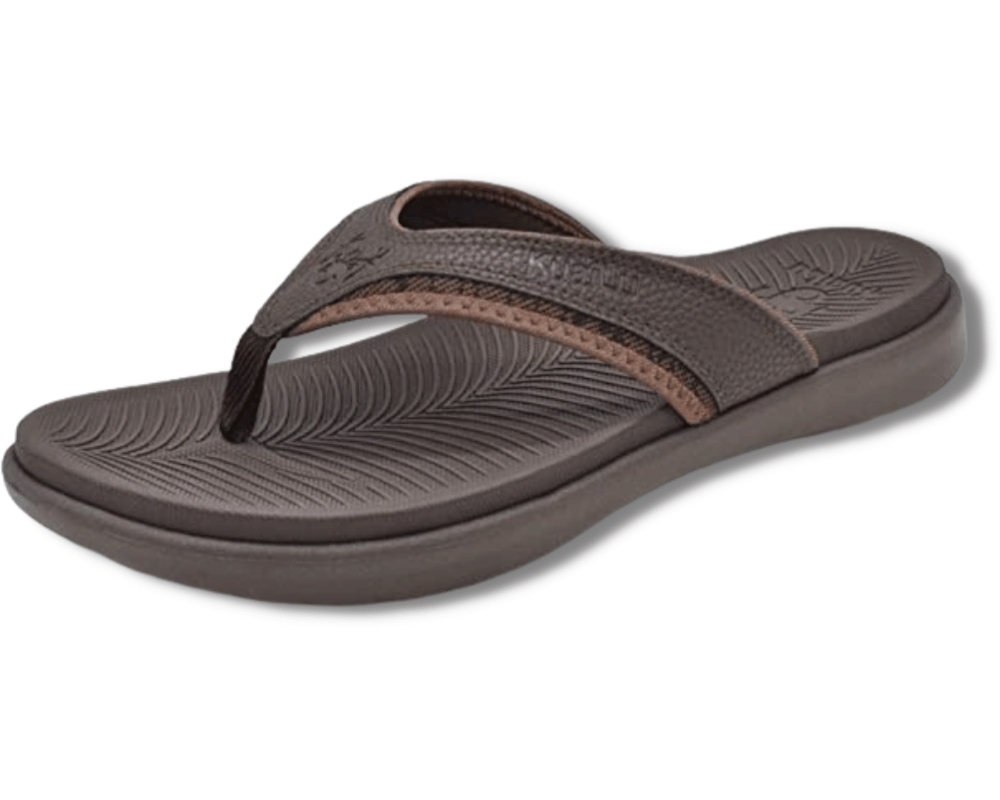 KuaiLu Flip Flops
Check Price on Amazon
What's The Big Deal?
These KuaiLu leather flip-flops with rubber soles contain a wide strap spliced by casting leather and delicate two-tone webbing. Moreover, this design makes the flip-flops more attractive, textured, and colorful.
The flip-flops incorporate the correct amount of arch support and heel cushioning so that you can keep going for several hours without feeling any discomfort. The toe post of these flip flops contains skin-friendly soft fabric so that your toes remain protected from scratches.
What You Should Know
KuaiLu flip flops provides orthotic arch support so that your feet can stay clear from potential foot problems like arch pain, heel pain, tendinitis, and plantar fasciitis. The deep heel cup ensures the stability of the feet during walks and the variety of colors and sizes makes it the choice for everyone.
The insole or footbed of these flip flops is made of a yoga mat type material designed for additional shock absorption and comfortable cushioning. The flip flops feature an anti-slip waterproof rubber sole that provides a no-slip strong grip.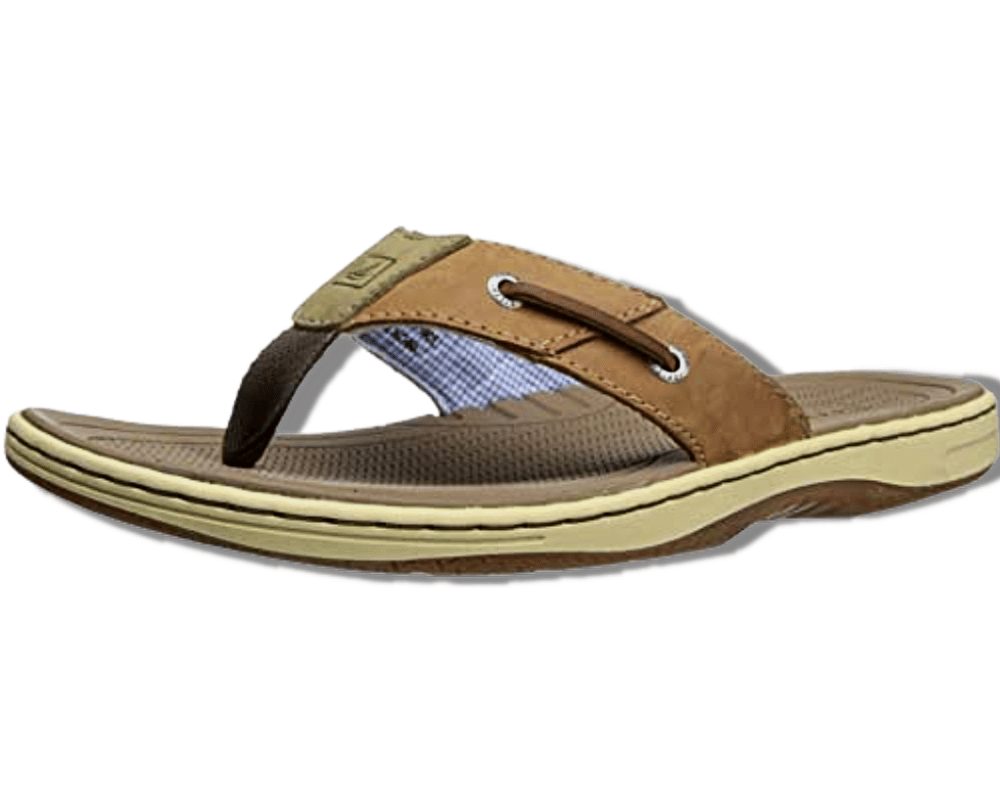 Sperry Baitfish Flip Flops
Check Price on Amazon
What's The Big Deal?
Sperry flip flops is a pair of nautically inspired sandals to ease away your footwear problems. With lightweight EVA midsole under your feet, you can enjoy the comfort of these sandals on a beach, around the sea, and in your backyard. The sandals also feature Sperry's adaptive Wave-Siping with a molded rubber bottom to provide premium traction for dry and wet surfaces.
What You Should Know
Sperry flip flops are made of 75% leather and 25% Synthetic. These flip flop sandals take inspiration from boat shoes and feature rawhide lacing with a textured insole.
The sole is manmade with a 1-inch high comfortable heel. The uppers of these sandals are made of premium full-grain leather and ensure long time durability. The sandals are available in 3 different colors and sizes ranging from 7 to 14.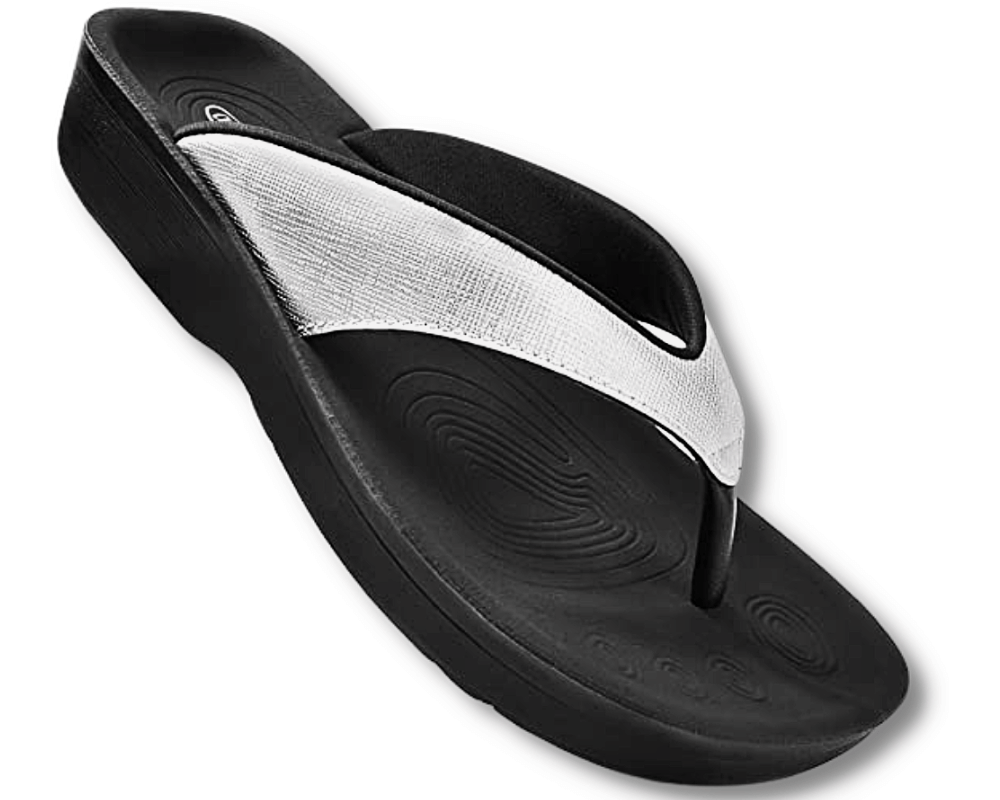 Crystal Mist Aerothotic Flip Flops
Check Price on Amazon
What's The Big Deal?
Crystal Mist Aerothotic flip flops are the original orthotic comfort thong style sandals specially made for women's feet. They also provide excellent arch support so that you can walk comfortably.
The orthopedic insole of Crystal Mist sandals helps reduce heel pain. These comfortable orthotic sandals are great for improving your gait and reducing risk factors for feet like plantar fasciitis.
What You Should Know
Crystal Mist Aerothotic flip flops are made for everyday wear to keep your feet comfortable all day. The high arch support sandals come with soft cushioned straps to stay gently on your feet. The sandals are lightweight and easy to slip on and off. The u-shaped hollow outsole of these sandals provides a firm grip on rough surfaces.
These sandals contain a polyurethane gel-infused insole and a non-slip outsole that also ensures shock absorption. The footbed is waterproof and sweat resistant and comes in a variety of colors and sizes so that women of every size can fit their feet in these amazing flip flops.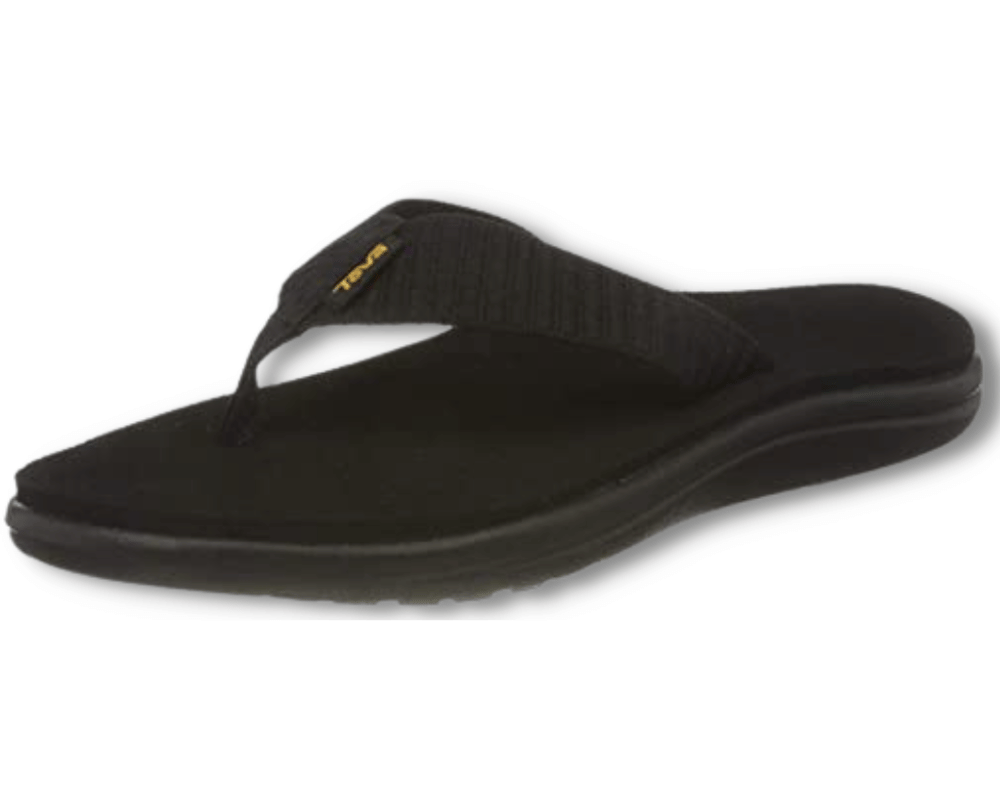 Teva Women's W Voya Flip Flops
Check Price on Amazon
What's The Big Deal?
TEVA has been building a legacy in comfortable footwear since 1984. Teva has contributed a lot to save the environment by recycling materials and using them to make comfortable sandal straps.
The recycled material is also helpful in the making of quick dry webbing over the sandal insole. The lightweight EVA foam outsole makes these sandals great for all-day wear. These sandals feature mesh top-sole cushions that keep your feet comfortable for a long time.
What You Should Know
Teva flip flops feature a rubber sole with 0.5 inches of comfortable heels. Teva excels in its comfort and style with a complete package of fun for outdoor activities. The classic collection of Teva delivers an exotic outlook for casual events and outdoor plans. Moreover, they're available in men's flip flops as well as having various colors and sizes ranging from 5 to 11.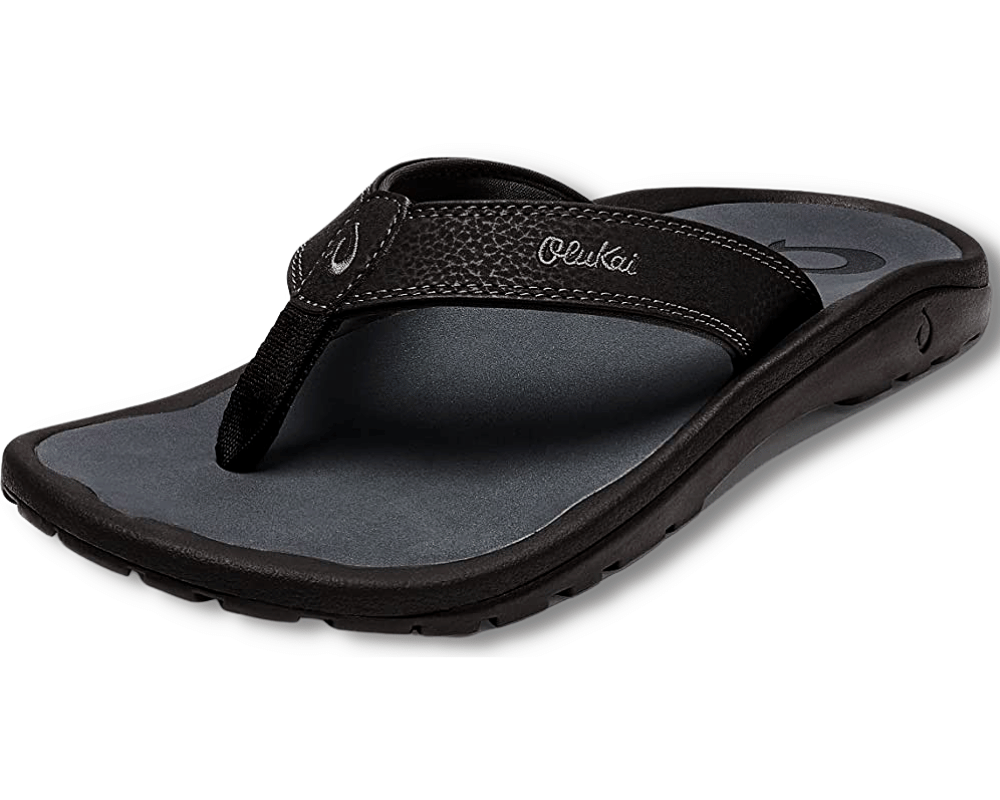 OluKai Ohana Sandals
Check Price on Amazon
What's The Big Deal?
If you are looking for lightweight, water-resistant, and quick dry flip flops for a comfortable outdoor plan, OluKai Ohana sandals is one of the best out there. These sandals feature quick-dry slides with a compression molded footbed, providing an ultra-soft, comfortable fit for every foot.
OluKai Ohana flip flop comfortable level is very satisfying due to its smooth footbed with an anatomical fit, and casual everyday style design. Ohana sandals feature synthetic straps with water-resistant technology, kit lining that quickly dries, and offers a comfortable fit to your feet with a soft nylon toe post.
What You Should Know
These durable, stylish, and lightweight flip flops are ideal for any outdoor activities. The smooth drop-in ICEVA footbed with compression-molded EVA midsole provides all-day comfort. The rubber outsole is a non-marking sole with a coral reef lug design that provides non-slip safety for wet surfaces.
The heel of these sandals is 2.8 inches high and provides a comfortable grip on rough and tough surfaces. The sandals are available in a variety of sizes and colors so that you can pick the best suitable sandals of your choice.
Flip Flops with Arch Support FAQs
What problems do flip flops cause?
Flip flops can cause various problems to feet, like foot pain, bunions, hammertoes, tendonitis, and plantar fasciitis. Since your feet are not covered properly, flip flops can also increase the chances of cuts, insect bites, infection, and stubbed toes.
Who should wear arch supports?
People who face following feet problems or circumstances should wear arch support footwear.
Frequent Foot Pain
Flat Feet
High Arches
Active Lifestyle
Being Overweight
Can arch support cause problems?
Arch support does not cause problems if you use them correctly. If you wear flip flops that are the wrong height, too low, or too high, you could start to feel worse pain, and body aches and develop injuries. Proper arch support is imperative for runners. Arch support may affect the performance of runners with normal feet and make them run slower.
Why is arch support important?
Good arch support is important to keep your feet, knees, hips, back, and body in proper alignment. Lack of proper arch support can lead to serious foot injuries.
Which flip-flop material is best?
Synthetic rubber containing molded polyurethane creates the flip flop form. It's the most common and budget-friendly material used in flip flops. The polyurethane of high quality is durable also.
Final Word
Wearing flip flops with an irregular base is unsafe for feet as they do not distribute weight and pressure equally across the foot, and also result in other problems like plantar fasciitis and severe injuries. Using arch supportive flip flops is best to have safe footwear.
With many options available to choose from, we hope that you were able to select a pair in our list. Look over all the products and find the best one that suits all your needs.