Looking for a good pair of waterproof running shoes?
We've got you covered. In this article, we will discuss some of the best waterproof running shoes on the market. We will also provide a product review for each one.
These shoes are designed to keep your feet dry and comfortable, no matter how much rain or snow is falling. And they are also lightweight and durable, so you can stay comfortable even on long runs.
Purchase a pair of waterproof running shoes today!
We've curated a list of top-quality products below that we're confident you'll love. Our editors have independently selected each one, and although some have been sent to us as samples, all opinions in this article are our own. We want to be transparent with you and let you know that FlairFindings may earn a commission or other compensation from the links on this page if you decide to make a purchase. This is how we sustain our business & content flow. Additionally, we have edited reviews for length and clarity. We hope you enjoy discovering your new favorite item!
How We Select The Best
You love running, but don't love getting your shoes wet.
Running in the rain is no fun. In fact, it can be downright dangerous if you're not wearing the right gear.
Not to worry, we've got you covered! We have searched through Amazon and gathered a list of the best waterproof running shoes available. We've also gathered user reviews during our search to have a more broad and unbiased perspective so you can get an idea about them before making your purchase.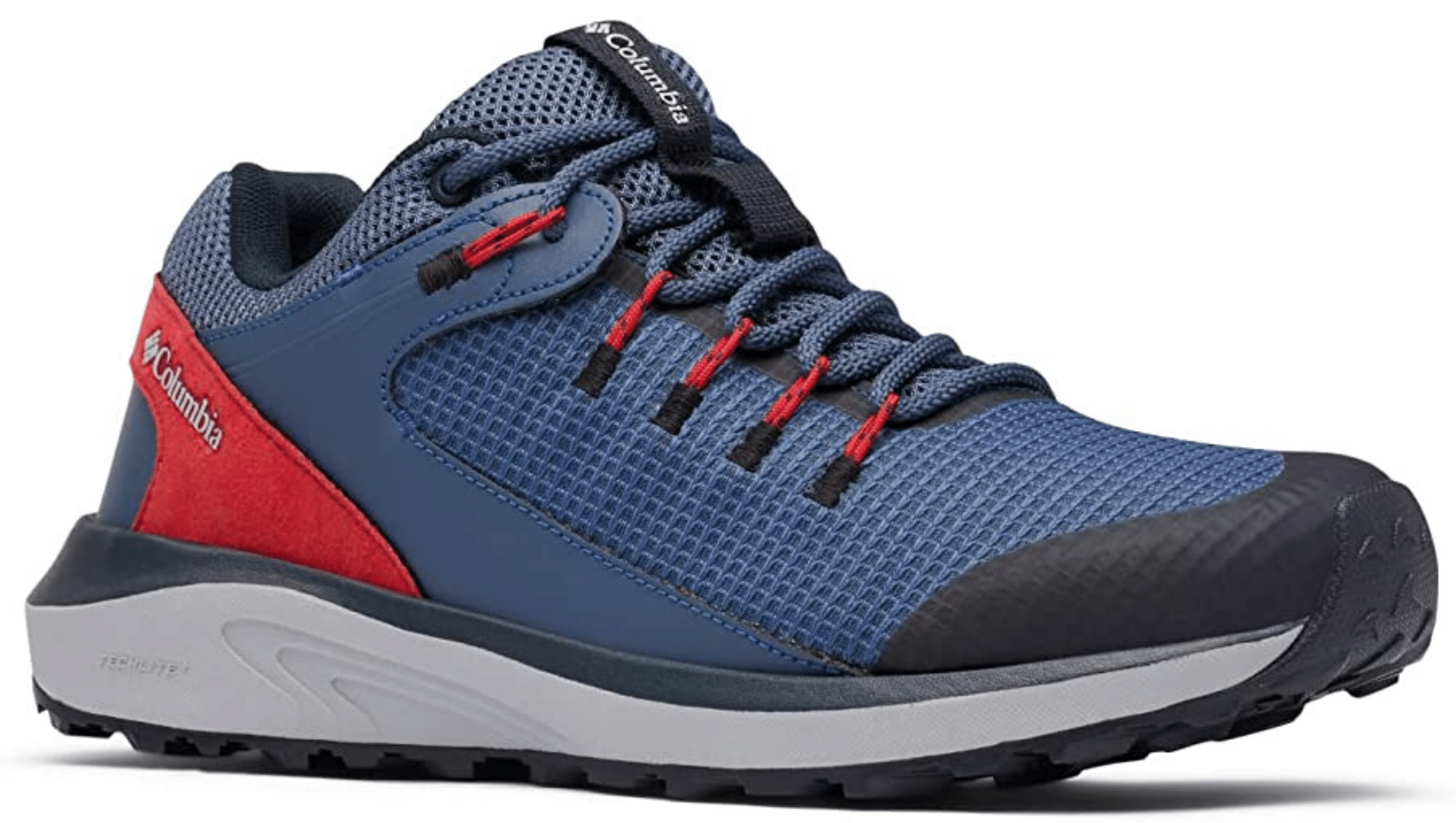 Best Overall
Check Price On Amazon
What's the Big Deal?
Looking for versatile trail shoes that can handle any weather or terrain? Take a look at the Columbia Trailstorm! These are great waterproof trail running shoes that are designed for training runs and long hikes, so you know it can go the distance.
Plus, its waterproof design means your feet will stay dry no matter what Mother Nature throws at you. And if that wasn't enough, the Trailstorm also features fantastic grip and durability, so you can tackle any terrain with confidence. So why wait? Get out there and explore with the Columbia Trailstorm!
What You Should Know
The Columbia Trailstorm has an Adapt Trax outsole for excellent grip in wet and dry weather. It also boasts 4 mm outsole lugs with angular front and back orientations for the best mix of grip and durability on multi-directional terrain. The Techlite+ Single density foam midsole provides responsive underfoot cushioning and better comfort and stability on the trail. It has a breathable waterproof structure thanks to its Omni-Tech design.
The Navic Fit System provides a secure midfoot fit. Toe cap made of molded no-sew TPU material for lightweight protection. A seamless mesh offers superior fit and support. The debris is kept out by the gusseted tongue. These differentiating features allow wearers of the Columbia Trailstorm to have a more comfortable, Supportive, and versatile experience while hiking in any terrain or weather condition.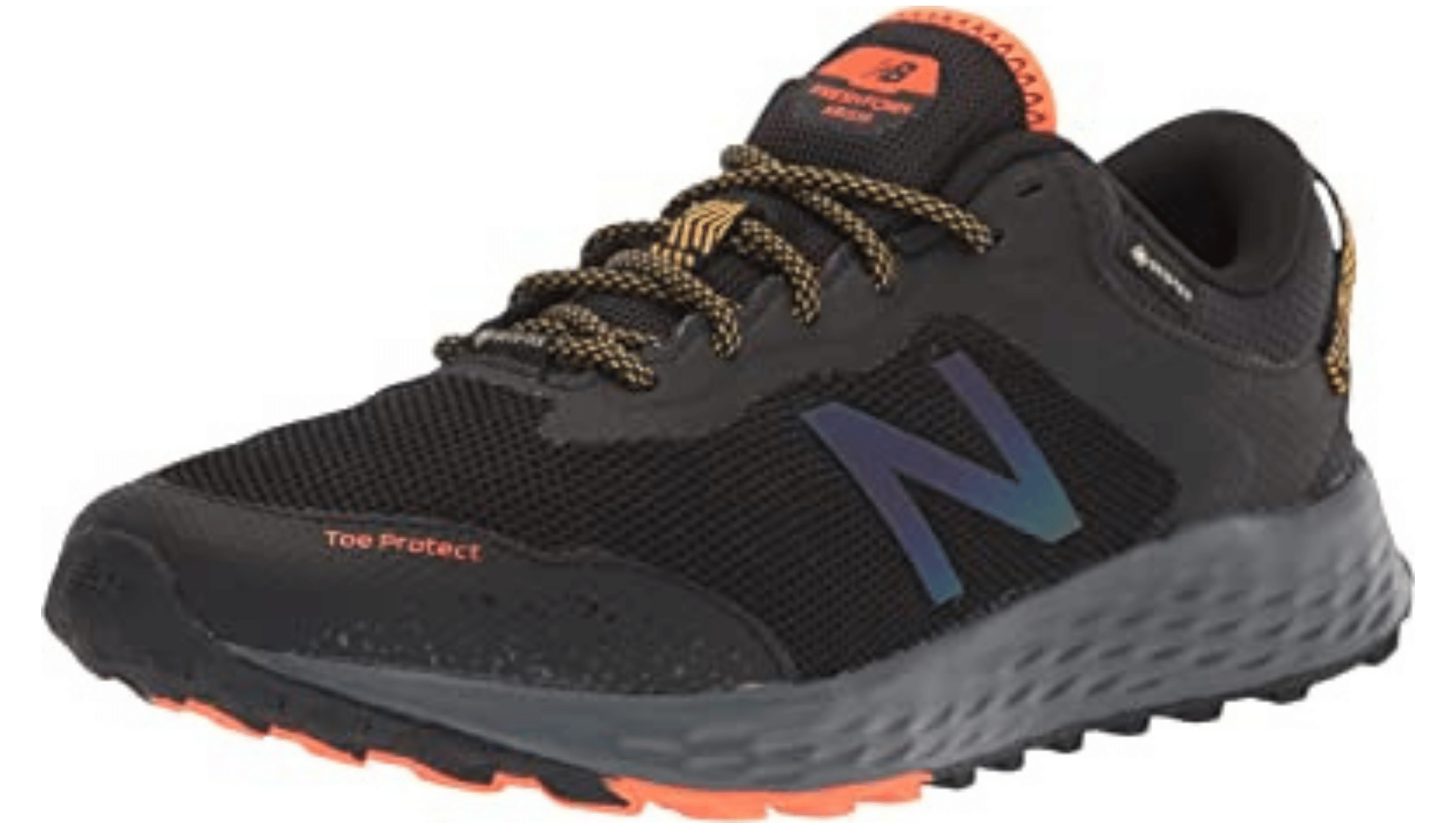 Most Popular
Check Price On Amazon
What's the Big Deal?
The New Balance Arishi V1 is the perfect example of a shoe that can do it all. It's comfortable, bouncy, and durable - perfect for those long training runs. And, it has the added bonus of keeping your feet dry in wet weather.
So no matter what environment or condition, you'll be able to stay focused on your run. Ready to take your training to the next level? Then lace up a pair of New Balance Arishi V1 shoes and hit the ground running!
What You Should Know
The Fresh Foam midsole cushioning has been meticulously designed to provide an ultra-cushioned, lightweight ride. Its waterproof gore tex membrane keeps feet dry and comfortable in wind, rain, and snow. The AT Tread outsole offers varied traction for on- and off-road sports.
Toe Protect technology guards against rocks, roots, and debris. The waterproof upper is sew-free for a smooth fit and feel. These features make the Fresh Foam sneaker ideal for any runner seeking a durable, comfortable shoe that can handle any terrain. Whether you're pounding the pavement or hitting the trail, the Fresh Foam sneaker will help you go the distance.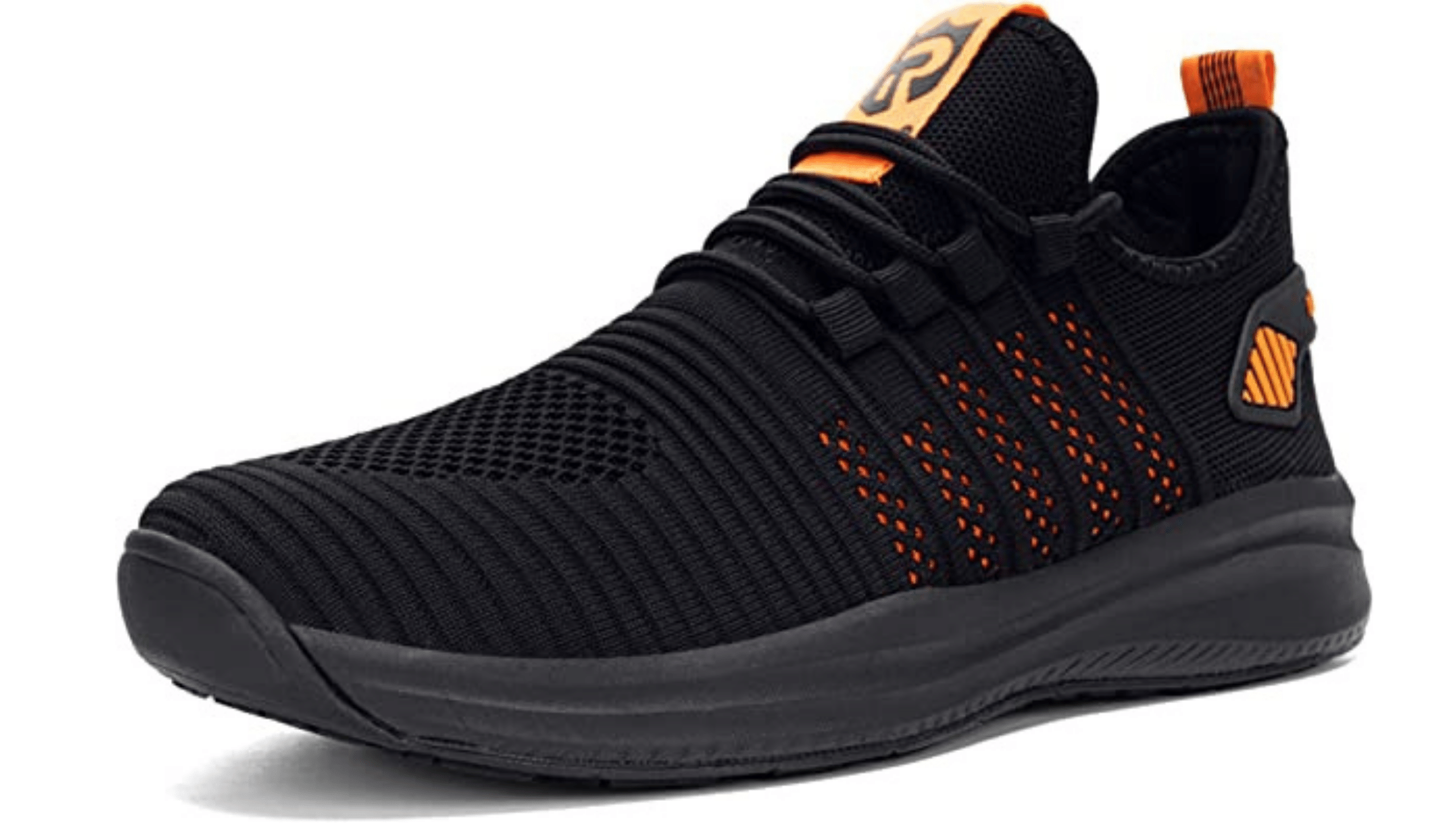 Best Value
Check Price On Amazon
What's the Big Deal?
Looking for a running shoe that will provide you with extra comfort and stability? Look no further than Larnmern Plus! This sub-brand of LARNMERN is dedicated to offering a great experience with each stride. Many people are already delighted with the Larnmern Plus running shoe.
The design and materials used make the shoe very comfortable. You can be confident that the Larnmern Plus will give you a lightweight and sturdy shoe that will help improve your running experience. Runners will love the ease and confidence that comes with using this shoe.
What You Should Know
The shoes are intended for persons with large feet, ultra-lightweight, and 100 percent EVA midsole. The waterproof membrane is sandwiched between two permeable knitted layers that are both breathable and water resistant. The 100% rubber rough outsole provides stability on wet or smooth surfaces.
These shoes are intended for casual and everyday activities such as strolling, hiking, biking, working, and jogging. They are comfortable snug but not tight fit, making it suitable for walking and jogging. The shoes are available in different colors to match your personality and everyday outfits. You can choose from a variety of sizes to fit your feet perfectly.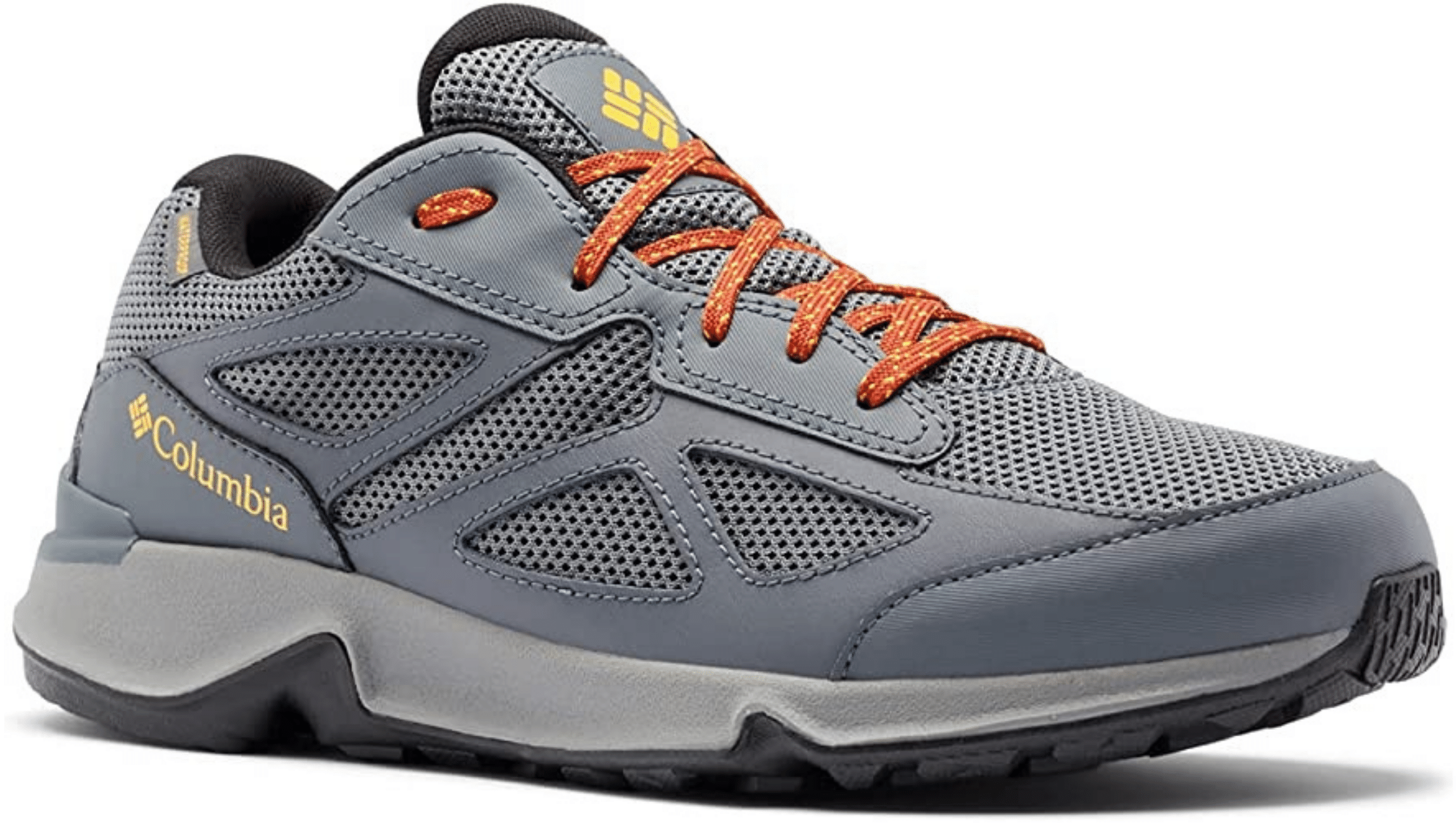 Best For Road Running
Columbia Vitesse Fasttrack
Check Price On Amazon
What's the Big Deal?
Introducing the Columbia Vitesse Fasttrack - this wonderful shoe features a waterproof top that is also breathable, perfect for those days when you never know what the weather will bring. The sticky and long-lasting outsole is great for a variety of surfaces, making the Vitesse Fasttrack a versatile choice for any runner.
Additionally, the Invisible Fit material stiffens the top of the shoe compared to previous non-waterproof designs, yet still provides a secure and comfortable fit. Plus, this Columbia running shoe has soft cushioning as well, making it a great choice for those long runs.
What You Should Know
Columbia takes pride in their use of innovative materials and advanced technologies in all of their products, and their shoes are no exception. The EVA Midsole is made from a lightweight cushioning material that provides excellent energy return, making it ideal for all-day wear.
The Omni-Grip non-marking traction rubber outsole ensures adaptability to different surfaces while preventing scuffs, and the gusseted tongue helps keep dirt out. The durable mesh gives superior fit and support around your foot, and the overlays of synthetic leather provide protection and a natural lock down. With Columbia's commitment to detail, you can be sure that their footwear will exceed your expectations.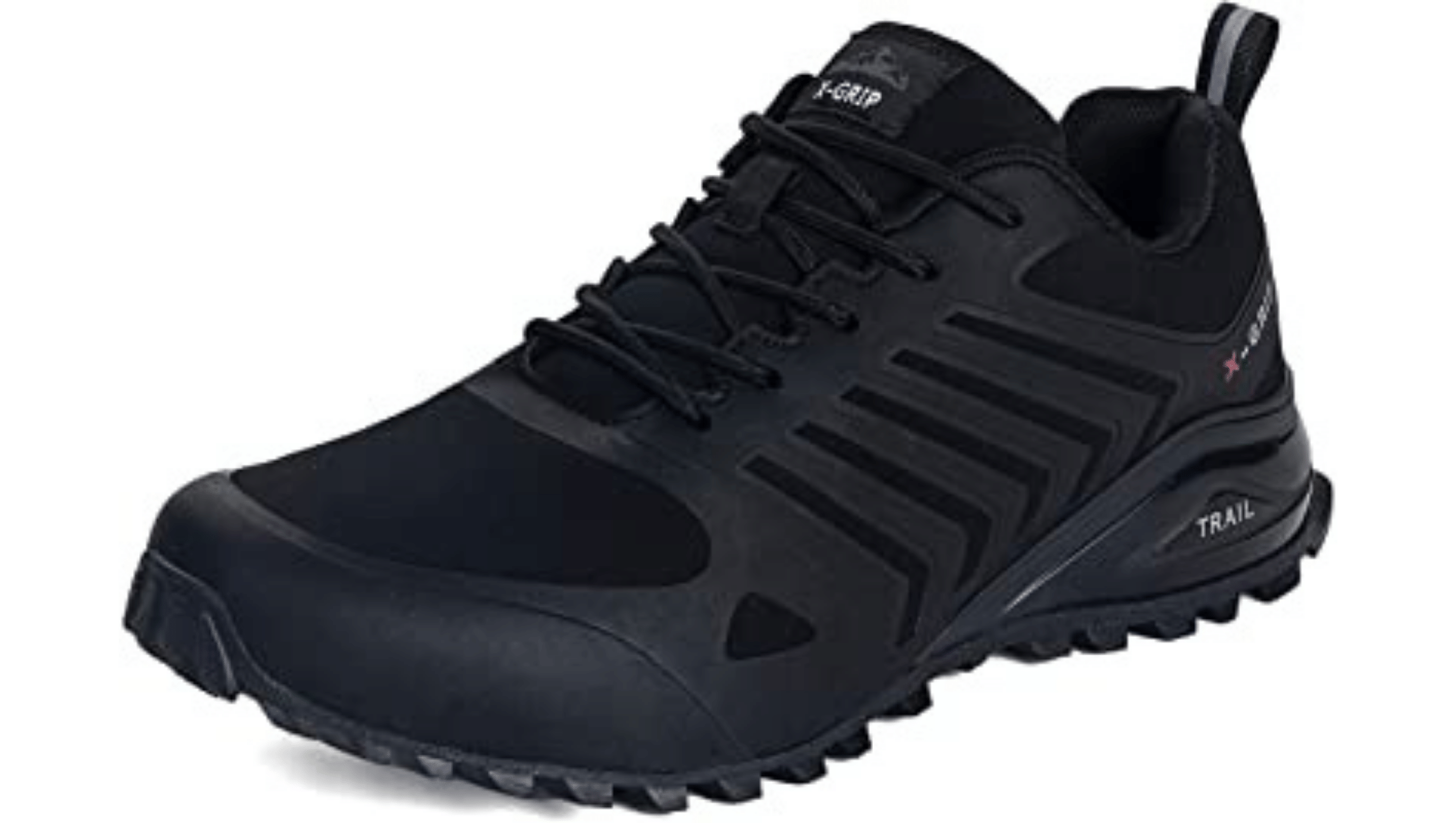 Best For Trail Running
Check Price On Amazon
What's the Big Deal?
The NAIKOYO is the perfect trail shoe for anyone just getting into the sport. It's simple and easy to use, and can handle anything from mild to tough terrain.
It's waterproof and winter-proof, making it a great choice for year-round use. Whether you're looking for a quick jaunt on a short trail or a long hike through tough terrain, the NAIKOYO is the perfect shoe for you.
What You Should Know
The NAIKOYO uses breathable knit material, like the Brooks Ghost, on the inside and outside so that air may circulate efficiently and keep your feet comfy whether hiking or walking. On trekking, they employ a waterproof lightweight top with softness and high flexibility, ensuring your feet fit closer and feel more free.
It also boasts a lightweight and soothing moisture-wicking mesh lining for optimal ventilation and breathability to reduce foot odor. Rubber soles are sturdy and flexible, allowing non slip walking shoes for men to bend freely with you for added comfort. The cushioned insole and breathable lining provide great support while enhancing the unique features of each touch and push.
Waterproof Running Shoes FAQs
Here are the most frequently asked questions about waterproof running shoes.
Do you need waterproof running shoes?
Here's the thing: it really depends on where and when you'll be doing most of your running. If you live in an area with a lot of rain or wet conditions, then waterproof shoes are definitely a good idea.
They'll help keep your feet dry and comfortable, which can make a big difference in your overall enjoyment of running. On the other hand, if you generally run in dry conditions, waterproof shoes may not be necessary.
What running shoes are good for rain?
There are a few things to consider when choosing running shoes for rain: First, you'll want to make sure that the shoes are water-resistant. Second, you'll want to choose a type of shoe that will provide good traction in wet conditions.
And finally, you'll want to make sure that the shoes are lightweight and comfortable, so that they don't slow you down or cause discomfort while running in the rain. The shoes mentioned in this article are great options.
Are waterproof shoes hot?
A waterproof shoe can definitely keep your feet warm, especially if they're not well-ventilated. In fact, most waterproof shoes are designed to be breathable so that your feet don't get too sweaty.
However, if you're walking in wet conditions or if water is seeping into your shoes, they're going to get hot and uncomfortable pretty quickly. So it's important to make sure your waterproof shoes are properly ventilated and that you don't wear them for too long in warm weather or in wet environments.
Do you need waterproof running shoes for winter?
Waterproof running shoes are not necessary for winter, but they can be helpful if you run in snow or slush. Store-bought waterproofing treatments can also provide some protection from the elements.
In general, however, it is more important to choose a waterproof version of a running shoe that is well-insulated and has good traction than one that is specifically designed to be waterproof.
Why are waterproof shoes good?
Waterproof shoes are good because they protect your feet from the rain and keep them dry. This is important because if your feet get wet, they can become cold and you can get a disease called trench foot. Waterproof shoes also protect your feet from dirt and debris, which can help prevent injuries.
How long do wet shoes take to dry?
Depending on the material, it can take anywhere from a few hours to a few days for shoes to dry completely.
If the shoes are made of a water-repellant material like Gore-Tex lining, they will usually take less time to dry than if they are made of a non-water repellant material. Shoes that have been treated with a waterproofing agent will also take less time to dry.
If you want your shoes to dry faster, you can try putting them in front of a fan or in the sun. You can also stuff them with newspaper or put them in a shoe bag.
How do you dry shoes in the rainy season?
There are a few ways to dry shoes in the rainy season. One way is to put them near a heat source, such as a radiator or heater. Another way is to stuff them with newspaper or other absorbent material. A third way is to use a shoe dryer.
Why are trainers not waterproof?
Running shoes cannot be truly waterproof – even with a Gore-Tex membrane. Waterproof uppers are usually good at keeping the water out, but the low-cut design of most running shoes cannot completely prevent moisture from entering. Water from the occasional splash gets inside through the heel collar.
Are Gore-Tex running shoes breathable?
Yes. Gore-Tex is a brand of breathable fabric used in many outdoor products, including waterproof running shoe. The fabric is made of a waterproof and breathable membrane that allows moisture to escape while preventing water from entering.
This makes Gore-Tex running shoes ideal for rain or snow, as they will keep your feet dry while still allowing them to breathe.
Is waterproof the same as water repellent?
Waterproofing and water repellency are two different terms that are often used interchangeably, but they actually have different meanings.
Waterproofing means that a fabric will not allow any water through its pores, while water repellency means that a fabric will allow water to bead up and roll off its surface with a water resistant upper. So a material can be waterproof but not water repellent, or vice versa.
Final Word
We hope that this article was helpful in providing you with the knowledge to make an informed purchase when looking for the best waterproof running shoes. We gathered a collection of shoes on Amazon and also looked at all available user reviews to provide you with more perspectives.
Depending on your needs, any of the items we've listed below could be a great selection!
Best Overall
Most Popular
Best Value
Best For Road
Best For Trail Running
Thanks for following our guide! We hope it helps you find the perfect waterproof running shoes for your needs.
Your friend,
Lucius