Tennis is an amazing sport, but finding the right shoes to play in can be tough.
There are a few factors to consider when choosing tennis shoes, like the type of foot you have, your playing style, and the surface of the court.
We've done the research for you and found the best tennis shoes that will fit your needs. Our picks include shoes that are durable & comfortable that will last through all types of wear and tear.
We've curated a list of top-quality products below that we're confident you'll love. Our editors have independently selected each one, and although some have been sent to us as samples, all opinions in this article are our own. We want to be transparent with you and let you know that FlairFindings may earn a commission or other compensation from the links on this page if you decide to make a purchase. This is how we sustain our business & content flow. Additionally, we have edited reviews for length and clarity. We hope you enjoy discovering your new favorite item!
How We Select The Best
Are you looking for the right tennis shoes to give you the perfect performance on court?
This selection of the best tennis shoes are designed with comfort and agility in mind. The shoes provide plenty of cushioning, high levels of shock absorption, reinforced guards for soles and toes, as well as extra lateral support with robust materials.
These are the ideal pair of sneakers that will help enhance your game and make sure every step is taken in complete comfort. Plus, these versatile shoes can be worn off-court too!
Check out our selection today to find the perfect pair for you and take your performance to new heights!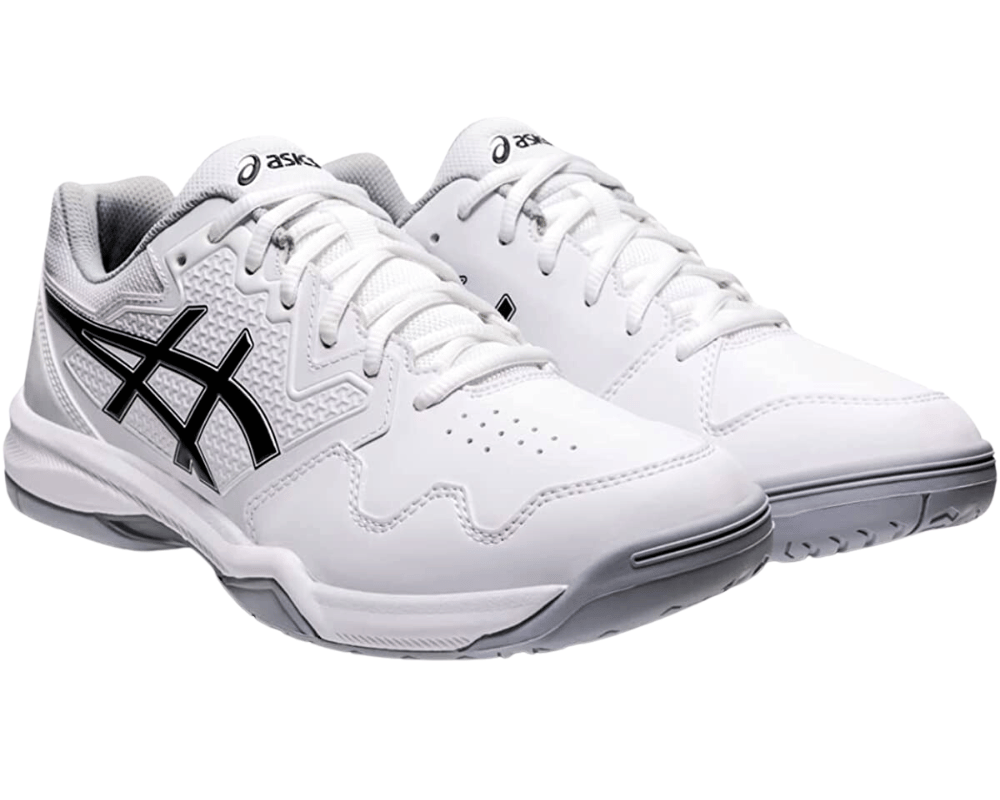 ASICS Gel-Resolution 7
Check Price on Amazon
What's The Big Deal?
ASICS has a reputation for providing unbeatable comfort, style, and durability in their shoes. Their sports shoes are no exception, with the Gel-Resolution 7 being the go-to choice for many tennis players. These shoes have some impressive features, including the PGuard Toe Protector for added durability and DYNAWRAP Technology for increased midsole stability.
Plus, the flexion fit upper ensures a perfect fit without sacrificing any comfort. If you're looking for a high-performance tennis shoe, the ASICS Gel-Resolution 7 is definitely worth considering.
What You Should Know
ASICS Gel-Resolution 7 is equipped with a lace-up closure, these shoes hug your feet for lightning-fast movements on the court. The Trusstic System technology helps reduce the shoe's weight while maintaining its structural integrity, giving you an edge during intense rallies.
Plus, the AHAR plus outsole is nearly 50% more durable than other ASICS shoes, ensuring that they will last for season after season of play. With a variety of sizes and stunning colors to choose from, you'll find the perfect pair to match your unique style on and off the court.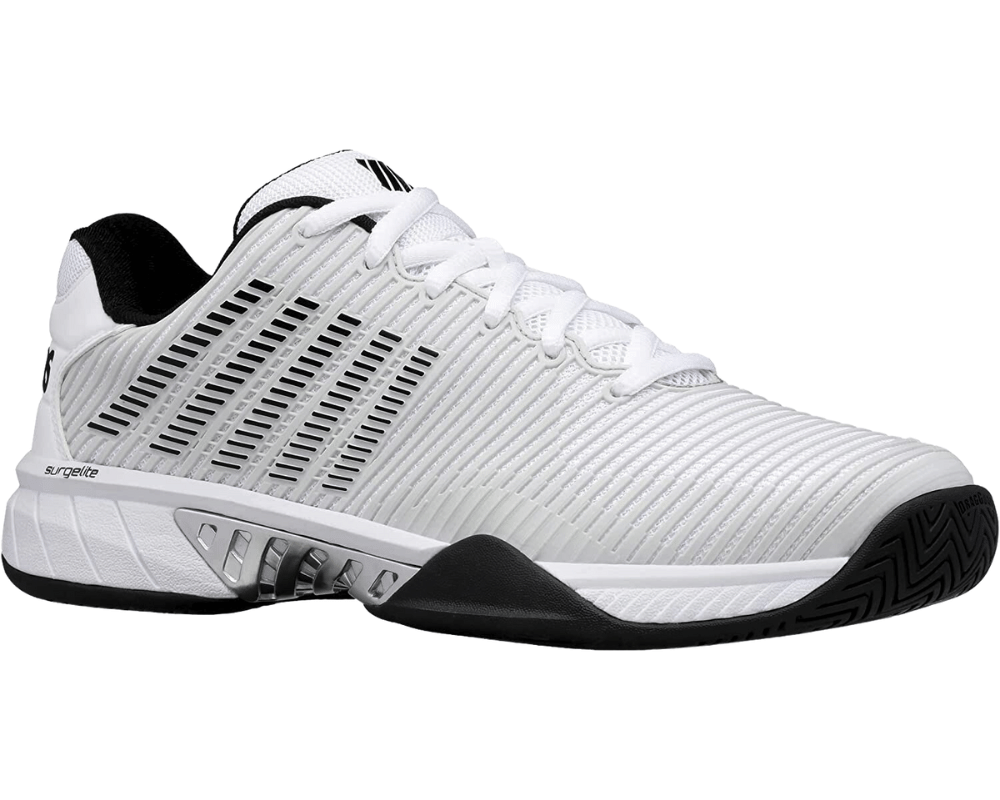 K-Swiss Hypercourt Express 2
Check Price on Amazon
What's The Big Deal?
For those in search of top-tier tennis shoes, K-Swiss is a name that cannot be overlooked when searching tennis shoes for women and men. Among their impressive lineup, the K-Swiss Hypercourt Express 2 stands tall as the brand's crowning achievement. This shoe is a versatile choice for players of all levels and styles, thanks to its combination of durability, breathability, and comfort.
The Hypercourt Express 2 is lightweight and supportive, they make great running shoes also, it allows you to move quickly without restriction. Plus, with Surgelite technology providing cushioning, you can play all day without sacrificing your joints. If you want to elevate your tennis game, look no further than K-Swiss and their Hypercourt Express 2.
What You Should Know
The Hypercourt Express 2 tennis shoes pack a serious punch with their high-density outsole and AÖSTA 7.0 rubber compound, ensuring unbeatable durability from heel-to-toe. Not only do they offer stability with their 180-degree thermal plastic plantar support chassis, but the Durawrap Flex materials in the upper make them both lightweight and incredibly protective.
And say goodbye to those uncomfortable break-in periods! The faux leather of the outer completes the sleek design, while the Ortholite foam sock liner wicks away moisture to keep your feet dry, cool, and healthy. With a wide range of colors and sizes available, you'll have no shortage of options to choose from.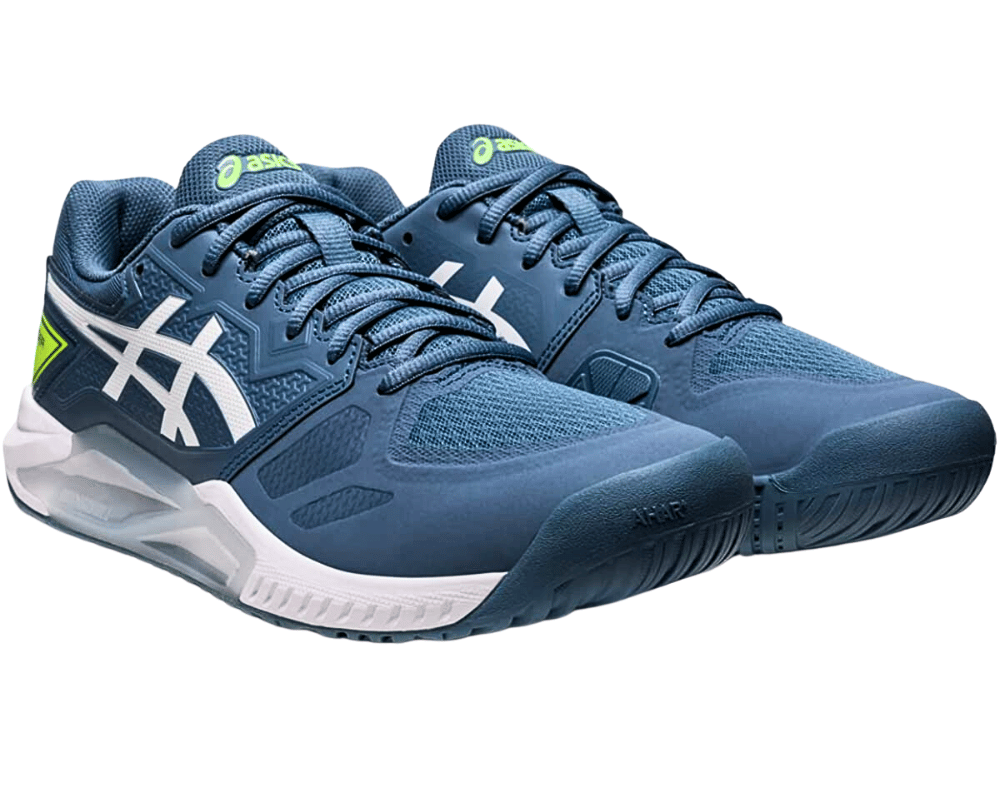 ASICS Gel-Challenger 13
Check Price on Amazon
What's The Big Deal?
ASICS has set a new standard for sports shoes with unparalleled style and comfort that surpasses all others. Their Gel-Challenger 13 shoe is the epitome of their excellence, designed specifically for tennis players.
These shoes provide exceptional comfort and durability, with a PGuard toe protector to increase strength and ortholite sockliners to prevent moisture build-up. Tennis players, get ready to experience the ultimate in style and performance with ASICS Gel-Challenger 13!
What You Should Know
ASICS Gel-Challenger 13 features an innovative WingWall technology, that offer enhanced stability to keep you grounded during intense games. The AHAR Plus rubber outsole ensures your feet stay in the optimal position, while the Rearfoot and Forefoot GEL Technology provides ultimate cushioning and shock absorption.
With the ability to move your feet in multiple directions with ease, you'll be making lightning-fast moves on the court. Choose from stunning colors and with plenty of sizes to find the perfect fit for your feet.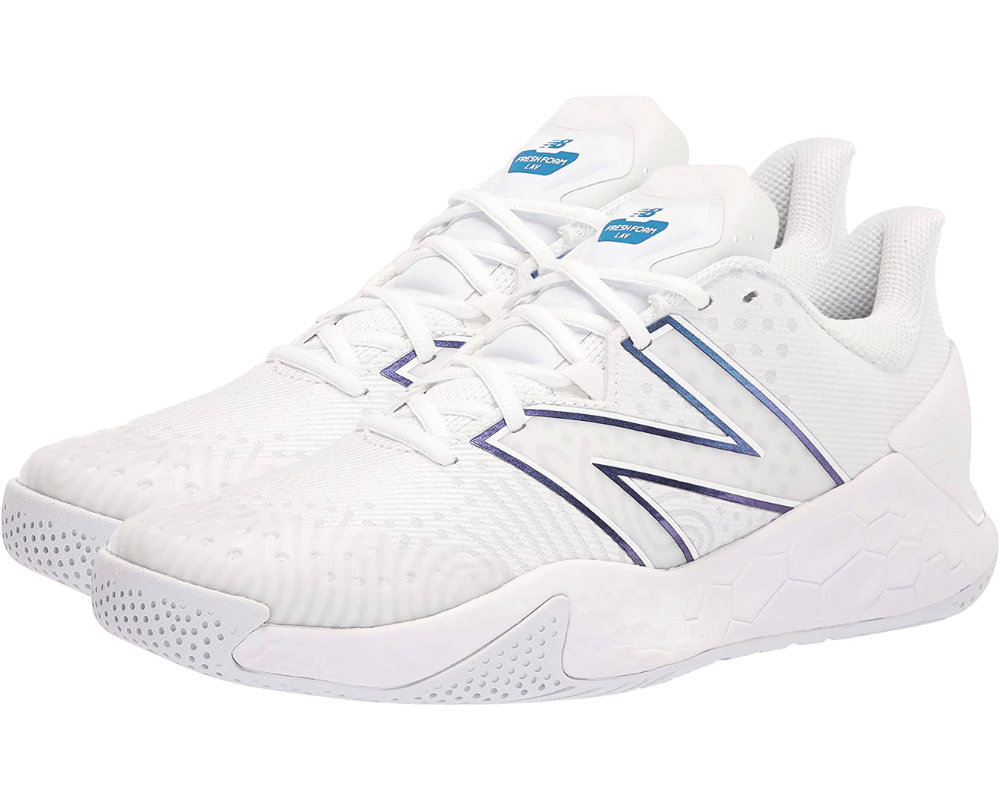 New Balance Fresh Foam Lav V2
Check Price on Amazon
What's The Big Deal?
When it comes to sports shoes, few brands are as renowned as New Balance. Among their impressive lineup, the Fresh Foam Lav V2 tennis shoes are a stand out choice for players in need of both support and comfort during their games. What makes these shoes so special? For one, they boast New Balance's signature fresh foam midsole, offering a perfect blend of cushioning and plushness for your narrow feet.
But that's not all - the upper of the shoe is reinforced by Ndure technology, ensuring the highest level of durability no matter how fiercely you play. It's no wonder these shoes have become such a go-to pick for tennis players seeking the best of both worlds.
What You Should Know
With New Balance Fresh Foam Lav V2 you can experience ultimate comfort and a perfect fit with the breathable flatweave upper and mesh collar. With the exceptional support provided by the heel counter, you can focus on your game and leave foot fatigue behind.
These tennis shoes are built to last with a full-length Ndurance outsole that provides superior traction and durability on hard courts. Plus, the toe drag tip adds extra life and resilience to this already amazing pair. With many different sizes available, finding the perfect fit is a breeze.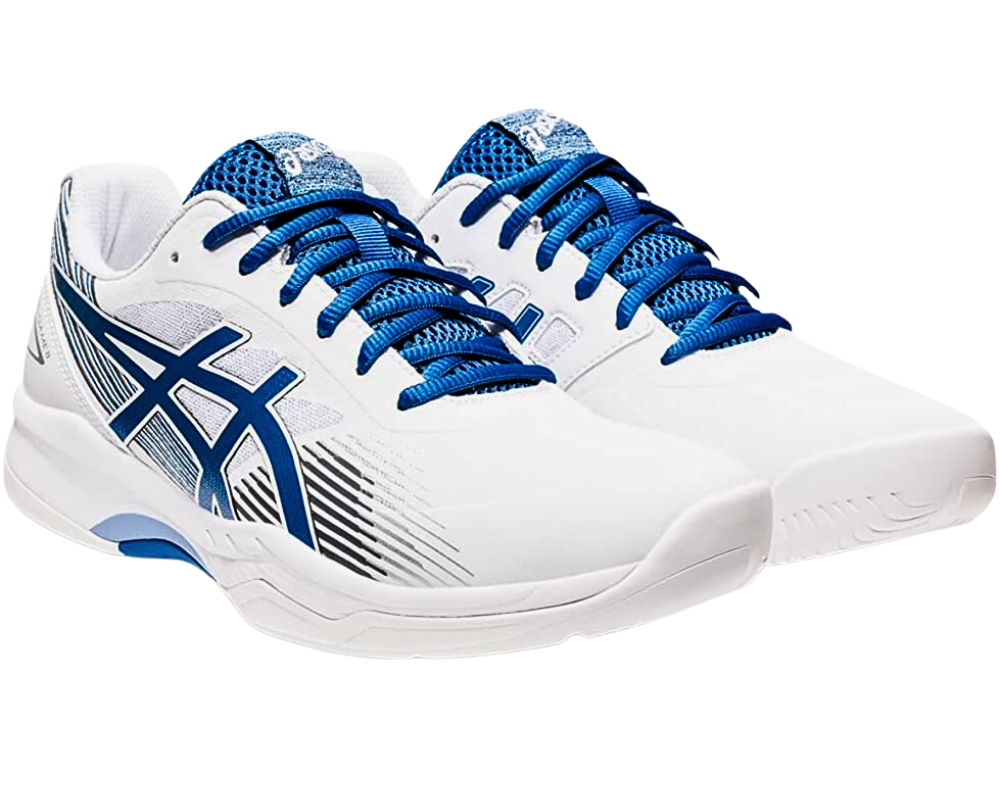 ASICS Gel-Game 8
Check Price on Amazon
What's The Big Deal?
ASICS, the leading sports shoe maker, is back with another smashing addition to their collection - the Gel-Game 8. These shoes are perfect for tennis enthusiasts as they are durable, easy on the eyes, and comfortable. The synthetic leather toe overlays and GEL technology ensure that every step you take on the court is comfortable and pain-free.
You won't have to worry about your shoes slipping off as the lace-up closure keeps your feet locked in place, allowing you to make quick turns and chase after any shot. ASICS has done it again and we couldn't be more thrilled.
What You Should Know
The Gel-Game 8 by ASICS is an ideal selection if you are looking for flexibility and stability for your feet during the game. Changing direction is a significant part of a tennis game, and when you wear shoes like the Gel-Game 8 that give you the confidence to move freely, your win is inevitable.
The Trusstic technology and wrap-up outsole are the main features of these game-changing tennis shoes. They improve your stability and help you play more flexibly. It has many size options and different color options make this shoe suitable for everyone.
Tennis Shoes FAQs
What's so important about tennis shoes?
When it comes to shopping for tennis shoes, there are several critical factors to consider. You can't just choose any old pair and expect to perform well on the court. The right tennis shoes will give you the stability and support you need to move quickly and confidently.
Not to mention, they need to be durable enough to withstand the wear and tear of regular play. Additionally, comfort is non-negotiable if you want to avoid foot fatigue and blisters. And let's not forget about the importance of selecting the proper shoe for the type of surface you'll be playing on, for instance, if you plan on playing on a clay court you should acquire some clay court tennis shoes for proper grip.
Is speed or stability more important in tennis shoes?
When it comes to choosing the perfect lightweight tennis shoe, we all know the importance of both speed and stability. While both are important, it's the stability component that should really take center stage.
This is because tennis players are often darting back and forth on the court, making quick, sharp turns on a dime. Speed is certainly important, but it's likely secondary to the safety and stability considerations that tennis players need to prioritize on the court.
Does it matter what shoes you wear for tennis?
Yes, most tennis shoes are specifically designed for the unique demands of a tennis court, offering the perfect balance of cushioning and traction. Without this vital tennis gear, players may be at a disadvantage and risk injury when playing on clay courts if you don't the right footwear.
What are the different types of shoes for tennis?
Tennis shoes are categorized by the type of court they're best suited for. The three most common types of tennis shoes are hard court shoes, clay court shoes, and all-court shoes. Each one is designed with specific features to optimize performance and minimize wear and tear.
How long do tennis shoes last for?
The longevity of a good tennis shoe depends on a variety of factors, including the type and quality of the materials used to manufacture them, how often they are used, and what surfaces they are exposed to. In general, you can expect a good-quality pair of the best tennis shoe to last in the range from 6 months up to 2 years or even longer depending on the above variables this criteria works for both men's & women's tennis shoes.
What is the difference between tennis shoes and sneakers?
When it comes to footwear, there's more to it than just comfort and style. Sneakers are great for laid-back, everyday use, while tennis shoes are more specialized for the sport of tennis. So if you're hitting the court, make sure to lace up with the right kind of shoe to keep you performing at the top of your game.
Can you wear normal sneakers for tennis?
While some people might prefer the comfort of their trusty running shoes, this vast majority of will benefit from wearing specific court tennis shoes. Tennis shoes are designed with the unique demands of the court in mind, these shoes can help keep you stable, prevent slipping, and give you the support you need to play your best game.
What type of sole do most tennis shoes have?
One of the most common and popular adaptations is the hard court outsole. The reason for this is simple - durability. The hard court takes a lot of wear and tear and the outsole needs to keep up. So, if you want to stay competitive on the court, consider investing in a sturdy hard court outsole tennis shoe.
Do sneakers count as tennis shoes?
Although people often use these terms interchangeably, there are significant differences between the two. Sneakers are versatile shoes designed with comfort and style in mind, suitable for everyday activities or exercise. In contrast, tennis shoes are purpose-built for tennis players, providing the necessary support and traction to enhance performance on the court.
Final Word
Overall, these shoes are sure to provide the utmost comfort and agility you need while on the court. They will guard your feet with their robust material, shock absorption, and cushioning that you can rely on during your toughest games.
With styles suitable for both men and women, these versatile shoes can be matched to any of your favorite outfits too! So why wait any longer? Enhance your game by taking a step ahead in complete comfort with these must-have tennis shoes. Get your favorite pair now and take advantage of all the benefits they have to offer!