Work can be hard at times, especially if the task is energy-consuming, difficult and dangerous.
Your choice of boots can not only disturb your budget but also negatively affect your foot health. If you are thinking of wearing your boots for the whole day, the boots must be comfortable, smart and robust for long wearing.
Are you searching for the best boots for you? No need to fear! I found the best work boots to make your job smooth, easy and safe. The following is the list of the top five steel toe work boots for the people who work at construction sites or other sites with harsh flooring.
So, without any further ado, let's dive in and iron out the best boots for your work life!
We've curated a list of top-quality products below that we're confident you'll love. Our editors have independently selected each one, and although some have been sent to us as samples, all opinions in this article are our own. We want to be transparent with you and let you know that FlairFindings may earn a commission or other compensation from the links on this page if you decide to make a purchase. This is how we sustain our business & content flow. Additionally, we have edited reviews for length and clarity. We hope you enjoy discovering your new favorite item!
How We Select The Best
It might be hard to select some boots which are durable and comfy at the same time.
Don't worry because I took all the trouble on myself to find a shoe that fits your criteria.
I researched for you and found the top steel toe work boots on the market today. Our picks are based on user reviews and ratings.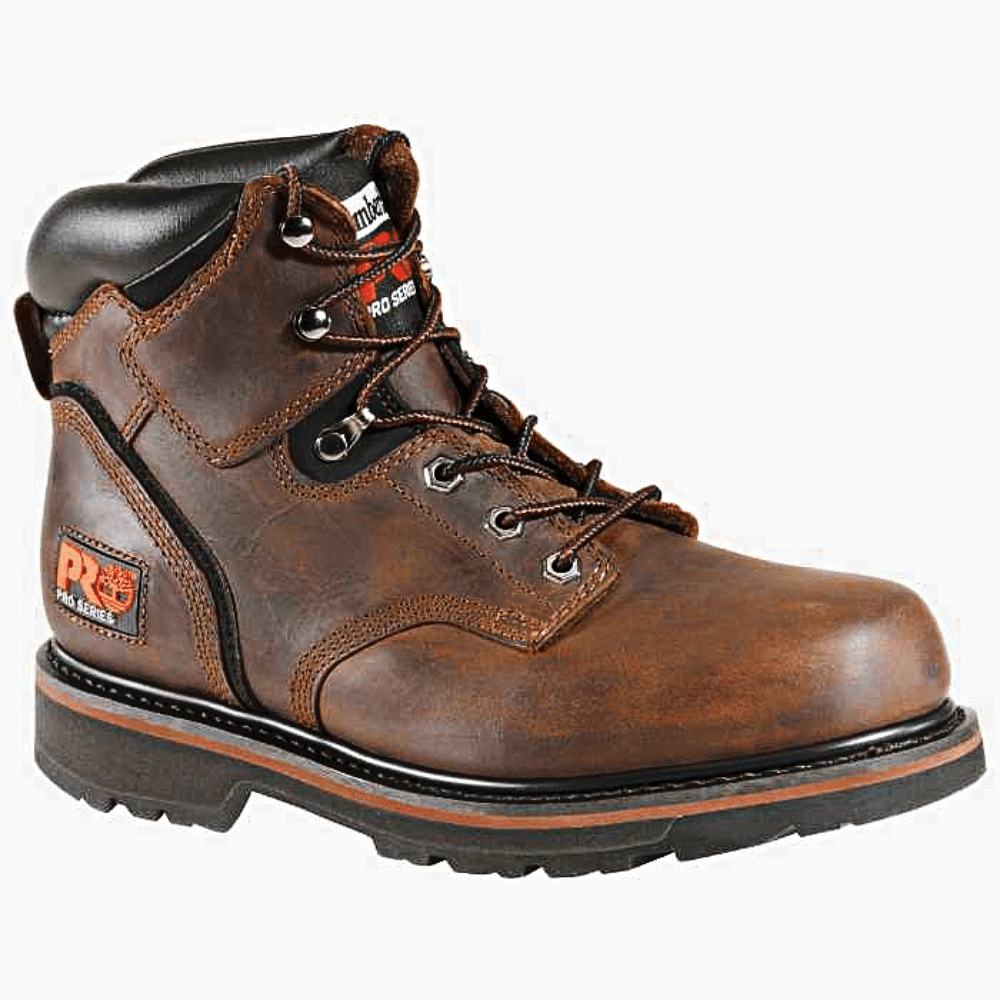 Best Overall
Timberland PRO 6" Pit Boss
Check Price On Amazon
What's The Big Deal?
The Pit Boss is another absolute magnificent creation by Timberland. It is what a steel toe boot should be; durable, comfortable and safe. It is priced at $84.50 - $169.00, a hefty price tag, but if you consider it worth the price. The Pit Boss has many unique features to make your feet feel light. Padded top collars for comfort are another aspect of the Pit Boss that makes it worth buying.
All of its markings are up to ANSI security standards. Did you know that Timberland made a comfort suspension system that keeps your feet comfy and safe at the same time? The boot has rubber soles which take the extra mile of being comfy.
What You Should Know
If you work a shift of 5-10 hours a day, 5 to 6 days a week, these boots are going to be your new favorite because they have all the best things that you may need. These boots feel like a bed for your feet, no matter how long-standing your job is. Don't get me started on the benefits of the Timberland pit boss; the toe box for the Timberland is one of the roomiest you've ever seen, creating a comforting experience for you and your feet.
The boots also have nylon shock-absorbing plates for stability, so you never fall. Slip-oil- and abrasion-resistant outsoles for traction. So, if you are thinking of investing in a good pair of boots, Timberland PRO Men's 6" Pit Boss Steel Toe is a decent choice!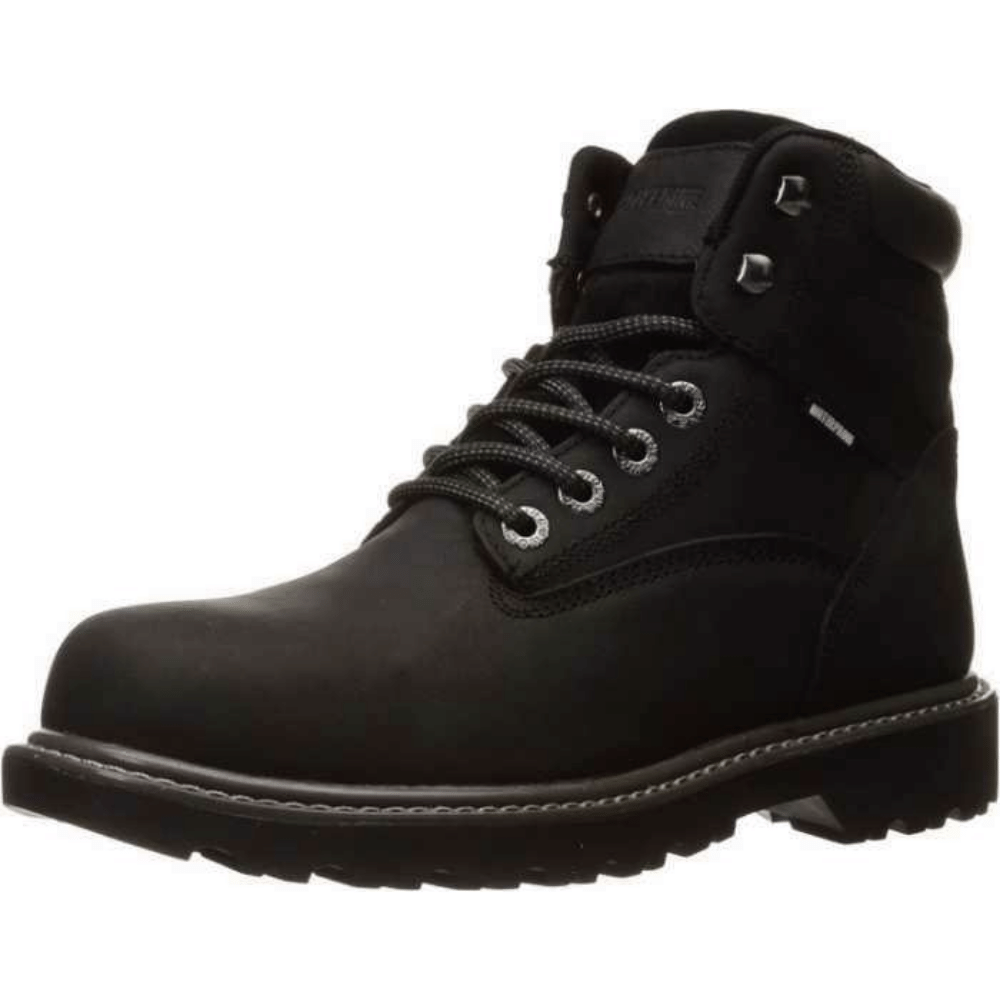 Most Stylish
Wolverine Floorhand 6" Boot
Check Price On Amazon
What's The Big Deal?
The Wolverine is a nice and beautiful boot. The price does vary from different places. Wolverine boots are considered the best work boots ever. It provides maximum performance for both men and women at their work. These boots are standing high on the list of the top-rated steel toe boots in the market.
The Wolverine floorhand boot has many unique features like the fact that it is waterproof, unlike the Timberland, which is not. The toe box is wide enough to allow your toes to move freely. Their light weight makes them easy to carry at construction areas.
What You Should Know
Wolverine Men's Floor hand Waterproof 6" stands high on the list of the best steel toe boots for people who are looking for a reasonable price. Some benefits of this steel toe boot are that the boot has a breathable lining that keeps the feet cool all day.
These boots have excellent outsoles that offer an exceptionally slip-resistant grip. The best thing about these boots is that they can withstand daily wear and tear gracefully. The ergonomic 100% leather design with synthetic soles makes it a perfect choice for everyday wear. Buying these boots is a safe investment.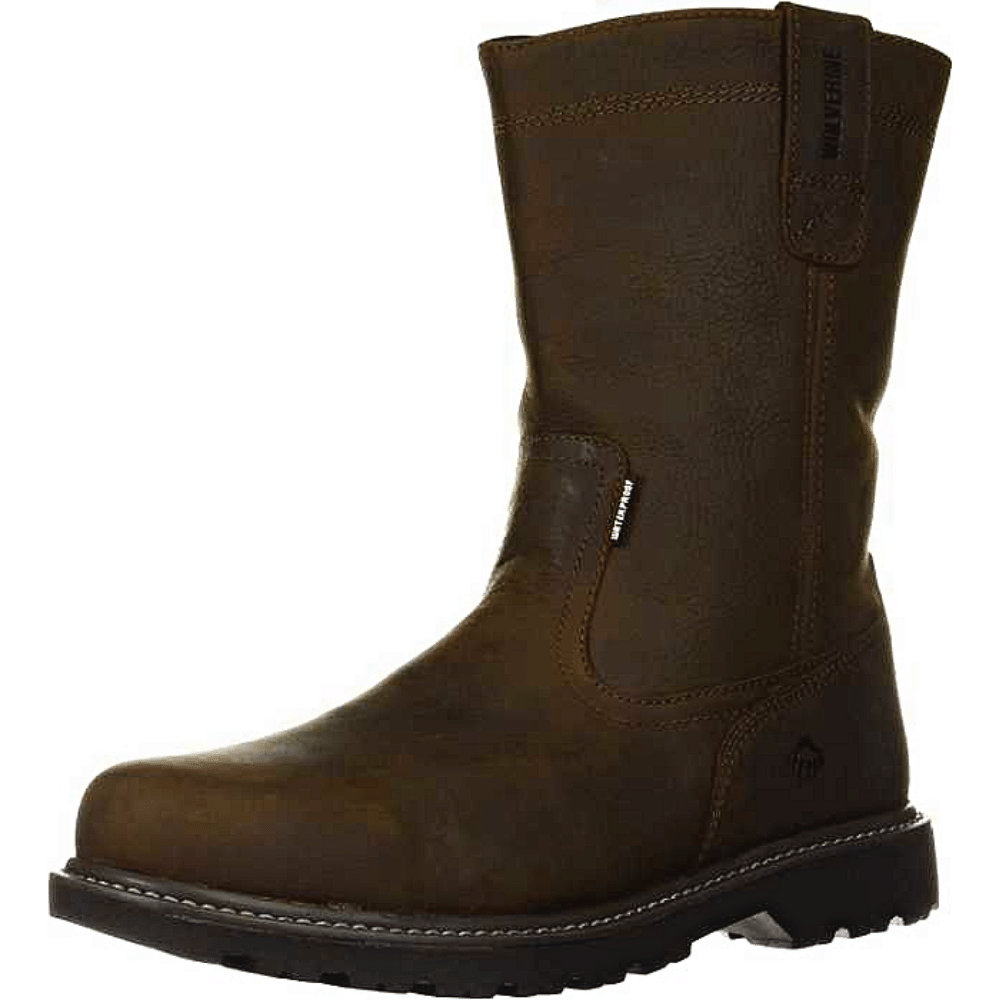 Best Comfort
Wolverine 10" Wellington Boot
Check Price On Amazon
What's The Big Deal?
Wolverine has done it again with the floorhand waterproof steel toe wellington. A bit different from the ones we've seen so far. The starting dollar is around $98.98 - $151.26, this boot by far provides the most value per boot.
Some features include a rubber lug outsole that is exceptionally slip-resistant. It makes sure that you cross the slippery areas without being imbalanced. A Lightweight rubber sole is in all the boots we've seen so far. These waterproof work boots have a full-grain leather upper that makes it robust against harsh wearing conditions.
What You Should Know
If you don't mind spending extra dollars on buying a proper pair of boots, these boots are for you. Imported rubber soles with 100% leather upper make it a robust companion on harsh sites. Being waterproof, it can also help your feet be safe even if you're working in the water.
Thanks to the goodyear welt construction design it can last many months to at least 2 years before it's fully worn out. Another major thing is that they are stylish and beautiful while also being durable. These boots are one of the safest boots you'll ever wear.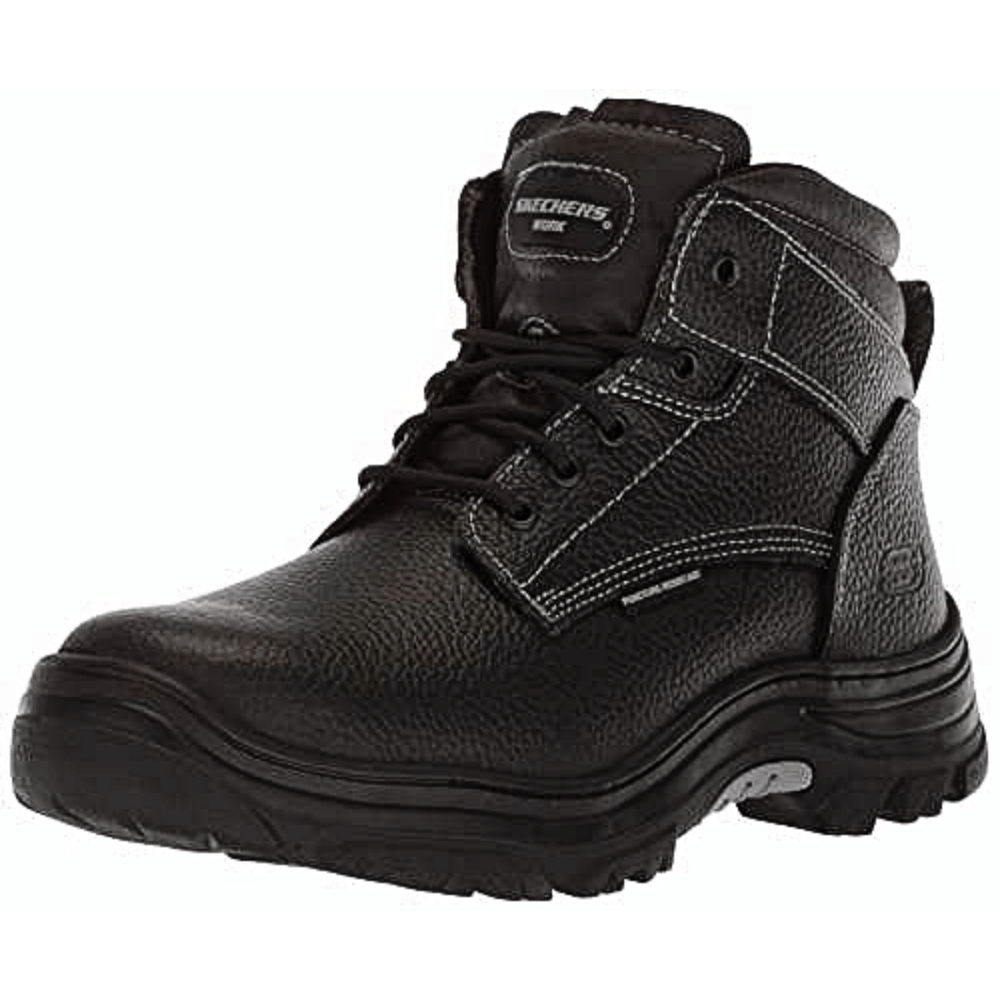 Best Value
Skechers Burgin-Tarlac Boot
Check Price On Amazon
What's The Big Deal?
Skechers made its take on steel-toed boots, and I have to say it's pretty good, starting at a good price, which is extremely reasonable considering the other boots we've seen so far. The boots are 100% leather and have rubber soles and that offer electrical hazard protection. They also have memory foam making the experience better. It also has a nice and average life and doesn't wear easily.
What You Should Know
Skechers Men's Burgin-Tarlac Industrial Boot with steel toe is the perfect option if you're looking for pocket-friendly construction boots. These boots are very effectively water-resistant and slip-proof, which makes this pair stand high on the list of the best steel toe boots available.
It protects from electricity and chemicals; in short, it keeps your foot safer than ever. It is one of the prettiest and most stylish shoes. These boots have a nice toe area and are one of the best fits. These shoes have very comfy soles which make you feel nice. So, you can get this pair of boots without being worried about the quality!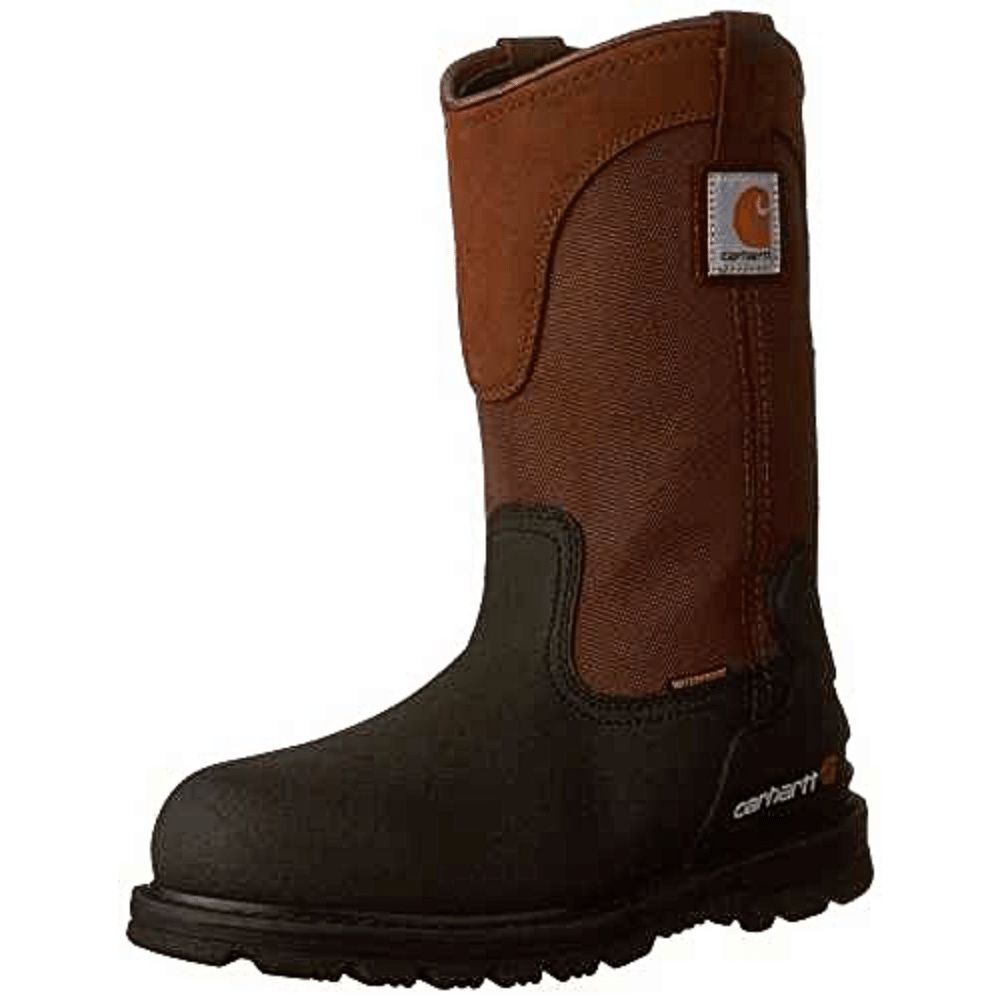 Best Waterproof
Carhartt 11'' Wellington Boot
Check Price On Amazon
What's The Big Deal?
The second steel toe wellington we've seen today by Carhartt is a pretty solid boot. This boot is 40% nylon and 60% cotton. It has a rubber sole, and that's not it. This boot has a lot of features considering its price.
It's unique technology absorbs sweat and keeps your feet at a stable temperature. The boot has a membrane to provide ventilation in the foot and keep it warm in the coldest temperatures. It is also a reason this boot is suitable for snow work. This same membrane keeps your feet dry.
What You Should Know
Carhartt Men's 11-Inch Waterproof Safety Toe Wellington is a favorite among boot wearers because they come with a TPU heels guard, which gives you stable ankles even in unstable sites. One thing that is desired is its fast-dry action which keeps you safe from long waiting hours for drying boots.
Another benefit of this shoe is that it's not too heavy despite having a safety toe. Speaking of the safety toe, it helps to keep your foot secure and safe. This shoe also has a great life expectancy and does not wear away easily. I highly recommend these boots for people who work in muddy and damp areas.
Steel Toe Work Boots FAQs
Here are the most frequently asked questions about steel toe work boots.
How do you know if steel toe boots fit?
There are a few things you can do to make sure your steel toe boots fit properly. First, always try them on before you buy them and be sure to wear the same type of socks you plan to wear with them.
Next, make sure there is enough room in the toe box so your toes can move comfortably. You should also be able to wiggle your toes. Finally, check the heel alignment by standing in the boots and rolling your weight from side to side. There should be no movement in the heel area. If there is, the boots are too big and will cause blisters.
Can steel toe boots cause foot problems?
There is a potential for steel toe boots to cause foot problems, though this issue can be mitigated by wearing the appropriate shoes for your feet and taking breaks throughout the day to give your feet a chance to stretch out.
Steel toe boots are designed with a thicker sole and reinforced toe box in order to provide extra protection against injuries from falling objects or compression.
How can I make my steel toe boots fit better?
If your steel toe work boot is too tight, there are a few things you can do to make them fit better. First, try wearing thinner socks. This will help fill up any extra space in the boot and make it easier to get your foot in.
You can also try using a boot stretcher or shoe horn to help get your foot into the boot. Once you have the boot on, you can use a shoe width expander to help stretch out the width of the boot. This will give you a little more room to wiggle your toes and make the boot more comfortable.
Should you get a size bigger with steel toe shoes?
It depends on the brand and style of steel toe shoe you're looking at. Steel toe shoes that are designed for heavy-duty work tend to be bulky and not very comfortable, so it's generally a good idea to go up a size if you're considering purchasing a pair.
However, there are also many brands of steel toe shoes that are made for everyday use, and these can be quite comfortable even in a smaller size. It all depends on what you need the shoes for.
What is the difference between steel toe and safety toe?
The main difference between steel toe and safety toe boots is that steel toe provides more protection against impact and compression than safety toe. Steel toe is made of sturdy steel, which makes it great for construction workers or anyone working in a hazardous environment.
Safety toe, on the other hand, is made of softer materials such as aluminum or composite materials. While a carbon safety toe may not provide as much protection as steel toe, it can still offer adequate protection in many situations.
Is it okay to wearing steel toe boots everyday?
There are a few things to consider when answering this question. Steel toe boots are typically designed to be worn in specific working environments where there is a risk of injury from objects such as heavy tools or machinery. Accordingly, they are not typically meant for everyday wear like boots with a moc toe, even with the assistance of a memory foam insole that provides adequate shock absorption.
They can be tough on your feet and can lead to discomfort and excessive sweating if worn for extended periods of time. Wearing steel toe boots on a regular basis can also increase your risk of developing foot problems such as blisters, bunions, and plantar fasciitis. So while it's not necessarily harmful to wear steel toe boots every day, it's probably not the best idea either.
How long does it take to break in steel toe boots?
It can take anywhere from a few days to a few weeks to break in steel toe boots & carbon fiber toe boots. The main thing you want to focus on is getting the boot as comfortable as possible. Once you have the boot feeling comfortable, then you can start wearing them for longer periods of time.
Slowly increase the amount of time you wear them each day until you are comfortable wearing them all day long. Breaking in steel toe boots is all about taking your time and gradually increasing the amount of time you wear them.
Can you stretch a steel toe boot?
You can, but it won't do much good. Steel toe boots are designed to be tough and durable, which means they're not very flexible. Trying to stretch them will only make them less comfortable to wear. If you need a little more room in your steel toe boots, try going up a half size or wearing thinner socks.
Do steel toe boots get colder?
In general, steel toe boots will be colder than regular boots and moc toe boots. This is because the steel toe acts as a conductor, and will transfer the cold from the ground to your feet. Additionally, thick full grain leather boots are the base design used in making steel toe boots and they do not provide much insulation.
To combat his you could invest in a good pair of boot liners. These can help to provide some extra insulation and padding between your feet and the cold metal toe. Some brands do make insulated steel toe boots, but they tend to be more expensive.
When should steel toe boots be replaced?
There is no specific lifespan for boots with steel toes, even with a steel shank, as they can last indefinitely with proper care. Generally speaking, you should replace your steel toe boots every 1-2 years to ensure that they're still providing adequate protection. Again, this depends on how often you wear them and how well you take care of them - if you take good care of your boots, they could last much longer than 2 years.
Final Word
We hope that this article was helpful in providing you with the knowledge to make an informed purchase when looking for the best steel toe work boots. We gathered a collection of shoes on Amazon and also looked at all available user reviews to provide you with more perspectives.
Depending on your needs, any of the items we've listed below could be a great selection!
Best Overall
Best Value
Most Stylish
Best Waterproof
Best Comfort
Thanks for following our guide! We hope it helps you find the perfect steel toe work boots for your needs.
Your friend,
Lucius