Standing all day can be a matter of concern for anyone.
It is a challenging experience, but it can be concerning if you wear uncomfortable boots, no matter how expensive they are. Their likely to increase the level of discomfort, cause fatigue and tiredness throughout the day. For this reason, the best insoles for work boots is a reasonable solution.
This article will provide you with a complete and detailed review of the best insoles in order to make it an easier decision to pick out the best one for you.
We've curated a list of top-quality products below that we're confident you'll love. Our editors have independently selected each one, and although some have been sent to us as samples, all opinions in this article are our own. We want to be transparent with you and let you know that FlairFindings may earn a commission or other compensation from the links on this page if you decide to make a purchase. This is how we sustain our business & content flow. Additionally, we have edited reviews for length and clarity. We hope you enjoy discovering your new favorite item!
How We Select The Best
We always make sure we gather the best choices so that you can select the perfect one.
We have gone through detailed research on different brands and then chose several high-quality insoles to compare.
We also gather user reviews so that we can give you a better understanding of the quality of any product on our list.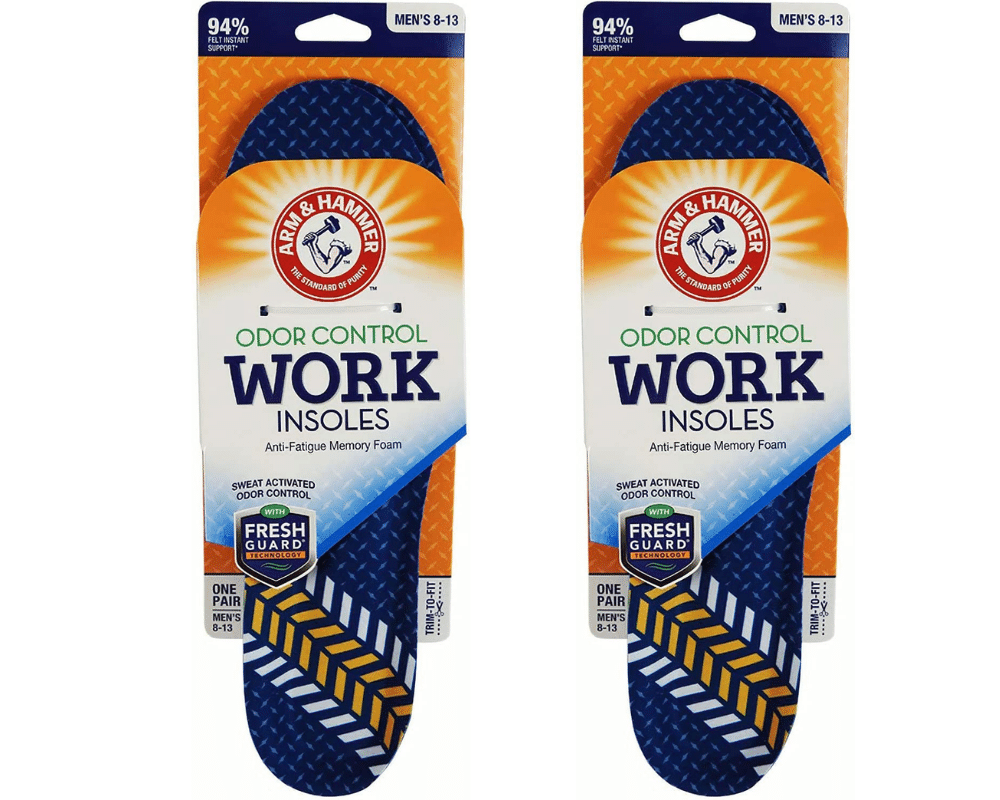 Arm & Hammer Work Insoles
Check Price On Amazon
What's The Big Deal?
Arm & Hammer work insoles are simply the purest and simplest solution for people at work and are one of the best insoles for work boots . The arch support insoles are made from high-quality, absorb shock, durable, and lightweight memory foam cushion that reduces pressure from working feet. These insoles have several notable features.
They provide superior arch support and protect feet from instant shock with the help of a heel cup. The fresh guard technology of this insole removes all the unwanted odors from your feet. This technology uses baking soda and odor-eliminating ingredients contained in the top cloth layer of the insole. Most amazingly, the technology activates when it comes in contact with the sweat on your feet.
 What You Should Know
Arm & Hammer is an economical, natural, and effective solution to various feet problems. It's a multipurpose shoe & boot insoles that keep your feet fresh all day. Its anti-fatigue design helps you stand comfortably for a long time. You can trim the full-length insole according to your shoe size. It is an excellent choice for men and women as it fits all types of shoes and work boots.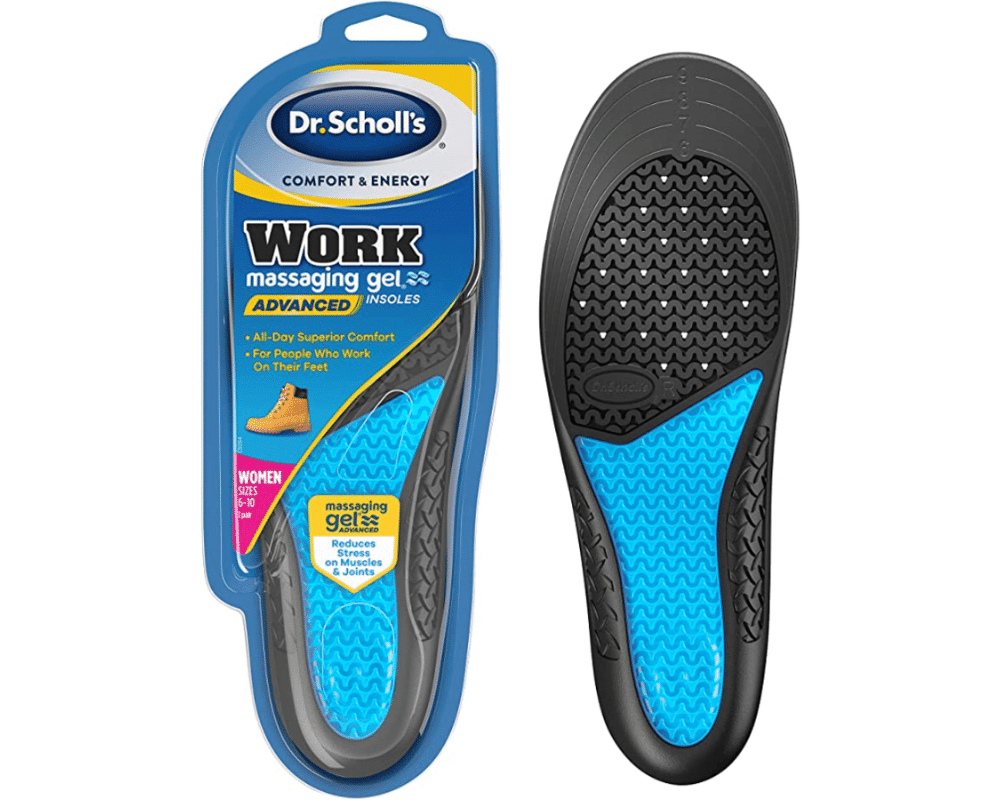 Dr. Scholl's All-Day Insoles
Check Price On Amazon
What's The Big Deal?
Dr. Scholl's work insoles is no less than the best choice regarding support and comfort. They're very high in demand as they offer all-day shock absorption and reinforced arch support. The insoles fit perfectly in all work shoes and boots and protect your feet from unwanted fatigue.
Dr. Scholl's work insoles come with firm columns to provide contoured arch support to relax the overtired arch area of your feet.
What You Should Know
Muscle Fatigue can make your routine work challenging to complete, and you may end up in extreme pain and fatigue. These fantastic insoles are designed for people standing all day on hard surfaces, which can cause discomfort, tiredness, and fatigue in their legs and feet.
The special massaging gel insoles technology provides all-day shock absorption, and the extra cushioning helps work all day comfortably. These insoles are pretty easy to use. All you need is to remove the original insole of your shoe, check the measurement, trim the insole if required, and then place the insole in your shoe with the gel side downwards.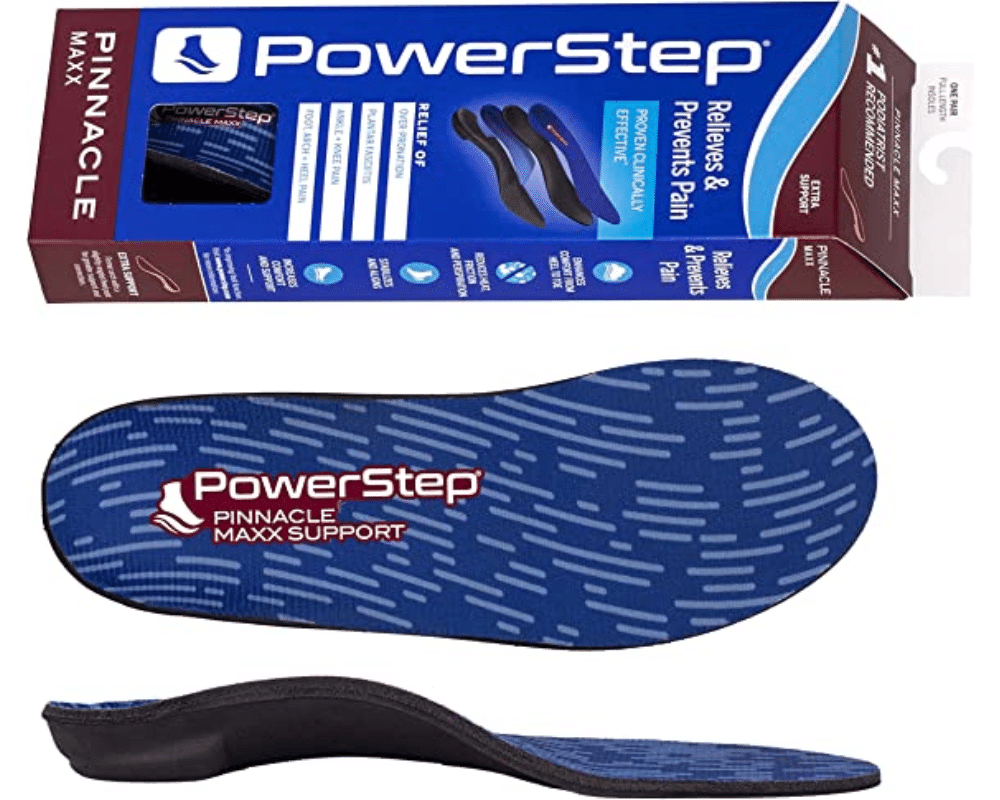 Powerstep Pinnacle Maxx Corrective Insoles
Check Price On Amazon
What's The Big Deal?
Powerstep insoles are one of the best corrective insoles for standing up all day. The full-length synthetic insoles provide outstanding cushioning and neutral arch support to keep your feet performing well without any tiredness or soreness.
These insoles are ideal for relief of pains in the foot, back, ankle, hip, and knee caused after standing all day and also prevent other problems like achilles tendonitis, plantar fasciitis, and shin splints.
What You Should Know
Powerstep Pinnacle Maxx insoles are one of the best and most trusted solutions to provide needed support to your feet if you have a job to keep standing all day. These insoles work like magic to alleviate tiredness, soreness, fatigue, foot pain, overpronation, and other common foot problems.
These insoles are made for everyday use and fit in all types of shoes and boots for men and women. These insoles come in fit size, which means no trimming is required. You can easily use these insoles in different shoes like running shoes, athletic shoes, walking shoes, sneakers, bumps, casual dress shoes, etc.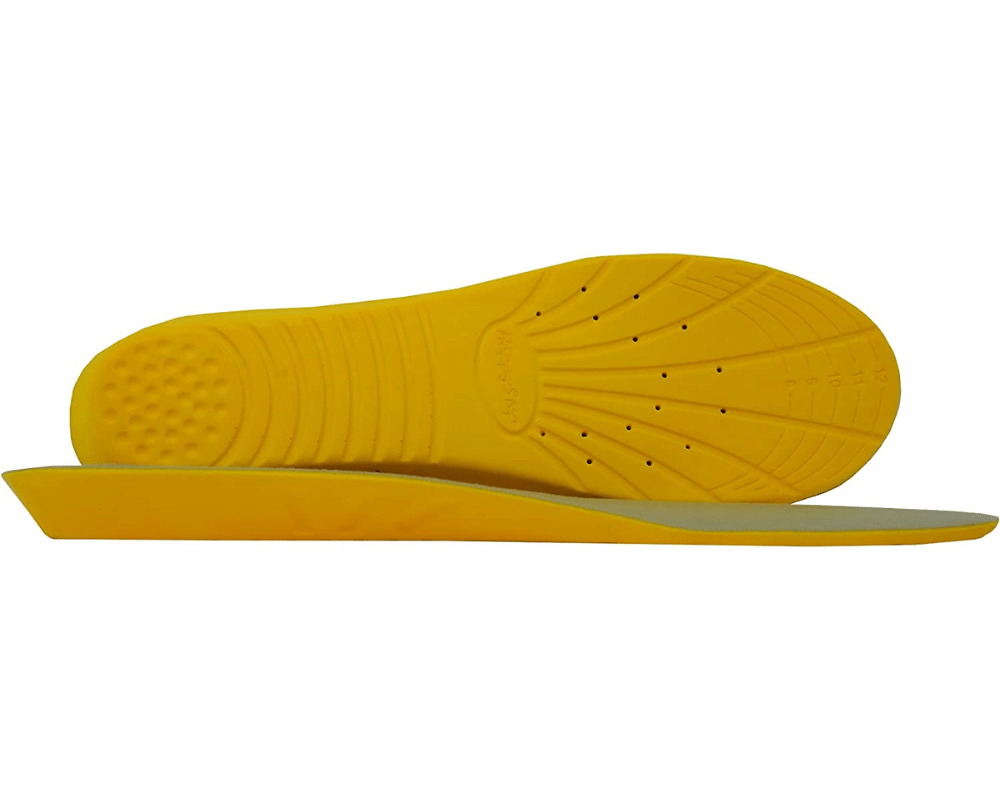 Happystep PU Memory Foam Shoe Inserts
Check Price On Amazon
What's The Big Deal?
Happystep shoe inserts are high-quality shoe insoles made for men and women who keep standing all day. The shoe insoles are made of PU Memory Foam which is a premium and provides optimum cushioning to the feet inside the shoes and help with arch pain. To increase comfort, the insole's top is covered with smooth and cozy velvet fabric.
Happystep shoe insoles work tremendously to provide heel and arch support, shock absorption, heel cushioning, and most importantly, muscle fatigue and pain relief. These insoles also take care of plantar fasciitis and orthotics.
What You Should Know
Happystep shoe insole features a unique heel contour cushioning. It comes with a deep, thick, and soft U-shape heel cup to provide stability and relief of muscle fatigue for a comfortable standing experience all day.
These shoe insoles are available in 3 sizes, large, medium, and small. Men, women, and even big kids can easily use these insoles in their shoes. Their use is easy. You have to measure the Happystep insole with the insole of your shoe and trim the insole if needed. Then place it in the shoe and experience the most comfortable shoe insole.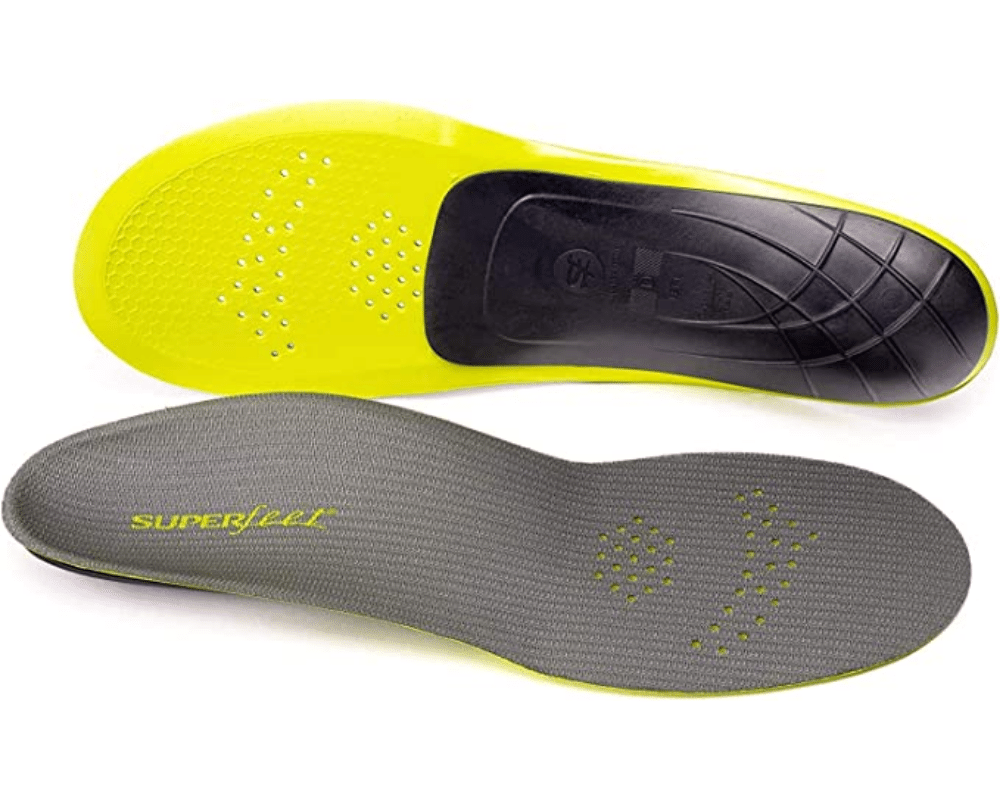 Superfeet Carbon Shoe Inserts
Check Price On Amazon
What's The Big Deal?
Superfeet Carbon shoe inserts are amongst the best arch support insoles for standing all day because these thin inserts are best for delivering long-lasting support and comfort. Superfeet insoles are lightweight and made from high-density foam to enjoy a smooth and comfortable base below your feet while standing.
Superfeet Carbon shoe insoles are low profile and low volume insoles. Low profile means they easily get fitted to all feet shapes, and low volume means these insoles are very thin and take up less space in the shoes.
What You Should Know
Superfeet shoe insoles come in full length so that you can trim the insole according to your shoe size. The heel cup in the insoles provides high arch support stability and support to the feet, helps in shock absorption, and reduces pain and stress in the knees, ankles, and feet.
These are unisex shoe insoles great for athletics and orthopedic needs. The unique stabilizer cap in Superfeet insoles contains Evelyte, a blend of polymer and carbon fiber. This blended material stabilizes and provides structure and support to your feet.
Insoles For Work Boots FAQs
How to take care of your feet?
You can take care of your feet by keeping them clean, wearing comfortable shoes and socks, and using insoles to make your shoes more comfortable.
Will insoles make shoes tighter?
Yes, the shoe insoles make shoes tighter. That is why shoe insoles are recommended to tighten loose shoes.
Who needs shoe insoles?
Insoles can be used by anyone who want shoe & work boot insoles that are comfortable and have extra support. However, shoe insoles work best for those who keep standing all day because the shoe insoles reduce muscle fatigue, make standing comfortable and reduce heel pain.
How long should you wear insoles?
Start off wearing the insole for one hour daily. When your feet get used to of the insoles, you can start adding 1 hour every day.
How to clean shoe insoles?
It is quite easy to clean the memory foam insoles. Remove the insoles from the shoes and wash them with soap and water. If needed, you can also use a disinfectant at the end.
How long do shoe insoles last?
The best shoe insoles depend on its usage and quality. Usually, a good quality shoe insole lasts for 8 to 10 months. If you find any wear and tear marks or change in comfort and support, it's time for a replacement.
How to choose the best insoles?
The choice of the best shoe insole depends on various factors like the type of pain, support needed, cushioning, size, flat feet, wide feet, and fit. A deep heel cup stability is also a different kind of insole that is a choice to consider also.
How long it takes to get used to of insoles?
It's different for various people. On average, people take 1 to 2 weeks to get used to orthotic insoles.
Final Word
Your uncomfortable boots need a comfortable insole, and we have compiled this list of the best insoles for work boots. If you work by standing all day, a high-quality shoe insole will greatly benefit you.
If you keep standing all day, your feet can show symptoms like soreness and swelling. It is because long periods of standing can cause muscle fatigue that causes such symptoms to appear. So grab your best shoe insole now and say bye to foot pain and discomfort!