Are you the one suffering from heel pain? Plantar Fasciitis is one of the most miserable foot pains that can make walking and standing unbearable for you.
Plantar fasciitis is a foot condition caused by the inflammation of the plantar fascia, the fibrous tissue present along the bottom of the foot. It is the tissue that connects the toes to the heel bone. The inflammation causes high-intensity pain.
We've curated a list of top-quality products below that we're confident you'll love. Our editors have independently selected each one, and although some have been sent to us as samples, all opinions in this article are our own. We want to be transparent with you and let you know that FlairFindings may earn a commission or other compensation from the links on this page if you decide to make a purchase. This is how we sustain our business & content flow. Additionally, we have edited reviews for length and clarity. We hope you enjoy discovering your new favorite item!
How We Select The Best
Most people who suffer from heel pain have Planter Fasciitis. But don't worry we have come up with a collection of the best dress shoes for Plantar Fasciitis so that your daily routine will not be affected by this problem and you can keep on doing whatever you want easily.
The dress shoes we have included in this article will not let you suffer anymore. These specially designed shoes provide extra cushioning for your heel to rest on and reduce the chances of plantar fascia inflammation.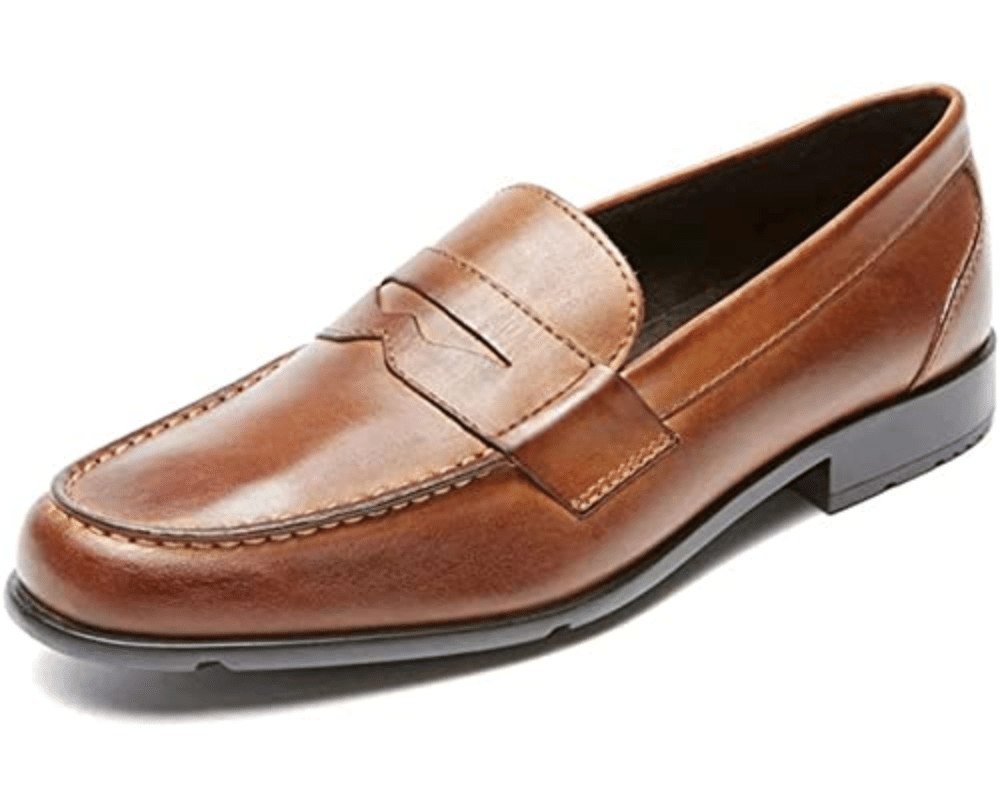 Rockport Classic Penny Loafer
Check Price On Amazon
What's The Big Deal?
Rockport, founded in 1971, was the first company to introduce advanced athletic and sports technologies in casual and dress shoes. Rockport Men's Classic Penny Loafer is one classic example. It is an ideal Penny Loafer for men to wear daily for day-to-night comfort.
The loafers feature a removable sponged footbed that conforms to the foot shape and provides a personalized fit. It is a lightweight dress shoe where the EVA outsole provides shock absorption and reduces heel pain leading to Plantar Fasciitis.
What You Should Know
Rockport Men's Classic Penny Loafer is one of the most comfortable dress shoes of its kind. They are infused with adiprene, a sports technology, to provide cushioning for the heel and prevent pain, injury, and fatigue.
These Loafer dress shoes are made of 100% leather, where the leather upper features the penny loafer strap detailing with fabric lining. It has a synthetic sole, and the heel is about ¾ inches, approximately 1-inches high.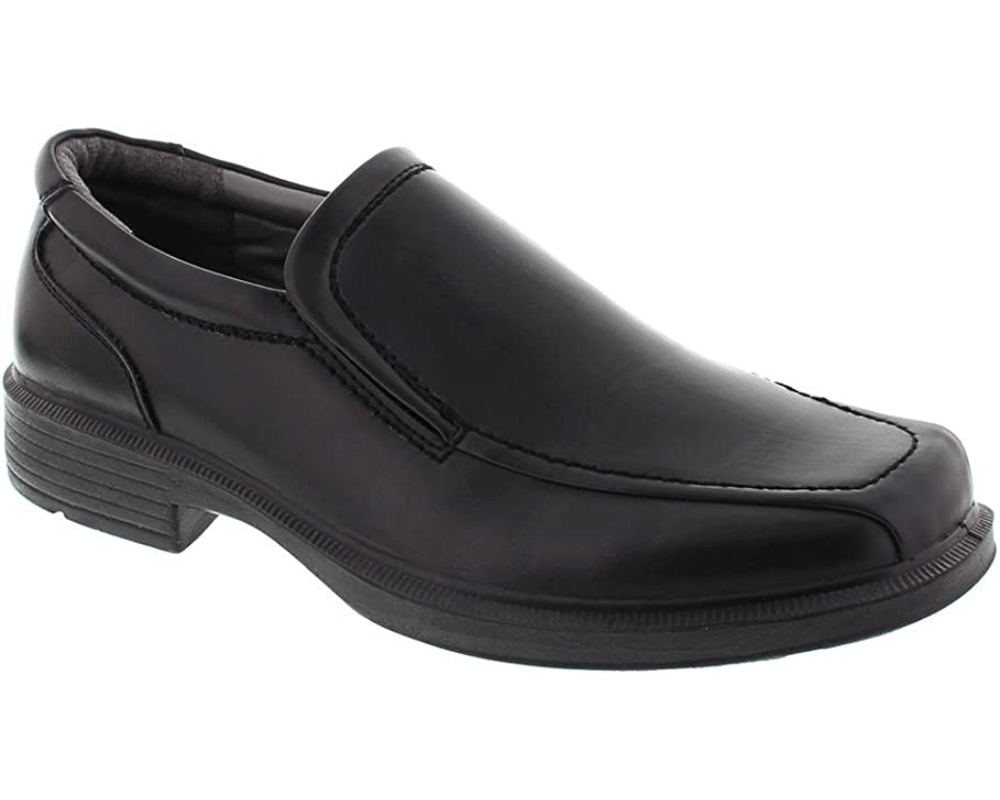 Deer Stags Greenpoint Shoe
Check Price On Amazon
What's The Big Deal?
If Planter Fasciitis is bothering you, Deer Stags Men's Greenpoint is the most suitable solution to your problem. Deer Stags Men's Greenpoint is made of 100% simulated faux leather and includes a lightly padded insole so that you can wear the shoes comfortably throughout the day without your heels feeling any pressure or pain.
These are slip-on loafer dress shoes that feature elastic goring at both sides of the opening with a wide toe box. The sole is manmade, with a stacked heel measuring about 1.5 inches.
What You Should Know
Greenpoint Loafer by Deer Stags is a famous Men's shoe brand worldwide. It is the best choice for those looking for a comfortable shoe with fashionable stitched detailing, easy-care leather material, a durable outsole, and a padded collar for safe and easy entry.
The shoes feature Run-off toes so that nothing can hold you back while walking or running, and you can chase your dreams freely. These dress shoes are available in black and brown colors so that they can go well with all your dress suits.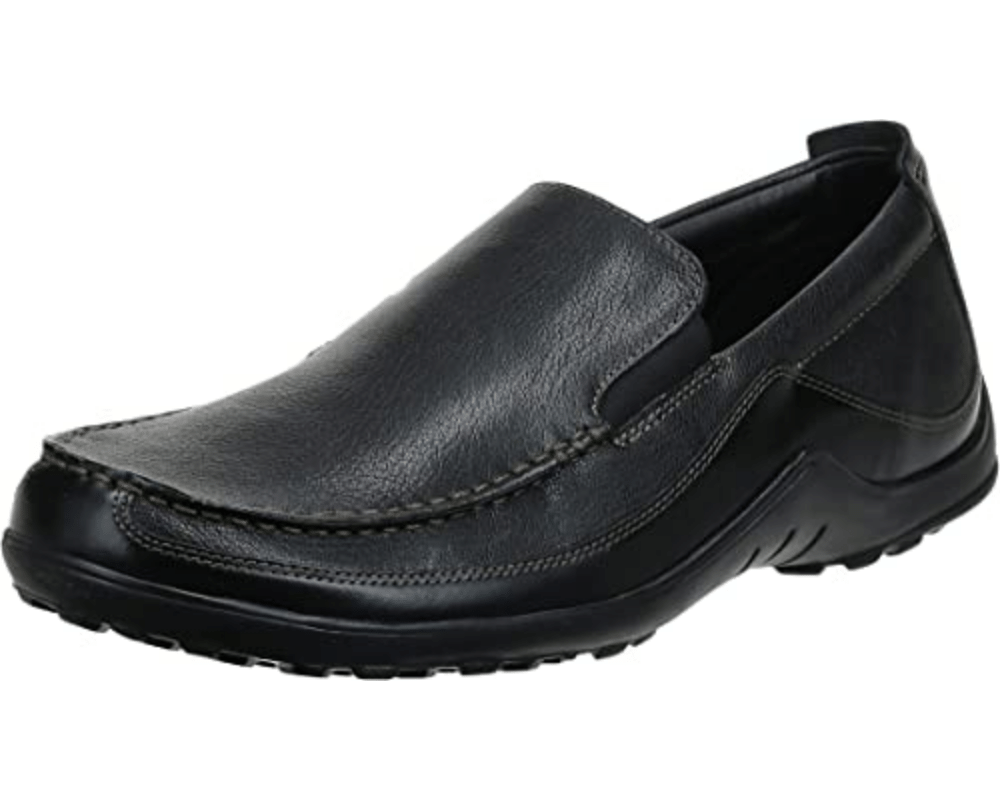 Cole Haan Tucker Venetian Loafer
Check Price On Amazon
What's The Big Deal?
Cole Haan came into existence in 1928 due to the collaboration between Trafton Cole and Eddie Haan. Initially, Cole Haan manufactured artisan quality men's footwear, but today it also deals with men's and women's clothing, footwear, belts, sunglasses, and much more.
Cole Haan Men's Tucker Venetian Slip-On Loafer is a must-have addition to your wardrobe to complete your daily outlook. It is a comfortable slip-on Loafer that brings style and comfort to your look. Cole Haan Tucker Venetian is an elegant innovation crafted with supreme quality and sophisticated leather material.
What You Should Know
Cole Haan Men's Tucker Venetian Slip-On Loafer is a classic combination of flexible construction and sports-inspired design for stylish men. With the finest craftsmanship and materials, Cole Haan brings comfort and confidence to the wearer.
This Tucker Venetian Slip-on Loafer comes with waxy, soft, suede, and pull-up leather uppers. The fully padded sock liner, padded collar, rubber outsole, and 1-inch comfortable heel ensure durability and comfort to protect your feet from Plantar Fasciitis. It also features dual elastic goring and rolled moc-stitched toe.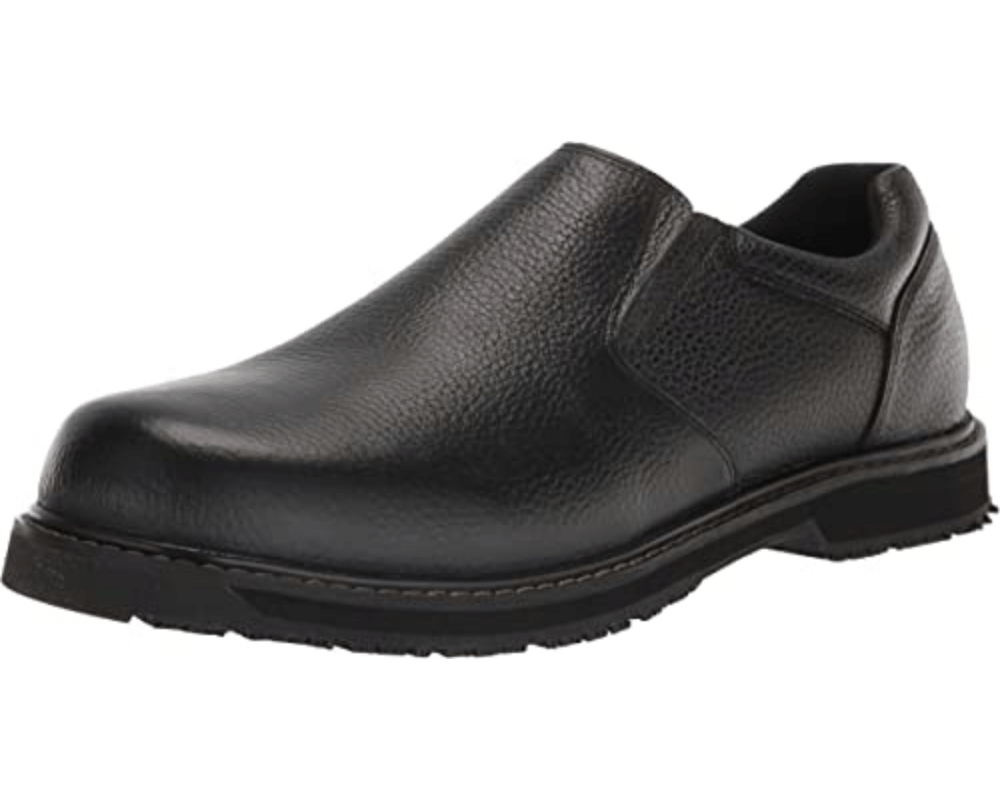 Dr. Scholl's Winder II Shoe
Check Price On Amazon
What's The Big Deal?
Dr. Scholl's Shoes Men's Winder II Work Shoes are professional-style dress shoes with polish for men to wear at work. These are lightweight slip-on dress shoes that easily move with your every step.
These dress shoes come with a lot of unique features. The shoe is made of 70% leather and 30% manmade material. It has an insole made of anti-compression molded memory foam and a vented sock liner for breathability. The shoe's midsole has a special design for shock absorption and pressure reduction from the heels. This design helps in protecting Plantar Fasciitis.
What You Should Know
Dr. Scholl's Shoes Men's Winder II Work Shoes are tested for performance in independent labs. These shoes beat the shoe industry for cushioning and comfort and meet the standards of SATRA TM63 and TM144 for having slip-resistant and oil-resistant lock step outsole.
The shoe also possesses Dri-Lex moisture-wicking lining, anti-microbial linings, and Aegis Microbe Shield, making it durable. It is a stylish men's work shoe with a synthetic sole and non0marking rubber outsole.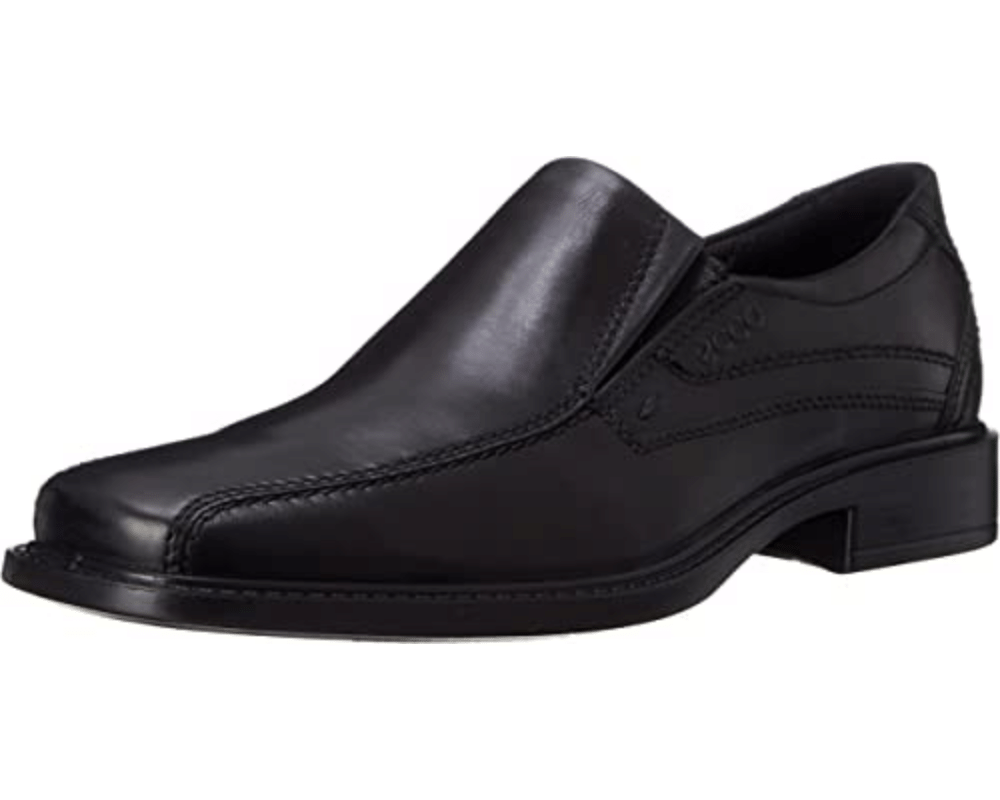 ECCO New Jersey Loafer
Check Price On Amazon
What's The Big Deal?
ECCO is a trusted footwear brand whenever durability, support, superior fit, and flexibility are concerned. Men's New Jersey Slip-On Loafer by ECCO is a stylish innovation made of 100% leather material.
The uppers are made of full grain leather and textile lining while the sole is made of PU, polyurethane. It is a durable material used instead of rubber and last 2 to 3 times more than ordinary shoe soles. PU sole comes with a shock point that makes shoes shock absorbing and flexible.
What You Should Know
ECCO Men's New Jersey Slip-On Loafer is manufactured with a special direct inject process. It is a process in which the upper is placed in a mold and PU is injected in a liquid form. This process gives shape and corrects the dissolve and outsole anatomically.
These loafers also feature stylish bicycle toe and side inserts with elastic goring. The heel is low-stacked and measures approximately 1 inch. The ECCO logo is embossed on the outsole and the side inserts.
Dress Shoes For Plantar Fasciitis FAQs
How do I permanently get rid of plantar fasciitis?
To get rid of Plantar Fasciitis, use the following remedies.
Maintain a healthy weight to put less stress on the plantar fascia.
You should select supportive shoes or flip flops with a thick sole, low to moderate heel, great arch support, and some extra cushioning.
Avoid wearing worn-out athletic shoes.
Change your sports shoes frequently.
Apply ice on your plantar fasciitis heel pain.
Stretch your arches at the time of pain.
Can shoes aggravate plantar fasciitis?
Yes, old, worn-out shoes can make plantar fasciitis worse. It is because after being worn out, the soles lose their properties of cushioning and support and start putting stress on the plantar fascia.
Are hard or soft soles better for plantar fasciitis?
According to Nelya Lobkova, DPM, a shoe with a rocker bottom or a thick midsole is perfect for plantar fasciitis sufferers.
What are the 3 causes of plantar fasciitis?
A change in activities like running or walking
Carrying heavy weights
Foot shape
Are stability running shoes good for plantar fasciitis?
If your plantar fasciitis is accompanied by low arches, flat feet, and overpronation, stability shoes and adding removable insoles are an excellent option to consider as a cure.
Should you walk with plantar fasciitis?
Walking with Plantar Fasciitis after lying or sitting for some time can temporarily ease the pain, but later on, the pain may get worse and affect your routine work.
Is plantar fasciitis a permanent condition?
No, Plantar Fasciitis is not a permanent condition. If you treat it well, you will start feeling better and can get rid of it completely within a few months of proper treatment.
Where is the trigger point for plantar fasciitis?
Plantar fasciitis's trigger point is on your calf's inner side at its meatiest part. If you press this area with your thumbs, you can find a knot like tight spot.
Final Word
Plantar Fasciitis is a painful condition, but it is not something that is incurable. We do not recommend to only wear dress shoes or dress sandals because these can not treat your problem. You must seek proper medical treatment to get rid of the foot pain completely. However, you can use one of the best plantar fasciitis shoes on your next formal event.