In every kind of sport, the grip of your shoes matters a lot. It is because the shoe grip provides balance to your body and keeps you in the right posture to participate in the game. The same is the case with baseball. Baseball cleats play a key role in your performance in the game, and the right fit and style of the baseball cleats strongly impact your performance while you play baseball.
When it comes to choosing the perfect baseball cleats, the options can be overwhelming. It's hard to know which ones are truly the best for you and your needs on the field. But fear not! We've done the research for you and have compiled a comprehensive list of the top baseball cleats available.
From durability to comfort, we've covered it all so you can find the perfect pair with ease. Don't let a confusing sea of options keep you from playing at the top of your game. Get your hands on the best baseball cleats and step up to the plate with confidence.
We've curated a list of top-quality products below that we're confident you'll love. Our editors have independently selected each one, and although some have been sent to us as samples, all opinions in this article are our own. We want to be transparent with you and let you know that FlairFindings may earn a commission or other compensation from the links on this page if you decide to make a purchase. This is how we sustain our business & content flow. Additionally, we have edited reviews for length and clarity. We hope you enjoy discovering your new favorite item!
How We Select The Best
Looking for the perfect pair of baseball cleats?
We've carefully curated a selection of the best baseball cleats that will keep you comfortable inning after inning. Every single one of our top-notch selections is backed by our teams research and customer feedback. You can find something that fits your style perfectly with the variety we have mentioned.
With high-quality materials, breathable design, and snug fit - these shoes are made to last through every slide into home plate.
Keep scrolling to checkout our curated list of the best baseball cleats available today!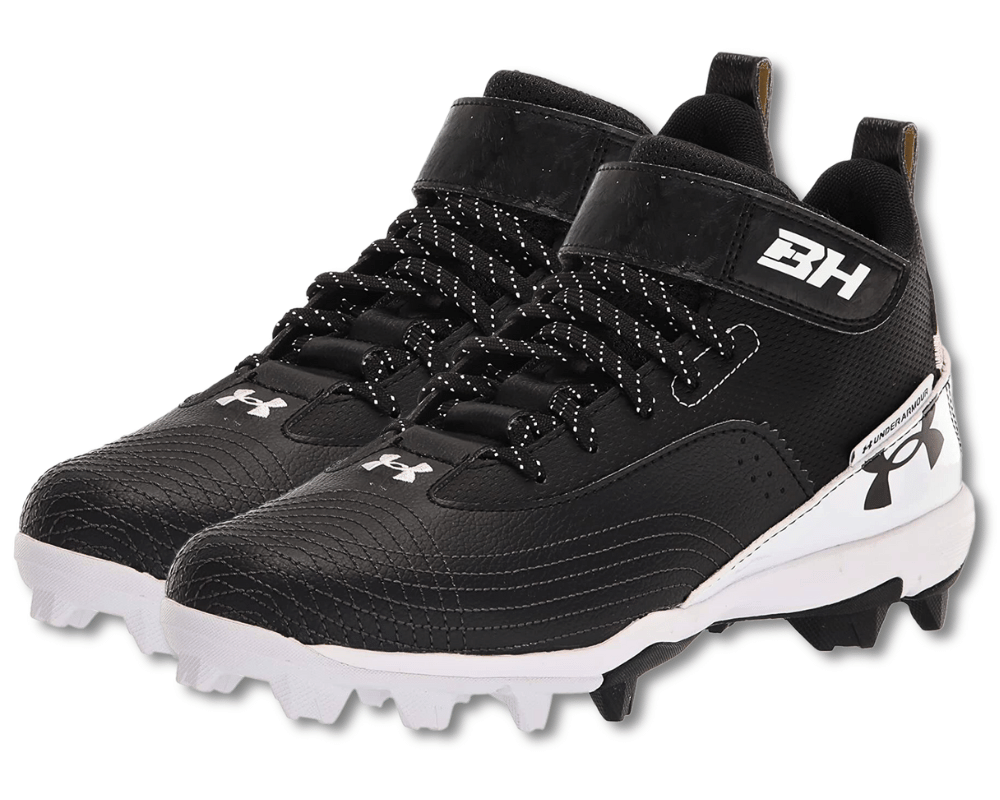 Under Armour Harper 7
Check Price on Amazon
What's The Big Deal?
Under Armour is a renowned American shoe brand that creates shoes for athletes that not only provide style, but also exceptional innovation and comfort. The Under Armour Men's Harper 7 are a popular pick for baseball players seeking both grip and style on the field. What sets the Men's Harper 7 apart is their unique heat, cold, and all-season gear technology.
These shoes feature heatgear to keep feet cool and comfortable during hotter seasons, while the cold gear protects feet from the harsh cold of winter. For those moderate temperatures, the all-season gear keeps feet comfortable all year round. Under Armour truly has thought of everything to keep athletes at the top of their game.
What You Should Know
Under Armour Men's Harper 7 has a synthetic mesh upper to ensure durability and breathability. The shoes feature an internal TPU lacing system that keeps your feet locked in the shoes comfortably with a snug fit.
For additional cushioning and comfort, a full-length EVA midsole is always under the feet. For optimal traction and durability on the playing field, the shoes feature rubber molded cleats in the outsole. The shoes are incredibly lightweight with only 13.1 oz weight. These cleats are available in many sizes and 5 attractive colors.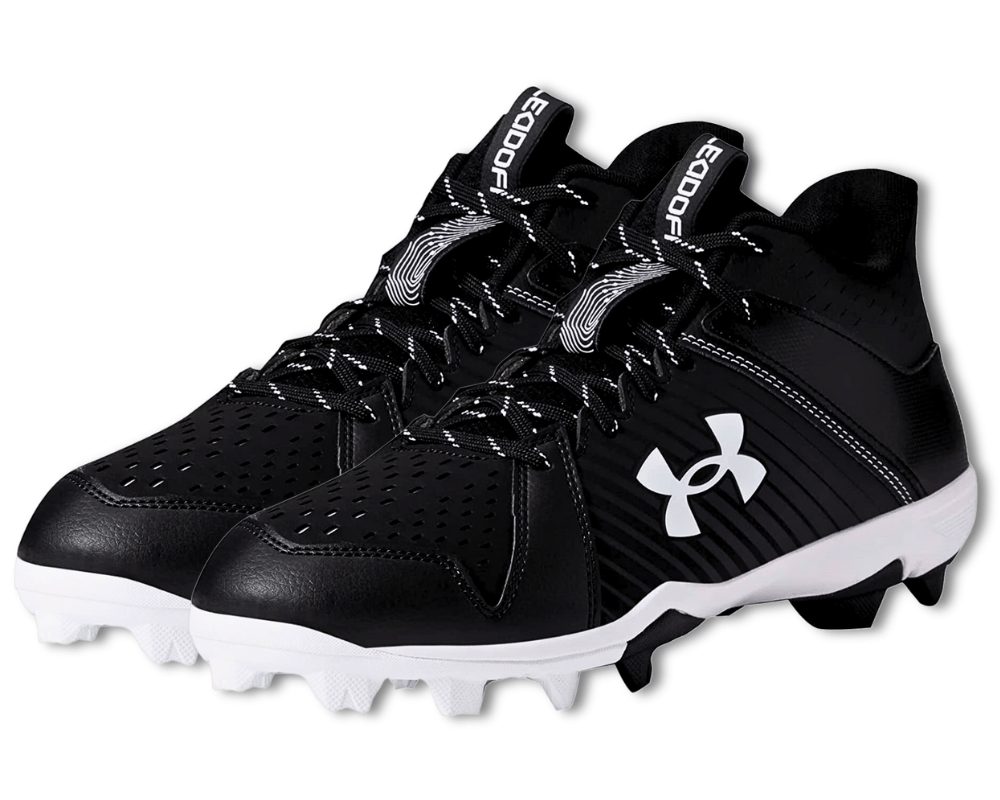 Under Armour Leadoff
Check Price on Amazon
What's The Big Deal?
The Under Armour Leadoff Baseball Shoe is designed to provide unbeatable performance on the diamond. Made from lightweight synthetic materials and featuring toe cap overlay for extra durability, these shoes are sure to give you maximum comfort while still providing long-lasting protection.
On top of that, they come with rubber molded cleats to provide superior traction with every step, allowing even the most seasoned players to move quickly and confidently. It's no surprise these innovative shoes are a popular choice among athletes of all levels — they give you the reliability, power and style you expect from Under Armour.
What You Should Know
Discover the ultimate blend of comfort and style with the Men's Leadoff Baseball shoe by Under Armour. Designed with a padded collar and heel, these shoes offer unparalleled comfort and support for your feet. The full-length EVA midsole cushioning ensures that your feet are well-rested even after hours of play, while also evenly distributing the cleat pressure.
These shoes also come with a rubber sole, standard tie lace, and soft padded collar, making them perfect for extended game time. Choose from two stylish colors and the different sizes they offer to elevate your game to the next level.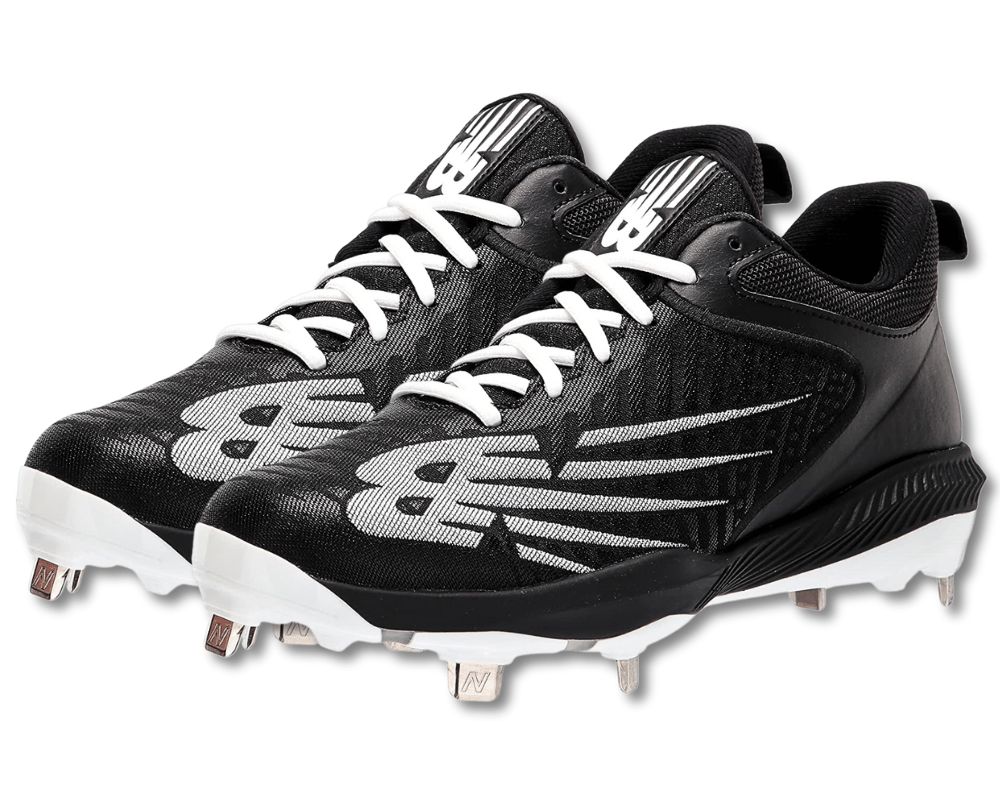 New Balance FuelCell 4040 V6
Check Price on Amazon
What's The Big Deal?
New Balance Men's FuelCell 4040 V6 Metal is on the top of our list of best baseball cleats because it is a great blend of comfort and function for both professional and college players and works beyond their expectations of performance.
New Balance baseball cleats feature a full-length midsole with FuelCell technology. FuelCell technology in the foam provides a propulsive feel to the feet and helps them drive forward comfortably. In short, it works like fuel for the players during the game to keep them going.
What You Should Know
New Balance Men's FuelCell 4040 V6 Metal has an ideal design to provide ankle support to the players. The lightweight mesh upper of the cleats include Fit Weave, which gives stretch and durability to the shoes.
They're considered one of the best metal baseball cleats out there. The metal spike outsole offers extraordinary support, speed, and superior traction to the player's feet when on the field. The molded baseball cleats have rubber soles that present a secure fit with lace closure. These New Balance pair of cleats are available in various attractive colors and sizes.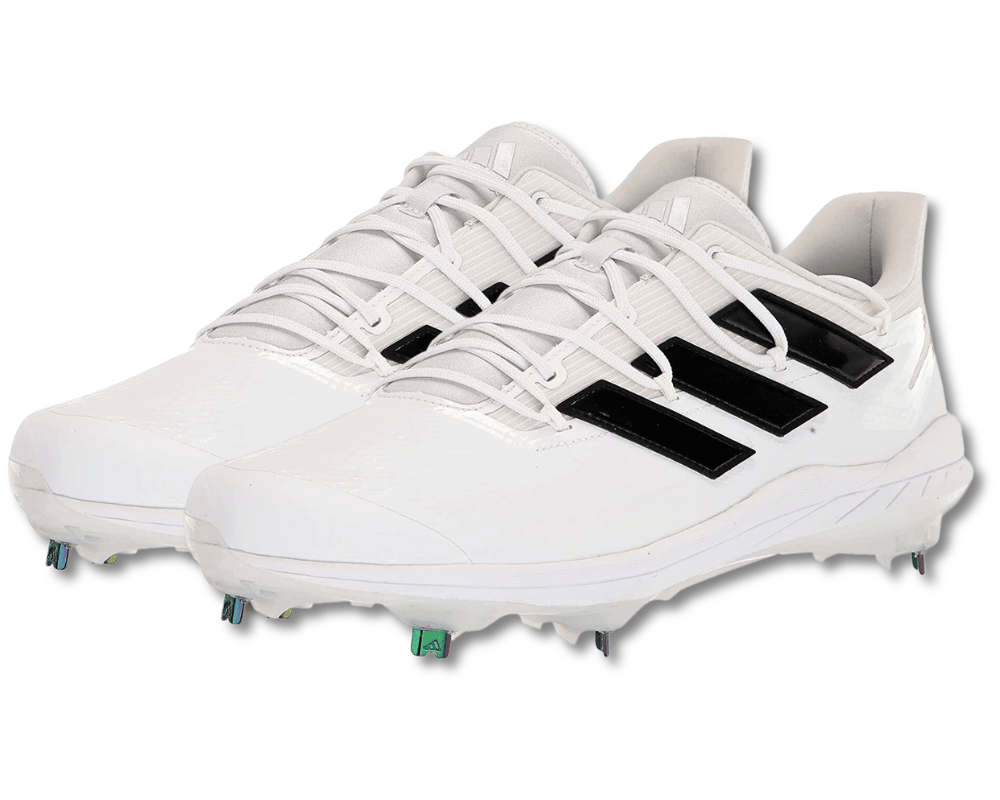 Adidas Adizero Afterburner 8
Check Price on Amazon
What's The Big Deal?
Adidas, a renowned brand for shoes, has something special in store when buying baseball cleats. Their latest offering, the Adidas Men's Adizero Afterburner 8, is designed to cater to the needs of baseball enthusiasts. Made of 100% synthetic textile, with an added textile lining for comfort, these baseball cleats are a great fit for any player.
What sets these shoes apart is their lightweight design, which provides an extra edge to the players' speed and agility. The cleated outsole ensures a remarkable grip, making it easier to move around on the field. The wide lace area of the cleats guarantees a secure and snug fit, keeping your feet safe and comfortable through the game. Whether it's for practice or an important match, Adidas Men's Adizero Afterburner 8 is the ideal choice for any baseball player seeking quality and performance in their footwear.
What You Should Know
Adidas Men's Adizero Afterburner 8 comes with extraordinary comfort and speed for the players to enjoy their game to the fullest. These baseball cleats feature a sprint skin upper that offers lightweight feet support and makes you feel like you are flying during the game.
The metal spike cleated outsole of these baseball cleats keeps you standing and running firmly on the playground and never lets you lose balance. Adidas baseball shoes are available in different sizes and with vibrant color options.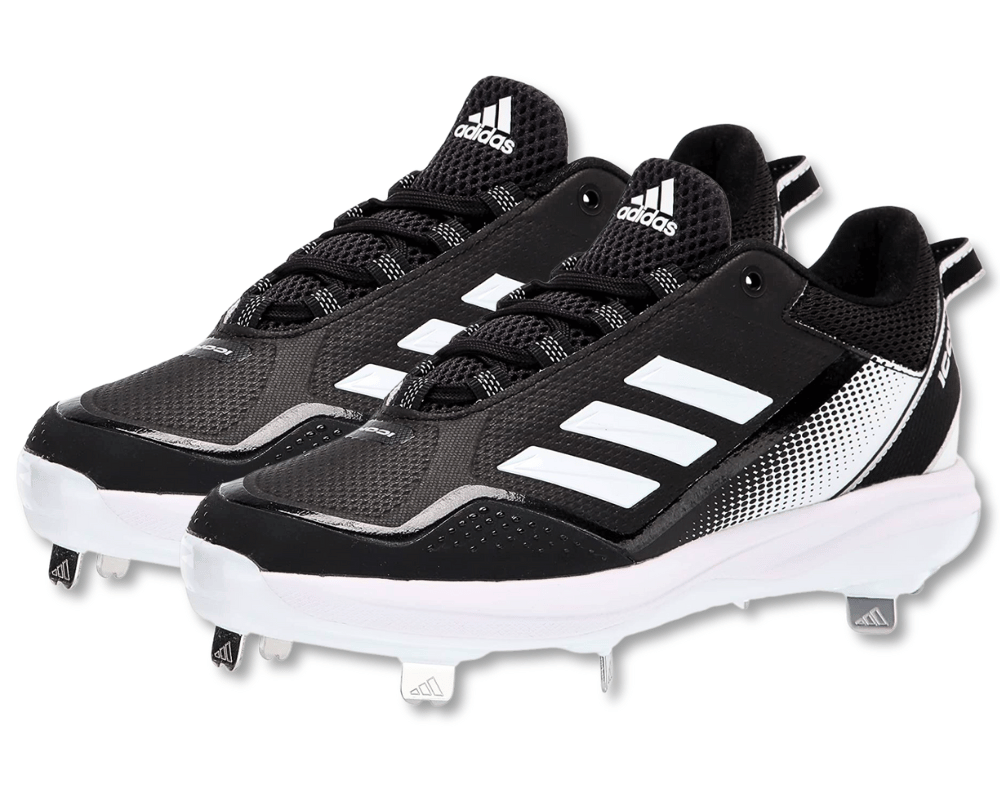 Adidas Icon 7
Check Price on Amazon
What's The Big Deal?
Adidas has hit a home run with their Men's Icon 7 baseball cleats! Athletes and players alike adore this design for its combination of durability and support. While the cleated outsole may not be as efficient as metal cleats, the reliability of these cleats is unmatched.
Plus, their lightweight and breathable synthetic textile upper material will help keep your feet cool and comfortable during those long innings. And with a narrow design that keeps your feet locked in, you'll be able to perform at the top of your game in the Men's Icon 7 baseball cleats.
What You Should Know
Step up to the plate with confidence and agility when sporting the impressive Adidas Icon 7 baseball cleats. These budget baseball cleats boast versatile traction for any playing field, allowing baseball players to bring their A-game every time.
Durable synthetic textile keeps the shoes lightweight and breathable for maximum comfort, while the snug-fit design ensures a perfect fit. With a cushioned light strike midsole, these cleats provide much-needed support without weighing you down. Choose from an array of eye-catching colors and sizes to complete your game-winning look.
Baseball Cleats FAQs
What are baseball cleats?
Baseball cleats are lightweight sports shoes with metal, rubber, or plastic spikes. These shoes are great to use on hard ground. The metal spikes are only used in baseball cleats. Football and soccer shoes have mostly rubber cleats or turf cleats and not metal spikes.
Why buy baseball cleats?
If you are a baseball player and want to play on the field, using regular shoes might not be a good idea as it can cause serious injuries. Baseball cleats feature metal spikes that help maintain balance and grip on the ground and save players from getting hurt.
What are the different types of baseball cleats?
Different types of baseball cleats include metal cleats, molded cleats, TPU cleats, turf shoes, and cuts.
Can I wear football cleats for baseball?
Wearing football cleats for baseball is not a good idea because football cleats do not provide the grip required for baseball play fields. Football cleats can end up hurting you while playing baseball, lacking grip at the front toe box.
What are the guidelines to getting the right fit?
To start, make sure your toes have no more than a quarter inch of space from the end of the cleat, while ensuring a snug fit for the heel. When choosing between sizes, go for the tighter fit as cleats will expand over time. But above all, prioritize comfort.
While style is important, there's no use looking great if your feet are in pain. Keep in mind that games can last for hours, and having comfortable and well-fitting cleats will make all the difference. By prioritizing comfort, you'll be able to tackle any challenge that comes your way on the field.
Should baseball cleats be high or low?
While low-cut cleats provide unmatched speed and agility on the field, they come with a tradeoff: limited ankle support. On the other hand, the high-cut cleats offer optimum ankle support, security and protection, albeit at the expense of extra weight, potentially limiting player speed on the field.
Despite this tradeoff, high-cut cleats are still favored by players who prioritize foot safety and rely on a sturdy base, particularly power-hitting batters.
What is the difference between spikes and cleats?
When it comes to athletic shoes, the difference between cleats and spikes is more than just the shape of the traction on the bottom. While traditional cleats feature molded knobs on the bottom for traction, spike shoes have removable metal or plastic spikes.
What kind of baseball cleats can you wear on turf?
All turf manufacturers highly recommend plastic or rubber cleats, as they are gentle on the surface. That's because metal cleats can cause irreversible damage and may have spikes on the bottom, which can lead to an unsightly and unsafe playing field.
Final Word
To wrap it up, baseball cleats are a staple of any athlete's equipment and should be treated as such. With the right pair, you can increase your performance and confidence on the field. There are plenty of choices out there for finding the best baseball cleats for the season—you just have to know how to identify what those choices are.
We hope our list of the top five best baseball cleats has given you an idea of which ones fit your style and playing ability. Now get out there on the field, dig in with your great new cleats, and show everyone your skills!